The British ship Mayflower landed at what is now Plymouth, Massachusetts on December 18, 1620.
Charles Wesley, brother of John Wesley who founded Methodism, and one of the great hymn-writers, was born on December 18, 1707. Wesley accompanied James Oglethorpe to Georgia in 1736.
France formally recognized the United States as an independent nation on December 17, 1777.
The first national day of thanksgiving was observed on December 18, 1777 commemorating the American victory over the British at Saratoga the previous month.
Congress wrote, "It is therefore recommended to the Legislative or executive Powers of these UNITED STATES, to set apart THURSDAY, the eighteenth Day of December next, for solemn THANKSGIVING and PRAISE; That at one Time and with one Voice the good People may express the grateful Feelings of their Hearts, and consecrate themselves to the Service of their Divine Benefactor."
George Washington's Continental Army entered winter quarters at Valley Forge, Pennsylvania on December 19, 1777.
During 1777, Patriot forces under General Washington suffered major defeats against the British at the battles of Brandywine and Germantown; Philadelphia, the capital of the United States, fell into British hands. The particularly severe winter of 1777-1778 proved to be a great trial for the American army, and of the 11,000 soldiers stationed at Valley Forge, hundreds died from disease. However, the suffering troops were held together by loyalty to the Patriot cause and to General Washington, who stayed with his men.

When Washington's army marched out of Valley Forge on June 19, 1778, the men were better disciplined and stronger in spirit than when they had entered.
In her youth, Mrs. GaPundit continually reminded her parents that the area in which she grew up, literally down the street from Valley Forge National Historic Park, was well known for causing frostbite.
On December 18, 1834, Governor William Lumpkin signed legislation chartering the Georgia Methodists Conference Manual Labor School at Oxford, Georgia, which would later become Emory College in 1836 and Emory University in 1915.
On December 19, 1860, the Georgia General Assembly adopted Resolution 14, which read in part,
Resolved 4th. That, should any or all of the Southern States determine in the present emergency to withdraw from the Union and resume their sovereignty, it is the sense of this General Assembly that such seceding States should form a confederacy under a republican form of government; and to that end they should adopt the Constitution of the United States, so altered and amended as to suit the new state of affairs.
General Ulysses S. Grant expelled all Jews from his military district, which covered parts of Tennessee, Mississippi, and Kentucky on December 17, 1862. President Lincoln ordered Grant to rescind the order.
On December 20, 1864, Confederate forces in Savannah retreated ahead of Sherman's army, crossing over into South Carolina, four years to the day after South Carolina's secession.
On December 18, 1865, U.S. Secretary of State William Seward issued a statement verifying the 13th Amendment to the Constitution, which outlawed slavery in the United States.
The office of Superintendent of Public Education and Georgia Schools was created on December 18, 1866 when Gov. Charles Jenkins signed legislation passed by the General Assembly; on December 18, 1894, Gov. William Atkinson approved a resolution for a Constitutional Amendment to make the State School Commissioner elected statewide.
On December 19, 1868, Congress opened hearings into barriers African-Americans faced to voting in Georgia, which included threats, violence, and death.
President William McKinley visited Savannah, Georgia on December 17, 1898. While there, McKinley attended church at Wesley Monumental Methodist Church and visited Georgia Agricultural and Medical College (now Savannah State University) and the Seventh Army.
On December 17, 1902, legislation changed Georgia's state flag changed to include the coat of arms on the blue band.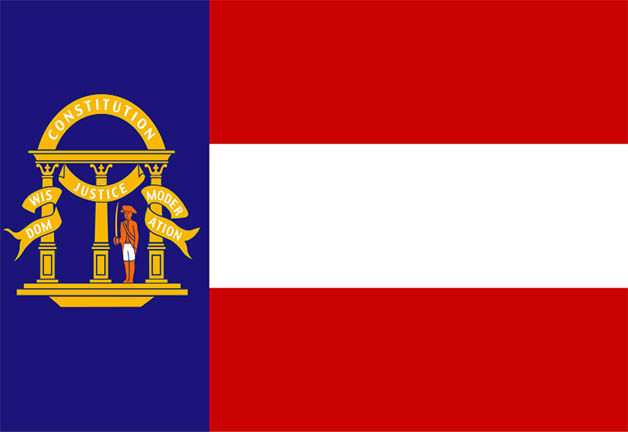 On December 17, 1944, Major General Henry C. Pratt ordered the end of the imprisonment of American citizens of Japanese descent in prison camps.
WTBS began broadcasting under new call letters on December 17, 1976 and uplinked its programming to satellite to become "America's Super Station."
On December 19, 1998, the United States House of Representatives voted to approve two of four Articles of Impeachment against President Bill Clinton.
Article I was approved 228-206. Voting in favor were 223 Republicans and 5 Democrats. Voting against were 200 Democrats, 5 Republicans, and one Independent.

Article II was defeated 229-205. Voting in favor were 200 Republicans and 5 Democrats. Voting against were 200 Democrats, 28 Republicans, and one Independent.

Article III was approved 221-212. Voting in favor were 216 Republicans and 5 Democrats. Voting against were 199 Democrats, 12 Republicans, and one Independent.

Article IV was defeated 285-148. Voting in favor were 147 Republicans and one Democrat. Voting against were 203 Democrats, 81 Republicans, and one Independent.

On all four impeachment articles, Georgia's congressional delegation voted exclusively along party lines. Republican congressmen Jack Kingston (1st district), Mac Collins (3rd district), Newt Gingrich (6th district), Bob Barr (7th district), Saxby Chambliss (8th district), Nathan Deal (9th district), Charlie Norwood (10th district), and John Linder (11th district) voted in favor of all four articles. Democratic congressmen Sanford Bishop (2nd district) and John Lewis (5th district) and congresswoman Cynthia McKinney (4th district) voted against all four articles.
Georgia Politics, Campaigns, and Elections
Two Special Elections have been scheduled for Tuesday, February 9, 2021, according to AccessWDUN.
Secretary of State Brad Raffensperger announced Wednesday that a special Democratic primary for House District 90, which includes parts of DeKalb, Henry and Rockdale counties, will be held Feb. 9. A runoff will be held March 9 if needed.

Voters in Fayette, Pike, Spalding and Upson counties, meanwhile, will choose a new chief prosecutor. That special election is also set for Feb. 9, with a runoff on March 9 if needed. Former District Attorney Ben Coker was appointed a superior court judge by Gov. Brian Kemp.

Qualifying for both posts began Wednesday and ends at 1 p.m. Friday. The last day to register to vote for the elections is Jan. 11. Early in-person absentee voting begins Jan. 18

House District 90 had been represented since 2005 by Democrat Pam Stephenson, who resigned in September. Because Stephenson won the Democratic primary and faced no opposition in the general election, only a Democratic primary will be held to fill the vacancy.
Governor Brian Kemp announced a consensus with legislative leaders to continue funding needed personnel to fight COVID-19, according to the AJC.
Gov. Brian Kemp says the state of Georgia will keep paying for extra nurses to assist hospitals, nursing homes and other health care facilities that have struggled to find staff and keep up with demand because of the coronavirus pandemic.

The Republican governor made the announcement Thursday during a news conference at Grady Memorial Hospital in Atlanta where Public Health Commissioner Kathleen Toomey and an intensive care unit nurse received a coronavirus vaccine in an attempt to demonstrate that it's safe and effective.

Kemp said Georgia will commit as much as $70 million to pay staffing agencies that are providing extra nurses through March. Georgia is on track to spend $250 million on the program this year. The state has spent federal coronavirus aid on the program so far. Kemp said he hopes the federal government will free up more money to cover the costs, but spokesman Cody Hall said Georgia would use state money if no federal money is available.

Kemp said he hoped people would recognize that Thanksgiving had resulted in many more cases and downscale Christmas celebration plans to limit further transmission.

"I'm hopeful they'll really help us," Kemp said. "Don't go out unless you need to. If you do, just wear a mask. Try not to go to things you don't have to to stop the spread. Limit your gatherings for the holidays."
Governor Kemp decried conspiracy theories involving last month's general election, according to Fox 5 Atlanta.
Kemp specifically addressed recent online conspiracy theories that the deaths of a GBI agent and Harrison Deal, who was dating one of Kemp's daughters, were somehow tied to the election.

"There is so much misinformation out there. Quite honestly, it has gotten ridiculous," Gov. Kemp said. "Some of it, from death threats, you know, bribes from China, the social media posts that my children are getting and look, we have the 'no crying in politics rule' in the Kemp house, but it is stuff if I said that, I would be taken to the woodshed and would never see the light of day. It is embarrassing that someone would send something like that to a 20-year-old child that just lost the love of her life, not to mention what the Deal family is having to deal with because of the conspiracy theories that are out there."

"This needs to stop," Kemp said. "People need to deal with facts and we'll give them to them. And if anybody has an issue with something I've done, they need to come see me and I'll talk to them about it. They don't need to bother my wife or my children or any other person that's serving in elected office–their wife or children–because I can assure you, I can handle myself."
Kemp, speaking to reporters shortly after a vaccine-related event at Grady Memorial, did not blame President Donald Trump for the wrath he's facing from Republicans, even though the president has stoked the fury by blasting Kemp for refusing to illegally reverse his defeat in Georgia.

"As far as I know, my relationship with the president is fine. I know he's frustrated, and I've disagreed on things with him before," he said, adding: "Look, at the end of the day, I've got to follow the laws and the Constitution and the Constitution of this state."

Asked broadly about a potential primary challenge, Kemp said: "I'm ready for any kind of fight that anybody wants to have — Republican primary general election, whatever it is."

"I'm going to continue to run on my record but I'm also going to look Georgians straight in the eye and say: Look, this is what I told you I was going to do when you elected me. This is what I've been doing. And one of those things is placing my hand on the Bible and giving an oath before God to follow the law."

"If anybody has an issue with something I've done, they need to come see me and I'll talk to them about it. They don't need to bother my wife or my children or anybody," Kemp said.

"It's fine to disagree on policy," the governor said, adding: "We're just not going to go down the road of enticing violence — at least here in this state, as long as I'm governor."
https://youtu.be/jGxS4cA7RSU
Vice President Mike Pence campaigned in Macon, according to the Macon Telegraph.
At Thursday's Republican rally at Middle Georgia Regional Airport, where Vice President Mike Pence voiced support for the two GOP incumbents in Senate runoffs, David Perdue and Kelly Loeffler, the star of the show — though he wasn't there in the flesh — was President Donald Trump.
https://youtu.be/j47cGsSFUeE
Pence also visited Columbus, according to the Ledger-Enquirer.
Control of the Senate is what brought Pence to Columbus on a cold and windy Thursday afternoon where attendees — some masked and some not — bunched together for warmth.

Electing U.S. Sens. David Perdue and Kelly Loeffler, Pence said, was important because the Georgian senators "could be the last line of defense."

"Stay in the fight for integrity for our elections. Stay in the fight to defend the Republican majority in the Senate until the polls close on Jan. 5," he said. "Stay in the fight until we send David Perdue and Kelly Loeffler back to Washington."

Trump and his supporters will continue to fight the November election results in courts, Pence said.

"As our election contest continues in courthouses across the land, we're going to keep fighting until every legal vote is counted. We're going to keep fighting until every illegal vote is thrown out."

"I want you to be confident about your vote," Pence said. "We're on them this time. We're watching. We're going to secure our polls, secure our drop boxes. You can be confident — you mail in that absentee ballot, every single one of them will be counted."
"It's all about Georgia," Pence said in Columbus.

"I came here today with one message," Pence said. "It all comes down to Georgia. Stay in the fight."

"Let's send a message to Chuck Schumer and those Washington Democrats," Pence said. "We're going keep Georgia. We're going to save the Senate. And then we're going to save America!"

Along with talking up Loeffler and Perdue, Pence also made the case for the accomplishments he said the Trump administration had achieved in office, including being on hand for the "the beginning of the end" of COVID-19.

"This week, America witnessed the beginning of the end of the coronavirus pandemic," he said. "We made history, and the first coronavirus vaccine is being [ad]ministered in every state in the union."

"We will see the first Marxist elected to Senate if we don't win these races," Loeffler said, referring to her opponent, Warnock. "Are you ready to show America Georgia is a red state?"

Agriculture Sec. Sonny Perdue kicked off the Columbus rally with the lone mention of what many Republican strategists see as their best argument to voters — the fact that Democrats will take over the White House in January, along with the House of Representatives, which Democrats already control.

"We don't need a one-party government," Perdue said. "We need a republic, man, and these two seats are what it takes to hold that."

"As our election contest continues in courthouses across the land," Pence said, "We're going to keep fighting until every legal vote is counted. We're going to keep fighting until every illegal vote is thrown out, and we will never stop fighting to make America great again."

With that, the crowd broke into a victorious chant of, "Four more years!"
The Club for Growth "Save America Coalition" Bus tour was scheduled to hold a rally in Augusta at 9 AM and in Smyrna at 1:30 PM today. From a Press Release:

Today, the 'Save America Coalition' bus tour will be in Augusta, Georgia at 9:00 AM at the Columbia County GOP. The event will feature Senator Ted Cruz, Senator Tim Scott, Former Trump campaign manager Corey Lewandowski, Representative Chip Roy, Representative Jody Hice, Representative-elect Byron Donalds, President of Club for Growth David McIntosh, Tea Party Patriots Co-Founder Jenny Beth Martin, America Principles Project leader Terry Schilling and others in Augusta, Georgia. KAAAF's "Healthcare for You" tour will join Club for Growth Action.

9:00AM-11:00AM EST
Columbia County GOP
4485 Columbia Road
Martinez, GA 30907
More info can be found here.

The tour will also be stopping in Smyrna, Georgia at 1:30PM at Adventure Outdoors. This stop includes the following speakers: Senator Ted Cruz, Senator Tim Scott, Former Trump Campaign manager Corey Lewandowski, Representative Chip Roy, Representative-elect Byron Donalds, Representative- elect Lauren Boebert, Representative-elect Burgess Owens, President of Club for Growth David McIntosh, Tea Party Patriots Co-Founder Jenny Beth Martin, America Principle Project leader Terry Schilling, Conservative Commentator Dana Loesch, and others in Smyrna, Georgia. KAAAF's "Healthcare for You" tour will join Club for Growth Action.

1:30PM-3:00 PM EST
Travis Tritt Concert (Adventure Outdoors)
2500 South Cobb Drive Southeast
Smyrna, GA 30080
More info can be found here.

Additionally, the 'Save America Coalition' tour will be joined by the Keep America America Action Fund (KAAF) Bus Tour at all events tomorrow. The Keep America America Action Fund led by KAAF launched a multi-million-dollar campaign today in support of Senators David Perdue and Kelly Loeffler in Georgia runoff. KAAAF President Elaine Parker, is highlighting the Republican Senators' commitment to prosperity and pro-growth policies, in contrast to the socialist ideas supported by their competitors, Jon Ossoff and Raphael Warnock. More info here.
Performing artist Common will campaign for the Democratic Senate candidates in Savannah, according to the Savannah Morning News.
Grammy and Academy Award-winning rapper and actor Common will be in Savannah on Saturday for a campaign rally to support Jon Ossoff and Raphael Warnock, according to Ossoff's communications staff.

The "It's Time to Vote" rally will be held on Saturday, Dec. 19 at 12:30 p.m. at Garden City Stadium, 160B Priscilla D. Thomas Way.
Common campaigned in Augusta with Mayor Hardie David, according to the Augusta Chronicle.
"I want all our brothers and sisters to know that your vote is important," he said. "Your vote is you saying 'Man I care about my child that's right here, I care about my wife that's right here, I care about my mother…I care about this person that I look in the mirror and see.'"

Common brought this message to downtown Augusta as he joined Mayor Hardie Davis and the political action group BlackPAC in going door-to-door encouraging residents to vote in Georgia's Senate runoffs. Common and Davis stressed how important this work was given what's at stake.

"You don't have to be an entertainer or a celebrity to impact the world, and right now Georgia's impacting the world," Common said. "This is y'all's time to step up, and you can change Georgia, but you're actually changing the country."

"This is our moment, this is our time," Davis said. "Time to set a course of a different Georgia, a Georgia that represents all of her people…this is our moment and this is our time to come together as Georgians…this is our moment to lay down partisanship and think about a better Georgia."

Another big-name coming to the area is Sen. Ted Cruz, who will be in Martinez Friday, along with other GOP leaders, to encourage voting.
United States District Court Chief District Judge J. Randal Hall dismissed an Augusta challenge to the November General Election, according to the Augusta Chronicle.
"The court finds that those claims are simply based on speculation, highly speculative issues," Hall said.

Filed by the 12th Congressional District Republican Committee and three voters, the lawsuit contended elections officials failed to properly inspect signatures on absentee ballots and that the use of ballot drop boxes was against state law.

State officials have repeatedly defended election processes to combat what they say is "disinformation" promulgated by supporters of President Trump.

The plaintiffs sought to remove the drop boxes and delay processing of absentee ballots until election day in the Jan. 5 U.S. Senate runoffs, for which advance voting started Monday.
Chatham County voters have seen quicker lines in runoff election early voting, according to the Savannah Morning News.
As of Wednesday at 5 p.m., 8,866 voters had cast their ballot early in Chatham County.

Statewide, that total reached 486,829. That's more than 100,000 more than the first three days of the General Election early voting period, when 377,477 votes were cast.

Combined with the 426,739 absentee ballots already received, 913,568 votes have already been cast in the high-stakes runoff election.

In the Nov. 3 early voting period, 537,469 absentee ballots had been received, and 914,946 total votes had been cast, a difference of only 1,378 more votes.

Over 1.2 million Georgia voters have requested absentee ballots in the Jan. 5 U.S. Senate runoffs, with 805,013 yet to be returned.
Early voting in the U.S. Senate runoffs has been going smoothly in Floyd County so far, with the two precincts each seeing 500 to 600 voters a day.

As of Thursday evening, around 2,000 voters had cast their ballots at the Floyd County Administration Building and around 2,300 people had voted at Garden Lakes Baptist Church.

Voting will continue through Wednesday at both locations from 8 a.m. to 5 p.m. during the week and 9 a.m. to 4 p.m. on the weekend. At Garden Lakes Baptist Church, Sunday voting will be from 1 to 4 p.m.

Rome's NAACP chapter will be offering free rides to the polls this weekend and Monday.

Interim Chief Elections Clerk Vanessa Waddell said they are working on mailing out absentee ballots at this time. She recommends local voters request their ballots no later than Dec. 28 to make sure they get them in enough time to mark and return them by Election Day on Jan. 5.
Dougherty County will host early voting Saturday, according to the Albany Herald.
The Albany-Dougherty Board of Registration and Elections voted unanimously on Wednesday to add a weekend voting opportunity, which will be held from 9 a.m.-4 p.m. on Saturday.

"There was an attorney's office that reached out to the board saying due to the holidays we would not be in compliance with the law if we did not offer an additional day to voters," Dougherty County Election Supervisor Ginger Nickerson said.

The Saturday voting will take place in Dougherty County at the Albany Civic Center, where early voting has so far attracted a large number of voters for a runoff election.

Totals for the week have been good for a runoff contest, Nickerson said, with the largest day so far on Monday when 931 county residents cast ballots. That is nearly double the 500 or so who typically would turn out for a first day of early voting during a runoff election.

On Tuesday, 850 voted at the site, and there were more than 700 votes cast on Wednesday.
Athens-Clarke County will also offer Saturday early voting, according to the Athens Banner Herald.
The Clarke County Board of Elections voted to add Saturday, Dec.19 as an in-person advance voting option during Wednesday's emergency special called meeting.

The Lyndon House Arts Center polling place, open to all Clarke County voters for early voting, will be open from 9:00 a.m. to 4:00 p.m. on Dec. 19.

To see a list of all advance voting locations, times and dates, go to https://www.accgov.com/advancevoting.
Former State Rep. Deborah Gonzalez (D-Athens) was sworn in as District Attorney for the Western Judicial Circuit, which serves Clarke and Oconee Counties, according to the Athens Banner Herald.
Outgoing State Rep. Tom McCall (R-Elberton) was elected to a two-year term as President of the Georgia Farm Bureau, according to the Savannah Morning News.
McCall, of Elbert County, grows wheat, oats, triticale, grain corn, sweet corn and hay. The McCall family also raises beef cattle, hogs and sheep.

He replaces Gerald Long of Bainbridge, who retired from the position after serving as president since 2016.

McCall has been a Farm Bureau member since 1978, serving in a number of leadership roles.

He served in the Georgia House of Representatives for 26 years, from 1995 through 2020, when he retired.

Founded in 1937, the Georgia Farm Bureau Federation is the state's largest general farm organization with 158 county chapters.

As a membership-driven, nongovernmental organization, GFB serves as the voice of Georgia farmers and rural Georgia by advocating for them on legislative issues and promoting Georgia commodities. Its volunteer members promote agriculture awareness.
Statesboro City Council took no action on proposed legislation to allow drive-through alcohol sales, according to the Statesboro Herald.
After objections from the Bulloch County Alcohol and Drug Council and individuals, Statesboro City Council let two proposals to loosen Statesboro's alcoholic beverages regulations die Tuesday.

One of the proposals would have moved the allowed the start time for stores to sell beer and wine on Sundays up from 12:30 p.m. to 11 a.m. The other would have allowed Statesboro-licensed establishments to sell beer and wine from drive-thru windows and by home delivery.

"We've worked really hard to try to reduce underage drinking in not only Statesboro but all over Bulloch County, and with that we are concerned about the home delivery of alcohol. …," Charlotte Spell of the Bulloch County Alcohol and Drug Council told the city officials. "Home deliveries open an additional avenue for youth access."

The Alcohol and Drug Council has concerns about delivery drivers who are not properly trained to check ID and to refuse sales to people who may already be intoxicated, she said. Independent drivers such as those for Uber Eats and DoorDash and young drivers who feel pressure to make deliveries to underage drinkers present particular causes for concern, she added.

"And if they do find out that the person is underage, then that delivery driver is responsible for losing that sale and having to return the product back to wherever the establishment is," Spell said.
Claxton City Schools announced the temporary closure of three schools to provide labor for the fruitcake industrial complex because of rising COVID numbers, according to the Statesboro Herald.
Athens will allow home delivery of alcohol, according to the Athens Banner Herald.
Alcohol delivery is now a reality in Athens-Clarke County, as a number of stores are, or soon will be, accepting online orders for beer, wine, liquor, and spirits.

As of Monday, Dec. 14, Cork and Bottle Package Store, Northside Bottle Shop , Perry's Bottle Shop, and Spirits on Washington are all accepting delivery orders either through their respective websites, or directly through Cosmic at ordercosmic.com/package_stores.

The second phase, projected to begin between Dec. 21 and Dec. 28, will include ABC Package Store, Five Points Bottle Shop, and On The Way Package Store. Cheers Package Store, Liquor Express, and Westside Bottle Shop are expected to follow between Dec. 28 and January 11.

[C]ustomers must present I.D. when their delivery arrives, and Cosmic must check to make sure that the customer is not visibly intoxicated, as specified by House Bill 879, passed earlier in 2020 and allows the delivery of alcohol.

There are also stipulations as far as where alcohol can be delivered. Since Cosmic can only deliver to addresses in Clarke County, the service does not extend to customers who live outside of that area. HB 879 also prohibits alcohol deliveries to primary schools.
Libertarian Shane Hazel, who is directly responsible for every campaign phone call, text, and mailer you receive between now and the January runoff elections, will run for Governor in 2022, according to the Savannah Morning News.
Hazel also said he is not endorsing either Perdue or Ossoff in the ongoing U.S. Senate runoff election that ends Jan. 5, and he further doesn't support either candidate in the other runoff Senate election. In that election, Republican Sen. Kelly Loeffler is trying to fend off Democrat Raphael Warnock.

It's unknown if a Hazel endorsement would have helped any of the major party candidates in the runoff elections, which are expected to be close. Experts have said the results likely will depend on partisan turnout, and not on persuading undecided or third-party voters to their causes.

Hazel's gubernatorial announcement came about 36 minutes into his livestream and was in response to a question from a viewer.

"Yeah, Shelley. Secret's out, man. Running for governor here in Georgia," Hazel said.

"I've got to get the party's nomination first — that's how we work over in the Libertarian Party. So if that is — if that's in the cards, we're running. That's what trying to get the nomination is."

Another viewer, Ted Metz, told Hazel that he, too, would be running. "Semper Fi Shane! You'll be competing against me!" Metz said in a written comment to Hazel.

"I will never, not today, not tomorrow, not in a million damn years, ever vote for a Republican, or a Democrat or even a Libertarian, who doesn't earn my vote," Hazel said on his video podcast on Wednesday evening. "Evil is evil, ladies and gents, and we have the government we deserve because we have settled for evil."