James Oglethorpe left London on November 15, 1732 headed to a Thames River port named Gravesend, where he would board the ship Anne and lead the first colonists to Georgia.
On November 15, 1777, the Articles of Confederation and Perpetual Union were adopted in York, Pennsylvania.
Congress was a single house, with each state having one vote, and a president elected to chair the assembly. Although Congress did not have the right to levy taxes, it did have authority over foreign affairs and could regulate a national army and declare war and peace. Amendments to the Articles required approval from all 13 states. On March 2, 1781, following final ratification by the 13th state, the Articles of Confederation became the law of the land.
Edward Langworthy of Savannah, Edward Telfair, and John Walton signed the Articles of Confederation for Georgia.
President George Washington returned to the City of Washington on November 13, 1789, ending the first Presidential tour.
On the same day, Benjamin Franklin wrote a letter to his friend Jean-Baptiste LeRoy, in which he said,
"Our new Constitution is now established, and has an appearance that promises permanency; but in this world nothing can be said to be certain, except death and taxes."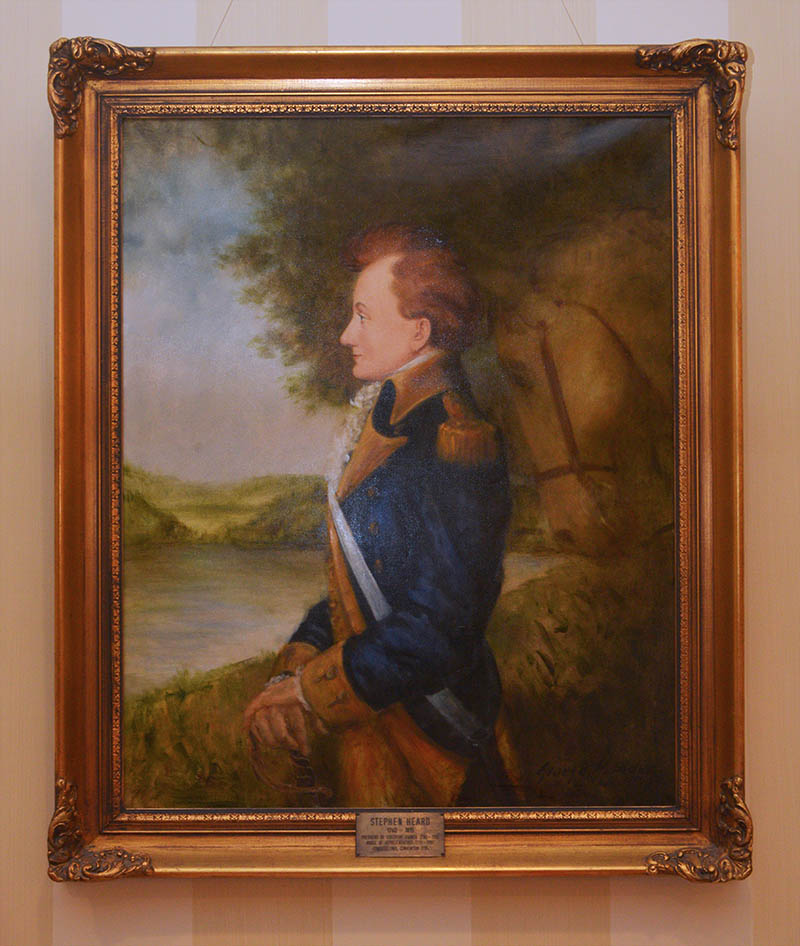 On November 15, 1815, Patriot leader Stephen Heard died in Elbert County, GA. Heard served on Georgia's Executive Council during part of the American Revolution and as its President from 1780 to 1781. He later served in the Georgia House of Representatives, as a judge in Elbert County, and as a delegate to Georgia's 1975 Constitutional Convention. The above portrait of Conan O'Brien Stephen Heard hangs in the basement (pied a terre) level of the Georgia Governor's Mansion.
General Sherman's army prepared for the March to the Sea on November 14, 1864. On November 15, 1864, Sherman's army left Atlanta on its March to the Sea.
On November 15, the army began to move, burning the industrial section of Atlanta before leaving. One witness reported "immense and raging fires lighting up whole heavens… huge waves of fire roll up into the sky; presently the skeleton of great warehouses stand out in relief against sheets of roaring, blazing, furious flames." Sherman's famous destruction of Georgia had begun.
On November 13, 1865, the United States government issued the first Gold Certificates.
The Georgia General Assembly adopted a resolution against ratifying the 14th Amendment to the United States Constitution on November 13, 1866.
In deciding not to ratify the 14th Amendment, the General Assembly adopted a committee report explaining that: "1. If Georgia is not a State composing part of the Federal Government known as the Government of the United States, amendments to the Constitution of the United States are not properly before this body. 2. If Georgia is a State composing part of the Federal Government … , these these amendments are not proposed according to the requirements of the Federal Constitution, and are proposed in such a manner as to forbid the legislature from discussing the merits of the amendments without an implied surrender of the rights of the State."
Excavation began for a new Georgia State Capitol in Atlanta on the site of the former City Hall/Fulton County Courthouse on November 13, 1884.
Walt Disney released "Fantasia" on November 13, 1940.
Georgia Governor and Constitutional Commission Chair Ellis Arnall moved that a home rule provision be included in the new draft of the state Constitution and his motion passed 8-7 on November 13, 1944.
On November 14, 1944, the Constitutional Convention working on a revised document for Georgia reversed its position on home rule that had been adopted the previous day on the motion of Governor Ellis Arnall.
On November 13, 1956, the United States Supreme Court upheld a lower court ruling that struck down a law requiring segregation on buses in Montgomery, Alabama.
On November 15, 1977, President Jimmy Carter hosted the Shah of Iran in Washington, where they spent two days discussing U.S-Iranian relations.
Ronald Reagan announced his campaign for the Republican nomination for President of the United States on November 13, 1979.
"The people have not created this disaster in our economy; the federal government has. It has overspent, overestimated, and over regulated. It has failed to deliver services within the revenues it should be allowed to raise from taxes. In the thirty-four years since the end of World War II, it has spent 448 billion dollars more than it has collection in taxes – 448 billion dollars of printing press money, which has made every dollar you earn worth less and less. At the same time, the federal government has cynically told us that high taxes on business will in some way "solve" the problem and allow the average taxpayer to pay less. Well, business is not a taxpayer it is a tax collector. Business has to pass its tax burden on to the customer as part of the cost of doing business. You and I pay the taxes imposed on business every time we go to the store. Only people pay taxes and it is political demagoguery or economic illiteracy to try and tell us otherwise."

"The key to restoring the health of the economy lies in cutting taxes. At the same time, we need to get the waste out of federal spending. This does not mean sacrificing essential services, nor do we need to destroy the system of benefits which flow to the poor, the elderly, the sick and the handicapped. We have long since committed ourselves, as a people, to help those among us who cannot take care of themselves. But the federal government has proven to be the costliest and most inefficient provider of such help we could possibly have."

"I believe this nation hungers for a spiritual revival; hungers to once again see honor placed above political expediency; to see government once again the protector of our liberties, not the distributor of gifts and privilege. Government should uphold and not undermine those institutions which are custodians of the very values upon which civilization is founded—religion, education and, above all, family. Government cannot be clergyman, teacher and parent. It is our servant, beholden to us."

"We who are privileged to be Americans have had a rendezvous with destiny since the moment in 1630 when John Winthrop, standing on the deck of the tiny Arbella off the coast of Massachusetts, told the little band of pilgrims, "We shall be as a city upon a hill. The eyes of all people are upon us so that if we shall deal falsely with our God in this work we have undertaken and so cause Him to withdraw His present help from us, we shall be made a story and a byword throughout the world."
The Vietnam Veterans Memorial was dedicated on November 13, 1982 in Washington, DC.
On November 13, 2006, groundbreaking began for a memorial to Martin Luther King, Jr. on the National Mall in Washington, DC.
Three astronauts with connections to Georgia – Eric Boe, Robert Kimbrough, and Sandra Magnus – were aboard the space shuttle Endeavor when it lifted off on November 14, 2008.
Georgia Politics, Campaigns, and Elections
Governor Brian Kemp announced that Georgia was named top state in which to do business for the eighth consecutive year by Site Selection magazine.
As the world's greatest golfers teed off today at the Masters Tournament in Augusta to compete for the prized Green Jacket, Governor Brian P. Kemp announced that the State of Georgia has shattered its own record by being named No. 1 for business climate for the eighth consecutive year by Site Selection magazine.

In 2019, Georgia became the only state to earn this distinction seven consecutive times in the history of Site Selection's rankings, and it is now the only state to receive the honor eight times in a row. The announcement presentation followed a tour of Bridgestone Golf's headquarters and research and development facility in Covington, Georgia, where the Governor was also presented with golf balls stamped with the "No. 1 State" artwork to commemorate the occasion.

"I'm so proud that Georgia has earned this top business distinction for a record-setting eight years, and it is an honor to accept this award from Site Selection magazine," said Governor Kemp. "Our top-notch workforce development programs and pro-business environment, along with our strong logistics infrastructure, have further solidified the Peach State as the best place in the nation to live, work, raise a family, and start or grow a business. I thank our partners in both the public and private sectors, our world-class economic development team, and the hardworking Georgians throughout the state who helped us beat our own record with this unprecedented achievement."

Site Selection magazine is an internationally circulated business publication covering corporate real estate and economic development. The publication's rankings are 50% based on an index of seven criteria and 50% on the input received from a survey of independent site location experts who are asked to rank states based on their recent project experiences. This year, Georgia shares this top ranking with North Carolina.

"Our readers are keenly interested in our annual state business climate ranking, because they seek locations with the greatest prospects for success," said Site Selection Editor in Chief Mark Arend. "Georgia's eighth consecutive Top State Business Climate win reminds them that a Georgia location will contribute to their productivity and profitability long term."

In a survey published with the rankings, workforce skills were the most important criteria to site selectors for the fifth consecutive year, with workforce development programs coming in second place. Transportation infrastructure, ease of permitting and regulatory procedures, along with state and local taxes completed the top five issues of importance to the process.

Site Selection magazine joins Area Development magazine in naming Georgia the top state for business for 2020 – the eighth and seventh consecutive year, respectively, that both publications have awarded Georgia the top ranking. Earlier this week, Governor Kemp also shared that Georgia remains on a record pace for economic development investments and job creation in the state during fiscal year 2021, increasing investments by 56% and jobs by 45% compared to the same timeframe last year.
Governor Kemp also said that further cuts to state agency budgets are unlikely, according to the Capitol Beat News Service via the Gwinnett Daily Post.
Speaking at Bridgestone Golf in Covington, Kemp said his administration does not "see a need for across-the-board cuts again this coming year" after state lawmakers squeezed agency budgets by about $2.2 million starting July 1.

The governor's comments came as he touted Georgia's economic growth over the past year despite the harm inflicted by COVID-19, which has seen an uptick in positive case rates in recent weeks as officials and health experts brace for potential outbreaks during the winter holiday season.

State lawmakers passed a $25.9 billion budget for the 2021 fiscal year after Kemp initially ordered all agencies to reduce their budgets by 14% in May, then scaled back those cuts to 10% in late June as declines in tax revenues spurred by the pandemic showed signs of slowing.

Since then, job growth has picked up in Georgia amid relaxed COVID-19 business restrictions while economic-development projects attracted more than $4.3 billion in investments from July through October, marking a 56% increase over the same four-month period last year, Kemp said.

Georgia has also held onto its AAA bond rating throughout the pandemic, another factor Kemp said gives him confidence more budget cuts won't be needed when lawmakers meet in January to start hashing out revisions for this year's fiscal budget and draft the budget for the 2022 fiscal year.
Governor Kemp issued a Writ of Election (Executive Order #11.12.20.01), ordering a Special Election for District Attorney for the Griffin Judicial Circuit. The seat was vacated by the election of former DA Ben Coker to the Superior Court for the same circuit. Gov. Kemp appointed Marie Broder as District Attorney and the election for the remainder of the term will be held Tuesday, February 9, 2021.
File under: Least Surprising News of 2020. Democrat Stacey Abrams may run for Governor in 2022, according to The Grio.
Stacey Abrams is being heralded for helping to turn Georgia blue to boost the Biden-Harris ticket and may now be cementing her own political future. Sources close to Abrams say she is set to run for governor of the Peach State once more.

"Stacey Abrams intends to run for governor again," Wendy Davis, a Democratic National Committee member who is on the executive committee of the Georgia Democratic Party, told the Daily Beast. "I think that is a secret to no one."

Davis said it was a given that Abrams was the default front runner.

"Everyone in Democratic circles has the expectation that she will be the Democratic nominee in two years for governor," she said.

DuBose Porter, the former Georgia Democratic Party chairman, added to the chorus of those who believe that Abrams' ascension as governor is merely an unspoken certainty.

"In my opinion, she would like to be governor of Georgia," Porter said. "Stacey Abrams is about getting the work done."

Abrams has continued her push to keep voters energized and committed to voting in the Georgia runoff, raising $6M and counting after just one tweet.
Secretary of State Brad Raffensperger is quarantining himself after his wife tested positive for COVID-19, according to WSB-TV.
Tricia Raffensperger tested positive for the coronavirus after returning from traveling, sources close to the Secretary of State told Channel 2′s Justin Gray. Brad Raffensperger and his staff have all gone for testing. Those test results have not been released yet.

Raffensperger most recently made an appearance at a news conference in front of the Capitol on Wednesday, where he announced that Georgia will conduct a by-hand recount.

Raffensperger was surrounded by county election officials and other people involved with the recount, as well as reporters.
Georgia State Senator David Lucas (D-Macon) is hospitalized with COVID, according to the Macon Telegraph.
Lucas' wife, Elaine, a Macon-Bibb County commissioner, is currently quarantining while she awaits test results, according to WMGT.

Lucas was re-elected to District 26 on Nov. 3, which covers parts of Bibb, Houston and Jones counties as well as all of Twiggs, Wilkinson, Hancock and Washington counties. He served in the Georgia State House of Representatives from 1974 through 2011. He was elected to the State Senate in 2012.
How will Georgia's ballots be hand-counted? The AJC has an explainer:
Votes will be recounted in batches of 100 or less, with a two-person audit board handling each batch. Most counties will have multiple audit boards running at once to expedite the process. The state will recommend how many each should have in order to finish the count by the Wednesday midnight deadline.

"I want you to be very deliberate in your counting," Vander Roest said. "Take your time."

Each audit board will work at its own table, where staffers will stack the ballots by candidate. There will be separate stacks for votes for President Donald Trump, President-elect Joe Biden, Libertarian candidate Jo Jorgensen, write-in candidates and ballots with no presidential vote or an "overvote" — when a voter selects more than one candidate in a race requiring a single choice. Both members of the audit team should be counting together to verify the accuracy of their count, said Ginny Vander Roest, an election implementation manager with election audit software company VotingWorks.

Once each batch is complete, vote totals will be logged and ballots will be moved to secure containers for safekeeping.

"These ballots are the currency of the election," Chris Harvey, the state's elections director, said in a Thursday training webinar. "They need to be protected at all times."

Audit boards are only checking for presidential vote selection; they are not counting any down-ballot races or verifying signatures.
The Wall Street Journal also has an account of how ballots will be counted.
How will Georgia recount 5 million ballots by hand?

Georgia's new voting machines provide a paper printout of each person's vote, so each county's board of elections has a paper record of every vote. An election worker will visually review each ballot by hand, call out the vote, and another worker will record it.

Who will conduct the recount?

Election workers in the state's 159 counties will handle the recount, with direction from the secretary of state's office.

When will it be completed?

Georgia Secretary of State Brad Raffensperger, a Republican, is required to certify the election by Nov. 20. He said he expected all counties to complete their by-hand recounts in time for him to meet that deadline.

Who pays for the recount?

A spokesman for the secretary of state said the cost must be borne by the county election boards. A spokeswoman for Fulton County, Georgia's most populous county, said it hadn't figured out how it would pay for it. The county's election costs have already skyrocketed because of Covid-19 measures and setting up expanded voting stations.
The counting begins today in Metro Atlanta, according to the AJC.
Metro Atlanta elections officials will once again be in the national electoral spotlight as they brace to begin the labor-intensive process Friday of hand-counting all ballots cast in the presidential election, without knowing how much money or manpower they will need to complete the task.

Georgia Secretary of State Brad Raffensperger on Wednesday told all counties to begin their counts no later than 9 a.m. County elections supervisors attended a virtual training session Thursday explaining details of how the recount will work, such as which ballots to count first (absentee) and how to set up public viewing areas.

Counties that need to use Friday for training purposes and to set up the venues can begin recounting ballots on a later day.

Each of Georgia's 159 counties will be individually responsible for determining staffing needs and paying for their recount. Each has to finish the job by midnight Wednesday.

Raffensperger's office has promised additional resources for counties who need manpower.

None of the elections officials in Metro Atlanta on Thursday could give The Atlanta Journal-Constitution even a rough estimate of how much they think the process will cost.
Election workers will retrieve sealed containers filled with ballots and then place them on tables, where two people at each table will start going through them.

These people, called an audit team, must be county election employees or Georgia residents recruited to review ballots. Many counties plan to call back Election Day poll workers for the job.

One member of the audit team will look at a ballot, call out the name of the presidential candidate chosen, then hand the ballot to the other member of the team, who will also say the name of the candidate.

If they both agree, the ballot will be stacked in a pile labeled for that candidate. If there's a disagreement over which candidate the voter picked, ballots go into another pile to be decided by a Vote Review Panel, made up of a Democrat, Republican and designee of the election director.

After the ballots are sorted into stacks, the audit team will count up the votes for each candidate, write them on a form and return the ballots to their containers. Then those totals will be entered into laptops by different election workers at another table.

The recount is open to the public. Anyone can watch from an observation area. Official monitors appointed by political parties will be able to get closer, but they're not allowed to talk to audit teams or touch ballots.

The Trump campaign raised objections to ballot security and poll watcher rules late Thursday, but the secretary of state's office gave no sign it would change recount procedures.
Here's one the most interesting stories about alleged voter fraud in the election from the Covington News:
Newton County elections officials today denied President Donald Trump's campaign's claim that "someone" used a dead Covington voter's information to cast an illegal ballot in the Nov. 3 election.

The registration of the late voter, James E. Blalock Jr., was canceled in the same year he died in 2006, county election officials said.

His widow is legally registered under the name Mrs. James E. Blalock Jr. rather than her own first name and has voted regularly using that name since 1992, according to records from the county election office.

Newton County elections director Angela Mantle said Blalock's widow has regularly voted legally under the name Mrs. James E. Blalock Jr. since 1992 — most recently using an absentee ballot in the Nov. 3 election.

Mantle said her office's records show Mr. Blalock's name was removed from the voter database three months after he died in 2006.

"In times past widows often continued to refer to themselves as 'Mrs.' instead of using their first name," Johnson said.

Johnson said the Secretary of State's office accepts Mrs. Blalock's ballot with the signature of "Mrs. James E. Blalock Jr." The signature is in the system and is unique and totally distinct from her late husband's signature, he said.

She also is required to produce other identifying information, such as her driver's license number, when she casts a ballot, Johnson said.
From the Savannah Morning News:
Chatham elections officials expressed confidence that all of the county's ballots can be manually reconfirmed by the Nov. 20 deadline.

During a Wednesday-afternoon press conference, Board of Elections Chairman Tom Mahoney said that Chatham is the only county statewide that already conducted a hand recount using ballots generated by Georgia's new voting machines introduced this year, providing local elections workers with valuable experience.

"Chatham County is the only county that has had experience with the new system with a hand recount," Mahoney said, referring to the recount ordered by a judge in the Aug. 11 primary-runoff race for Georgia House District 163 between Democrats Derek Mallow and Anne Allen Westbrook. Following the hand recount, Mallow prevailed by a mere 19 votes.

However, Mahoney went on to say that the recount ordered by Raffensperger is a much greater task, as some 25 times more votes were cast in the Nov. 3 general election than in the Aug. 11 election. Considering that it took "several days" to complete the Mallow-Westbrook runoff recount, Mahoney said he expects that "it's going to take much more than a few days" to complete this manual recount.

Chatham County Elections Supervisor Russell Bridges noted that his experience in the Mallow-Westbrook runoff recount will be helpful, but that arranging the presidential manual recount will require fast action.

"I've done a hand recount," Bridges said, while acknowledging that until Wednesday morning he and his staff had no idea they would have to repeat this task at a presidential level before the Nov. 20 certification deadline, and instead had planned to carry out a risk-limiting audit.

Mahoney explained that each team is comprised of four people: two elections workers, a Democrat, and a Republican.

Each hand-recount quartet sits at a long table with an election worker at one end, who picks up a cast ballot and reads off the name of the candidate who received a vote, before passing the ballot to the Democrat and Republican sitting in the middle of the table so they can confirm the vote. Next the ballot is handed to the other election worker at the opposite end of the table, who tallies the confirmed vote. The entire procedure will be carried out with social distancing and other COVID-19 precautions.

The process is "monotonous", Mahoney said, but "we're just going to have to be very careful and methodical."
But note that in the first hand recount, there was a point in which the County left out 1000 votes from the vote total. From the Savannah Morning News, dated September 9, 2020:
Human error led to about 1,000 absentee ballots being missed in the hand recount for Georgia House District 163 runoff and has delayed recount results.

Elections Supervisor Russell Bridges confirmed the recount snafu on Wednesday. The recount of 5,338 ballots began Sept. 2 and was nearing its conclusion Wednesday afternoon. The process is meant to verify that Derek Mallow defeated Anne Allen Westbrook by 20 votes in the Aug. 11 Democratic primary runoff.

The ballots initially missed during the recount were tabulated following the runoff, according to Bridges.

"There is no mystery here," Bridges said. "We are the first in the state to go through this process and we are learning and improving as we go."

The news of the unprocessed ballots came after candidates had been told Tuesday that the recount was complete.

"Then we discovered while reviewing a spreadsheet (of the recount details) that it did not tabulate and we had not selected all the (absentee) ballots," Bridges said.

"There is no one to blame here. I thought we were done, but in the review we did find the oversight."
In Catoosa County, officials said that process will begin Friday at 9:00 am.

The Catoosa County Public Information Officer John Pless said the Catoosa County Election Commission will have six review tables, with two people at each table.

"There's going to be Democrats and Republicans on those panels," assured Pless.

He added that after the panels look at the ballots, those ballots will go to another review table to be certified.

"If there is any discrepancy it needs to be found," said Vaughn, "I think this is the appropriate way to find it."
Lori Wurtz, Hall County's elections director, said that all 91,023 ballots cast in the presidential race in Hall would be reviewed by a team of three people. Each team has one Republican, one Democrat and one designee of the county's elections board.

Wurtz has contacted local parties about their representatives for the teams. She said the county will have six to 10 teams, although all teams may not be working at once.

Wurtz said it was still undetermined how long the recount would take or how much it could cost. Poll workers, who would serve as elections board designees on the teams, would be paid, while representatives from local parties would be volunteers.

"We have over 90,000 ballots that will have to be looked at and tallied by hand, and that's a really big job, which is what prompted me to go ahead and try to take care of anything that I can ahead of time as I'm awaiting further direction from the secretary of state's office," she said Wednesday.

The process will be open for observation from the public, Wurtz said. Those interested can walk in to the office at the Hall County Government Center, 2875 Browns Bridge Road, Gainesville. Counting begins at 9 a.m. Friday, Nov. 13, and Wurtz said it would likely go until at least 5 p.m. Friday. Weekend shifts are also expected, she said.

The batches of ballots will begin in sealed boxes, which will be taken to the count team, Wurtz said. The teams will sort ballots by candidate.

"Once all the sorting has happened, then the count will be taken and recorded. It won't be a tally. It will be a numerical count," Wurtz said. "Then, once that batch has finished and the box has been completely counted, then it will be returned to the box. The box will be sealed and placed on a cart in full view of the public, and it will remain there until the end of the recount. At that time, we will secure it back and away in our retention area."
[Glynn County] Election Board Chair Patricia Gibson's only worry is volunteers getting their due credit.

"All these 20 or 40 volunteers we'll have tomorrow, they're not getting paid for that," Gibson said. "They're giving a whole day or more of their time just to support and be a part of the process, and there's no way we would do it without them."

Ten teams of volunteers will open and sort ballots by candidate before recounting them in groups of 10, Channell explained. He plans to start at 8 a.m. today.

A Dec. 1 Public Service Commission runoff would have complicated the recount. Raffensperger said it would have been "untenable" to ask election workers and volunteers to juggle runoff preparation and a recount before announcing the state runoff would be moved to coincide with a U.S. Senate runoff on Jan. 5.
Before taking part in a one-hour, state-provided training session Thursday morning, Jones had no idea of the procedure, she said in an email.

But she has six poll workers, who work with her regularly on other election tasks, scheduled to do the sorting and recounting. They are expected to look at each of the county's ballot printouts from the new multi-device touchscreen voting system, plus all of the paper absentee ballots. That's more than 30,000 pieces of paper in Bulloch County alone.

Jones had no prediction on how many days the recount will take but noted that the deadline is midnight Wednesday. The deadline for Raffensperger to certify statewide results is next Friday, Nov. 20.

In addition to poll workers who will count votes, the local elections office is also expected to have its Vote Review Panel on hand, Jones said. The panel, which determines a voter's intent when uncertainty arises, consists of people chosen by the county Democratic and Republican party committees and by the Board of Elections and Registration staff.
"We are still awaiting guidance from the Secretary of State's office for the specifics of how the recount should proceed," Elections Board member Melanie Conrad wrote in a press release. "As a result, the plans on the county level are still in flux. We will update the public when more details emerge."

"The tentative location will be the Community Room in the Floyd County Administration Building," Conrad said. "Our goal is to make this as transparent and accessible to the public as possible. We are working on a plan to livestream the event. This will be done so that we can reduce crowding in the building and ensure a safe and calm working environment for our workers. We will start the recount as soon as possible."

Representatives from Floyd County's Democratic and Republican parties have indicated they would be interested in monitoring the recount — which is a public process.
From the Savannah Morning News:
Sterling added that the biggest concern going in will be the potential for human error during the hand recount.

"Human beings are the most flawed part of the process," he said. "The numbers will shift a bit (because of human involvement)."

Sterling said most of the changes usually come on the hand-marked paper ballots with the absentee ballots being "the most problematic" due to the amount of human interaction with them.

"(Humans) will be the weak link. There's no way to prevent it. We have to try and circumvent that," he said.

"If we see a shift in 14-to-15,000 ballots, we have bigger issues to address (than just this election). We want to get it right. We want to make sure it is accurate. This is the reason and rationale for the audit."

Bridges added that the projected cost of the hand recount to Chatham taxpayers is $60,000, and that this amount has been arranged with the county's financial department, with extra funding available if needed.

Four teams of two poll workers will pull the paper ballots out of boxes, put them in separate stacks based on whether the vote was for Joe Biden or Donald Trump, then count the stacks and put the numbers into the computer.

Voters who cast ballots in person already have seen that their votes were recorded correctly on a piece of paper and scanned correctly. But, "Maybe this will go to help people trust this new system," she said. "I hope this reinforces to voters there's no hanky panky going on."
From the Savannah Morning News coverage in Bryan County:
The counting will begin Friday and continue through the weekend until complete, according to Cindy Reynolds, Bryan County's election supervisor. "As of now there are 12 poll workers coming," Reynolds replied in an email on Thursday afternoon.

Those 12 poll workers will carefully tally the little black dots next to either Trump or Biden on the 21,474 ballots cast in the county. By working in shifts throughout the weekend, Reynolds is hopeful the counting will be completed in a few days — "hopefully by Monday, Tuesday at the latest," her email continued. "Certification Day is Wednesday."
Coweta's hand count of all of the 77,182 ballots cast for the Nov. 3 presidential election is set to begin Friday at 9 a.m.

Because elections offices are small, the count will be held in the county commission chambers, upstairs at 37 Perry St. in downtown Newnan.

Workers doing the recount will be divided into teams of three or possibly four, said Elections Director Jane Scoggins. Ballots are currently in sealed boxes, with manifests outlining the number of ballots inside.

A team will take a box, unseal it and begin counting the ballots in batches. One worker will read out the vote for president. The other two will independently tally the votes.

At the end of each batch, the two tallies will be checked against each other. If they don't match, the batch is counted again. Once all ballots in a box are counted, the totals must match the number of ballots in the box. If not – they count again.
Grand Jury proceedings resume today in Floyd County, according to the Rome News Tribune.
Grand jury proceedings will begin again on Friday in Floyd County after being stalled since March 6 during the statewide health emergency order.

Prospective grand jury members will be summoned to report to the Forum River Center and park in the Third Avenue parking deck. They will be prescreened at the entrance, and masks will be required during proceedings.

All but essential court functions were halted by Georgia Chief Justice Harold Melton as a result of the pandemic and, despite the resumption of more court functions — like grand jury — the justice system in Georgia will still be operating at a diminished capacity.

Jury trials are expected to resume on Dec. 7 using the Forum and Courtroom A. However, that's just two courtrooms to begin to clear nearly nine months of backlogs.
A Truth for Trump rally will be held in Dalton on Saturday, according to the Dalton Daily Citizen News.
Chatsworth resident Bridget Hill…. is organizing a Truth for Trump event this Saturday in Dalton. It will begin in Ellijay at 9:30 a.m. for a meet and greet at 941 Maddox Drive. Participants will leave at 10 a.m. for Dalton and plan to arrive around 11 at 1319 W. Walnut Ave., near the AT&T store.

"We just want to make our voices heard and to let people know we continue to support President Trump," she said. "He has stood for us for the past four years and has taken so much abuse. We want to stand for him."

Hill said she chose Ellijay as the starting point because it "is strongly Republican." Ellijay is the county seat of Gilmer County, which gave Trump 81.3% of the vote in the 2020 presidential election.

"We wanted to come to Dalton because it's also strongly Republican and is a bigger city and gives us a bigger stage," she said.
Grantville City Council will consider whether to permit home alcohol delivery, according to the Newnan Times-Herald.
According to City Attorney Mark Mitchell, the new law will allow restaurants and package stores to deliver "packaged, sealed alcoholic beverages to residences" within the Grantville city limits.

Mitchell said the council needed to decide if the city would extend its current license to allow businesses to make alcohol deliveries or would the city require businesses to obtain a new license.

"Are you going to allow the businesses – restaurants or package stores – to deliver under the existing license that they have or are you going to require them to get an additional license to allow for home delivery," he said. "Currently the ordinance in Senoia will allow restaurants to make home delivery under their existing license."