On October 14, 1735, John and Charles Wesley sailed with James Oglethorpe from Gravesend, England, for Georgia and John Wesley wrote the first entry in his journal that would eventually cover 55 years. On that date, John Wesley wrote,
Our end in leaving our native country, was not to avoid want, (God having given us plenty of temporal blessings,) nor to gain the dung or dross of riches or honour; but singly this, to save our souls; to live wholly to the glory of God.
The First Continental Congress adopted the Declaration of Colonial Rights in Philadelphia, Pennsylvania on October 14, 1774.
Then-former President Theodore Roosevelt was shot before a campaign speech in Milwaukee, Wisconsin, on October 14, 1912.
Roosevelt, who suffered only a flesh wound from the attack, went on to deliver his scheduled speech with the bullet still in his body. After a few words, the former "Rough Rider" pulled the torn and bloodstained manuscript from his breast pocket and declared, "You see, it takes more than one bullet to kill a Bull Moose." He spoke for nearly an hour and then was rushed to the hospital.
A.A. Milne published Winnie-the-Pooh on October 14, 1926. E. H. Shepard illustrated the Pooh books.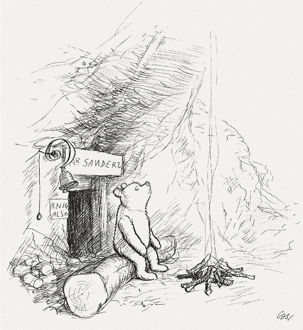 The War Department renamed Wellston Air Depot to Warner Robins Air Force Depot to honor Brigadier General Augustine Warner Robins on October 14, 1942.
On October 14, 1964, Martin Luther King, Jr. was announced as the winner of the Nobel Peace Prize, becoming Georgia's first native-born winner. The Atlanta Journal Constitution has a story on how King's Nobel Prize effected Atlanta.
The honor wasn't just a watershed for King and the civil rights movement but also for Atlanta. It set off a series of events that some say fundamentally changed the city's business, religious and racial cultures by bringing blacks and whites together for the first time to share a meal in public.

That simple act, holding a multi-racial banquet in the new Nobel laureate's honor, tested the will and even the nerves of those determined to make Atlanta a more just and inclusive place.

"It was a defining moment in the history of the city, and it should go down in the city's documented memory," said Janice R. Blumberg, the widow of Rabbi Jacob Rothschild, who was instrumental in organizing the event.

King's three surviving children are due in court in December to determine if the 23-karat gold medal — along with a Bible their father once owned — should be sold at auction. Brothers Martin Luther King III and Dexter King, representing the King Estate, plan to sell the items. Sister Bernice King has opposed the sale.

Mayor Allen and J. Paul Austin, chairman of Coca-Cola, gathered the business elite at the Piedmont Driving Club. Allen warned then he would be taking notes on who did not attend the dinner. But Austin delivered the crushing blow.

According to Young's written account, Austin said: "It is embarrassing for Coca-Cola to be located in a city that refuses to honor its Nobel Prize winner. We are an international business. The Coca-Cola Company does not need Atlanta. You all have to decide whether Atlanta needs the Coca-Cola Company."
On October 14, 1980, Republican candidate for President Ronald Reagan announced he would name a woman to the Supreme Court if elected.
To achieve those ends, we need the best people possible at the highest levels of Government regardless of sex, race or religion. I am also acutely aware, however, that within the guidelines of excellence, appointments can carry enormous symbolic significance. This permits us to guide by example, to show how deep our commitment is and to give meaning to what we profess.

One way I intend to live up to that commitment is to appoint a woman to the Supreme Court. I am announcing today that one of the first Supreme Court vacancies in my administration will be filled by the most qualified woman I can find, one who meets the high standards I will demand for all my appointments.

It is time for a woman to sit among our highest jurists. I will also seek out women to appoint to other Federal courts in an effort to bring about a better balance on the Federal bench.
Georgia Politics, Campaigns, and Elections
Here are today's General Election stats, drawn from the Absentee voter file released daily by the Secretary of State's office:
Total votes cast:               786,413

Mail-in votes cast:          537,323

Electronic:                            4,213

In-person votes cast:     244,877
Absentee votes in this year's primary elections were more Republican than Democratic, according to Riley Bunch and Kaye LaFond writing for the Valdosta Daily Times.
[D]ata shows both Florida and Georgia Republicans voted by mail at a higher rate than Democrats. But the negative rhetoric about mail-in — or absentee ballot — voting hasn't gone without impact.

Enrijeta Shino, assistant professor of political science at the University of North Florida, said that prior to 2020, Republicans already tended to vote by mail at higher rates, but Democrats are gaining ground in their use of the method.

Shino's research has indicated that neither party benefits more from expanded use of mail-on ballots. Younger voters are also starting to slowly take up the practice whereas before, mail-in ballots were more likely to be utilized by "old, educated and strong partisans."

In both Georgia and Florida, counties with a higher rate of residents 65 year or older as well as counties with a higher median household income showed greater rates of mail-in voting use, a CNHI data analysis showed.

"The way we look at it is we have a targeted group of voters that we need to get out and vote — they're low propensity voters or they're new voters and our goal is to get out, engage with them, talk to them about the voting process, and let them choose the medium, and then it's sure they actually go and do it," [Trump Victory regional director Brian Barrett] told CNHI. "So yes, as absentee has grown exponentially, we give every voter that we talk to the opportunity to cast absentee."

Trump door knockers carry absentee ballot applications with them as they peruse through Georgia's suburban neighborhoods. Mailers sent throughout the campaign by the Georgia Republican Party encouraged voters to vote absentee for Trump.
Politico writes that President Trump's campaign aims to harvest higher numbers of votes from rural Georgia this year.
Georgia, much like the rest of the country, has undergone enormous geographic party polarization, driving a wedge between rural and suburban-urban counties. In 2018, Stacey Abrams, the Democratic nominee for governor, won nearly three-quarters of the predominantly urban or suburban counties, while GOP Gov. Brian Kemp won nearly 90 percent of the predominantly rural counties.

By targeting Trump voters who don't typically vote in a midterm, Kemp improved on Trump's 2016 margins by about 2 points across all rural counties, suggesting there's room for Trump to grow in Georgia.

Still, one Georgia Republican strategist warned, Trump "can't just rely on the rural areas anymore," noting that "2018 was probably the last year that the numbers in the rural parts of the state would be enough to keep up with the metro areas. You have to have crossover appeal."

Seth Clark, a Democratic strategist and county commissioner-elect in Macon, saw the possibility of a more modest potential increase.

"We're talking about a 2 percent increase in these counties, winning 19 percent of voters there from 17 percent, which could be, what, a net gain of 45 people in some counties," Clark said. "This is not a major shift, it's just about doing some work outside of I-285," citing the highway that rings Atlanta and its sprawling suburbs.

Bob Trammell, the state House Minority Leader, argued that Biden's "personal appeal" and profile, as a "son of Scranton and a state university graduate," works in his favor with rural voters and "he'll have success peeling off some of those votes."

"Republicans have to get every conceivable vote in the rural parts of the state, and hope they can hold on," Trammell said.

That dynamic played out in November 2018, when Chip Lake, a GOP strategist, was sitting in the then-GOP lieutenant governor candidate's war room in Athens, Georgia, watching returns trickle in. He thought the night might be over early when the first dozen rural counties reported, showing Kemp's margins up by 3 to 5 points ahead of Trump's in 2016. But once the suburban-urban counties rolled in, showing Republicans "were 3 to 5 points below Trump's margin, so it turned out to be very close," he said.

"As much as Democrats have made inroads in suburban American and suburban Georgia, Republicans have relied on the rural counties to keep this state red," Lake said. "I don't think either dynamic is sustainable long-term for either party."
Democrat Dr. Jill Biden campaigned in Columbus, according to the Ledger-Enquirer.
Hundreds of voters swarmed Columbus' City Services Center to cast their ballots. At Warehouse 9 Restaurant, where Jill Biden spoke, many in the audience raised their hands when she asked if they had voted yet. One man told Biden that he got in line at 4:30 a.m.

"I think that's really going to be what it takes," she said. "People are going to have to just go really early. Take your chairs, take a bag of breakfast and a cup of coffee and be prepared to wait. Americans are so dedicated this election to voting because they see there's so much at stake."

U.S. Congressman Sanford Bishop, State Reps. Calvin Smyre and Carolyn Hugley, State Sen. Ed Harbison and other local Democratic officials were among those who attended or appeared alongside the former second lady of the United States.

It was Biden's second stop in Georgia. Earlier in the day, she appeared in DeKalb County alongside former gubernatorial candidate Stacey Abrams and other state party leaders.
Ivanka Trump campaigned for Senator David Perdue in Acworth, according to the AJC.
Ivanka Trump, the president's daughter, met with Perdue for a public "conversation" Tuesday afternoon in Acworth. They touched on the president's pandemic response, economic record and plans for a "great American comeback" if he's reelected.

"We all know what's at stake Nov. 3," Trump told about 80 supporters gathered at the Cowan Historic Mill. "That's why we are fighting so hard. We will leave it on the field to make sure our president, my father, secures four more years."

Donald Trump Jr. visited Savannah and Kennesaw on Monday. Vice President Mike Pence fired up conservative evangelicals in Atlanta two weeks ago. The president himself visited Atlanta recently in an effort to appeal to Black voters, and he will return Friday for a rally in Macon.

On Tuesday, Ivanka Trump began her visit to downtown Acworth with a stop at Pizza by Fuscos, chatting with the owners about how the business has fared during the pandemic.
Democratic Gwinnett County Solicitor General Brian Whiteside (D) is using his office to promote his chosen candidate for District Attorney, who happens to work for him. From the Gwinnett Daily Post:
Solicitor General Brian Whiteside filed the lawsuit against District Attorney Danny Porter last week over an agreement Porter had reached with Whiteside's predecessor, Rosanna Szabo. The solicitor claims funding has been taken from his office without his knowledge because of the agreement.

"Upon gaining this knowledge, the current solicitor general asked Mr. Porter to terminate said contract. He did not," Whiteside spokeswoman, Arteen Afshar said in a statement. "He was also informed that the unrevealed contract, as written, would put a $100,000.00 dollar deficit in the Gwinnett County Solicitor General's current budget."

The battle is over funds raised through a 5% surcharge on all fines related to the Victim Assistance Program.

A copy of a letter that was included in Whiteside's lawsuit shows Porter and Szabo sent a letter to Gwinnett County Commission Chairwoman Charlotte Nash in December 2018, after Whiteside defeated Szabo in that year's election for the Solicitor General's Office.

The letter shows Porter and Szabo agreed to continue sending all funds raised from the surcharge to the District Attorney's Office to support its Victims Witness Program while all funds raised from the surcharge in State Court would go to the Solicitor's Office to support its Victims Witness Program.

Porter, however, said the agreement was not a binding contract. The district attorney explained that only the Gwinnett County Board of Commissioners determines where the funds will go, and it asks the two prosecutors to work out an agreement among themselves for the board to ratify.

"I think the county attorney tried to explain it to him (and) I tried to explain it to him," Porter said. "It's clear he doesn't understand how the money is allocated and negating the agreement would have no effect on the current distribution of funds."
This comes a month after District Attorney Danny Porter filed an ethics complaint alleging his Democratic opponent Patsy Austin-Gatson was campaigning on the clock in her job working for Solicitor General Whiteside. From the Gwinnett Daily Post:
The State Ethics Commission confirmed that it has opened an investigation into the complaint filed by Porter. Campaign rules in Georgia prohibit the use of government resources for campaigning.

Porter is alleging multiple violations by both his opponent and Clemons, who was defeated by Keybo Taylor in the Aug. 11 Democratic primary run-off for sheriff.

Austin-Gatson, her husband and Clemons all work for Solicitor General Brian Whiteside's office.

Allegation against Austin-Gatson include: she and her husband allegedly made campaign fundraising calls while on county time; Solicitor's Office employees were seen loading her campaign signs into a county vehicle and later placing them on a roadway; and that she asked county employees to help them create, edit and print campaign materials.

"It's disturbing that my opponent would allegedly commit these corrupt acts. It is never acceptable to campaign on taxpayer's time, while using taxpayer-funded government equipment, and pressuring your subordinates into campaigning for you," Porter said in a statement.

"If true, these allegations show that Mrs. Austin-Gatson is willing to abuse her power — and possibly commit criminal acts — just to win an election. This alleged behavior is beneath the standards of the office that Mrs. Austin-Gatson seeks."
Athens-Clarke County is rolling out more voting machines to meet in-person early voting demand, according to the Athens Banner Herald.
By the end of the day Monday, 547 people had cast their ballots. Elections officials did not know whether that was a record, but it was definitely more than on the first day of voting in the 2018 general election, said Charlotte Sosebee, the director of elections and voter registration.

The Clarke elections office began Monday with four voting machines, as usual. But as the line grew, the office added more machines. On Tuesday, the Board of Elections office opened up an overflow advance voting site in City Hall, bringing the total of voting machines deployed to 10.

Clarke County will open up five additional advance voting sites in the last week of advance voting, Oct. 26-30, and four of those sites and the Board of Elections office will open Saturday, Oct. 24; voters will also be able to cast ballots at the Board of Elections office downtown on Sunday, Oct. 25.
Hall County saw nearly 4500 in-person voters on Monday, according to AccessWDUN.
Nearly 4,500 people in Hall County went to the polls on Monday, part of a record 128,000 Georgians who voted on the first day of early, in-person voting in the state.

Hall County officials reported only two minor issues on the first day. The Mundy Mill precinct opened a half hour later because of a staffing shortage. The Downtown Gainesville precinct experienced longer wait times, so elections officials have allocated more staff to that location.
From the Cherokee Tribune Ledger News:
A total of 2,814 people turned out to cast in-person ballots on the first day of early voting in Cherokee County on Monday, election officials said.

The volume created long lines at polling places, but the process ran smoothly for those in line, Director of Elections and Voter Registration Kim Stancil said. "It has gone better than I could have hoped for," she said late Monday afternoon. "I have not been informed of any issues at all."

As the campaign intensifies in its final weeks, candidates are making stops in Cherokee County to court voters. Republican Sen. Kelly Loeffler was scheduled for an event at Downtown Kitchen in Canton on Tuesday, while incumbent Republican Sen. David Perdue and presidential adviser Ivanka Trump were holding a joint appearance in Acworth Tuesday afternoon. Loeffler's chief Republican rival in the special election, U.S. Rep. Douglas A. Collins has made at least one recent campaign appearance in Cherokee County.
On both Monday and Tuesday Floyd County voters saw wait lines of over an hour in order to cast a ballot. On Monday, lines went outside the County Administration Building and down East Fourth Avenue as locals waited to vote.

The lines were shorter early Tuesday but wait times appeared to be just as long. Three people leaving the downtown location at the county administration building after voting at 10 a.m. said they'd arrived around 8:15 a.m.

Those leaving reported the chokepoint was the check in process.

To fix that issue, Elections Board member Melanie Conrad said they're in the process of procuring additional computers to check in voters. While the voter verification system, called E-net, is slow they're hoping additional check in stations may move lines along.

"The idea is that three or four slow laptops is better than one or two slow laptops," she said. "At least that's what we're hoping for."
[T]he first two days of early voting have been a rough opening act, with metro voters waiting up to 8 hours to cast a ballot.

This time, voting officials in Fulton, Cobb and Gwinnett have pointed to the sheer volume of voters as the biggest factor behind the long lines.

By Tuesday afternoon, voters faced estimated waits as long as eight hours in Gwinnett and five in Cobb. Fulton does not post estimated wait times, but multiple voters said they had waited for more than two hours. Around the metro counties, many early voting locations reported estimated wait times of more than 90 minutes before noon. DeKalb County was an outlier, reporting lines of under an hour.

But numbers alone did not lead to the frustrating waits. Officials in Fulton, Cobb and Gwinnett on Monday cited technical glitches with machines used to check in voters, long ballots that were time-consuming for voters to complete and social distancing precautions that allowed fewer poll workers and voters in a building at once.
From the Savannah Morning News:
More than 128,000 Georgians went to the polls Monday, a record for the first day of early voting in the state, according to the secretary of state's office.

The high turnout surpassed the nearly 91,000 votes cast on the first day of early voting in 2016 and left eager voters waiting in hours-long lines across the state to cast their ballots. Election officials and advocacy groups have been pushing people to vote early, either in person or by absentee ballot, in anticipation of record turnout and concerns about coronavirus exposure.

But some would-be voters turned up Monday only to find their county offices closed for the Columbus Day holiday. Effingham County resident Tony Grimes told WTOC-TV he took the day off work to vote and was frustrated to find the door locked at the county's main elections office.

The secretary of state's office said it received no votes Monday from 49 of the state's 159 counties, but it wasn't clear how many of those were closed for the holiday, spokesman Walter Jones said.
Georgia Public Service Commission candidates met in an online debate, according to The Brunswick News.
District One Commissioner Lauren "Bubba" McDonald and District Four Commissioner Jason Shaw took on Democrats Daniel Blackman and Robert Bryant in separate online debates sponsored by the Atlanta Press Club. Also on the virtual platform Tuesday were Libertarian candidates Nathan Wilson and Elizabeth Melton.

McDonald, who has served on the PSC since 1998, said he has led the way during the last decade as the commission has approved plans to retire coal-fired power plants and boost the state's commitment to solar, nuclear and wind energy.

"In 2013, Georgia Power did not have a single watt of solar power," he said. "We put in 525 megawatts. … We'll have 2 gigawatts of solar power by the end of next year."

Shaw, appointed to the PSC last year and now seeking his first full term, said the commission's job is to strike a balance between protecting ratepayers and making sure Georgia utilities have the resources to provide safe reliable service.

"We've taken advantage of low-cost natural gas," he said. "Consumers are paying the same [for electricity] as back in 2011."
From the Savannah Morning News:
[Public Service Commissioner Jason]

Shaw is proud of the status of solar energy in Georgia, which ranks ninth among all states for the megawatts of solar installed, according to the Solar Energy Industries Association. Coming from rural southwest Georgia, Shaw said he's seen large-scale solar benefit communities without increasing rates. Shaw also favors increased access to natural gas with extended pipelines and increased pressure in those pipelines to reach further into rural areas.

Addressing climate change is not his priority. Shaw answered a question of whether he accepts the science of man-made climate change by saying he's "no expert on climate," but "we need to listen to the experts."

"I can tell you we're seeing some severe weather systems, particularly with frequency of hurricanes," Shaw said. "And obviously, the temperature swings we're seeing. So I'm not gonna sit here and say there's nothing."
The Athens Area and Oconee County Chambers of Commerce will host an online forum for local candidates, according to the Athens Banner Herald.
The forum will be live on the Athens Area Chamber of Commerce Facebook page and will be recorded for later viewing.

First on the schedule will be candidates for the state House: Republican incumbent Houston Gaines and Democrat Mokah Johnson in District 117, and Democratic challenger Jonathan Wallace and incumbent Republican Marcus Wiedower in District 119.

They will be followed at 6:45 by candidates for the Georgia Senate: incumbent Republican Bill Cowsert and challenger Zachary Perry in District 46, and incumbent Republican Frank Ginn and Democratic challenger Dawn Johnson in District 47.

In the final part of the forum, scheduled to begin at 7:25, the three candidates for the Western Circuit District Attorney post will speak. Deborah Gonzalez and Brian Patterson are running as Democrats, while James Chafin is running as nonpartisan.
Chatham County Commission District Two candidate Tony Riley faces a qualifications challenge, according to the Savannah Morning News.
During the monthly Board of Elections meeting on Monday — the board's final meeting before the Nov. 3 general election — Chairman Tom Mahoney introduced the complaint alleging that Riley, running as a Democrat, should not have been qualified in March as a Chatham County Commission candidate because he has a felony conviction on his record for conspiracy to distribute cocaine.

"In fact, his qualifications are at issue. In fact, it appears that he has not qualified. He has not gone through the process to have his civil rights restored, and it has not yet been 10 years since he completed his sentence," Mahoney said, adding that he was dismayed by the timing of this complaint. "I regret that I was just given this information in an e-mail that was sent last night to me."

During Monday's meeting, board member Marianne Heimes voiced exasperation that this complaint was submitted so late in the election, following Riley's triumph over two other Democratic candidates in Chatham's District 2 primary, and alleged that the timing was likely delayed to ensure that Riley's opponent, Larry "Gator" Rivers, would win the race.
The Augusta Chronicle profiles the candidates for Richmond County Board of Education District Four.
Muscogee County courts are looking at reopening grand jury proceedings and eventually jury trials, according to the Ledger-Enquirer.
Muscogee County has had no grand juries or jury trials since the state declared a judicial emergency March 14. The chief justice of the Georgia Supreme Court's orders prohibiting the assembly of jurors during the pandemic repeatedly have been extended since.

Those restrictions are easing now that the epidemic incrementally is subsiding here: Grand juries are allowed to resume, and jury trials soon will follow, though Chattahoochee Judicial Circuit Chief Judge Gil McBride said no trials in the six-county circuit are expected until January.

"It leaves the cases, the victims and the defendants in limbo," said Steve Craft, chief assistant public defender for the Chattahoochee Circuit. His staff attorneys represent defendants who can't afford private lawyers.

Resuming grand juries signals the courts finally are moving toward clearing the backlog, though Craft said it still could take a year and a half to catch up to where the system stood before the COVID-19 crisis.
Glynn County Commissioners will hold a second public hearing on proposed legislation addressing short term rentals, according to The Brunswick News.
County officials estimate the Golden Isles may play host to as many as 1,000 short-term rental units that don't pay the 5% bed tax on nightly room rentals. In addition, the county claims they are often rented out for large gatherings and to people who either aren't aware of or flaunt local noise, parking, trash and public safety regulations, according to county documents.

The ordinance would outlaw short-term rentals unless the owner or manager has an accommodation excise tax, or bed tax, certificate displayed in the rental unit.

Bed tax certificates with an identification number would be issued annually by the county finance department for a fee of $150. The department would also keep a record of local contacts if the certificate holder is not a county resident. All property-specific advertisements would have to include the certificate number under the ordinance.

If the ordinance passes, all rentals would be required to meet relevant building and safety standards and all zoning regulations. Rental owners would need to set parking limits and give directions for off-site parking if necessary.
City of Decatur public schools pushed back in-person reopening to January at the earliest, according to the AJC.
Saying that recent public health information had changed his mind, Superintendent David Dude said he had revised his assessment that it was safe to begin a phased-in reopening this month. He said students, who have been online-only, should start in-person no sooner than Jan. 5 instead.

Before that revision during a school board meeting Tuesday night, parents and teachers held a third protest outside the City Schools of Decatur headquarters.