Former Confederate President Alexander Stephens was released from federal prison on October 12, 1865 and returned to Georgia.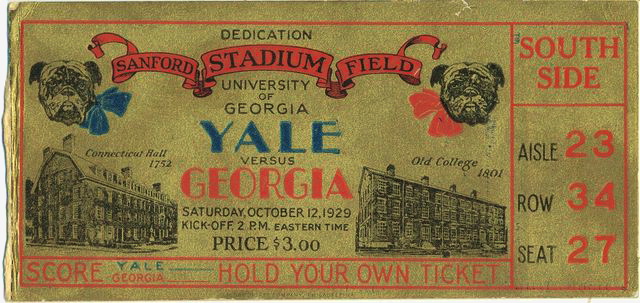 The first game in Sanford Stadium was played on October 12, 1929, with the University of Georgia Bulldogs beating the Yale Bulldogs. Here is ten minutes of the game.
On October 12, 1958, The Temple was bombed after a phone call to WSB warned that Black churches and Jewish temples would be blown up.
Georgia Politics, Campaigns, and Elections
Early voting begins today for the November General Election. From the Dalton Daily Citizen News:
Voters must bring a photo ID.

The presidential race tops the ballot. Republican President Donald Trump faces Democrat and former vice president Joe Biden. Libertarian Party candidate Jo Jorgensen is also on the ballot.

In one U.S. Senate race, incumbent Republican David Perdue — a former CEO of Reebok and Dollar General who was first elected to the U.S. Senate in 2014 — faces Democrat Jon Ossoff, a journalist who ran unsuccessfully in Georgia's 6th Congressional District in a 2017 special election to replace Republican Tom Price who had stepped down to become Trump's Secretary of Health and Human Services. Perdue leads 46.6% to Ossoff's 42.6% in Real Clear Politics' average of the latest polls.

And there is a special election to fill the unexpired term of former U.S. senator Johnny Isakson, who stepped down last year for health reasons. Isakson, a Republican, had served in the Senate for 14 years. Before that, he served almost 14 years in the U.S. House of Representatives.

Incumbent Republican Kelly Loeffler was appointed by Republican Gov. Brian Kemp on Dec. 4, 2019, to fill the seat until an election could be held. Loeffler, who was sworn in on Jan. 6, 2020, faces 20 other candidates in a "jungle primary" in which the candidates of all parties as well as independents are in the same race. If no one gets more than 50% of the vote, the top two candidates will meet in a runoff on Jan. 5, 2021.

In the 14th Congressional District, which includes Whitfield and Murray counties, Marjorie Taylor Greene of Rome, a Republican, is running to replace incumbent Republican Tom Graves, of Ranger, who is not seeking reelection. Democrat Kevin Van Ausdal of Catoosa County dropped out of the race in September, citing family reasons. He dropped out too late for the Democratic Party to replace him, so his name remains on the ballot.
"Election Day" is officially Nov. 3, but Georgia's 15 weekdays plus one Saturday for in-person advanced voting begin Monday.

In Bulloch County the elections office will be open all 16 of those days, while two other locations, the Honey Bowen Building at the Fair Road park and the Russell Union on the Georgia Southern University campus, will be available on some of them.

Bulloch County Election Supervisor Patricia Lanier Jones said she does expect crowds to develop at times. The number of machines that can be used has been reduced to allow for COVID-19 pandemic social distancing. Markers on floors remind people to stay six feet apart, and masks are encouraged but cannot be required.

For in-person early voting, voters need to bring a photo ID, just as they would need to do if they waited until Election Day, and if a voter previously requested a paper absentee ballot but now plans to vote early in-person instead, he or she should bring the paper ballot with them to turn it in for cancellation, she said.

This "makes our process much faster," Jones said.
From the Savannah Morning News:
Every county has at least one early voting site open weekdays and one Saturday before the election, usually at the county's elections and voter registration office. Chatham County voters will have a Sunday voting option as well.

Voters can start casting their votes during the early voting period, which runs from Oct. 12 through 30. For the first time in Chatham County, Saturday and Sunday early voting will be held for two consecutive weekends, Oct. 17-18 and Oct. 24-25.
Hall County Elections officials will adhere to social distancing guidelines. One way that they plan to do so is by offering eight voting sites across the county rather than one offered in previous years.

"We will still be sanitizing the equipment behind every voter," said Lori Wurtz, Hall County Elections Director. "We will still have all the same precautions in place as we did in the General Primary due to COVID-19. I want the voters to feel secure when they come in."

In addition to the eight early voting precincts, voters who elect to cast an absentee ballot have a new absentee ballot drop box in the South Hall area, which was added because of the high population in the area.

There will also be an absentee drop box outside of the Hall County Government Center. Both drop boxes are locked, well-lit, and under 24-hour video surveillance.
Gwinnett voters will be able to visit nine early voting sites to cast their ballots in the 2020 general election starting on Monday.

This week marks the beginning of three weeks of early voting in Gwinnett, with the polls set to be open every day, including Saturdays and Sundays, until Oct. 30.
When: Nov. 3, with early voting weekdays Oct. 12-30 and Saturday, Oct. 24

Where: Early voting is available at [seven] locations. Election Day voting will be at your precinct.
Early in-person voting for the Nov. 3 election begins Monday at the Floyd County Administration Building Community Room at 12 E. Fourth Ave. or Garden Lakes Baptist Church at 2200 Redmond Circle.

Weekday voting runs from 8 a.m. to 5 p.m.

For the week of Oct. 19-23, the Floyd County Health Department located at 16 E. 12th St. will also be available for voters. For the week of Oct. 26-30, the Rome Civic Center at 400 Civic Center Drive will be open for early voting.

Weekend voting will also take place the weekends of Oct. 17 to Oct. 18 and Oct. 24 to Oct. 25 at the county administration building and Garden Lakes Baptist Church. The county building will be open for voting from 9 a.m. to 4 p.m.

However, for the Garden Lakes early voting location, the polls will only be open from 9 a.m. to 4 p.m. on Saturday, while on Sunday, the polls won't open until 1 p.m. and close at 4 p.m.

According to Floyd County Chief Elections Clerk Robert Brady, 14,229 absentee ballots had been issued to voters as of Friday afternoon. Of those ballots, the office has received just under 1,500 completed ballots.
All registered voters are eligible to participate in early voting, allowing them to pick a time that fits their schedule and avoid lines on Nov. 3. Voters must cast their ballots in the county where they're registered, but they can choose any location within their county.

In-person early voters will join the 430,000 Georgia voters who have already returned their absentee ballots. By the time Election Day finally arrives, over two-thirds of the state's 5 million projected turnout will have already voted.

There are over 60 early voting locations in metro Atlanta's four core counties, including more than 30 in Fulton County alone.

Voters can find early voting sites and hours county elections website or on the state's My Voter Page at www.mvp.sos.ga.gov.
The three-week period that begins Monday is always a key time for campaigns, but this year it's more crucial than ever during a still-raging coronavirus pandemic. Candidates are pushing Georgians to lock in their votes long before Election Day — when the risks of long lines and infection could deter people from polling places.

At a GOP meet-and-greet in a warehouse in the solidly-Republican town of Dahlonega, congressional candidate Andrew Clyde urged his supporters to vote early and come up with 10 friends to persuade to do the same.

"Connect with those folks on Monday and say, 'Hey, are you going to vote? When are you going to vote? Can I give you a ride to the polls?'" Clyde said. "This district can make a difference if we really take it seriously."

Election officials predict about 5 million voters will participate in this election — nearly 1 million more than in the last presidential election. Polls show roughly two-thirds could cast their ballots early — either by mail or in-person – during a pandemic that's reshaped every facet of American life.

Overall, roughly even numbers of voters are expected to vote early, absentee and on Election Day. Broken down by party, about 40% of voters who identified as Republicans and 33% of Democrats said they plan to cast their ballots during the early voting period, according to an Atlanta Journal-Constitution poll.
Election officials are trying to prepare voters, particularly in large metro counties with a history of problems, for the possibility of long lines both during early voting and on Election Day.

One of the most significant initiatives since June was a mass hiring effort to recruit new poll workers. Many of them, especially those over 70 years old, quit rather than risk catching the coronavirus during the June 9 primary.

In Gwinnett County, the election office is still short of its targets by hundreds of poll workers. The county would like to have 2,165 staff lined up for Election Day to ensure things go smoothly across its 156 polling locations. As of Oct. 2, it was 750 workers short of that goal. Its minimum staffing target is 1,845 workers, and election officials are hopeful they will reach that by Nov. 3.

In Cobb County, an issue is inexperienced staffers. Cobb closed one early voting site, Noonday Baptist Church. Elections Direct Janine Eveler said she didn't have enough poll managers or assistant managers to oversee all the rookie clerks who aren't qualified for management roles.

Gwinnett Elections Supervisor Kristi Royston said staffing is a bigger concern than equipment, but she thinks the county will be ready.

"I'm not worried," Royston said. "We're trained up and we're prepared and we're working through any staffing concerns we have."

Fulton County added 91 polling places for Nov. 3 after voters waited over three hours to cast ballots in some polling places in the primary. The county will have 255 voting sites in the presidential election.
Acting Georgia Secretary of State U.S. District Court Judge Amy Totenberg (D-Obama Administration) declined further last minute meddling in Georgia's election procedures. For now. From the AJC:
A federal judge has once again denied an effort to throw out Georgia's touchscreen voting computers because of election security concerns. Her decision came late Sunday, just hours before the start of early voting.

U.S. District Judge Amy Totenberg ruled against switching the state to paper ballots filled out by hand.

She wrote that it was too late to make such a sweeping change that would disrupt the election as tens of thousands of voters are expected to go the polls.

She directed election officials to find a way to review ballot images to ensure that voting scanner software isn't overlooking votes. Totenberg ordered a resolution to be developed and put in place for elections after expected January 2021 runoffs for U.S. Senate.
Voters in Lula will decide two alcohol sales ballot questions, according to the Gainesville Times.
Voters who live in city limits will see two referendums on their ballots. One would allow for sales of malt beverages and wine by the drink and another would allow package sales of malt beverages and wine by retailers. Both would allow the sales on Sundays between 12:30 p.m. and 11:30 p.m.

The resolutions for the referendums were previously approved by the Lula City Council and received approval from the Hall County Board of Elections to be placed on the ballot.

"The intention was to give (Lula businesses) extra help in being able to compete with other establishments outside the city," Mayor Jim Grier told The Times in July. "We're trying to help our businesses as much as we can. It has been something requested, and the council felt it was wise to let the city have this."