The Chicago Fire began on October 8, 1871. A completely different kind of Chicago Fire is underway now.
On October 8, 1895, the Liberty Bell arrived in Atlanta for the Cotton States Exposition.
The famously–cracked 2,000 pound pealer left Philadelphia on seven trips between 1885 and 1915. Each time it came home with more cracks. It turned out the men hired to guard the Bell were taking liberties, literally: chipping off pieces and selling them as souvenirs.

Cheering crowds greeted the Bell in Atlanta. A two–mile parade took it to Piedmont Park, where 50,000 people lined up to see it.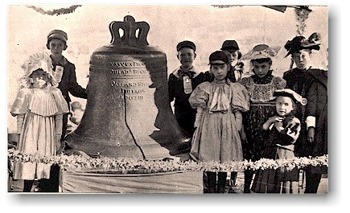 Georgia Public Broadcasting and the Georgia Historical Society have an interesting video on the Liberty Bell's trip to Atlanta. You can view a photo of the Liberty Bell Parade at the Atlanta History Center.
Polling released on October 8, 1976 indicated that Democrat Jimmy Carter won the second debate against President Gerald Ford by a 50-27 margin.
On October 8, 1981, former Presidents Nixon, Ford, and Carter visited with President Ronald Reagan at the White House before heading to Egypt to represent the United States at the funeral of assassinated Egyptian President Anwar Sadat.
Long-time Atlanta Braves pitcher Phil Niekro won his 300th game on October 8, 1984, though he wore Yankees pinstripes for that game.
The first C-5A airplane arrived at Robins Air Force Base on October 8, 1997.
On October 8, 1998, the United States House of Representatives voted 258-176 to authorize an impeachment inquiry against President Bill Clinton.
President George W. Bush issued an Executive Order establishing the Department of Homeland Security on October 8, 2001.
Georgia Politics, Campaigns, and Elections
Governor Brian Kemp announced Trey Kilpatrick will begin work as Chief of Staff on October 15, 2020. From the Press Release:
Kilpatrick currently serves as Vice President for Government and Community Affairs for Georgia State University and formerly served as U.S. Senator Johnny Isakson's Deputy Chief of Staff.

"With his wealth of experience from both federal and state government, Trey is uniquely qualified to lead my administration," said Governor Kemp. "Together, we will continue to put hardworking Georgians first – protecting lives and livelihoods as we battle COVID-19, reforming adoption and foster care, fighting human trafficking, and prioritizing economic prosperity in every region of our state. I am truly honored to welcome him to my team."

Kilpatrick will take over job duties from Caylee Noggle, who was named Kemp's interim Chief of Staff on September 17, 2020 – the first woman in Georgia history to hold that position. Noggle will remain a top official in the Kemp administration.

Kilpatrick joined Senator Isakson in 2009. He served Senator Isakson as Political Director, State Director, and Campaign Manager before becoming Deputy Chief of Staff. Kilpatrick has served as Vice President for Government and Community Affairs for Georgia State University since February 2020.

"I am honored by the opportunity to serve Governor Kemp, his administration, and the people of Georgia in this role," said Trey Kilpatrick. "I feel fortunate that I had the opportunity to work with a great Georgian like Senator Isakson for ten years, and now have the opportunity to work with a principled leader like Governor Kemp in his administration."
Governor Kemp also announced three appointments to judicial office. From the Press Release:
Governor Brian P. Kemp announced his appointment of Pandora Palmer to fill the Superior Court vacancy in the Flint Judicial Circuit and Vinny Lotti and Danielle Roberts to fill vacancies in the State Court of Henry County.

Palmer will fill the vacancy created by the appointment of the Honorable Trea Pipkin to the Georgia Court of Appeals in April 2020. The Flint Judicial Circuit includes all of Henry County. Lotti will fill the vacancy created by the retirement of the Honorable Ernest Blount in February 2020, and Roberts will fill the vacancy created by the appointment of Pandora Palmer to the Superior Court.

Pandora Palmer holds a bachelor's degree in Criminal Justice and Pre-law from the University of Georgia and law degree from Georgia State University. As an attorney, she worked in private practice before joining Smith, Welch & Brittain LLP, later known as Smith, Welch, Webb, & White, LLC. She founded her own firm, Pandora E. Palmer P.C., before becoming a state court judge in January 2019. She is a member of the State Bar of Georgia, Hawaii Bar Association, Council of State Court Judges, American Bar Association, Henry County Bar Association, Clayton County Bar Association, Towaliga Bar Association, and the Georgia Association of Women Lawyers. Palmer and her husband reside in McDonough.

Vinny Lotti received his bachelor's degree in Political Science from the University of Georgia and law degree from Atlanta's John Marshall Law School. He previously served as an associate judge with the Henry County Magistrate County and City of McDonough Municipal Court and as the owner and sole practitioner of The Lotti Law Firm, LLC. He is a member of the Henry County Bar Association. Lotti resides in McDonough.

Danielle Roberts earned her bachelor's degree in Business Administration from Howard University and law degree from Georgia State University. Previously, she served as an associate attorney with AXAMLAW, partner and co-founder of Axam~Roberts Legal Group, and as a presiding judge with the Henry County Magistrate Court. She is a member of the State Bar of Georgia, Henry County Bar Association, Gate City Bar Association, and the Atlanta Lawyer's Club. Roberts and her family live in Ellenwood.
Georgia Department of Public Health Commissioner Dr. Kathleen Toomey warned of a possible flu outbreak along with the pandemic, according to the Dalton Daily Citizen News.
"Never has it been more important to get a flu shot than this year," she said. "We realize that people sometimes don't think a flu shot is effective, or are afraid to get it or just don't bother. This is particularly important this year. We're trying to prevent twindemics of COVID plus influenza, which could be devastating."

While Toomey noted the combination of COVID-19 and influenza cases could have catastrophic outcomes, she said no one really knows what that combination might look like. But an increase in flu patients could mean a decrease in the state's essential hospital bed capacity.

Health officials are encouraging everyone older than 6 months old get a flu shot. Toomey said children and elderly residents are particularly at risk.

The U.S. Centers for Disease Control and Prevention based in Atlanta lists online that the agency believes "it's likely" coronavirus and influenza could spread simultaneously throughout the fall and winter. It is also possible for someone to have both at the same time.
Raphael Warnock campaigned in Savannah, according to the Savannah Morning News.
Warnock is taking his U.S. Senate campaign on the road after months of coronavirus-safe virtual stumping, leaving his Atlanta headquarters for a day of bumping elbows with supporters at four stops around Savannah before campaigning across Georgia.

A black Cadillac Escalade with tinted windows pulls up and a burly bodyguard steps out to survey the scene. Warnock emerges to a wholehearted welcome from the small but powerful crowd; he responds with friendly hellos and broad smiles.

"I grew up in public housing. We were intentional about reminding folks that I'm from Savannah," Warnock says to the lively local politicos in opening remarks about his campaign. His lines sound polished, yet delivered from the heart. "It's not about where you start, it's where you're going."

"I've spent my life and my ministry trying to fight for people without a voice, the people almost at the bottom," Warnock tells his supporters, noting his name's alphabetical placement near the end of a long list of candidates in this race. "If you're looking for me, I'll be next to the name at the bottom."

"I'm always grateful to be in the presence of our former mayor, Mayor Otis Johnson," Warnock says to spirited cheers. "When I was growing up he was a professor at Savannah State College, and he represented for me intellect and integrity all committed to pulling folk up from the grassroots. Anybody remember the 'Message from the Grass Roots'?"

Young Warnock listened regularly to "Message from the Grass Roots" and now credits Johnson as a formative guide for carrying on the spirit of King. After graduating from Savannah's Sol C. Johnson High School, Warnock followed King's path to enroll at Morehouse College — earning his bachelor's degree with Pell Grants and low-interest student loans — before achieving his doctorate at New York's Union Theological Seminary.
Georgia Supreme Court Chief Justice Harold Melton will sign an order allowing recommencement of jury trials, according to AccessWDUN.
Chief Justice Harold D. Melton of the Supreme Court of Georgia announced Wednesday that he will sign the order on Saturday, Oct. 10 to lift the suspension on jury trials. The blanket suspension of jury trials was enacted in a March 14 order.

The order gives the chief judge of each trial court the discretion to resume jury trials. Each judge must submit a detailed plan with specific health and safety guidelines prior to the resumption of such trials.

For the last five months, a statewide Judicial COVID-19 Task Force – made up of judges and lawyers appointed in May by Chief Justice Melton – has been working on developing guidelines for the safe reopening of in-person proceedings. The Guidance for Resuming Jury Trials provides a set of detailed guidelines that address a number of topics, including the use of masks; the reconfiguring of courtrooms and chairs, installation of plexiglass barriers, and use of markers to ensure social distancing; the regular replacement of air filters; and plans for guaranteeing public access to court proceedings, including setting up areas where the public can watch remotely from within the courthouse.
Acting Georgia Secretary of State United States District Court Judge Amy Totenberg (D-Obama Administration) continues to inflict uncertainty upon Georgia voters. From the Augusta Chronicle:
With the start of early voting less than a week away and a software update being installed to address a glitch in Georgia's voting machines, a federal judge was still considering a request by voting integrity activists to sideline the new touchscreen voting machines in favor of hand-marked paper ballots for the November general election.

U.S. District Judge Amy Totenberg is presiding over a long-running lawsuit challenging the election system the state bought last year from Dominion Voting Systems for more than $100 million. The activists argue the system places an unconstitutional burden on the right to vote because voters cannot be confident their votes are accurately counted. A bug in the touchscreen machines and a hasty software update underscore that the machines aren't ready for use, they say.

The three-week in-person early voting period is set to begin Monday, and Election Day is less than four weeks away.
Fair Fight, founded by Georgia Governor part-time resident Stacey Abrams has raised more than $32 million dollars for its PAC, according to the AJC.
The COVID-19 pandemic has not slowed fundraising for Fair Fight's political action committee, which reported Wednesday that it had raised $6 million since the beginning of July and has now taken in more than $12 million since February, just before the coronavirus hit the state.

The group has reported spending $19.5 million since 2018, and it still had $12.7 million in the bank as of Sept. 30. That's more than the state's political parties.

The numbers make it clear Abrams — a former state House Democratic leader — will have no trouble building a gigantic war chest if she seeks a rematch with Gov. Brian Kemp in 2022.

Fair Fight's PAC has contributed about $5 million to Democratic Party efforts across the country heading toward the November election, including at least $1.4 million to the Democratic Party of Georgia.
The League of Women Voters says Columbia County needs more absentee ballot drop boxes, according to the Augusta Chronicle.
Two women representing the League of Women Voters of the CSRA spoke at the county's Board of Commissioners meeting to express dissatisfaction with the county's action regarding the boxes.

At a called meeting of the Columbia County Board of Elections on Sept. 28, board members voted to obtain and install a drop box, either through the Georgia secretary of state's office or a private vendor. The single box is expected to be installed in front of the board's office on Faircloth Drive.

But that's not enough for people such as on-duty military, the elderly and the infirm who have unreliable access to normal polling places, Evans resident Jennie Roberts said.

She said the election board's reasons why several boxes can't be erected instantly were inadequate: a shortage of space, since the boxes must be placed on county or city property with local governments' approval; a lack of time leading up to the November election; and prohibitive cost, since the county elections office says it is extended over budget for the year.

Roberts told commissioners it should be "very embarrassing" to them that there are more drop boxes in Richmond County, whose residents she said have a median income almost less than half that of Columbia County residents.
The Gainesville Times hosted an online forum with the candidates for the Ninth Congressional District.
White House Chief of Staff Mark Meadows attended his daughter's May wedding in Atlanta, according to the AJC.
The Georgia Building Authority approved security enhancements that will include a fence around the State Capitol, according to the AJC.
Citing safety concerns and the ongoing expenditure for security from the National Guard, the Georgia Building Authority's Board of Governors approved a $5 million project that will enhance security at several major government buildings. The package includes an 8-foot fence to be built around the Capitol.

The new fence replaces temporary barriers that were constructed earlier this year in response to protests calling for racial justice. Some of those protests focused on a statue of Confederate Gen. John B. Gordon, who later became the leader of the Ku Klux Klan in Georgia.

"To ensure the safety of state employees, protect the public and prevent damage to state property, the Department of Public Safety and the Georgia Building Authority recommended numerous improvements to a number of state buildings," said Cody Hall, a spokesman for Gov. Brian Kemp. "The governor agreed with their assessment."

Kaleb McMichen, a spokesman for Republican state House Speaker David Ralston, said the fence was "was not a political decision and should not be made into a political issue."
The Savannah-Chatham County board of education voted to continue moving forward in returning students to in-person learning, according to the Savannah Morning News.
The plan aims toward implementing Phase III in the schools on Oct. 26. On that date students in grades 3-5, 7, 8, and 10-12, and whose families choose the hybrid option, will join pre-kindergarten, kindergarten, first- and second-graders, sixth- and first-time ninth-graders the classroom in an expanded hybrid model in two cohorts.

Phase II started Monday. Parents and students who choose to remain virtual will continue in that mode.

The return date is contingent upon the continuing downward trend of COVID rates in Chatham County and the district's staffing numbers. The board also reiterated that the start date for Phase IV is yet to be determined.

The board addressed potential staffing shortages since some teachers may not be comfortable returning to the classroom. About an hour of discussion ensued when board members floated the idea of offering a monetary incentive to teachers and staff if they agreed to return to their school sites on Oct. 19 — one week before students return in Phase III.
DeKalb County is also moving toward reopening schools for in-person instruction, according to the AJC.
If current trends continue, students who choose to return to a physical classroom could be back on campus on a limited basis by early November, according to the district's plan.

"The tentative timeline is subject to change based on COVID-19 data and current health guidance from medical experts and health agencies," a school district spokeswoman said in an email.
Augusta Commission members are defending the salary offered to a new City Manager and pay raise for the Sheriff, according to the Augusta Chronicle.
Hall County's government phone system was attacked by ransomware but is back online, according to AccessWDUN.
The Gainesville Times looks at contract tracing among students and staff in the Gainesville and Hall County school systems.
Statesboro City Council met outside to accomodate citizens interested in a new nondiscrimination ordinance, according to the Statesboro Herald.
Statesboro City Council on Tuesday morning unanimously voted the main part of a proposed city nondiscrimination law forward to a second reading.

That part of the overall Nondiscrimination and Equity Ordinance will forbid discrimination on the basis of sexual orientation, gender identity and sex, as well as disability, race, color, religion, national origin, ancestry, age or military status in employment, housing and the sale or rental of real estate and in public accommodations.

In response to a question from [Council member Phil] Boyum at the beginning of the meeting, City Attorney Cain Smith said that Statesboro's proposed ordinance does not conflict with state or federal law. The ordinance now pending final approval is "substantially the same" as Doraville's ordinance, which has been in effect for 20 years and has not faced any constitutional challenge, he said.
Navigate Recovery in Gwinnett County is offering free Narcan along with training on its use, according to the AJC.
Navigate Recovery offers the drug and class every second and fourth Saturday of the month at its Safe Harbor office. The Gwinnett County Health Department is partnering with the organization to teach the public about opioid addiction, how to recognize when an overdose has occurred and how to get help recovering from addiction, it said in a press release.

Narcan is available for purchase without a prescription at many pharmacies, but the training will help people better understand how to use it, said Audrey Arona, health director for the Gwinnett, Newton and Rockdale County Health Departments. Narcan is the brand name of the drug naloxone, which can be used in the case of an overdose of drugs including heroin and opiates like fentanyl and oxycodone.

"Families are hugely affected by the opioid crisis and often feel like they have no tools to prepare for the challenge of dealing with a loved one or a friend struggling with opioid misuse," said Farley Barge, co-founder and president of Navigate Recovery Gwinnett, in the release. "This is a positive way to engage our community in combatting this public health epidemic and prevent unnecessary deaths."