King George, III issued the Proclamation of 1763 on October 7, 1763.
With respect to Georgia's official boundaries, the proclamation expanded Georgia's southern boundary by giving the colony all lands between the Altamaha and St. Marys rivers. Previously, the Altamaha had served as Georgia's southern boundary.

So, the impact of the Proclamation of 1763 was to set Georgia's official southern boundary as the St. Marys River from its mouth to the headwaters, then north to the Altamaha River, then north to the headwaters of that river, and then westward to the Mississippi River. Georgia's northern boundary was the Savannah River from its mouth to its headwaters.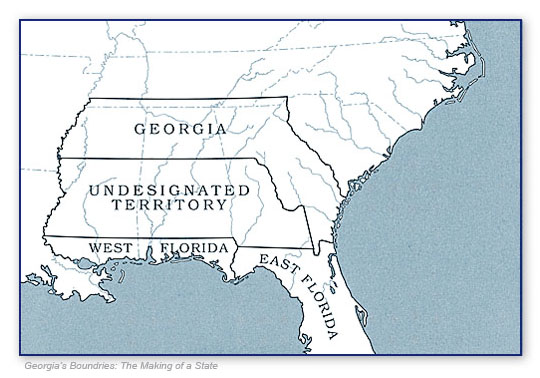 Patriot militia defeated Loyalists at the Battle of King's Mountain in North Carolina, near the South Carolina border on October 7, 1780.
On October 7, 1916, Georgia Tech beat Cumberland College in the most-one-sided college football game in history, by a score of 222-0.
The Engineers led 63–0 after the first quarter and 126–0 at halftime. Tech added 54 more points in the third quarter and 42 in the final period.
Recently, a Georgia Tech alumnus paid $44,388 for the game ball with the intention of donating it to the trade school.
The Democratic Republic of Germany (East Germany) was created by the Soviets on October 7, 1949.
Democrat John F. Kennedy and Republican Vice President Richard Nixon met in the second televised Presidential debate on October 7, 1960.
President Richard Nixon proposed a structure for peace and eventual withdrawal of American forces from Vietnam on October 7, 1970.
President George W. Bush (43) announced military action in Afghanistan on October 7, 2001.
In a televised address that evening, Bush informed the American public that "carefully targeted actions" were being carried out to crush the military capability of al-Qaida and the Taliban, with help from British, Canadian, Australian, German and French troops. An additional 40 nations around the world provided intelligence, as well as bases from which the operations were conducted.

Bush touted the multinational effort as proof that America, in the aftermath of the September 11 attacks, was "supported by the collective will of the world." He also warned that the war in Afghanistan would likely be only the first front in a long struggle against terrorism. He vowed to continue to take what he called the "war on terror" to those countries that sponsored, harbored or trained terrorists.
Arnold Schwarzenegger was elected Governor of California on October 7, 2003.
Georgia Politics, Campaigns, and Elections
Governor Brian Kemp is scheduled for a press conference today at 9 AM, according to the Ledger-Enquirer.
Kemp and [Department of Public Health Commissioner Kathleen] Toomey's Wednesday conference will be the first COVID-19 briefing since mid-July. The news conference will be live-streamed on Kemp's Facebook page and Georgia Public Broadcasting's website. The conference begins at 9 a.m.

The announcement comes after Kemp extended the state's coronavirus restrictions through at least Oct. 15. Confirmed infections are down from the state's summer peak, but state health officials reported the seven-day average for new cases rose 3.4% from Sept. 29 to Oct. 5. The state's seven-day test positivity average also increased from 6.3% on Sept. 28 to 7% on Oct. 5.

In addition to the state's coronavirus trends, Toomey will discuss flu shots and antigen coronavirus testing, said department spokesperson Nancy Nydam. Toomey has previously said getting a flu shot could prevent Georgians from suffering severe flu complications and keep medical providers from being overwhelmed.
Click here for the live stream from GPB News.
Governor Kemp released September revenue numbers yesterday, according to a press release:
The State of Georgia's September net tax collections totaled roughly $2.16 billion for a decrease of $81.3 million, or -3.6 percent, while net tax revenue collections for the first quarter of fiscal year 2021 totaled nearly $6.2 billion and marked a year-over-year increase of $365 million, or 6.3 percent.

Individual Income Tax: Individual Income Tax collections during the month totaled almost $1.26 billion, up from $1.13 billion in September FY 2020, for an increase of nearly $126.4 million, or 11.2 percent. Individual Income Tax refunds issued – net of voided checks – were down nearly $9.2 million, or -9.4 percent. Individual Income Tax Withholding payments increased by $103.4 million, or 11.2 percent, over FY 2020. Individual Income Tax Estimated payments decreased by roughly $20 million, or -9.5 percent, from last year. All other Individual Tax categories, including Non-Resident Return payments, were up a combined $33.8 million.

Sales and Use Tax: Gross Sales and Use Tax collections for September increased by $43.8 million, or 4.2 percent, over last year's total of roughly $1.05 billion. Net Sales and Use Tax totaled just $319.2 million for the month, which was a decrease of $189.6 million, or -37.3 percent, compared to last year. Conversely, the adjusted Sales Tax distribution to local governments totaled $768.3 million for an increase of $240 million, or 45.4 percent, over last year due to a one-time adjustment resulting from the culmination of a series of audits undertaken by the Department of Revenue to assist taxpayers in taking corrective action to restate their previously incorrect Sales Tax allocations for the period of time under review. Lastly, Sales Tax refunds decreased by $6.6 million, or -39.3 percent, from September 2019.

Corporate Income Tax: Corporate Income Tax collections increased by $10.1 million, or 4 percent, from a total of $254.8 million in September 2019 to the current year total of $264.9 million. Corporate Tax refunds issued – net of voided checks – declined by $12 million, or -48.4 percent, from last year. Corporate Income Tax Return payments increased by $12.9 million, or 120.1 percent, over FY 2020. All other Corporate Tax categories, including Estimated Tax payments, were down a combined $14.8 million.

Motor Fuel Taxes: Motor Fuel Tax collections for the month decreased by $1.1 million, or -0.7 percent compared to September 2019 when Motor Fuel Tax collections totaled $160.9 million.

Motor Vehicle – Tag & Title Fees: Motor Vehicle Tag & Title Fee collections increased by $1 million, or 3.6 percent, over last year, while Title ad Valorem Tax (TAVT) declined nearly $2 million, or -3.3 percent, from the previous fiscal year.
The Brunswick Times editorializes about Governor Kemp's leadership during the pandemic.
But when the dust settles and the pandemic is only a memory, Georgians will look back over these days and be hard-pressed to find a state that had a better pilot through the microbe storm than Gov. Brian Kemp. Cases of the dreadful virus are down and the state has added thousands of new jobs to its economy.

He accomplished what other states could only hope. He did it without being distracted or becoming iffy at the steering wheel with the legion of critics screaming in his face and shouting in his ear. Now, that's leadership.

In an address Friday to the Faith and Freedom's annual Road to Majority conference, Gov. Kemp recapped his legislative accomplishments, the state's guided response to the coronavirus and Georgia's economic gains. "Since March, we've announced over 170 projects, 19,345 new jobs, and $6.48 billion in investment," he told the group. "In the first quarter of the new fiscal year, our economic development team announced over 10,000 jobs coming to the Peach State."

That's quite a feat when considering it was accomplished during a pandemic that spurred more panic than leadership in other states. The first quarter represents a 50 percent increase in new jobs and an 85 percent increase in new investments compared to the same quarter the previous fiscal year.

Safeguards initiated by Gov. Kemp since the outbreak of the virus are working. The number of COVID-19 cases in Georgia are gradually dropping.

As of Friday, hours before the governor gave his speech, the state's seven-day average of new cases was 1,177, down from 1,219 the previous week.

Fewer patients were hospitalized with the virus too. Last week, the number was 1,273, reflecting a 60 percent decrease from late July's peak. Sixty percent in just two months.

Meanwhile, many of us can breathe easier knowing that leaders like Gov. Kemp are looking at and monitoring the big picture — a picture that includes maintaining the health of Georgians and their future.
Gov. Kemp participated in a ribbon cutting for a new tenant at the Georgia Cyber Center in Augusta, according to the Augusta Chronicle.
The last time Kemp visited the center was to announce the state being named No. 1 in the nation for economic development.

"This is exactly the kind of day we were thinking about a year ago when we made that announcement," Kemp said. "These are exactly the kind of things that will keep us with a great business environment in the state."

Perspecta, a Virginia-based government contractor, began moving into the center's Shaffer-MacCartney Building over the summer. The office will support the company's two contracts at Fort Gordon, which employ 178 people. Perspecta's prime contract is a $905 million deal to provide cybersecurity services to Army Cyber Command; the second contract is a managed-IT deal with Microsoft.

Owned by the Georgia Technology Authority, the $100 million complex houses agency offices for the Department of Defense and Department of Homeland Security, the cyber education programs of Augusta University and Augusta Technical College, and the Georgia Bureau of Investigation's Cyber Crime Center.
An eight-foot fence will surround the Georgia capitol, according to the AJC.
The Georgia Building Authority and the Board of Public Safety approved the deal as part of a $5 million package to beef up security at the Capitol, the Governor's Mansion and the Department of Public Safety headquarters in southeast Atlanta, according to [Channel 2].

The fencing around the Capitol will allow the Georgia National Guard to withdraw some of the roughly two dozen troops who have been assisting with overnight security at the Gold Dome and its surrounding buildings, which are typically protected by state troopers and Capitol police.

"It will give us a long-term solution where the guard was a short-term solution for us, said GSP Capt. Jim Wicker, who leads 42 officers tasked with protecting the downtown buildings. "Hopefully this fence will eliminate the use for the Guard."

The news station reported that two samples of the fencing have already been placed on the southside of the Capitol. The fences are 8 feet high and have spikes at the top to deter anyone from climbing over them.
The Georgia Secretary of State's office issued 16,000 incorrect absentee ballots, according to the Athens Banner Herald.
The Georgia secretary of state's office issued more than 16,000 absentee ballots with incorrect information to voters in Clarke and Oconee counties.

The office has corrected the errors for future absentee ballots, and the mistakes are also corrected on the digital ballots voters will see if they vote in person.

However, voters who have received the erroneous ballots should still use them, disregarding the errors, according to elections offices in both counties.

The incorrect ballots contain wrong candidate information in the race for Western Judicial Circuit district attorney — a three-person race pitting former state Rep. Deborah Gonzalez against two assistant district attorneys, Brian Patterson and James Chafin. The Western Judicial Circuit covers Clarke and Oconee counties.

Patterson was incorrectly listed as the incumbent for the office on the ballot, while Chafin was erroneously listed as Independent.
More than 260,000 absentee ballots have been returned for the November elections, eclipsing the 2016 absentee total, according to the AJC.
Votes are pouring in across Georgia, with over 262,000 absentee ballots returned to county election offices four weeks before Election Day.

The number of absentee votes so far is already higher than the total cast in the 2016 presidential election, when 202,500 voters mailed in ballots.

In all, nearly 1.5 million Georgia voters have requested absentee ballots, according to data from the secretary of state's office.

About 40% of voters who have requested absentee ballots for the general election didn't participate in the June 9 primary. Of those who did cast ballots in the primary, 60% used Democratic Party ballots and 38% voted Republican. The remaining 2% pulled nonpartisan ballots.

There is also a significant number of new Georgia voters who requested absentee ballots. About 13% of those who have requested absentee ballots first registered to vote after 2016.
Gwinnett County candidates for District Attorney and Sheriff will participate in an online forum, according to the Gwinnett Daily Post.
The Greater Gwinnett Reentry Alliance is planning to give Gwinnettians an opportunity this week to hear from the candidates hoping to fill the sheriff and district attorney's offices for the next four years.

The nonprofit group will hold a forum featuring candidates for the two offices during the organization's monthly luncheon, which will take place from noon until 1:30 p.m. on Wednesday.

The forum will be broadcast on both YouTube and Zoom and anyone interested in watching it can register for free to obtain viewing information at www.eventbrite.com/e/ggra-presents-conversation-with-the-candidates-tickets-121056722917.
Congressman Rick Allen (R-Augusta) visited Richmond County Schools, according to the Augusta Chronicle.
As Richmond County schools enter their fourth week of reopening, U.S. Rep. Rick Allen on Tuesday praised the job the school board and superintendent have done to make sure face-to-face and virtual learning can take place in the face of the COVID-19 pandemic.

"I'm going to tell my colleagues — and I've told them this before when I visit other schools — they need to come with me to the 12th District of Georgia because what I've seen today is innovation, willpower and courage to take on this challenge," Allen said. "We are setting a great example here. I welcome the rest of the nation to come see how we do it, so this nation can move forward and overcome this terrible pandemic."

Allen met with Superintendent Kenneth Bradshaw, school board members, teachers and students and was able to see how virtual learning and in-person learning is taking place.

Allen said it was important to make sure the American people had a choice on whether to send their child back to school. He credited Bradshaw and the school board for allowing parents to make that choice.
Congressman Doug Collins (R-Gainesville) spoke to the Valdosta Daily Times during his campaign visit there on Monday.
Fulton County will open an additional early voting location in the southern part of the county, according to the AJC.
Fulton County elections board members added a new early voting location Tuesday following complaints from mayors in the southern part of the county.

The Palmetto Library will be a precinct for the last two weeks of early voting. The other 30 early voting sites were finalized a couple weeks ago and are set to open Monday.
The Glynn County Board of Elections says it has too few resources for the November General Election, according to The Brunswick News.
While elections workers have been making due, Elections and Registration Supervisor Chris Channell said the greatest shortages are in computers, workspace and trained personnel.

Outside of elections, poll workers help with taking calls and processing registration and absentee ballot applications. Poll workers can't help all the time, he said, and turnover is high in the part-time positions that are intended to fill those roles.

The board also needs more computers. When processing applications, workers use computers that will be needed elsewhere when early voting begins on Monday.

"We use early voting computers, but when early voting starts we need them for early voting," said assistant supervisor Christina Redden.

None of the issues mentioned Tuesday night will affect polling places. Channell said plenty of poll workers are already scheduled to work during early voting and on Election Day.
DeKalb County will receive a $4.8 million grant for the November elections, according to the AJC.
The grant will come from the Center for Tech and Civic Life, a national nonprofit that works to help elections offices modernize their operations. In a press release, DeKalb officials said the money will allow the county's Board of Registration and Elections to do things like hire more personnel; purchase more equipment for voting and sorting absentee ballots; operate additional voting locations; and purchase personal protective equipment for poll workers and voters.

DeKalb County CEO Michael Thurmond said the money will also pay dividends beyond the closely watched Nov. 3 election. The county will conduct "a comprehensive review of the elections system," a press release said.
Hall County public schools will receive $2 million in federal funding over five years to promote mental health awareness, according to the Gainesville Times.
The Augusta Commission voted to hire a new city manager, according to the Savannah Morning News.
The Augusta Commission voted Tuesday to hire Odie Donald II as city administrator at a salary of $240,000, a substantial increase over the city's prior chief executives, and increased Sheriff Richard Roundtree's salary by $50,000 to $176,500 effective Jan. 1.

Donald, the city manager of South Fulton, Ga., will begin work Nov. 16. His starting salary in South Fulton in 2018 was at around $200,000, and he recently was a finalist for Savannah city manager. Donald replaces former administrator Janice Allen Jackson, who got around $180,000.
A Georgia Southern study says a Camden Spaceport would improve tourism on the Georgia coast, according to the Capitol Beat News Service via the Athens Banner Herald.
Spaceport Camden also would support 38 to 45 permanent tourism industry jobs, the Center for Business Analytics and Economic Research at Georgia Southern University found in a study conducted in partnership with Camden County.

"Building Spaceport Camden could bolster additional spending in the area's hospitality industry throughout Camden County and the southeast Georgia region," said Benjamin McKay, the center's assistant director. "The potential per-launch benefit to total employee compensation could reach $1.1 million, with sizeable increases in the total goods and services used in the region and total business sales."

Supporters of the controversial project, including Gov. Brian Kemp and Georgia's congressional delegation, say a commercial spaceport would represent a huge economic boost for southeastern Georgia and attract aerospace engineering graduates from Georgia Tech who otherwise likely would take their skills and earning power out of state.
Albany City Commissions made temporary appointments for municipal court solicitor and public defender, according to the Albany Herald.
Primitive weapon deer hunting season opens Saturday, according to the Albany Herald.