On September 27, 1779, John Jay, who previously served as President of the Continental Congress, was appointed minister to Spain to seek Spanish support for the revolution.
On September 25, 1789, Congress adopted the first twelve amendments, called the Bill of Rights, to the United States Constitution. A little more than two years later, in 1791, enough states had ratified ten of the Amendments, with two not receiving sufficient support.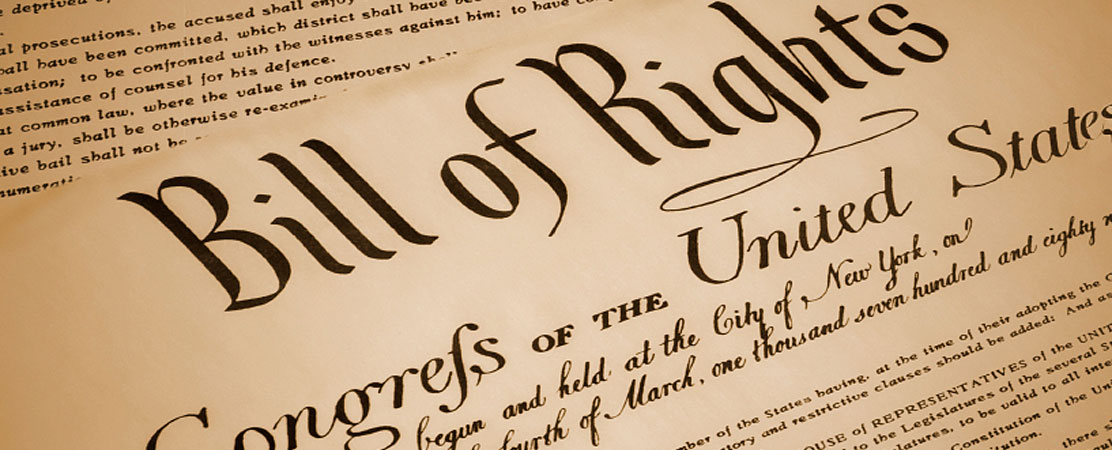 On September 25, 1864, Confederate President Jefferson Davis met with General John Bell Hood and visited troops at Palmetto, Georgia.
President Franklin Roosevelt made his ninth visit to Warm Springs, Georgia on September 27, 1927.
On September 26, 1928, future President Franklin D. Roosevelt spoke in Atlanta on behalf of Democrat Alfred Smith's campaign for President.
The first televised debate between major party candidates for President took place on September 26, 1960 between Democrat John F. Kennedy and Republican Richard M. Nixon.
Kennedy emerged the apparent winner from this first of four televised debates, partly owing to his greater ease before the camera than Nixon, who, unlike Kennedy, seemed nervous and declined to wear makeup. Nixon fared better in the second and third debates, and on October 21 the candidates met to discuss foreign affairs in their fourth and final debate. Less than three weeks later, on November 8, Kennedy won 49.7 percent of the popular vote in one of the closest presidential elections in U.S. history, surpassing by a fraction the 49.6 percent received by his Republican opponent.
Ronald Reagan appointee Sandra Day O'Connor became the first female Justice of the United States on September 25, 1981. In an interview with Terry Gross, she recalled receiving the call from President Reagan:
"I was working in my office on the Arizona Court of Appeals," she tells Fresh Air's Terry Gross. "I was at the court in my chambers when the telephone rang. And it was the White House calling for me, and I was told that the president was waiting to speak to me. That was quite a shock, but I accepted the phone call, and it was President Reagan, and he said, 'Sandra?' 'Yes, Mr. President?' 'Sandra, I'd like to announce your nomination to the U.S. Supreme Court tomorrow. Is that all right with you?' Well, now, that's kind of a shock, wouldn't you say?"
The Princess Bride was released on September 25, 1987. Inconceivable!
Nirvana's Nevermind was released on September 24, 1991.
On September 25, 2008, the last car came off the line at GM's Doraville Plant.
September 27 is a red-letter day for the Atlanta Braves and pitcher John Smoltz. The team won a record 14th straight Division Championship on this day in 2005. Smoltz set a team record for regular season wins (24) on September 27, 1996 and extended his team record for strikeouts hitting 276.
On September 27, 2002, Smoltz set a National League record with 54 saves.
Georgia Politics, Campaigns, and Elections
President Donald Trump arrives in Atlanta today to campaign, according to the AJC.
The president is set to touch down at Dobbins Air Reserve Base at 2 p.m. and then will head to the Cobb Galleria Centre for a 2:40 speech on "Black Economic Empowerment." He's set to depart from Dobbins around 4 p.m.
Trump will discuss economic issues today, according to the AJC.
The president will make the case directly to Black Georgians on Friday afternoon with a speech on economic empowerment that he calls his "Platinum Plan." He picked Atlanta for the event, in part, because the city was also a launching pad for the "Black Voices for Trump" group that he announced last November.

The latest Atlanta Journal-Constitution poll shows only 5% of Black voters said they would support him, while 85% back Biden. About 8% of Black voters remain undecided.

"I think it's a fool's errand," former gubernatorial candidate Stacey Abrams said Thursday of Trump's visit, adding that the president's record has been one of failure on issues ranging from the coronavirus to racial justice. "I hope what he takes away from the state of Georgia tomorrow is that he's no longer welcome here."

"Trump ran on a promise of what he wanted to do and could do, relying on a positive relationship with the Black community," [Paris Dennard, the GOP's senior communications adviser for Black Media Affairs] said. "It is a priority of the president. We believe that President Trump has a winning message for the Black community."
Governor Brian Kemp appointed Gregory A. Voyles as a Judge on the Superior Court for the Southern Judicial Circuit, which serves Brooks, Colquitt, Echols, Lowndes, and Thomas Counties.
Governor Kemp is urging Georgians to fill out the census, according to the AJC.
Gov. Brian Kemp urged Georgians on Thursday to "do the right thing" and fill out the 2020 census, which helps determine political boundaries and shapes how roughly $1.5 trillion in federal funding is doled out to the states.

Georgia is among the worst in the nation for its percentage of households tallied in the once-a-decade headcount, and organizers are struggling this year to persuade hard-to-reach populations to participate during the pandemic.

"It is not too late to fill out the census. And Georgians' response will directly affect representation and funding over the next decade," said Kemp, who added: "Literally, the stakes could not be higher."
Democrat Matt Lieberman is being pushed aside by the Democratic Party of Georgia, who seeks a clear channel for favored candidate Raphael Warnock, according to the AJC.
U.S. Senate candidate Matt Lieberman is under intense pressure to drop out of the race by fellow Democrats using a deeply personal argument: They say he's poised to spoil the party's chances at a victory in Georgia, much in the same way a long-shot contender hobbled his father's bid for vice president.

Lieberman, a former principal of the Atlanta Jewish Academy, has roundly rejected talk of quitting the race, saying he has as much shot as Warnock to defeat Republican U.S. Sen. Kelly Loeffler. But a series of polls out this week suggest that's not the case.

Despite Warnock's rise, Democrats are increasingly expressing concerns that Lieberman's presence in the contest will take just enough votes away from Warnock to allow the two Republicans to squeeze ahead, depriving the party of a shot in a January runoff between the top two finishers.

Stacey Abrams, a Warnock advocate, said Thursday that she was "deeply disturbed" about a Lieberman novel that critics say was shaped by racist tropes, and she called for him to "search his conscience" and clear the way for Warnock.

"We need Matt Lieberman to understand he's not called for this moment," Abrams said.
A federal judge in California has ordered the census continued through October, according to AccessWDUN.
A federal judge has stopped the 2020 census from finishing at the end of September and ordered the once-a-decade head count of every U.S. resident to continue for another month through the end of October, saying a shortened schedule likely would produce inaccurate results.

Koh said inaccuracies produced from a shortened schedule would affect the distribution of federal funding and political representation. The census is used to determine how $1.5 trillion in federal spending is distributed each year and how many congressional seats each state gets.

Attorneys for the Census Bureau and the Department of Commerce, which oversees the agency, had said during the hearing they would likely appeal.
Pandemic-related stress may be increasing mental health concerns, according to the Augusta Chronicle.
More than 5,000 took part in a survey by the Centers for Disease Control and Prevention looking at the impact the pandemic has had on the mental health of Americans.

Young adults, racial/ethnic minorities, essential workers and unpaid adult caregivers reported a considerable increase in mental health problems, increased substance use and elevated suicidal ideation.

The percentage of respondents who had "seriously considered suicide" in the 30 days before completing the survey was significantly higher for those ages 18-24, with about 25% having considered it. According to the American Foundation for Suicide Prevention, suicide is the 10th leading cause of death in the U.S, with 48,344 people dying by suicide in 2018.

"There are a lot of social and psychological effects of COVID-19 that are going to extend long-term. Even though we may get a handle on the virus and the effects of it, the trauma people have experienced from social isolation, the economic stress this has caused, those are all risk factors for suicide," Vernon said. "A lot of us in this field kind of expect to see a rise in suicides and we hope to not see that."
Clarke County schools are looking toward a resumption of in-person classes, according to the Athens Banner Herald.
There's no definite date yet, but the falling rates of COVID-19 infections have Clarke County School District administrators feeling more optimistic, said Beth Moore, a spokeswoman for the school district.

As the Clarke County case rate began to grow in July, Clarke County schools delayed the start of 2020-21classes from early August until Sept. 8, the day after Labor Day. Administrators also decided to begin the school year with distance learning rather than with in-person classes.
Gwinnett County Sheriff Butch Conway joined 92 other sheriffs in endorsing Senator David Perdue (R-Glynn), according to the Gwinnett Daily Post.
Conway, who opted to not seek re-election this year and will therefore leave office Dec. 31, cited the "Defund The Police" movement and said Perdue would work to defend communities.

"Since 1973, I have spent my entire law enforcement career in Gwinnett County, and it's truly an honor to serve this community," Conway said. "While I leave my nearly three decades as Sheriff later this year, I know there's much more work to be done, and we can count on Sen. David Perdue to fight for us."

"Sen. Perdue continues to be a relentless advocate for Georgia's public safety community, delivering the tools we need to serve our families and neighbors. Sen. Perdue stands with the men and women who are actively on the frontlines, but also serves all of Georgia."
The Georgia State Ethics Government Transparency and Campaign Finance Commission wants another bite at the apple against former state Senator Don Balfour, according to the AJC.
The ethics commission on Thursday voted 4-0 to reopen what appeared to be a dead case against Balfour a week after The Atlanta Journal-Constitution reported it was being dismissed by the panel's staff, despite the fact that the ex-Gwinnett County lawmaker hadn't reported what happened to about $630,000 in leftover campaign money.

"The reason this doesn't feel right is because it's not right," said Jake Evans, chairman of the commission, who made the motion to reject the staff's dismissal. "I cannot agree with the administrative dismissal in this case."
The Savannah Ethics Board plans to hear complaints against Board of Aldermen member Kesha Gibson-Carter on October 29, according to the Savannah Morning News.
Valdosta is accepting applications for 14 seats on boards, commissions, advisory committees, and authorities, according to the Valdosta Daily Times.
Renee Byrd-Lewis will be the new Executive Director of the Gwinnett Coalition for Health and Human Services, according to the Gwinnett Daily Post.
Former Columbus Mayor Bob Poydasheff, who served from 2003-2007, has died, according to the Ledger-Enquirer.