An American fleet of nine ships under the command of Captain Oliver Hazard Perry routed a British fleet in the Battle of Lake Erie on September 10, 1813.
After the battle, Perry sent a famous dispatch to U.S. General William Henry Harrison that read, "We have met the enemy, and they are ours." The Battle of Lake Erie forced the British to abandon Detroit, ensuring U.S. control over Lake Erie and the territorial northwest.
Years later, Pogo, Georgia's Official State Possum, would paraphrase Perry's dispatch.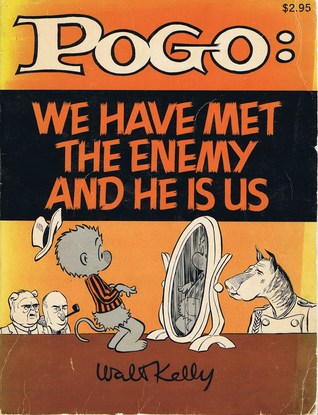 And eventually, Pogo's statement that, "We have met the enemy and he is us" would become the official slogan of the Georgia Republican Party.
On September 10, 1991, Senate confirmation hearings began for Georgia-born Clarence Thomas, who was appointed by President George H.W. Bush (41) to the United States Supreme Court.
Nirvana's Smells Like Teen Spirit was released as a single on September 10, 1991. Today, it smells more like Bengay.
On September 10, 2002, the Atlanta Braves clinched an eleventh straight division title without playing, as a loss by the Philadelphia Phillies assured the Braves the title.
Georgia Politics, Campaigns, and Elections
President Donald Trump directed the extension of a ban on offshore drilling that includes Georgia's coast, according to WJCL.
President Donald Trump expanded a ban on new offshore drilling Tuesday, an election-year reversal likely to appeal to voters in Florida and other coastal states.

"This protects your beautiful gulf and your beautiful ocean, and it will for a long time to come," Trump said as he announced the expanded drilling ban during an appearance at the Jupiter Inlet Lighthouse.

The president signed a memorandum instructing the interior secretary to prohibit drilling in the waters off both Florida coasts, and off the coasts of Georgia and South Carolina for a period of 10 years — from July 1, 2022, to June 20, 2032.
From the Associated Press via the Savannah Morning News:
For Trump, it was a dramatic about-face on a major policy decision, but one that could yield election-year dividends in key coastal states like Florida. It also provided relief to Sens. Lindsey Graham of South Carolina and Kelly Loeffler and David Perdue of Georgia, all Democratic targets. For months, the trio had been caught between the president's bullishness on drilling expansion and the substantial, bipartisan opposition to the idea in their home states.

Prominent Republicans like Georgia Gov. Brian Kemp, another Trump ally, and his Republican predecessor, Nathan Deal, have opposed drilling off the state's 100-mile (160 km) coast. State lawmakers have passed an anti-drilling resolution, as have several cities and counties in the state. Last year, U.S. Rep. Buddy Carter, a Savannah-area Republican who had spent years touting the potential benefits of drilling, wrote a letter asking Trump to exclude Georgia from any offshore drilling plans.

Perdue — seeking a second term and challenged by Democratic Jon Ossoff — previously said the issue would be a back-burner one for Georgia and that he valued a pursuit of energy independence but emphasized a need to ensure returns on drilling were worth the risk. He shied away from embracing Trump's initial expansion plans, as mayors and elected councils of coastal Georgia cities adopted anti-drilling resolutions.

Loeffler, who assumed office earlier this year just as the coronavirus pandemic took hold, has not made the offshore drilling debate a focus of her campaign. Her office didn't immediately return a message seeking comment.
Governor Brian Kemp released tax revenue information for August.
Georgia's August net tax collections totaled nearly $1.89 billion for an increase of $134.5 million, or 7.7 percent, compared to August 2019, when net tax collections totaled roughly $1.75 billion. Year-to-date, net tax revenue collections totaled $4.03 billion after two months for an increase of $446.3 million, or 12.4 percent, compared to the end of August last year (FY 2020).
A cursory look at the press release leads me to conclude that all major categories are up over August 2019 collecitons except for Motor Fuel Tax and Motor Vehicle Tag and Title fees.
John Pence, nephew of Vice President Mike Pence, spoke in South Georgia, according to WCTV.
With election day rapidly approaching, a key member of President Trump's re-election campaign is making the 'rounds, stopping in the Big Bend and South Georgia on Wednesday.

John Pence started Wednesday in Jacksonville before making his way through Tallahassee and into Georgia.

Believe it or not, Democrats say this is good news for them.

A large crowd gathered Wednesday night outside the Grady County Republican Party headquarters.

"It's very important," said Richard Jordan, who attended the rally. "A lot of times, we in South Georgia get overlooked."

"The road to four more years passes through the Sunshine State and passes through Georgia," Pence said. "We are out here competing to win every single vote."
The hand recount in State House District 163 resulted in a single changed vote, according to WTOC.
Workers with the Chatham County Board of Elections Office have been counting by hand and balancing the total number of votes for candidates Anne Allen Westbrook and Derek Mallow against the previously certified results from the Aug. 11 runoff. It was a tight race during the runoff between the two, separated by only 20 votes.

According to both Westbrook and Mallow, the hand recount that's been going on since last Wednesday, was different from the original count by one vote. So now, the results will have to be re-certified by the Chatham County Board of Elections, but the result will be the same, with Mallow victorious.

The hand recount was the first in the entire state with the new voting system that just went into effect this year. Westbrook appealed to a Chatham County Superior Court Judge and was awarded the recount last month.
Apparently, more than 1000 absentee ballots were not counted the first time, according to the Savannah Morning News.
Elections Supervisor Russell Bridges confirmed the recount snafu on Wednesday. The recount of 5,338 ballots began Sept. 2 and was nearing its conclusion Wednesday afternoon. The process is meant to verify that Derek Mallow defeated Anne Allen Westbrook by 20 votes in the Aug. 11 Democratic primary runoff.

The ballots initially missed during the recount were tabulated following the runoff, according to Bridges.

"There is no mystery here," Bridges said. "We are the first in the state to go through this process and we are learning and improving as we go."

But the recount problem stems from absentee ballots, not those cast in person at voting precincts. According to Bridges, the absentee ballots that had votes for the District 163 race had to first be separated from among all absentee ballots cast in the Aug. 11 election. Other races were contested in the runoff, including two county commission seats, the coroner race and the U.S. Congressional District 1 seat.

The news of the unprocessed ballots came after candidates had been told Tuesday that the recount was complete.

"Then we discovered while reviewing a spreadsheet (of the recount details) that it did not tabulate and we had not selected all the (absentee) ballots," Bridges said.
The Gainesville Times writes about Advance Voting in person and drop boxes for Absentee Ballots.
Early voting for November will begin Oct. 12 and run through Oct. 30, with polls open from 7 a.m. to 7 p.m. on weekdays. Polls will also be open from 7 a.m. to 7 p.m. on Saturday, Oct. 24.

Hall's elections board approved seven early voting locations at a meeting Tuesday, Sept. 8[.]

Voters will be able to drop off their completed absentee ballots at the early voting locations. The county will also keep its absentee ballot drop box in front of the Hall County Government Center at 2875 Browns Bridge Road in Gainesville. Ballots can also be mailed in or dropped off in-person at the elections office.
United States District Court Judge Amy Totenberg will hear arguments on the new Georgia voting system this week, according to AccessWDUN.
A hearing scheduled for Thursday and Friday will be the latest skirmish in a long-running fight. A lawsuit filed in 2017 against state and county election officials that originally challenged the state's old, outdated voting machines has morphed to target the new machines and election system that Georgia bought last year for more than $100 million.

The election integrity activists say the new voting machines are unaccountable and unverifiable and have many of the same security vulnerabilities as the old ones, despite Totenberg's warnings that the state must have a secure and reliable voting system.

State officials argue the new machines have been thoroughly tested and that security measures will prevent problems. They say the activists are seeking changes through the courts after failing to get the outcome they wanted in the legislative process. They also argue the U.S. Supreme Court has cautioned lower courts against ordering changes close to an election.
Brunswick may allow voters to decide the fate of a Confederate monument via referendum, according to The Brunswick News.
Brunswick Mayor Cornell Harvey concedes there is little chance a consensus will be reached to resolve the controversy surrounding a Confederate monument in Hanover Square.

No one on a nine-person committee tasked with making a recommendation about the monument in the city park was willing to budge from his or her position. Some supported moving or demolishing it, while others were adamant that it remain where it has stood since 1902.

Harvey said research is ongoing by city attorney Brian Corry to determine if a question can be put before city voters.

"Why not leave it up to the citizens of Brunswick to vote on this?" he asked.
Broadband Internet Access
Broadband access is an issue for many now that online education is being used more widely, and in some areas exclusively, due to COVID-19. From the Macon Telegraph:
[Ronald] Francis and his wife, Sandra, last week were among the more than 1,000 people to receive WiFi hotspot devices from the Bibb County School District to help ensure internet service needed for online learning. The district has also held training sessions on virtual learning for parents and guardians and will deploy 25 WiFi-equipped buses throughout the county for students that don't have internet access.

But even with assistance from the district, jobs and limited space can get in the way.

"It is a real struggle," Sandra Francis said. "My daughter is a single mom. … She's trying to work a full-time job. I work two full-time jobs and I'm trying to help her with the kids."
Hundreds of thousands of rural Georgians don't have access to broadband internet, according to the Athens Banner Herald.
A recently published broadband availability map by the Georgia Department of Community Affairs shows that of the more than 507,000 homes and businesses lacking access to reliable broadband, nearly 70% of these locations are in rural parts of Georgia where residents and businesses owners must either travel to gain access to the high speed internet they need or use other sometimes slower and more unreliable service such as satellite internet.

State Rep. Ron Stephens (R-Savannah), who also serves as chairman of the House Economic Development and Tourism Committee, has tried for years to lower the number of those affected by slow or no service.

"I worked on this thing for about three years," Stephens said of House Bill 244, better known as the Broadband Opportunity Act.

Signed by Gov. Brian Kemp in early August, the bill will go into effect on Jan. 1, 2021, and requires Georgia's Electric Membership Corporations (EMCs) to charge fair and reasonable pole attachment rates to broadband competitors, such as Comcast, AT&T and others, as determined by the Georgia Public Service Commission (PSC).

While the Broadband Opportunity Act may pave the way for more options, local EMCs said everything they're doing to provide high speed internet access to their customers is a result of Senate Bill 2, which was passed during the 2019 session of the Georgia General Assembly and allows EMCs to provide broadband services.

"Senate Bill 2 gave us mechanisms in which the EMCs could actually own the fiber, extend the fiber, either partner with an affiliate or create an affiliate. It gave us really five or six different business models in order to be part of the solution of getting reliable broadband to all of our members, customers in the area," [Coastal Electric Cooperative CEO Chris] Fettes said.

"And then House Bill 244 does something else. House Bill 244 addresses some other opportunities that will help maybe incentivize those big cable companies that are attached to our poles to extend in some of those areas where maybe EMCs don't have territory."
In Augusta, internet access is also an educational issue, according to the Augusta Chronicle.
Augusta business leaders and school officials made an alarming discovery two years ago: Roughly one in 10 public school students in the city are without internet access.

At the time, few people took notice. But now that the COVID-19 pandemic has made broadband service a household necessity, bridging the digital divide has risen to the top of the priority list.

"I don't want to say people didn't care, but there wasn't this sense of urgency. There was no crisis," said Sue Parr, president of the Augusta Metro Chamber of Commerce, whose Business Education Advisory Council began working with the Richmond County School System in 2018 to identify student households without internet access.

Mapping the unconnected households reveals many are in low-income census tracts, said [James Riley, CEO of Forward Dataworks and head of the Business Education Advisory Council's Digital Inclusion Task Force], suggesting cost may be the reason families aren't purchasing a service that has become for most as much a necessity as running water or electricity.

"There is talk in our society about the internet being a public utility; it has become necessary to public and civic life" said Riley, whose consulting firm specializing in data analytics for education. "To think there are kids growing up in 2020 with having access to the internet at home seemed frightening to us."
From the Athens Banner Herald:
[F]or many rural areas in the state, internet speeds don't meet the requirements of the "new normal," especially when it comes to online education. For teachers and students grappling with the challenges presented by virtual learning — which is heavily reliant on streaming video — high speed internet has grown from a luxury to a necessity.

And it's a necessity that hundreds of thousands of Georgians can't access.

A recent Georgia Department of Community Affairs study found that of the more than 507,000 homes and businesses lacking access to reliable broadband service, which the GDCA defines as speeds of 25 megabits per second, nearly 70% of these locations are in rural parts of Georgia.

"For the kids in our community, which is extremely rural, it's very difficult to do online school," Daniels said. "If you live out of the city limits, then you don't have internet access."