John Percival, an Irish Member of Parliament who served as a Georgia Trustee, was born on July 12, 1733.
In the British House of Commons, Percival served on the committee on jails with a young member named James Oglethorpe, who shared his idea about a new colony in North America for the deserving poor. Percival, like Oglethorpe became a Georgia Trustee, and during Georgia's first decade, with Oglethorpe in America, Percival worked harder than anyone to champion Georgia's cause and secure its future.
On July 11, 1782, British colonists including British Royal Governor Sir James Wright, fled Georgia.
Wright had been the only colonial governor and Georgia the only colony to successfully implement the Stamp Act in 1765. As revolutionary fervor grew elsewhere in the colonies, Georgia remained the most loyal colony, declining to send delegates to the Continental Congress in 1774.
Congress ordered the creation of the United States Marine Corps on July 11, 1798, after the Corps was inactive for a period following the Revolutionary War. From 1799 to 1921, Marine Corps Day was observed on July 11, but is now celebrated on November 10, the date of it's Revolutionary War establishment.
On July 11, 1804, Aaron Burr shot Alexander Hamilton in a duel in Weehawken, New Jersey. Burr was the sitting Vice President of the United States and Hamilton a former Secretary of the Treasury.
After he shot Hamilton, Aaron Burr quickly fled the nation's capitol, making his way to St. Simons Island, Georgia, spending a month as a guest of Pierce Butler at Hampton Plantation.
Burr was a fugitive, but his killing Hamilton in a duel held a certain justifiable reasoning since dueling was not illegal, though morally questionable, to be sure. According to H. S. Parmet and M. B. Hecht in their Aaron Burr: Portrait of an Ambitious Man, after the duel, he immediately completed, by mid-August, plans which he had already initiated, to go to St. Simons, "an island off the coast of Georgia, one mile below the town of Darien."

Jonathan Daniels' "Ordeal of Ambition" handles the situation this way: "With Samuel Swartwout and a slave named Peter ('the most intelligent and best disposed black I have ever known'), Burr secretly embarked for Georgia. There on St. Simons Island at the Hampton Plantation of his friend, rich former Senator Pierce Butler, he found refuge…" As Georgia Historian Bernice McCullar, author of "Georgia" puts it, Burr was "fleeing the ghost of Alexander Hamilton" when he arrived on the Georgia island.

"Major Pierce Butler," she relates, "had fought in the British army and remained in America after the war." He had married a South Carolina heiress, Miss Polly Middleton, and acquired two Georgia Coastal plantations, which he ran like a general storming after the troops. In fact, he was so strict that none of his slaves could associate with any of the others. He also required anyone who visited his plantations to give his or her name at the gate. With this tight security, Burr should have felt safe..

Actually, Butler's invitation to visit the island fitted the escapee's plans nicely. Not only was the Hamilton affair a bother, but also Burr needed to get away from a lady by the name of Celeste; however, the real reason, aside from being near his daughter, who was also in the South, was the nearness of the Floridas. No real purpose is given why the Vice-President wanted to spend "five or six weeks on this hazardous and arduous undertaking."

Daniels underscores that from this St. Simons point Burr could "make any forays into Florida he wished to make. He traveled under the name 'Roswell King." After his Florida odyssey, he planned to meet his South Carolina son-in-law "at any healthy point."
Parts of the Hampton Plantation survive in the form of tabby ruins on St Simons.
A house in St. Marys, Georgia bears a plaque stating that Aaron Burr visited there in 1804.
Clark lived in the home from 1804 until his death in 1848. He was appointed in 1807 by then-President Thomas Jefferson as customs collector for the Port of St. Marys, a position he held until his death. The year Clark bought the house, he is said to have provided a temporary hideout to Aaron Burr, who was traveling in the South to evade federal authorities holding a warrant for his arrest after he killed Alexander Hamilton in their infamous duel in July 1804.

Verification of Burr's stay in St. Marys is hard to come by. But it is confirmed that he stayed on St. Simons Island and Cumberland Island late in the summer after he killed Hamilton. That Burr knew Clark is not disputed. The two attended law school together in Litchfield, Conn., but there is no mention in either man's records that Burr stayed in the home.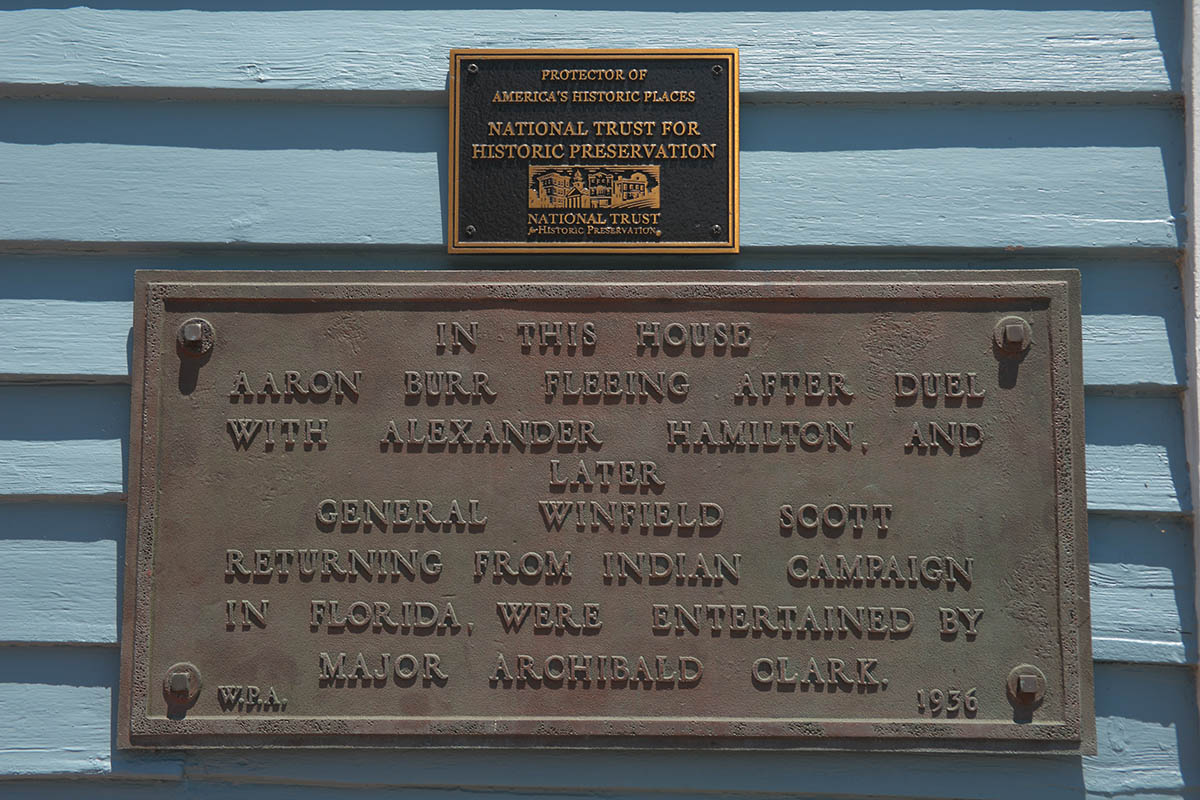 Millard Fillmore was sworn in as the 13th President of the United States on July 10, 1850, following the death of President Zachary Taylor.
The United States Army Medal of Honor was created on July 12, 1862 when President Abraham Lincoln signed legislation authorizing the award.
The first U.S. Army soldiers to receive what would become the nation's highest military honor were six members of a Union raiding party who in 1862 penetrated deep into Confederate territory to destroy bridges and railroad tracks between Chattanooga, Tennessee, and Atlanta, Georgia.
On July 10, 1864, Conferderate forces retreated south across the Chattahoochee and burned the bridge behind them. General Sherman wrote later of the day,
General Garrard Moved rapidly on Roswell, and destroyed the factories which had supplied the rebel armies with cloth for years.

Over General Garrard was then ordered to secure the shallow ford at Roswell and hold it until he could be relieved by infantry, and as I contemplated transferring the Army of the Tennessee from the extreme right to the left, I ordered General Thomas to send a division of his infantry that was nearest up to Roswell to hold the ford until General McPherson could send up a corps from the neighborhood of Nickajack.

General Newton's division was sent and held the ford until the arrival of General Dodge's corps, which was soon followed by General McPherson's whole army.
On July 11, 1877, a Constitutional Convention convened in the Kimball Opera House in Atlanta to replace the 1868 Reconstruction Constitution.
On July 11, 1916, President Woodrow Wilson signed the Federal Aid Road Act, establishing a federal program of paying for highway development.
The Scopes "Monkey Trial" began on July 10, 1925, in which a Tennessee public school teacher was tried for teaching evolution, against state law. Three-time Democratic candidate for President William Jennings Bryan volunteered to help the prosecution, and famed lawyer Clarence Darrow defended John Thomas Scopes.
President Franklin D. Roosevelt accepted the Democratic nomination for a fourth term on July 11, 1944.
General Dwight D. Eisenhower was nominated for President by the Republican National Convention on July 11, 1952.
Lt. Frank Reasoner of Kellogg, Idaho died in action on July 12, 1965 and was later posthumously awarded the first Medal of Honor to a United States Marines.
July 11, 1969 was an epic day in rock and roll history, with David Bowie releasing "Space Oddity" and the Rolling Stones releasing "Honky Tonk Women."
On July 12, 1984, Congresswoman Geradine Ferraro (R-NY) joined the Democratic ticket with Presidential nominee Walter Mondale. Ferraro was the first woman and first Italian-American woman nominated for Vice President. Mondale and Ferraro lost the General Election in the largest ever Republican landslide to Republican President Ronald Reagan and Vice President George Bush.
On July 10, 1985, "Classic" Coke returned, joining the new formula on store shelves.
On July 11, 1985, Astros pitcher Nolan Ryan became the first major league player to strike out 4000 batters.
The Atlanta Committee for the Olympic Games broke ground for Atlanta Olympic Stadium on July 10, 1993; after the Olympics, the stadium was modified for baseball and became Turner Field.
Georgia Politics, Campaigns, and Elections
President Donald Trump will visit Atlanta on Wednesday, according to the AJC.
President Donald Trump is planning to visit metro Atlanta next week to tout his administration's transportation agenda and announce a policy change designed to speed infrastructure projects, according to senior White House officials.

He's set to make the announcement on Wednesday at the UPS airport hub in Hapeville where he'll highlight a process that the White House said will accelerate environmental reviews for roads, bridges and highway projects, such as an I-75 expansion.

The visit, Trump's ninth trip to Georgia since taking office, is the latest sign that Republicans are increasingly concerned about keeping Georgia in the GOP column in November.

Democrats far outvoted Republicans in the June primaries, smashing a state turnout record, and Trump's campaign began reserving TV spots in Georgia and other swing states within the last two weeks.
COVID-19 hospitalizations hit a new record high, according to the AJC.
Statewide, 2,322 people are currently hospitalized for COVID-19, well past the April 24 peak of 1,906, noted Emory University infectious disease expert Carlos del Rio.

Meanwhile, the share of open critical care beds is down to the single digits around Athens, Columbus, Tifton, and a three-county region including Cobb, Douglas and Paulding, data from the Georgia Emergency Management and Homeland Security Agency shows.

This new wave of patients is younger, which means they're less likely to have severe diabetes, cardiovascular disease, obesity and other conditions that make them more likely to need critical care or die, experts said. From April to June, hospitalizations in Georgia for patients with the virus between the ages of 18 and 29 rose 34% while plummeting 61% for people over 50, according to Georgia Department of Pubic Health data.

"It's part of the story of why hospitalizations are increasing, but the death rate is not," Dr. Thacker said.

Younger people are also recording the state's fastest increase in new cases, mirroring other Southern states such as Texas and Florida which, like Georgia, took the lead in reopening their economies.
Governor Brian Kemp's staff called municipal mask mandates "unenforceable," according to the AJC.
"Like all of the local mask mandates, Mayor Bottoms' order is unenforceable," said Kemp spokeswoman Candice Broce. "We continue to encourage Georgians to do the right thing and wear a mask voluntarily."

The remarks were the most direct response from the Kemp administration to the wave of local governments in Georgia that were adopting requirements to wear face coverings to contain the coronavirus.

"If the mayor wants to flatten the curve in Atlanta," Broce said, "she should start enforcing the current provisions of the governor's orders."
Retiring State Senator William Ligon (R-Brunswick) spoke about his time in the legislaure to The Brunswick News.
"When you serve in the Georgia Legislature … you're going to go to Atlanta for three months," Ligon said. "When you're back you're going to be asked to go to events and different things.

"You have to learn to say no to some things. It's trying to get to the essence of what's needed and do that"

He went from running one business to being one of many trying to run another. The state government is similar to a business, Ligon said, in that it's expected to be fiscally responsible and provide a service.

"People don't want the government to waste their money," Ligon said.

"I just would like to thank the people of the 3rd District for being able to serve them, and I appreciate the confidence they had in me for being able to serve them," Ligon said.
The Chatham County Board of Elections rejected 647 ballots in the June 9, 2020 Primary election, according to the Savannah Morning News.
Following months of recommendations to vote absentee by local and state officials to avoid possible COVID-19 transmission at the polls, nearly 31,000 Chatham County voters had chosen that method by the time polls closed on election day.

Of those, 441 ballots were rejected by the BOR for various reasons.

– 142 ballots with missing signatures

– 90 ballots came in with invalid signatures that did not match the voter's license.

– 1 ballot did not have a Georgia ID associated with it.

The board rejected 206 mailed absentee ballots that were received after the absentee ballot deadline and two ballots that were placed in the absentee ballot dropbox after the deadline.

"The next morning when we arrived there were two ballots in the box. We checked the box after ballots closed and put a sign on the box that said the ballot box was closed," German said.
Macon-Bibb County Mayor Robert Reichert signed an executive order urging residents to don face coverings, according to the Macon Telegraph.
Although the executive order falls short of mandating Macon residents to follow certain guidelines, it serves as a reminder for resident and business owners of what they should do to protect themselves and others from COVID-19, Reichert said.

"I think that you don't have to mandate what's right for people here in Georgia. We are law abiding people. If you tell us what the law is and the circumstances and why, the vast majority will comply and try to do the right thing," Reichert said.
A mask mandate might find majority support on the Augusta City Commission, according to the Augusta Chronicle.
Asked whether he supports requiring masks and if he will sign an executive order requiring them or seek a commission vote on the matter, Mayor Hardie Davis did not answer.

He has said such a measure would need Augusta Commission support. Earlier in the pandemic, Davis issued orders closing the local government and businesses.

Without an order, a mandate would need six commission votes to pass.
Bulloch County will start distributing free face masks, according to the Statesboro Herald.
"Bulloch EMA is working with (Statesboro Mayor Jonathan) McCollar's 'Statesboro COVID-19 Community Response Team' and 'Squashing the Spread Bulloch' to distribute masks at various locations this Saturday from 9 a.m. to … noon," [Bulloch County Public Safety/Emergency Management Agency Director Ted Wynne] said. The locations will be finalized and announced Friday.
Buford City Schools will require masks for students on buses and encourage them inside buildings, according to the Gwinnett Daily Post.
Floyd County Schools pushed reopening a week to Augusta 13, according to the Rome News Tribune.
Another reason to set the later date for students to return, [Superintendent Jeff] Wilson said, is they need to make sure all of them have Chromebooks in order to participate in online learning if the schools can't open on Aug. 13.

Online learning programs this year will come in one of two ways: if a student opts to take lessons from home for a specified period of time, or if schools have to close their facilities because of either an increase in the community spread of the coronavirus or school-specific outbreaks.

Those lessons will be conducted differently from the ones put into place when schools were first shut down by the state, Wilson said.

Two of the main differences are that there will be specified times when teachers will give live lessons and the grades students receive will be counted.
The Chatham County Courthouse was closed until at least Monday after an air conditioning failure, according to the Savannah Morning News.
Gwinnett County Commission District One candidate Laurie McClain is under fire for questioning the virtue of diversity for the sake of diversity. From the AJC:
In the first post, McClain, who is white, said she wanted to understand why there was "always a push to have more 'diversity' because it's assumed to be a good thing."

Nearly a quarter of Gwinnett County residents were born outside the United States and fewer than half of all residents are white. The area McClain is running to represent, District 1, includes the cities of Duluth, Suwanee and Sugar Hill. In Duluth, a third of residents were born abroad and 43% are white; in Suwanee, 20% of residents are foreign-born and 65% are white; and in Sugar Hill, 22% were born outside the U.S. and 70% are white.

Edward Muldrow, the chairman of the Gwinnett County Republican Party, said he has a hard time supporting anyone who doesn't think diversity is necessary. Muldrow, who is Black, said it was "crazy to me" that a candidate could have that point of view.

Muldrow said he planned to reach out to McClain, and that the party would meet to decide whether to support her. Muldrow said he would give McClain the opportunity to make amends or change her mindset, but that he needed her to understand that the sentiment was not OK.

"That says that the people you represent will probably question whether or not you have their best interest at heart," he said.

"It's beyond troubling because it doesn't even make sense now," said Stephanie Cho, the executive director of Asian Americans Advancing Justice and a Gwinnett resident. "The word diversity shouldn't even be a question."

"Laurie McClain is definitely not reflective of this Gwinnett," Keaton said. "I don't know why she's running if she has questions about the value or the benefit of diversity. It's just racist, period, point-blank. …There's not a place for people who think like Laurie to represent the people of this county."
So, understand the shifting newspeak rules. Any questioning of whether diversity is a virtue in and of itself is now racist. The enforcers of political correctness reserve the right to change anything anytime and to judge you ex post facto. Obey.
The University System of Georgia appointed a commission to consider renaming buildings, according to the Rome News Tribune.
Athens-Clarke County Commissioners adopted a resolution supporting Black Lives Matter, according to the Athens Banner Herald.
In the resolution, commissioners pledge that the Athens-Clarke government "will explore ways to work with all communities and faith-based groups who traditionally have not been involved with the government's community initiatives, regardless of race, income, religion, occupation, gender, etc., to ensure equity and sustainable change and to forever acknowledge Black Lives Matter."

The resolution, introduced by District 10 Commissioner Ovita Thornton, also makes more specific pledges, including exploring "ways to work with community leaders to establish Juneteenth as a local annual holiday and celebration."
The Hall County Board of Education will consider a property tax millage rate hike, according to the Gainesville Times.
A Superior Court Judge declined to prevent the removal of a Confederate monument in Athens, according to the Athens Banner Herald.
Western Circuit Superior Court Judge Patrick Haggard issued his ruling Thursday afternoon following a brief hearing Thursday morning. The Western Judicial Circuit covers Clarke and Oconee counties.

The Athens-Clarke Commission voted unanimously last month to move the century-old monument from its place on Broad Street near the University of Georgia Arch to a location off Macon Highway near the site of Athens-Clarke County's only Civil War skirmish.

Haggard's ruling did not rest on those arguments, however, but on the doctrine of sovereign immunity — the principle that governments can only be sued with the consent of the government.

Georgia and other states have granted that right to citizens in certain situations, such as when people are injured in automobile accidents involving the state or state employees. But the law on moving monuments is not one of those exceptions, Sowell argued, and the judge agreed.

"The Doctrine of Sovereign Immunity bars a private entity from seeking injunctive relief against a county," Haggard wrote in a one-page ruling. "Consequently, the Court does not have the authority to enjoin Defendant (the Athens-Clarke County government) from moving the monument."
Sea turtles created more than 2200 nests in Coastal Georgia so far this year, according to the Savannah Morning News.
While not a record pace like last year, which saw 3,650 loggerhead nests in Georgia, it's a healthy number, said Mark Dodd, a wildlife biologist with the Georgia Department of Natural Resources and the state's sea turtle coordinator.

"We're on track to be around 2,800 nests, which is just a really good year," he said. "It's obviously not as high as last year, but it's basically what the recovery goal is for Georgia."

"Things are good on Wassaw — turtles are coming in steady!," Kris Williams, director of the Caretta Project texted in late June. "We miss the manpower and energy of the volunteers though!"

By Wednesday, Wassaw had recorded 178 nests and noted that at least 12 Adopt A Turtles had deposited nests. Another 12 nests have been recorded on Tybee, while Ossabaw has logged an impressive 463 nests.

A cool spring lengthened the incubation period for turtle eggs this year, Dodd said. Even the first nest, which was laid on Cumberland Island on April 26, has not yet hatched. Hatching is bound to begin soon.

When the hatchlings do begin their journey across Georgia beaches and to the sea, expect more boy babies this year. The hatchlings' sex is determined by incubation temperature, with lower temperatures favoring males.