August, a Golden Retriever aka Augie, is the oldest known dog of her breed, according to the Gwinnett Daily Post.
There have been accounts of goldens living to 17 or 18, and even a few stories about 19-year-old goldens, but Augie is the first to reach 20, according to Golden Hearts, the blog that first shared the dog's story.

The GoldHeart Golden Retrievers Rescue in Maryland confirmed the news, writing in a Faceook post that Augie is the "oldest known, oldest living Golden Retriever!"

On April 24, Augie celebrated her 20th birthday with her humans, Jennifer and Steve Hetterscheidt, and her three furry siblings at their home in Oakland, Tennessee.

Augie was adopted by the Hetterscheidts when she was 14 after being rehomed twice. Jennifer Hetterscheidt was working at a golden retriever rescue organization in Nevada as the intake director. As soon as she laid eyes on Augie, she fell in love, she said.

While Augie was already a senior dog when she was adopted, that didn't stop her and her family from taking road trips across the country and spending entire summers at the pool.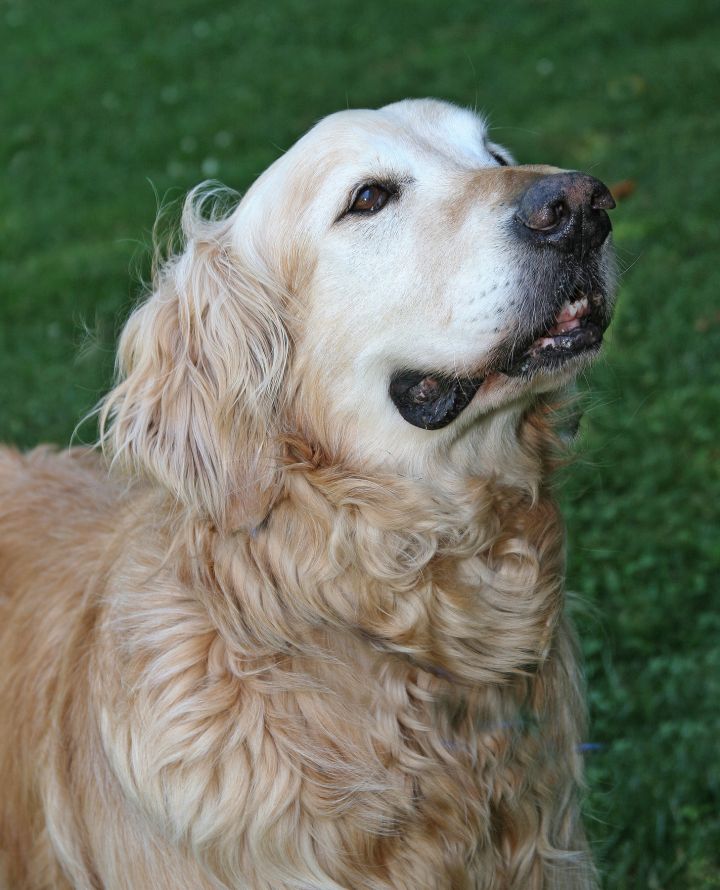 Charlie is a senior male Golden Retriever who is available for adoption from Adopt A Golden Atlanta in Atlanta, GA.
Hi Everyone!!! My name is Charlie. I'm a big fluffy and very handsome 12 year old Golden Retriever. I have had a very interesting life so far. I spent the first several years of my life as a Border Patrol dog!!! It's not easy being in law enforcement. I had to be very serious all the time and constantly be on watch. As a result, I'm not your typical goofy Golden.
It takes me some time to get to know people, so you must be patient with me as I become familiar with you. In my line of work, I had to be on guard all the time, so since I have retired those old habits are tough to break.
I'm looking for a forever home where I can spend my retirement, taking it easy in the peace and quiet. I'm not crazy about other dogs so I would need a home where I am an only dog. I do like cats though!!! I need a tall fence and no children in the home. I had so much excitement as a border patrol dog I am looking to find a quiet home without a lot of commotion and visitors. I can be left alone for a little while if you need to go out for a bit. If visitors do come over, I can go into my own room and be quiet too!
Rusty is an eight-year old male Golden Retriever mix who is available for adoption from the Humane Society of Morgan County in Madison, GA.
Rusty is a mature gentleman of simple needs and few demands. Rusty like all Goldens loves human companionship and will be happiest when he's in your company. If you want to experience on of life's most rewarding blessing consider adopting a senior!!! Rusty may be the man for you!
Duxi is a male Golden Retriever and Dachshund mix who is available for adoption from Circle of Friends Animal Society in Greensboro, GA.
Duxi is roughly 36 pounds and 4 yrs old. He has the short legs and body of a dachshund but the long hair coloring and face of a golden. We know for a fact that his dad was a dachshund mix so we are assuming his mom must have been some sort of golden mix. He is a friendly boy and good with other dogs but we have not had the opportunity to see how he reacts to children.
Duxi is basically house trained but he does do some marking. He tested a light positive for heartworms so he has been started on Heartgard and 30 days of doxycycline. Normally 6 months of Heartgard will produce a negative on heartworm tests but there is the possibility that he will need further treatment.