Bridget Bishop was the first person hanged after being convicted of practicing witchcraft in the Salem witch trials on June 10, 1692.
On June 10, 1793, Washington, DC officially replaced Philadelphia as the Capital of the United States. To honor Washington, today we will adopt a smugly superior attitude, name-drop constantly, and speak condescendingly to those who currently live in the states we used to live in.
Rebecca Latimer Felton was born on June 10, 1835 in Decatur, Georgia and later became the first woman to serve in the United States Senate after being appointed by Governor Thomas Hardwick to fill a vacancy in 1922.
The United States Naval Academy graduated its first class on June 10, 1854.
The Girl Scouts of America were incorporated in Washington, DC on June 10, 1915.
The Republican National Convention in Cleveland became the first political convention broadcast on the radio on June 10, 1924.
Alcoholics Anonymous was founded on June 10, 1935.
President John F. Kennedy signed the 1963 Equal Pay Act on June 10, 1963.
I am delighted today to approve the Equal Pay Act of 1963, which prohibits arbitrary discrimination against women in the payment of wages. This act represents many years of effort by labor, management, and several private organizations unassociated with labor or management, to call attention to the unconscionable practice of paying female employees less wages than male employees for the same job. This measure adds to our laws another structure basic to democracy. It will add protection at the working place to the women, the same rights at the working place in a sense that they have enjoyed at the polling place.

While much remains to be done to achieve full equality of economic opportunity–for the average woman worker earns only 60 percent of the average wage for men–this legislation is a significant step forward.
Apple Computer shipped the first Apple II computers on June 10, 1977.
Coca-Cola introduced Classic Coke on June 10, 1985.
Ray Charles, who was born in Albany, Georgia died on June 10, 2004.
Georgia Politics, Campaigns, and ElectionsSslkjlskjflksjdflksjlfkj
MARK THIS IN RED ON YOUR CALENDAR: PRIMARY RUNOFF ELECTIONS, AUGUST 11, 2020.
Governor Brian Kemp allowed the Executive Orders placing Georgia National Guard troops to expire overnight. From a press release:
"I greatly appreciate the men and women of the Georgia National Guard, state and local law enforcement, and all first responders who kept Georgians safe and ensured peaceful demonstrations across our great state. This coordinated team worked tirelessly to protect communities, businesses, and everyone exercising their Constitutional rights. Given the success of this partnership and after several discussions with public safety officials and community leaders, my executive orders authorizing a State of Emergency and mobilizing Georgia National Guard troops will expire at 11:59 PM tonight. Moving forward, we will continue to monitor activity around the state and remain prepared to respond if necessary."
The national media, conditioned by eighteen months of non-stop propaganda from the Governor Vice President Stacey Abrams campaign, is gleefully attacking Governor Kemp over yesterday's cluster.
Rachel Maddow  – Kemp admin seems intent on keeping Georgia voting broken for 2020

The Root – What Could Possibly Be Going Wrong With Primary Voting in Brian Kemp's Georgia?
Governor Ms. Abrams gets that much correct.
From the Associated Press via the Valdosta Daily Times:
Many Democrats blamed the Republican secretary of state for hours-long lines, voting machine malfunctions, provisional ballot shortages and absentee ballots failing to arrive in time for Tuesday's elections. Democrat Joe Biden's presidential campaign called it "completely unacceptable." Georgia Republicans deflected responsibility to metro Atlanta's heavily minority and Democratic-controlled counties, while President Donald Trump's top campaign attorney decried "the chaos in Georgia."

At Trump's campaign headquarters, senior counsel Justin Clark blamed Georgia's vote-by-mail push amid the COVID-19 pandemic, alluding to the president's unfounded claims that absentee voting yields widespread fraud.

"The American people want to know that the results of an election accurately reflect the will of the voters," Clark said. "The only way to make sure that the American people will have faith in the results is if people who can, show up and vote in person."

In an interview with The Associated Press, Raffensperger laid blame elsewhere, noting state law charges counties with on-ground operation of elections.

"It's really specifically in one or two counties, in Fulton and DeKalb counties, that had these issues today," Raffensperger said. "It has nothing to do with what we're doing in the rest of Georgia."

Raffensperger, minimizing problems that were documented in other counties, promised investigations of Fulton's and DeKalb's handling of the primary. The Republican speaker of Georgia's state legislature, meanwhile, called for an investigation of the entire primary process, singling out Fulton County as "particularly" troubling.
There were several issues in counting the massive number of absentee ballots cast in the race. Chief Elections Clerk Robert Brady said they had technical complications with the ballot counting machines.

A number of times through the evening, local elections officials were on the phone with the state's tech support — and were again at just after midnight. The machines appeared to not want to read some ballots and Brady attributed it to having two contests condensed into one day.

Brady said there were several problems Tuesday morning, but he described them as annoyances, rather than full blown issues.

"Nobody turned anybody away and nothing caused long lines," Brady said.

More than one precinct opened late and one piece of voting equipment had a low battery and had to be replaced with another piece of equipment, Brady said.
Muscogee County sent election workers home before vote counting was finished, according to the Ledger-Enquirer.
The elections office ceased counting ballots shortly after 1 a.m., and said workers will return at 10 a.m. to finish a handful of precincts as well as the absentee ballots.

Nancy Boren, the county elections director, said the Georgia Secretary of State's office around 1 a.m. gave counties the option of suspending the vote count, leaving the decision to members of Muscogee's board of elections, who agreed with the overnight delay.

Polls closed around Columbus at 9 p.m. after technical issues with machines and other voting devices forced a Superior Court Judge to sign the extension order.
"About the only problem we had reported was that the tape ran out in one machine, and we had to send a technician to replace it," Dougherty Elections Supervisor Ginger Nickerson said just after polls closed at 7 p.m. "About the only complaints we had were from people who had to sign affidavits that they had not voted by absentee ballot when they showed up to vote in person."

"And we had some of the issues we usually have with the primaries: especially people choosing a ballot from one party when they wanted to vote for a candidate that's on the other party's ballot. But that's the beauty of the new machines: Voters get a chance to review their ballot, and if they decide they want to make a change, they can do so."
From the Savannah Morning News:
Reports of Georgia's new voting machines not working across the county rolled into the office of Chatham County Board of Elections Chairman Tom Mahoney.

Mahoney said there were a variety of problems affecting different polling locations, and the BOE's technician teams are working to diagnose and fix the problems.

"The first thing is correcting these problems, gathering accurate information about which polls are affected and how they're affected, and finding out what the problems are," Mahoney said.
Richmond County Board of Elections Executive Director Lynn Bailey said there were problems at Vineyard Church and Stevens Creek Church setting up equipment Tuesday morning that caused opening delays. Vineyard Church ended up opening at 7:30 a.m., while Stevens Creek Church opened at 8:40 a.m.

"We did have two polling places that weren't able to get opened up on time because of technical problems with the new voting system. Those have been resolved," she said. "The problem was setting up the equipment. I can't say it was the equipment itself."
"There were several polling places that opened today at 7 a.m., but did not open with their equipment, or not all of their equipment set up and ready to go," county spokesman Joe Sorenson said. "So, those people who came to vote were offered 'emergency ballots.'

"Emergency ballots are a kind of provisional ballot (but) one of the biggest differences between an emergency ballot and a regular provisional ballot is those people (who cast the emergency ballot) don't have to do anything else. They cast their ballot as though they were casting another kind of ballot, like an advance by mail, so their ballot is done. There's nothing else they need to do. They voted. Their votes will be counted in with all the other votes."
At 8:55 AM on Tuesday, the Secretary of State's website does not appear to have updated since last night, and shows incomplete numbers. Since I wrote that last line, the SOS website has updated.
Where the SOS website currently shows 172, 570 votes cast in the Democratic Presidential Preference Primary, the AJC shows more than 666k votes in that race.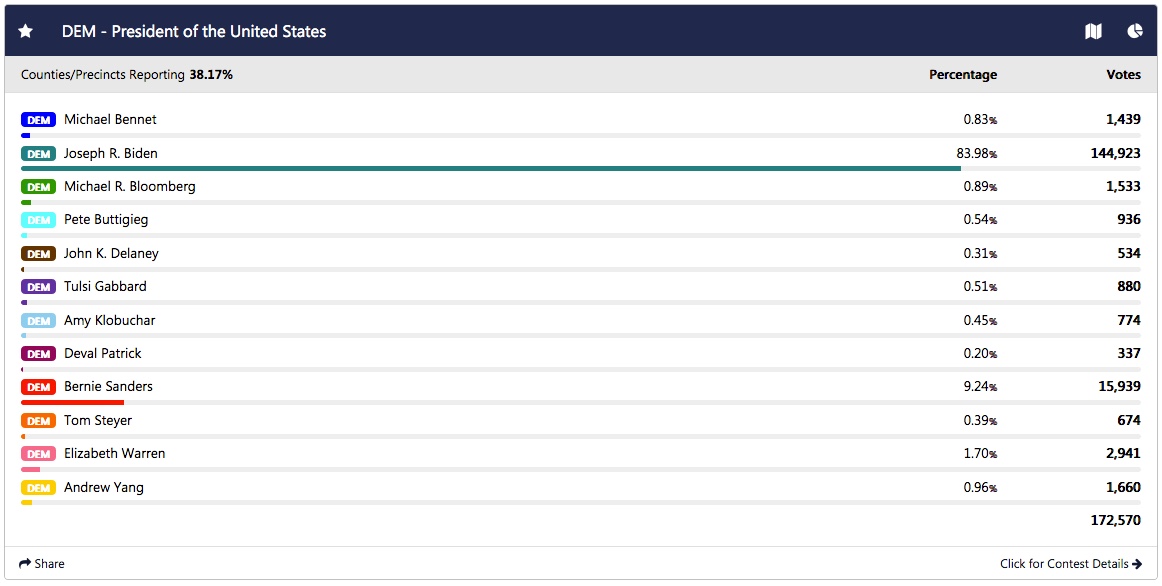 So, it's unclear if election numbers are fully reported yet, and so it may be problematic to report much on them for the next couple days. So, I'll highlight a few races here and there that caught my eye and talk about a couple trends I've seen.
1.) Judicial incumbents losing in Metro Atlanta
Reuben Green (i) – 40.32%

Angela Brown – 59.68%

Gwinnett County Superior Court

Randy Rich (i) – 39.68%

Tamela Adkins – 60.32%

Rebeca Crumrine Rieder (i) – 43.57%

Shermela Williams 56.43%

Clayton Circuit Superior Court

Katherine Katie Powere (i) – 40.22%

Jewel Scott – 59.78%
2.) Experienced office holders shut out in Congressional bids (blue means runoff, red means former or current elected). Matt Gurtler is an outlier here, as he is technically an incumbent state legislator, but he is clearly the least "establishment" Republican in the General Assembly, and he was endorsed by the Club for Growth, which almost never endorses state legislators looking to upgrade to DC.
Rich McCormick – 55%

Renee Unterman (State Senator) – 17%

Mark Gonsalves – 8%

Eugene Yu – 6%

Lisa Babbage – 6%

Lynne Homrich – 6%

Zachary Kennemore – 2%

Matt Gurtler (anti-establishment State Rep.) – 22%

Andrew Clyde – 19%

Kevin Tanner (State Rep.) 16%

Paul Broun (former Congressman) – 13%

John Wilkinson (State Senator) – 12%

Ethan Underwood – 8%

Kellie Weeks – 4%

Maria Strickland – 3%

Michael Boggus – 3%

Marjorie Greene – 41%

John Cowan – 20%

John Barge (former statewide) – 9%

Clayton Fuller – 7%

Bill Hembree (former State Rep.) – 7%

Kevin Cooke (former State Rep.) – 6%

Matt Laughridge – 6%

Ben Bullock – 4%

Andy Gunther – 1%
3.) Club for Growth 2 for 2 in GOP Primary Elections  so far – the conservative group endorsed State Rep. Matt Gurtler in the 14th Congressional District and Rich McCormick in the 7th. Gurtler is in a runoff, so that might change, but the CFG put up as good numbers as anyone.
4.) Gwinnett County looking pretty blue for November –
Votes cast for President

Votes cast for U.S. Senate Perdue seat

In that race, Democrat Jon Ossoff, in a field of 7 candidates, took 36,803 votes, besting Senator Perdue's total for the county.

Votes cast for District Attorney

Votes cast for Sheriff

Votes cast for County Commission Chair

Votes cast for SD 45, currently held by Renee Unterman (R)

Votes cast for SD 48, currently held by Zahra Karinshak (D)
5.) Democratic challengers to incumbent mid-size city District Attorneys fared unexpectedly well.
Democratic Challenger Mark Jones appears to lead incumbent Julia Slater for District Attorney for the Chattahoochee Judicial Circuit, according to the Ledger-Enquirer.
Columbus lawyer Mark Jones took an early lead over incumbent District Attorney Julia Slater in the race for chief prosecutor in the six-county Chattahoochee Judicial Circuit based in Columbus.

The circuit's other counties include Chattahoochee, Harris, Marion, Talbot and Taylor.

Early results showed Jones leading Slater in two of the counties reporting that all of their votes had been tallied.
Click here to see the latest vote totals in the Chattahoochee Judicial Circuit DA race.
The Ledger-Enquirer posts higher vote totals than the state at the time this was written and shows Jones handily besting Slater.
Democrat Challenger Anita Howard beat incumbent Bibb County District Attorney David Cooke, according to the Macon Telegraph.
The Macon Judicial Circuit will have a new district attorney after Anita Reynolds Howard defeated incumbent David Cooke.

Howard, a Middle Georgia native with 15 years' experience as a prosecutor, leads Cooke 17,005 votes to 6,545 in the Macon DA's race, according to the most recent numbers released by local election boards. The Macon Judicial Circuit represents Bibb, Crawford and Peach counties. All ballots have been reported in Crawford and Peach, and all precincts have reported in Bibb County. Some 8,000 Bibb County absentee ballots till need to be counted.

Howard believes there is a lack of transparency and accountability in the DA's office, something she expects to change. She wants to make sure that prosecutors and district attorneys are held accountable by the communities they serve.

"What everyone wants and what everyone deserves is to feel safe," Howard said. "And with the continuing violent crime that Macon has, especially with the murders… I just believe that people want to see priority placed on public safety."
Democrat Challenger Fani Willis came in first over incumbent Fulton County District Attorney Paul Howard, according to the AJC.
With 25 percent of the precincts reporting, six-term incumbent Paul Howard is trailing Fani Willis, his former chief deputy prosecutor, 40 to 34 percent. Christian Wise Smith, another former Fulton assistant district attorney, checks in with 25 percent of the vote.

Howard is seeking a seventh term as he faces three civil lawsuits from female employees past and present alleging harassment. He's also under investigation by the GBI for use of a nonprofit to supplement his salary.

Willis made her former boss' character a central issue of the campaign. Howard has fought back hard over the past week, alleging Willis is a Republican stalking horse who, in exchange for the Atlanta Police Union's endorsement, agreed not to prosecute cops for excessive force. He supplied no proof in support of those accusations.
In Macon, Lester Miller and Cliffard Whitby appear headed for a runoff for Mayor of Macon-Bibb County, according to the Telegraph.
Lester Miller and Cliffard Whitby are the leading candidates in the race with early voting ballots, in person ballots and some absentee ballots reported. Roughly 8,000 absentee ballots still need to be counted.

Miller received the most votes, with 13,186 (43.3%), followed by Whitby with 8,456 (27.8%). Since no candidate received more than 50% of the vote, Miller and Whitby will compete in a runoff election on Aug. 11.
Senate District 4, previously held by Appropriations Chair Jack Hill (R-Reidsville) heads to a runoff, according to the Statesboro Herald.
In State Senate District 4 to fill the seat of the late Jack Hill, Billy Hickman and Scott Bohlke will head to a runoff on August 11, With 98 percent of the vote counted among the six counties that make up the district, Hickman had 33 percent of the vote, while Bohlke had 32 percent.
SD 4 had both a Special Election for the remainder of the current term, and a regular election for the 2021-22 sessions.
Democratic State Rep. Vernon Jones (D-DeKalb) will offer an amendment to hate crimes legislation to troll his Democratic colleagues add party affiliation as a protected class, according to Valdosta Today.
State Representative Vernon Jones (D-Lithonia) today announced that he will introduce the Jones Amendment when the 2020 legislative session resumes that will accompany other hate crime legislation to make it punishable by law to commit a crime based on a person's political party affiliation or ideology. The Jones Amendment will be modeled after legislation that Rep. Jones previously introduced, House Bill 1120, before the 2020 legislative session was suspended due to COVID-19.

"Americans are being attacked nationwide because of their party affiliation and political ideology. I have personally been subjected to hate speech and threats because of my support for President Trump's reelection," said Rep. Jones. "While we are discussing hate crimes legislation in Georgia, this could address another form of hate crime that people are experiencing."
Chatham County chose party candidates for County Commission Chair, but may head to round two, according to the Savannah Morning News.
Initial results from the 2020 primary election for Chatham County Commission Chair held on Tuesday, June 9, indicate that former Tybee Island mayor Jason Buelterman has a decisive lead over fellow Republican Billy Hair. In the Democratic race, Chester A. Ellis holds a smaller advantage over James "Jay" Jones.

With 80.43% of precincts reporting by 1 a.m. on Wednesday, June 10, Buelterman — who has enjoyed a sizable fundraising advantage in this race — garnered 6,280 votes to earn 73.80% of the total. Hair, who was commission chair during 1996-2004, had a vote count of 2,229 for 26.20% of the total.

Democrats Ellis and Jones, who are both current County Commissioners for Districts 8 and 6, respectively, had a close primary race, with Ellis pulling ahead with 8,338 votes for 52% of the total, while Jones ended the night at 48% with 7,696 votes.
Thirty-seven Chatham County precincts were ordered to stay open late, according to the Savannah Morning News.
Cobb County voters will return to the polls to choose a new Superior Court Judge, according to the Rome News Tribune.
Republican Jevin Jensen will be the next Whitfield County Commission Chair, according to the Dalton Daily Citizen News.
Businessman Jevin Jensen defeated incumbent Lynn Laughter for the Republican Party nomination for chairman of the Whitfield County Board of Commissioners on Tuesday in incomplete results with 6,929 votes (58.5%) to 4,915 votes (41.5%).

No Democrat had qualified for the position.

At press time, all precincts were in, but elections officials said there were "a couple of hundred" absentee ballots yet to be counted, not enough to affect the outcome of the race.

Whitfield County voters approved a four-year, $66 million Special Purpose Local Option Sales Tax (SPLOST) by a vote of 9,209 for (58.6%) to 6,494 against (41.4%). The SPLOST will, among other things, fund a county Riverbend Park near Southeast Whitfield High School and a new John Davis Recreation Center for the city of Dalton.

Whitfield County Registrar Mary Hammontree said the county's first election with a new voting system adopted by the state went fairly smoothly.

"We did get a lot of phone calls from people who'd asked for absentee ballots and wanted to vote in person, and our poll workers were getting a lot of questions from them," she said.
T. Wright Barksdale has been elected District Attorney for the Ocmulgee Judicial Circuit, according to the Union Recorder.
The 33-year-old Barksdale, a native of Washington County, who lives in Gray, turned back a strong challenge from Carl Cansino, a well-known criminal defense attorney from Milledgeville to win the Republican Primary on Tuesday.

Barksdale, who currently prosecutes criminal cases in Putnam and Hancock counties as an assistant district attorney, will replace current District Attorney Stephen A. Bradley, who decided not to seek re-election. Instead, Bradley ran for the seat that is being vacated by the retirement of Ocmulgee Judicial Circuit Chief Superior Court Judge William A. Prior Jr.

Since Bradley was unopposed, he won election to the judgeship.

In the race for district attorney, it boiled down to a pair of Republican candidates battling for the winner take all.
Gwinnett County will dole out $20 million dollars in federal pandemic aid, according to the Gwinnett Daily Post.
The county has $20 million in federal CARES Act loans and grants that it can distribute to businesses. That includes $10 million in funding for loans and $10 million for grants that are available through the Gwinnett Small Business Assistance Program.

Business owners have until June 30 to apply for funding.
Gwinnett Board of Education member Louise Radloff appears to have lost her reelection bid, according to the Gwinnett Daily Post.
After nearly half a century on the Gwinnett county Board of Education, voters appeared to turn away from veteran school board member Louise Radloff on Tuesday and chose to go in a new direction as she appeared to lose her bid for a ninth term to Tarece Johnson.

Radloff, who is the Gwinnett school board's current chairwoman, is the longest serving member of a school board in Georgia. She has sat on the Gwinnett Board of Education for nearly 47 years.

With 92% of the precincts counted, Johnson received 67.8% of the 8,192 votes counted in the race up to that point. She led the longtime incumbent by a more than two-to-one margin.