May 3d is National Widow's Day.
On May 1, 1707, the Act of Union with England, passed by the Scottish Parliament brought together England and Scotland and made the Union Jack the official flag of Great Britain.
Georgia delegates convened in Augusta on May 4, 1789 to approve a new state Constitution and consider amendments.
The Second Confederate National Flag was adopted on May 1, 1863.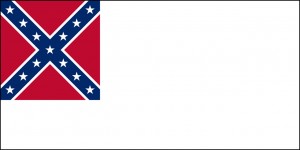 General Nathan Bedford Forrest led troops who captured raiders near Rome, Georgia who were intent on disrupting the Western & Atlantic Railroad on May 3, 1863.
General William Tecumseh Sherman began the Atlanta Campaign on May 3, 1864 with troops marching from Tennessee toward Catoosa Springs, Georgia.
One year and one day after General Sherman began the Atlanta campaign, on May 4, 1865, Atlanta surrendered. On the same day, the Army of the Potomac crossed the Rapidan River in Virginia and into the Wilderness. The Battle of the Wilderness began on May 5, 1864, between the Army of the Potomac, led by General Ulysses S. Grant, and the Army of Northern Virginia under General Robert E. Lee.
One year after that, on May 4, 1865, the last meeting of the Confederate cabinet convened in the old Georgia State Bank Building, which was located at the site of the present-day Wilkes County Courthouse in Washington, Georgia.
On May 1, 1886, Jefferson Davis visited the Benjamin Hill monument at Peachtree and West Peachtree Streets in Atlanta, having arrived the previous day. On May 2, 1886, Jefferson Davis left Atlanta, headed to Savannah.
Savannah officials had successfully solicited Davis to attend a variety of special ceremonies and events being planned in Savannah. On the way, the train stopped briefly in Forsyth and Macon, where the ex-Confederate president was greeted by crowds and spoke briefly from the back of his train. Although he didn't leave the train, Davis would return to Macon the following year for a more formal visit.
Margaret Mitchell was awarded the Pulitzer Prize for Gone With the Wind on May 3, 1937.
On May 2, 1939, Lou Gehrig benched himself as the Yankees took the field against the Detroit Tigers, ending his streak of 2,130 consecutive games.
On May 4, 1965, the Rolling Stones played a show at Georgia Southern.
The British band played in Hanner Fieldhouse to an overflow crowd of more than 3,500 people, according to a retrospective by Jim Hilliard in the Statesboro Herald. The gym's capacity was about 1,500.

Hilliard said organizers figured they could sell 1,800 tickets at $2.50 each, which would be enough to pay the band and have some money left over for expenses.

The Stones had played on "The Ed Sullivan Show" on Sunday, May 2, and advance ticket sales were brisk the Monday and during lunch Tuesday, the day of the concert.

Hilliard said he signed the contract booking the Stones on behalf of Sigma Epsilon Chi fraternity. The contract called for the new fraternity to pay the band $3,000 for the appearance. Hilliard said he got a $1,500 loan from First Bulloch Bank to make the deal happen.

The Stones were expected to take the stage at 8:30 p.m. and play for at least an hour, but Hilliard had lined up three front bands, and "it proved to be a fatal flaw in plans for the concert," he said in his retrospective.

The noise was deafening as the original Stones lineup — Mick Jagger, Brian Jones, Keith Richards, Bill Wyman and Charlie Watts — hit the stage nearly an hour late.

Jagger and the other band members were "openly hostile" at having to wait so long to play.
On May 4, 1970, National Guard members shot into a crowd of protesting students, killing four and wounding nine others on the campus of Kent State University in Kent, Ohio.
On May 1, 1971, "Joy to the World," by Three Dog Night was the #1 song in the nation.
Kennesaw, Georgia City Council adopted an ordinance on May 1, 1982 requiring each household to own a gun and ammunition.
(a) In order to provide for the emergency management of the city, and further in order to provide for and protect the safety, security and general welfare of the city and its inhabitants, every head of household residing in the city limits is required to maintain a firearm, together with ammunition therefore.

(b) Exempt from the effect of this section are those heads of households who suffer a physical or mental disability which would prohibit them from using such a firearm. Further exempt from the effect of this section are those heads of households who are paupers or who conscientiously oppose maintaining firearms as a result of beliefs or religious doctrine, or persons convicted of a felony.
The Weather Channel began broadcasting from Cobb County, Georgia on May 2, 1982.
On May 1, 1991, Rickey Henderson broke the major league baseball stolen base record on the same day that Nolan Ryan, the greatest pitcher in the history of baseball, recorded his seventh no-hitter.
The official state tartan of Georgia was designated on May 1, 1997.
On May 4, 2003, I married Mrs. GaPundit. Monday would have been our 17th Anniversary and the 20th Anniversary of our first date. May the Fourth be with you, my love.
United States forces killed Osama bin Laden on May 2, 2011.
Georgia Politics, Campaigns, and Elections
Yesterday, Governor Brian Kemp issued Executive Order 04.30.20.01, addressing the renewal of the Public Health State of Emergency.
1.) The Public Health State of Emergency due to expire on May 13 is extended 30 days and will now end at 11:59 PM on Friday, June 12, 2020.

2.) Emergency orders regarding nursing homes and long term care facilities (04.08.20.03), Georgia National Guard callup (04.08.20.05), and Section III of the Shelter in Place order, pertaining to higher risk individuals,  (04.23.02.02) are renewed and will now expires at 11:59 PM on Friday, June 12, 2020.
From the Valdosta Daily Times:
With a renewed focus on bolstering Georgia's economy, eyeing monthly revenue numbers expected to drop significantly due to the coronavirus outbreak, Kemp freed up most of the state's population to visit reopened businesses.

The Georgia Department of Labor has paid out more unemployment claims during the outbreak than in the past four years combined, officials said Thursday. During the last six weeks, $388 million was distributed to out-of-work Georgians.

Despite the stay-at-home order reaching its end, Kemp "urged" Georgians to stay home "whenever possible" and, according to his staff, recommends people wear masks in public, especially in high traffic areas such as grocery stores.

"I'd like to ask all Georgians to help us double-down on protecting our fellow vulnerable citizens," Kemp said earlier this week.
Some Athens-Clarke County local electeds are complaining about the end of the statewide shelter-in-place order, according to the Athens Banner Herald.
Gwinnett County Public Schools employees will return to their workplace in phases, according to the Gwinnett Daily Post.
The return to work will be phased in, starting with director level employees working at the Instructional Support Center in Suwanee next week and building up to teachers returning to schools in mid-May to wrap up the school year. There will be three phases of employees returning to work, and the plan also gives a glimpse into when students may be able to go back to schools and retrieve whatever belongings they have there.

"With the end of the state's Shelter in Place order on April 30 and the re-opening of many businesses, school district leaders have created a plan for the return of GCPS employees to schools and facilities," school system officials said in the plan released Friday.

The director-level employees will return to work on May 6, with all remaining employees who work at the Instructional Support Center along with non-teaching school-based employees heading back to their offices on May 11.

Teachers are scheduled to return to schools on May 18 so they can wrap up the final three days of digital learning, work with students who need to make-up any work, finalize grades, close out their classrooms and assist students in retrieving their belongings.
Absentee voting is set to hit record levels, according to the Capitol Beat News Service via the Savannah Morning News.
Georgia election officials have sent out around 700,000 absentee ballots so far for the upcoming June 9 primary election amid ongoing concerns over coronavirus.

The ballots stemmed from more than 1 million requests from voters to date to receive absentee ballots, Secretary of State Brad Raffensperger said at a news conference Thursday. His office expects to field even more absentee-ballot requests in the coming weeks.

"We don't know what it will be," Raffensperger said. "But we don't think we're done yet with 39 days left to go."

Absentee voting for the primary is poised to greatly outpace prior big-ticket elections in Georgia. For instance, voters cast roughly 223,000 absentee ballots in the high-turnout 2018 gubernatorial election, while about 207,000 absentee ballots were cast in Georgia in the 2016 presidential election.
A Savannah City Council meeting went off the rails, according to the Savannah Morning News.
Alderwoman Kesha Gibson-Carter made accusations of a power grab, voter suppression, white privilege, and likened herself to an abuse victim during the contentious discussion.

Gibson-Carter made her comments during a rules of council discussion. One item in particular took up most of the workshop. The proposed rules requires council members to submit a proposed agenda item to the mayor in writing, including by email, and to copy the city manager and city attorney one week prior to the scheduled meeting.

Gibson-Carter took her allegations even further when she accused city staff of treating her like an abuse victim.

"You drag us and beat us down and then we (are expected) to put on the makeup and cover the bruises," Gibson-Carter said.
Chatham County Commission candidates met in an online forum, according to the Savannah Morning News.
State agencies are being asked to trim nearly $4 billion dollars from budget requests, according to the Capitol Beat News Service via The Brunswick News.
State agencies were already facing budget cuts of 6% ordered by Kemp for the upcoming 2021 fiscal year, which starts July 1. Lawmakers also have largely approved 4% cuts to the state's revised 2020 fiscal year budget that Kemp requested.

Negotiations between lawmakers over those cuts dominated the 2020 legislative session before it was suspended in mid-March. Facing the 6% cuts, agencies managed to trim costs largely by leaving vacant staff positions unfilled, upgrading technology and scaling back work-related travel.

Now, facing coronavirus-prompted cuts of more than twice that amount, agencies will almost certainly experience more painful impacts that could result in scaled-back services and layoffs.

The upcoming cuts would also include public schools and Medicaid spending, which were excluded from the most recent round of 6% cuts ordered by the governor.
From the Associated Press via the Gainesville Times:
Forecasting a major blow to the state's economy and revenue collections due to the coronavirus pandemic, Georgia lawmakers in charge of the state budget sent a memo on Friday asking agencies to prepare for cuts of 14% across the board, totaling nearly $4 billion.

The memo was sent by state House Appropriations Chair Terry England, Senate House Appropriations Chair Blake Tillery and Kelly Farr, director of the Governor's Office of Planning and Budget. It made clear that no areas would be spared, including funding for education and public health.

"While the Great Recession of 2008 was considered then to be a 'once in a lifetime' event, our current situation will certainly overshadow it," the memo says. "That is why this request is being made to ALL areas of the state budget with no exceptions."

Kemp earlier this year had set a $28 billion revenue estimate for fiscal year 2021, which begins July 1. But that was before the coronavirus pandemic shuttered business across the country and left more than a million Georgians out of work. And a good part of the $2.8 billion in reserves that the state started the year with may be needed to plug holes in the current year's budget.
United States Senator David Perdue will introduce federal legislation to address shortages of healthcare professionals, according to the Capitol Beat News Service via The Brunswick News.
Sen. Perdue was joined by Senator Kelly Loeffler (R-Atlanta) and Congressman Buddy Carter (R-Pooler) in requesting that the Air Force consider basing a new fleet of C-130J aircraft in Savannah, according to The Brunswick News.
Brunswick Golden Isles Airport will receive an additional $1 million grant from the FAA, according to The Brunswick News.
Fifty-four Georgia counties fall under a burn ban beginning today, according to AccessWDUN.
Rome has seen higher sales tax revenues in April, according to the Rome News Tribune.
"It was a little bit of a surprise," City Manager Sammy Rich said. "We can only assume that maybe some of the pre-COVID panic buying that was going on resulted in the jump in sales tax."