Button Gwinnett, one of Georgia's signers of the Declaration of Independence, was born on April 10, 1735 in Gloucester, England, though some authorities say it was his baptism that was recorded that day. Gwinnett also served in the Georgia legislature, where he wrote the first draft of the state Constitution and served as Speaker.
On April 11, 1768, Benjamin Franklin was named Georgia's agent "to represent, solicit, and transact the affairs of this province in Great Britain." Arguably, this makes Benjamin Franklin the first American lobbyist. This is what his lobbyist badge looked like: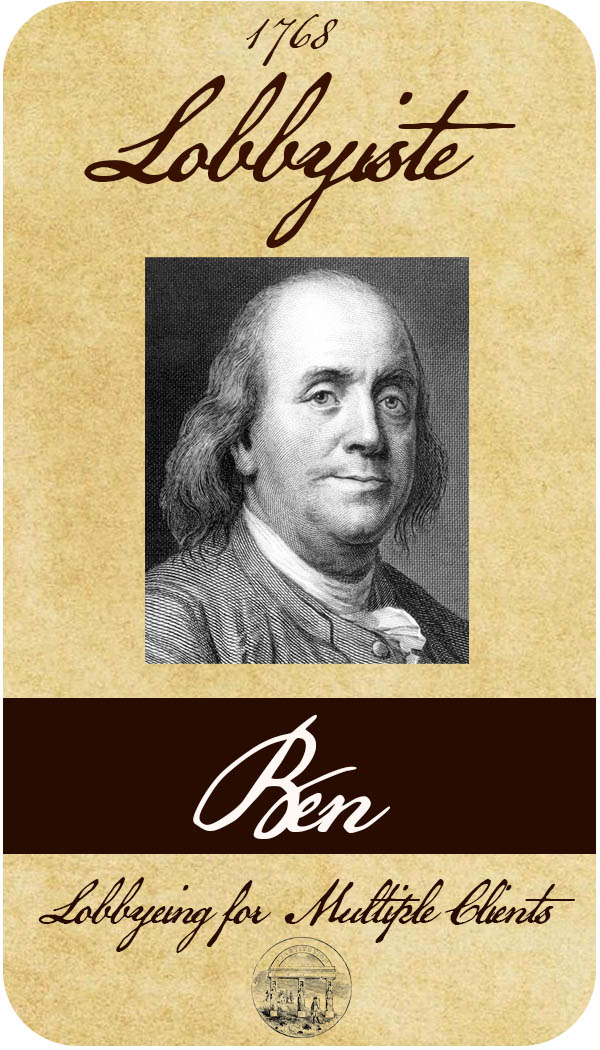 Napoleon Bonaparte, Emperor of France, was exiled to Elba Island in the Mediterranean, on April 11, 1814.
On April 11, 1853, John Archibald Campbell was appointed Justice of the United States Supreme Court by President Franklin Pierce. After graduating from the University of Georgia at 14, he attended West Point, where his fellow cadets included Jefferson Davis and Robert E. Lee. After the beginning of the Civil War, Campbell resigned from the Court and was appointed Assistant Secretary of War for the Confederacy by Confederate President Jefferson Davis.
On April 12, 1861, Confederates in Charleston, SC opened fire on Federal-held Fort Sumter opening the Civil War.
During the next 34 hours, 50 Confederate guns and mortars launched more than 4,000 rounds at the poorly supplied fort. On April 13, U.S. Major Robert Anderson surrendered the fort. Two days later, U.S. President Abraham Lincolnissued a proclamation calling for 75,000 volunteer soldiers to quell the Southern "insurrection."
Confederate troops surrendered Fort Pulaski, on Cockspur Island off Savannah, on April 11, 1862. Part of the construction of Fort Pulaski was overseen by a young Second Lieutenant in the United States Army named Robert E. Lee.
"The General" Locomotive was hijacked at Big Shanty (now Kennesaw), Georgia on April 12, 1862, leading to "The Great Locomotive Chase." The locomotive is now housed in the Southern Museum in Kennesaw.
General Robert E. Lee gave his last address to the Army of Northern Virginia on April 10, 1865.
The American Society for the Prevention of Cruelty to Animals was founded on April 10, 1866.
The American Third Army liberated Buchenwald concentration camp in Germany on April 11, 1945. Among the survivors of Buchenwald was Elie Wiesel; in 1986, Wiesel won the Nobel Peace Prize.
President Franklin D. Roosevelt died on April 12, 1945 in Warm Springs, Georgia.
On April 10, 1947, Jackie Robinson became the first African-American professional major league baseball player when the Brooklyn Dodgers bought his contract.
On April 12, 1961, Russian Commienaut Yuri Gagarin became the first human being to go to outer space and the first to orbit earth.
The triumph of the Soviet space program in putting the first man into space was a great blow to the United States, which had scheduled its first space flight for May 1961. Moreover, Gagarin had orbited Earth, a feat that eluded the U.S. space program until February 1962, when astronaut John Glenn made three orbits in Friendship 7.
Martin Luther King, Jr. was arrested in Birmingham, Alabama on April 12, 1963; while there he would write his famed, "Letter from Birmingham Jail."
The Braves played their first home game in Atlanta on April 12, 1966.
Apollo 13 was launched on April 11, 1970.
The craft was launched on April 11, 1970, at 13:13 CST from the Kennedy Space Center, Florida, but the lunar landing was aborted after an oxygen tank exploded two days later, crippling the Service Module (SM) upon which the Command Module (CM) depended. Despite great hardship caused by limited power, loss of cabin heat, shortage of potable water, and the critical need to jury-rig the carbon dioxide removal system, the crew returned safely to Earth on April 17.
https://youtu.be/7C3NAj4jCb0
On April 11, 1977, President Jimmy Carter hosted the Easter Egg Roll on the lawn of the White House. In the finest tradition of Georgia Democrats, Carter added a circus to the event.
The Space Shuttle Columbia became the first reusable orbital vehicle when it launched on April 12, 1981.
Winners of the Masters Tournament on April 10 include Sam Snead (1949), Gary Player (1961), Tom Watson (1977) and Tiger Woods (4th – 2005). Congratulations to the following winners of the Masters Tournament who donned the green jacket on April 11: Seve Ballesteros (2d – 1983), Jack Nicklaus (2d in 1965; 3d in 1966), Ray Floyd (1976), Nick Faldo (1996), Jose Maria Olazabal (2d – 1999), Phil Mickelson (1st -2004; 3d – 2010), and Claude Harmon (1948), the first Georgian to win the Masters.
Georgia Politics, Campaigns, and Elections
Governor Kemp is urging Georgians to use alternative means of attending religious services, according to a Press Release.
"I greatly appreciate faith leaders across our state who have made the tough decision to stop the spread of COVID-19 by suspending in-person religious services. Their leadership is literally saving lives," said Governor Kemp. "To all Georgians celebrating Easter this Sunday, I am pleading with you to not attend any services in person. If you attend worship services in person, you risk exposure to coronavirus – potentially endangering your life, the lives of your neighbors, and your loved ones. I know this decision is difficult, but we will get through this together."

For drive-in services, law enforcement have received reports that people are not staying in their vehicles. For example, people will leave their cars to let their children play, go to nearby restrooms, or otherwise congregate.
Governor Kemp highlighted Covid-related issues for Georgia's agricultural economy, according to the Center Square.
Kemp called COVID-19 another "punch in the gut" for farmers who still are reeling from Hurricane Michael's landfall in Georgia in October 2018.

"With schools shuttered and many restaurants scaling back, our farmers are seeing prices plummet and demand diminish," Kemp said. "Farms that use our country's seasonal worker programs are seeing good crops this year, but now have limited markets to sell them"

Kemp said Wednesday he plans to ask the federal government to make farmers a priority in the next phase of the economic stimulus package.

"Rest assured, we will continue to fight for Georgia's agriculture industry and the families who feed and clothe the world from right here in the Peach State," said Kemp, who also urged Georgians to support products that are made or produced in the state.
Covid 19 is also making it difficult to hire seasonal farm workers, according to the Gainesville Times.
Many farms rely on the H-2A program to legally bring foreign workers to fill temporary agricultural jobs. Now, that program may need flexibility to provide enough labor for farms.

"It's absolutely critical," U.S. Rep. Doug Collins, R-Gainesville, said. "We're getting into Vidalia onion season. We're getting into blueberries, strawberries. And we don't have the workers that we need to also produce lettuce and the other things that are coming in now. It's very important. … If we can't get the crop out of the field, then we're just as bad as not being able to have a crop at all.

Drew Echols, farm manager at Jaemor Farms in Alto, said many farmers around the state depend on the H-2A program during harvest, and that he knows several farmers who will be stretched thin for labor if the regulations are not made more flexible. Jaemor has used H-2A in the past, which requires employers show American workers are not available.

Georgia Sens. Kelly Loeffler and David Perdue have also stressed the importance of more flexibility in the program and sent a letter to U.S. Department of Labor Secretary Eugen Scalia and U.S. Department of Homeland Security Acting Secretary Chad Wolf.

"Our nation is working around the clock to address the COVID-19 crisis, and our farmers are on the front lines of our country's response," the senators wrote in an April 8 letter. "We must ensure that our farmers can continue to rely on the H-2A program during this time."
Car tag deadlines have been extended for some Georgia drivers, according to the AJC.
Drivers whose tags expire between March 16 and May 14 will have until May 15 to renew their registrations, according to the Georgia Department of Revenue's motor vehicle division.

The extension applies to all annual registrations, including personal vehicles, commercial vehicles, drivers registered in the International Registration Plan and "drive-off tags" issued at the time of a vehicle purchase.

The extension does not apply to registrations that expired before March 16, officials said.
Absentee ballots are backlogged, according to the AJC.
Absentee ballots won't start being delivered to Georgia voters until the week of April 20 because of a nationwide backlog, according to the secretary of state's office.

Georgia election officials mailed absentee ballot request forms to the state's 6.9 million active voters last week in an effort to encourage people to vote from home rather than at precincts during the coronavirus outbreak. Many voters have already returned those absentee ballot requests.

Normally, absentee voting is handled by county election offices, but this year Secretary of State Brad Raffensperger contracted with companies to mail large numbers of absentee ballots and request forms. County election workers will still be responsible for counting ballots.

Under state law, absentee ballots must begin to be mailed 45 days before the June 9 primary, by April 25.
Savannah plans to pay extra hazard wages to some municipal employees, according to the Savannah Morning News.
Plans are underway to provide Savannah's municipal employees a temporary hazard-pay increase of $2.50 per hour as they continue working through the coronavirus pandemic, at an approximate cost of $1.1 million, City Manager Pat Monahan said on Thursday, April 9.

The hazard-pay plans were discussed during the regular biweekly Savannah City Council meeting on April 9, held via video conference as an emergency measure while the COVID-19 crisis grinds on. The council also narrowly approved a request from Chatham County for the Downtown Savannah Authority to issue an $83 million bond toward a new courthouse building.