On February 19, 1807, Aaron Burr was arrested in the Mississippi Territory, in what is now Alabama. Burr had served as Vice President during the first term of President Thomas Jefferson, leaving the administration after the 1804 election; later Jefferson issued a warrant accusing Burr of treason. Burr spent part of his time on the lam in Georgia.
On March 19, 1916, the first American military air combat mission began in support of an incursion into Mexico under President Woodrow Wilson.
On March 19, 1947, the Georgia Supreme Court ruled in Thompson v. Talmadge on the "Three Governors Affair." The Court held that the Georgia General Assembly lacked authority to elect Herman Talmadge as Governor, and that because of the death of Eugene Talmadge before he took office, no successor to Gov. Ellis Arnall was in place until the newly-elected Lt. Governor Melvin Johnson was sworn in and became Governor, succeeding Arnall.
On March 19, 2003, President George W. Bush announced the start of Operation Iraqi Freedom in order to depose Iraqi dictator Saddam Hussein and eliminate the country's ability to produce weapons of mass destruction.
March 19, 2014 was "Bo Callaway Day" in Georgia and flags flew at half-staff in honor of the late Georgia Congressman and former Secretary of the Army.
"Few individuals throughout our history can match the legacy that Bo Callaway left on Georgia politics," Deal said. "Bo blazed a trail that led to the dramatic growth of the Georgia GOP, which went from virtually nonexistent when he ran for governor to holding every statewide elected office today. Bo stood up for what he believed in even when the odds and the political system were stacked against him. Georgians are all the better for it. Sandra and I send our deepest sympathies to the Callaway family."
March 19, 2014 was also the first time I wrote about the lack of an "Official State Dog of Georgia."
Georgia Politics, Campaigns, and Elections
The newest part of my morning routine is to check my temperature, as an elevated temperature is one of the first signs of a case of Covid-19. Today, I'm at 97.8, about normal for me, as I've been running 97.4 to 98.0 using the same digital thermometer each day.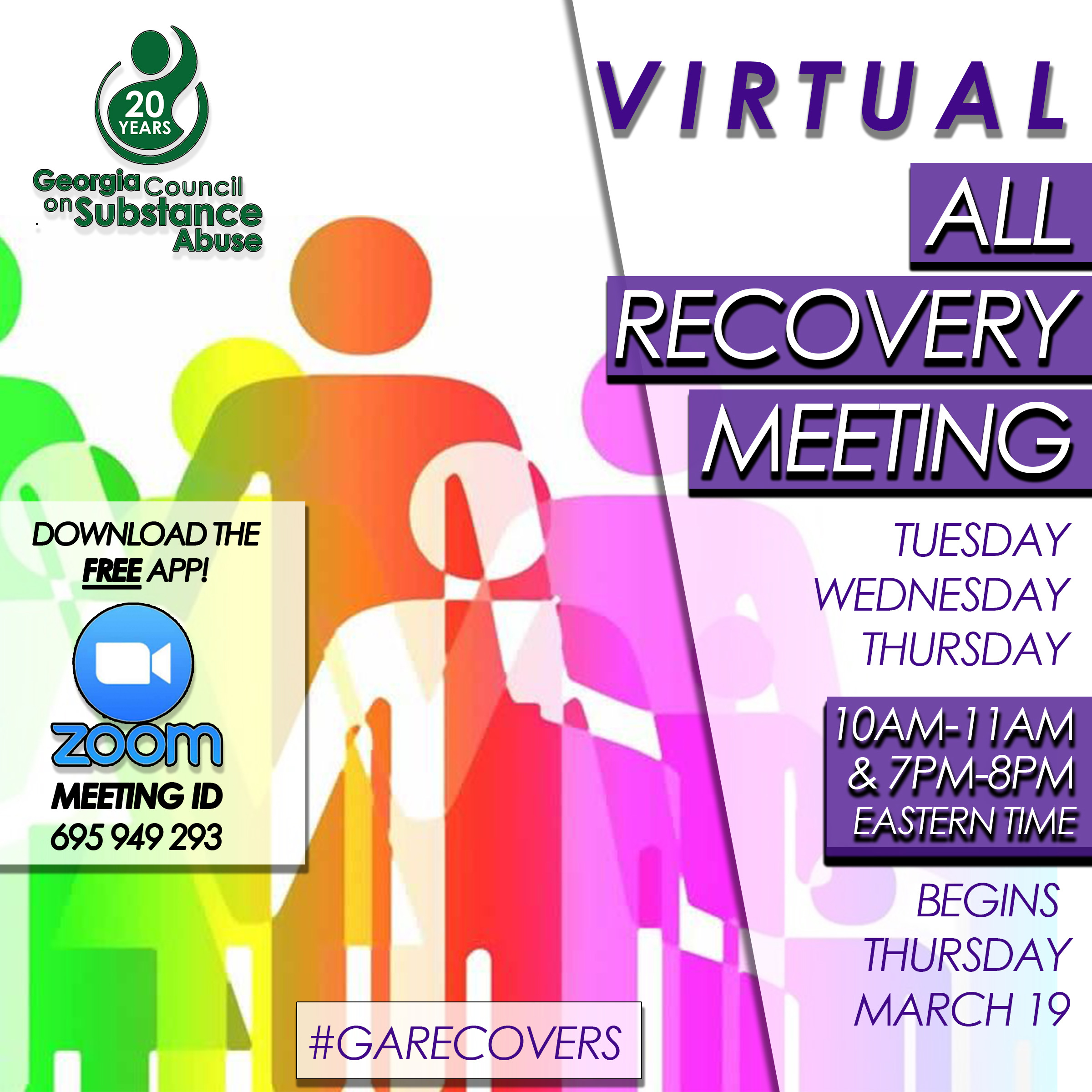 The Georgia Council on Substance Abuse is hosting online meetings for people in recovery from addiction.
If you are looking to join zoom meeting via laptop click this link.
Meeting ID: 695 949 293
If you are looking to join via telephone dial 646-876-9923
Meeting ID: 695 949 293
Staying home while sick is exactly what gets addicts into trouble. The illness is addiction, and the cure for many recovering from drug and alcohol addiction is people. They fear what isolation could mean to their sobriety.

Experts say the idea behind social distancing is to flatten the curve. That means if members of society can avoid spreading coronavirus by avoiding public places then maybe society can prevent overwhelming our hospitals, especially in rural parts of the state where emergency rooms have closed.

The social distancing advice applies as much to people who rely on group meetings for their substance abuse recovery as it does for anyone else, Georgia Council on Substance Abuse Executive Director Neil Campbell said.

It's best for people to avoid in-person recovery meetings right now, Campbell said.

"We suggest that people get their get their needs met around their recovery support either online or by telephone," she said. "It really is the time right now to not put yourself in a situation where you could be exposed."

Campbell said another consideration people in recovery should remember is that many have chronic health conditions and are at risk for more serious consequences of COVID-19.

"If you need someone to talk with, to listen, or give support, call the CARES Warm Line at 844-326-5400," Campbell said. "Our peer recovery coaches are answering the phones from 8:30 a.m. – 11:00 p.m., 7 days per week."

While more and more places that host recovery groups are closing the doors, people who need physical connection to others, can use those phone hotlines.

And while you can't get a hug from the internet, Narcotics Anonymous has virtual meetings as well.
Governor Brian Kemp is working to bring U.S. Small Business Administration funds online for Georgia businesses, according to a press release.
On March 17, 2020, Governor Brian P. Kemp submitted a letter to the U.S. Small Business Administration (SBA), requesting SBA Director Kem Fleming to issue a declaration to provide SBA Economic Injury Disaster Loans to the State of Georgia.

"Small businesses in Georgia are enduring severe economic hardship stemming from the spread of COVID-19. The effects of this pandemic vary by industry and economic sector, but it is clear that we must act," said Governor Kemp. "Georgia small businesses are the backbone of our state and national economies, and we look forward to working with SBA and our federal partners to support them in the weeks and months to come."
The Georgia General Assembly members and staff are being urged to self-quarantine, according to Fox 5 Atlanta.
The Lieutenant Governor of Georgia and several members of the Georgia General Assembly are self-quarantining after a member of the Senate tested positive for the coronavirus.

State Senator Brandon Beach, R-Alpharetta, announced Wednesday he tested positive for the COVID-19 virus. Sen. Beach was in attendance at Monday's special session.

A statement from the senator released Wednesday evening reads in part:

"After experiencing a fever and cough, I sought medical attention last week. The diagnosis I was given was not coronavirus, but I did get tested for it on Saturday. With medication, I felt better by Monday and thought I was in the clear. Today, however, my test came back positive.

"For now, I'm at home. I continue to suffer from a fever and cough, but I'm following doctor's orders, including the admonition to stay away from the hospital unless it becomes difficult to breathe. I know many Georgians are praying hard as we weather this crisis together, and frankly, I'd ask that they pray for me, as well as all the others in our state who are going through this right now – and those who soon will.

"I know I face a difficult two weeks, but I'll work to keep everyone updated on my progress. With the support of my wife – who is keeping a safe distance and so far doesn't have symptoms – and my family and friends, I know I'll get through this and get back to work for my constituents."

State Senate President Pro Tempore Butch Miller (R – Gainesville), Majority Leader Mike Dugan (R – Carrollton), and Minority Leader Steve Henson (D – Tucker) sent FOX 5 Atlanta the following joint statement:

"Today, Senate members and staff were notified that a senator had been diagnosed with the novel coronavirus (COVID-19), after first experiencing symptoms on March 10. As a result, and based upon the recommendation of the Commissioner of the Georgia Department of Public Health Dr. Kathleen Toomey and the Centers for Disease Control and Prevention, Senate members and Senate employees have been asked to self-quarantine for fourteen days. While not a part of the official recommendation to self-quarantine, members of the public who frequent the Capitol should use their best judgment when making a decision to self-quarantine and should contact their primary care provider if they begin to exhibit any symptoms. At this time, we ask for privacy for the patient and continue to encourage the public to follow the recommendations established by state, local and federal healthcare professionals."
Governor Kemp discussed testing priorities, according to the Albany Herald.
"Many Georgians are eager to be tested right now, but we need to be mindful of our resources," Kemp said. "We have to be in this fight together. According to federal and state health officials, we must start prioritizing COVID-19 tests for our most vulnerable populations and the people responsible for their care and safety."

"This will conserve precious medical supplies – like masks, shoe covers, and gowns – which are becoming increasingly difficult to find for healthcare facilities due to overuse, export bans, and hoarding."
The Coastal Health District has set up a drive-through testing facility for prioritized populations, according to the Savannah Morning News.
The Coastal Health District is now operating a drive-through specimen collection site at an undisclosed location in Glynn County to expand access to COVID-19 testing for pre-approved high-risk individuals, according to a March 19 Georgia Department of Public Health press release.

The specimen collection site is not open to the general public or the media.

Drive-through collection centers are being established in health districts around the state to collect specimens from mildly ill people who do not require medical care or hospitalization, but who do fall into one of the other prioritized groups, the release said.

The people who should be prioritized for testing at these remote specimen collection centers include:

• Healthcare workers and other first responders critical to providing care to others, and who frequently interact with vulnerable populations.

• People working with and caring for vulnerable populations, such as long-term care facility staff.

• People living in congregate settings where the disease can spread rapidly.

Only individuals who have been evaluated by a healthcare provider and assigned a Person Under Investigation (PUI) number will be referred to these drive-through sites.
Gov. Kemp and Georgia Labor Commissioner Mark Butler are working to help people whose livelihood is affected by recommended measures to slow outbreaks, according to the Albany Herald.
"We are laser-focused on assisting the hard-working Georgians who have been impacted by the spread of the virus," Kemp said in a news release. "Working with GDOL and our partners across the public and private sectors, we can ensure affected employees land on their feet and are made aware of other employment opportunities. Together, we will protect Georgia's top-notch work force as we continue to fight the spread of COVID-19."

As of an emergency ruling Tuesday by Commissioner of Labor Mark Butler, employers are mandated to electronically file partial claims on behalf of their employees whenever it is necessary to temporarily lay workers off.

"We are partnering with the governor's office and our federal and state authorities to make sure we are able to get the citizens of Georgia paid," Butler said. "We are working as an agency to provide innovative solutions to meet the needs of our customers, even when information is changing every day."

Filing partial claims results in employees receiving unemployment insurance benefit payments faster, usually within 48 hours for claims filed electronically. Employees for whom a partial claim is filed are not required to report to a GDOL career center, register for employment services, or seek other work. All Georgia employers will share in the cost of unemployment benefits paid to employees temporarily displaced due to COVID-19.