France formally recognized the United States as an independent nation on December 17, 1777.
General Ulysses S. Grant expelled all Jews from his military district, which covered parts of Tennessee, Mississippi, and Kentucky on December 17, 1862. President Lincoln ordered Grant to rescind the order.
President William McKinley visited Savannah, Georgia on December 17, 1898. While there, McKinley attended church at Wesley Monumental Methodist Church and visited Georgia Agricultural and Medical College (now Savannah State University) and the Seventh Army.
On December 17, 1902, legislation changed Georgia's state flag changed to include the coat of arms on the blue band.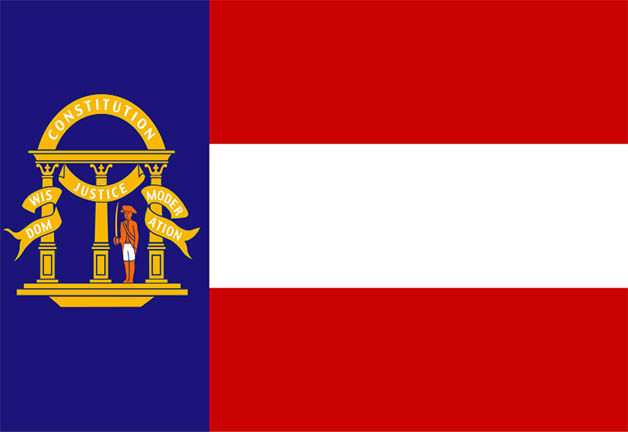 On December 17, 1944, Major General Henry C. Pratt ordered the end of the imprisonment of American citizens of Japanese descent in prison camps.
WTBS began broadcasting under new call letters on December 17, 1976 and uplinked its programming to satellite to become "America's Super Station."
Georgia Politics, Campaigns, and Elections
United States District Judge Steve Jones allowed Georgia to purge its voter rolls starting last night, according to the Associated Press, via the Athens Banner Herald.
Secretary of State Brad Raffensperger in October released a list of over 313,000 voters whose registrations were at risk of being canceled, about 4% of the state's total registered voters. Notices were mailed in November giving those voters 30 days to respond in order to keep their registration valid. A spokesman for the secretary of state's office said last week that the purge was set to begin Monday evening.

Fair Fight Action, a voting rights group founded by Democrat Stacey Abrams, had filed an emergency request Monday morning asking the court to halt the purge of some people.

U.S. District Judge Steve Jones initially set a hearing on Fair Fight's request for Thursday and said the purge should be placed on hold until then, but he later decided to hold a hearing Monday afternoon at the state's request.

Lawyer Bryan Tyson, representing the secretary of state, told the judge that the window for voter maintenance is narrow because it cannot be done within 90 days before an election, which is why it's generally done in off years. If it's not completed by later this month — 90 days before the presidential primaries on March 24 — it can't be done until 2021 because next year has no 90-day periods without elections, he said.
While all states are required by federal law to routinely update their voter lists, Georgia's laws are stricter than most.

Georgia is one of nine states with a law known as "use it or lose it," which allows registrations to be canceled after voters fail to participate in elections for several years.

"Proper list maintenance is not only required by long-standing laws but is also important in maintaining the integrity and smooth functioning of elections," Raffensperger said. "Georgia has registered nearly a half-million voters since the last election, clear proof that we are doing things to make it easy for people to vote."

In his ruling Monday, U.S. District Judge Steve Jones said he could still order election officials to quickly reinstate canceled voters long before their registrations would be needed in an election. Jones will reconsider the issue during a court hearing Thursday.

"It appears that any voter registration cancellations can be undone at a later date," Jones wrote in his order. "The court's ruling is based largely on defense counsel's statement (at today's hearing) that any voter registration that is canceled today can be restored within 24 to 48 hours."

The cancellation list doesn't show racial disparities, with the number of black and white voters roughly matching their proportion of the state's registered voters, according to an analysis by The Atlanta Journal-Constitution.
The State will buy more new voting machines for counties than originally planned, according to GPB News.
Nearly half of Georgia's 159 counties are getting more voting machines than allotted in the original request for proposals, according to the latest numbers from the secretary of state's office.

Georgia has purchased 33,100 Dominion ballot-marking devices as part of the largest single implementation of a new voting system in U.S. history, with 31,826 of them slated to be delivered to counties ahead of the March 24 presidential preference primary.

Gabriel Sterling, chief operating officer and project manager with the secretary of state's office, said that each county will receive either the number of machines requested in the RFP or one machine for every 225 active registered voters in the county, whichever is larger.

That ranges from 10 machines sent to Taliaferro, Quitman and Webster counties to more than 3,300 in Fulton. No county will have fewer BMDs than they had direct-recording electronic machines in the 2018 election.
Greg Dozier willl move from Chief Financial Officer in the Kemp Administration to Commissioner of the Technical College System of Georgia, according to the AJC.
Greg Dozier, the state's chief financial officer, will be the commissioner of the Technical College System of Georgia's 22 schools. The current commissioner, Matt Arthur, will lead the state's Professional Standards Commission.

"We are incredibly excited to have Greg Dozier lead TCSG," the system's board chair, Anne Kaiser, said in a statement Monday. "As a long-time public servant, he has the right background and mindset to implement the Governor's mission and follow TCSG's ultimate objective: putting students first."

The system has about 141,000 students and a current annual budget of nearly $375 million. State leaders have focused on the TCSG educating and training students to meet workforce demands in growing Georgia industries, such as health care and film, offering free tuition to study in some of these fields.

Kemp wrote several tweets late Monday praising Dozier as a "dear friend, trusted ally and strong leader" and saying Arthur has the "ideal skills" to lead the commission.
Atlanta Mayor Keisha Lance Bottoms ordered the city to restrict information related to convictions for possessing small amounts of marijuana, according to the AJC.
The administrative order requires city officials — specifically the chief operating officer, city attorney, solicitor and chief judge of the Municipal Court — to establish a standard process by which people can apply to have those court records made off-limits to everyone except law enforcement by Feb. 1.

The order also impacts criminal records of people convicted of disorderly conduct under a city ordinance that was repealed by Mayor Shirley Franklin in 2007. That ordinance allowed police to arrest people for merely being "in a place where illegal drugs or narcotics are sold or possessed."

A spokesman for the mayor said it is unclear how many people the new restrictions would impact, but said the administrative order has been in the works for months. It follows other criminal justice action by the administration: Bottoms is working to close the city's detention center, and has eliminated cash bail for detainees.

"The fact remains that communities of color are disproportionately affected by the lingering stigma of victimless, minor offenses — even long after the accused have paid their debts," Bottoms said in a prepared statement. "This outmoded practice deprives our communities and workforce of brilliant and promising minds, all because of an unfair justice system that can and will be course-corrected."
Protestors outside the Mayor's office sought more affordable housing development in Atlanta, according to the AJC.
Protesters gathered on Monday to criticize the city's use of eminent domain to seize properties in Peoplestown for public use, as well as high eviction rates.

"The big issue here is Atlanta's very toxic approach to development," said Tim Franzen, who sits on the board of the Housing Justice League, an organization that works to preserve affordable housing and prevent gentrification. "We continue to have these big developer deals shoved down our throats."

While Bottoms never spoke to the protesters, late in the day, Bottoms' office issued a statement to the group saying, "The Mayor and senior members of her Administration have met with affected families on numerous occasions to work towards a viable solution to address their concerns."

Earlier this year, Bottoms rolled out a comprehensive affordable housing plan that included the redevelopment of vacant and blighted properties, developer incentives, and the creation of a housing innovation lab. Bottoms has pledged to leverage $1 billion toward housing affordability to create and preserve 20,000 units of affordable housing in Atlanta by 2026.
The first criminal trial under Georgia's Open Records Act started this week, according to the AJC.
Jenna Garland, a former press secretary to ex-Atlanta Mayor Kasim Reed, and the first person ever charged criminally with violating Georgia's public records law, will finally have her day in court.

Trial is scheduled to start Monday in a case that's gained national attention from open government advocates, but that carries relatively light punishment for Garland if she's convicted. Prosecutors allege Garland committed a misdemeanor by ordering a subordinate in early 2017 to delay production of water billing records requested by Channel 2 Action News for the addresses of Reed and other city elected officials.

Garland, through her attorney, has adamantly denied any wrongdoing. She faces potential fines of up to $3,500 if convicted on both counts, but jail time is unlikely.
The Federal Aviation Administration has delayed its process to approve a spaceport in coastal Georgia, according to The Brunswick News.
The environmental impact statement scheduled for release Monday has been delayed indefinitely, according to officials from the Federal Aviation Administration.

The decision that could determine whether the site meets all the environmental requirements to launch rockets was put on hold at the request of Camden County officials. The county has submitted additional application materials that are under review.

The environmental assessment is more than a year overdue from the original date announced by the FAA.

Six months ago, the FAA announced it had all the information needed to make a decision, which is why Weinkle said he doesn't understand the latest announcement to delay the decision indefinitely.
The Carter Center is criticizing Governor Kemp's federal healthcare waiver applications, according to GPB News.
Kemp wants to expand Medicaid to people making less than $12,000 a year, but Georgians would only be eligible if they are working, attending school or involved in job training.

Some organizations are pushing back, including the Carter Center.

Eve Byrd with the Carter Center said the waivers' proposed requirements are a step backward for the state, which already ranks poorly for many health-related issues including maternal care.

To require people with mental health conditions to work in order to receive health care — when they're at the poverty level already — is really quite absurd, Byrd said, adding that no one expects to get sick be it with cancer or depression.

The Georgia Department of Community Health board is expected to vote on the governor's proposal this week, after additional comments are processed and summarized for the board.
Augusta area governments have finalized the project list for a Special Purpose Local Option Sales Tax for Transportation, according to the Augusta Chronicle.
With a few final tweaks– including moving a $13 million rail spur ahead — area officials Monday completed their project lists for the next 10-year Transportation Investment Act sales tax, which is set to go on the March 24 ballot.

The Regional Transportation Roundtable representing the 13-county CSRA Region approved the changes in Thomson, and the lists now go to county board of elections offices to place on the March Presidential Preference Primary ballot.

Tammy Shepherd, president and CEO of the Columbia County Chamber of Commerce, said all the region's chambers of commerce together have formed a committee that hired consultant Scott Macgregor to manage a campaign to ensure the tax passes.

"We will be doing fundraising through the committee and also developing the brand and the campaign itself and then executing the campaign," she said.
Muscogee County School District has finalized the project list for a 2020 Special Purpose Local Option Sales Tax for Education (E-SPLOST), according to the Ledger-Enquirer.
Columbus voters will be asked next year to renew a tax that would pay for 22 projects totaling an estimated $189 million, including the consolidation of two schools into a new building, the construction of a postponed sports complex and the replacement of a public library.

During its monthly meeting Monday night, the Muscogee County School Board unanimously approved Superintendent David Lewis' recommendation for the final list of proposed projects.

The projects would be funded by the 1% Education Special Purpose Local Option Sales Tax if Columbus voters renew it. That referendum will be on the March 24 ballot, along with the presidential primary.
State Rep. Trey Kelley (R-Cedartown) will not run for Congress, according to the Rome News Tribune.
Majority Whip and state Rep. Trey Kelley, R-Cedartown, said in a brief statement that he doesn't intend to seek the congressional seat being vacated by U.S. Rep. Tom Graves when he retires at the end of the term in 2020.

"Representing the 16th District is one of the greatest honors of my life. I am humbled and honored by the outpouring of support coming from across our nation, leaders in Washington, and most importantly our local community encouraging me to run for our district's seat in the U.S. House of Representatives," Kelley said in a written statement. "However, at this time, Amy and I feel the best way to serve our community, state, and nation is by continuing to represent the 16th District in the State House."
The Valdosta Daily Times looks at some prefiled legislation in the Georgia General Assembly.
Rep. Dar'shun Kendrick, D-Lithonia, prefiled legislation that would allow women receiving abortion services to opt out of receiving information on their unborn child.

In 2005, the Georgia legislature passed the Women's Right to Know Act which required women receiving abortions to be fully informed of medical risks and methods of abortion, possible psychological affects, risks of continuing with the pregnancy and information on the fetus such as the estimated age at the time an abortion is preformed.

Kendrick's bill would waive the requirement for the women to know information about the fetus.

Kendrick said that the legislation is a direct response to a controversial heartbeat bill passed by the legislature last session that makes abortion illegal once a doctor can detect a fetus' heartbeat.

Rep. Mable Thomas, D-Atlanta, has been leading the conversation on the state's maternal mortality rates. Thomas prefiled legislation called the Georgia Dignity in Pregnancy and Childbirth Act that aims to reduce the possibility of implicit racial bias when women receive perinatal care.
Augusta Mayor Hardie Davis is asking the city commission to move forward on a parking plan for downtown, according to the Augusta Chronicle.
Abbey Winters, wife of Chattooga County sole Commissioner Jason Winters, has been charged with assaulting a reporter with a beverage, according to the AJC.
Dalton City Council approved a $32.3 million dollar budget for FY 2020, according to the Dalton Daily Citizen News.
Three Rome County Commissioners participated in their last meeting, according to the Rome News Tribune.