An American fleet of nine ships under the command of Captain Oliver Hazard Perry routed a British fleet in the Battle of Lake Erie on September 10, 1813.
After the battle, Perry sent a famous dispatch to U.S. General William Henry Harrison that read, "We have met the enemy, and they are ours." The Battle of Lake Erie forced the British to abandon Detroit, ensuring U.S. control over Lake Erie and the territorial northwest.
Years later, Pogo, Georgia's Official State Possum, would paraphrase Perry's dispatch.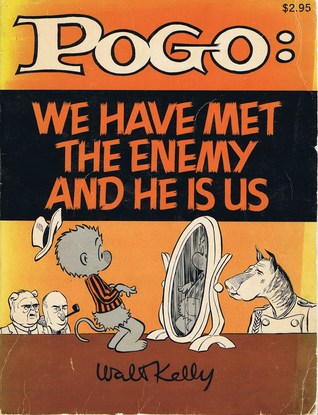 And eventually, Pogo's statement that, "We have met the enemy and he is us" would become the official slogan of the Georgia Republican Party.
On September 10, 1991, Senate confirmation hearings began for Georgia-born Clarence Thomas, who was appointed by President George H.W. Bush (41) to the United States Supreme Court.
Nirvana's Smells Like Teen Spirit was released as a single on September 10, 1991.
On September 10, 2002, the Atlanta Braves clinched an eleventh straight division title without playing, as a loss by the Philadelphia Phillies assured the Braves the title.
Georgia Politics, Campaigns, and Elections
Governor Brian Kemp issued a Writ of Election for a Special Election on November 5, 2019 in House District 152, to fill the vacancy created by the resignation of State Rep. Ed Rynders.
Governor Kemp told the AJC he's in no rush to appoint a new United States Senator to take the seat being vacated by Sen. Isakson.
The governor told The Atlanta Journal-Constitution that his administration is "starting to figure out how we're going to conduct the process" after a busy week that included a state scramble to respond to Hurricane Dorian.

"There's no timeline. I have a lot of good options," he said. "There's a lot of different ways we can go. I want to be very thoughtful and diligent in the process."

Kemp must also factor into the mix a potential 2021 election sandwiched between the two votes. Since the race for Isakson's seat is a "jungle" special election with no party primaries to decide nominees, a January 2021 runoff would be needed if no candidate gets a majority of the vote.
Democrat Jon Ossoff announced this morning he will run for the United State Senate seat curently held by Sen. David Perdue. From Politico:
Ossoff, 32, became a political sensation during his run for Georgia's 6th Congressional District in 2017, one in a series of special elections that attracted wide notice amid backlash to President Donald Trump before Democrats took the House majority in the midterm election.

"Georgia is the most competitive state in the country and the Senate majority will be decided in Georgia," Ossoff said in an interview.

"Failed congressional candidate Jon Ossoff's serial resume inflation and extreme left-wing views will fit in with the rest of the crowded Democratic primary but will stand in sharp contrast to David Perdue's positive record of delivering results for all of Georgia," said Nathan Brand, a spokesman for the National Republican Senatorial Committee.

"What I learned having been through the fire is that I will not ever be intimidated from telling my own story and touting my own accomplishments by inevitable partisan smears," Ossoff said.

He said he remains friends with and is in regular contact with Stacey Abrams, the party's nominee for governor in 2018 who passed on running for Senate. Abrams is likely to remain neutral in the primary, and Ossoff declined to discuss private conversations with her.

But Ossoff does have powerful backing: Rep. John Lewis, the civil rights icon and longtime Georgia congressman, supports his Senate bid. Ossoff said in the interview he was "honored" to have the endorsement, and plans to launch a voter registration effort with the congressman later this month.

In a statement, Lewis said he would do "everything in my power to support Jon's election to the United States Senate.

"Jon's 2017 campaign sparked a flame that is burning brighter than ever, in Georgia and across the country," Lewis said. "Like the many thousands Jon has already organized and inspired, I am ready to work tirelessly to elect him."

"David Perdue in half a decade has not come down from his private island to hold a single public town hall," Ossoff said of the Republican senator. "We are going to raise a grassroots army unlike anything Georgia has seen to defeat him."
Former congressional candidate Jon Ossoff said he will challenge Republican U.S. Sen. David Perdue and "mount a ruthless assault on corruption in our political system" that's prevented Congress from addressing urgent issues.

The Democrat told The Atlanta Journal-Constitution he would "raise a grassroots army unlike any this state has ever seen" by expanding the network of supporters who helped him raise roughly $30 million in a 2017 special election he narrowly lost.

"We have squandered trillions on endless war. We have squandered trillions on bailouts for failed banks. We have squandered trillions on tax cuts for wealthy donors. Then we're told there's nothing left over for the people," he said, adding: "The corruption must be rooted out. And Sen. David Perdue is a caricature of Washington corruption."

He said he chose to run against Perdue rather than compete for the soon-to-be-vacated seat held by U.S. Sen. Johnny Isakson, who is stepping down at year's end for health reasons, because Perdue "is one of the least effective and most out-of-touch members of the U.S. Senate."

"We're in a state where one in three rural children live in poverty, where we have the worst maternal mortality in the entire country, and in a half a decade, this guy hasn't come down from his private island to do a single town hall meeting," Ossoff said. "He hands out favors to his donors. He runs errands for the president."

"My candidacy was such a threat that Republicans at the highest level made my destruction their highest priority," Ossoff said. "And I narrowly lost that race, but we built something special and enduring. And I'm still standing and ready to fight."

"Right now, the job is to build the most potent grassroots organization the state has seen to defeat Sen. Perdue … Stacey Abrams' campaign was historic. I have never seen a more talented politician in Georgia, and she's an inspiration to me. When you push on the wheel of history, sometimes it takes time to get where you want to go. But one of the things I learned from my race in '17 is a fight well fought – even if you lose it – can be worth what you build in the process. That's how I look back on my race in 2017 and that's certainly how I look at Stacey Abrams' historic, extraordinary performance in 2018."

"I support banning the sale of assault weapons to the general public – weapons that are derived from modern military technology should not be sold commercially absent some specific need … Nine out of 10 Americans support universal background checks, and the failure of Congress to support universal background checks is a textbook example of Washington corruption."
Democrat Stacey Abrams said her party's candidates should concentrate on "unlikely voters," according to the Athens Banner Herald.
Abrams, who lost the Georgia governor's race by 1.4 percentage points but set a state record for Democratic votes, made her case Monday in a letter and strategy memo obtained by The Associated Press and sent to top Democratic presidential candidates, national party committees and key strategists and groups on the left.

"Democrats, let's do better and go big," Abrams wrote, arguing that her historic bid to be the first black female governor in U.S. history wasn't the sole driver of her near-win. "I am not the only candidate who can create a coalition and a strategy to win this state," she wrote, adding that "any decision less than full investment in Georgia would amount to strategic malpractice" and arguing that her 2018 coalition of nonwhites and whites from the cities and suburbs is the blueprint "to compete in the changing landscape of the Sun Belt."

The assertions from Abrams and her campaign manager, Lauren Groh-Wargo, highlight a fault line for Democrats. Some party leaders want to focus on flipping white voters who helped Trump flip Great Lakes states including Wisconsin, Michigan, Ohio and Pennsylvania. Others want to drive turnout across Democrats' growing base of minority voters and college-educated whites in the suburbs and cities, constituencies that could put states like Georgia, North Carolina and Arizona in play, while also helping in the Upper Midwest.

Groh-Wargo did not put a price tag on a 2020 campaign in Georgia, but noted the combined Democratic investment in Georgia last year was $42 million, compared to $70 million in Ohio and $32 million in Iowa, where Democrats lost statewide midterm races two years after Hillary Clinton lost to President Donald Trump by nearly double-digit margins.

Groh-Wargo wrote that Abrams was able to take advantage because the campaign spent time and money reaching Democratic-leaning residents who aren't regular voters. With new registrations since 2018, Groh-Wargo put that number of such voters for 2020 at 1.7 million — more than six times the GOP's typical advantage in Georgia and about 28 times larger than Abrams' margin of defeat last year.

The universe of truly persuadable "swing voters" in Georgia, Groh-Wargo wrote, is about 150,000. Groh-Wargo said the campaign spent money targeting those voters, but not as much as in traditional campaigns that would have relied heavily on expensive television advertising in the Atlanta market.

"Democratic committees, consultants and the media do not factor unlikely voters into their polling, strategy and prognostications, effectively making their analyses by re-litigating the prior election as if nothing had changed in the electorate since," she wrote.
The U.S. Department of Agriculture will begin accepting applications for federal aid to address last year's Hurricane Michael, according to GPB News.
It took eight months for a federal aid package to pass, caught up in the government shutdown of early 2019, as well as a disagreement about how much funding should go to border security and to Puerto Rico, also recovering from hurricanes.

On Wednesday, the Department of Agriculture just announced, those farmers will be able to apply to receive some of the $3 billion aid package.

"U.S. agriculture has been dealt a hefty blow by extreme weather over the last several years, and 2019 is no exception," Secretary of Agriculture and former Georgia Governor Sonny Perdue said in a statement.

"The scope of this year's prevented planting alone is devastating, and although these disaster program benefits will not make producers whole, we hope the assistance will ease some of the financial strain farmers, ranchers and their families are experiencing," he said.
All crew members from the M/V Golden Ray, which capsized off Saint Simons Island, have been rescued, according to the Savannah Morning News.
Three of the four crew members were extracted Monday before 3:30 p.m. and the fourth was rescued just before 6 p.m

The Coast Guard Sector Charleston was first notified by the Glynn County 911 dispatch around 2 a.m. Sunday, Sept. 8, that the M/V Golden Ray had capsized in the St. Simons Sound, according to a release from the Coast Guard. The vessel was leaving the Georgia Ports Authority Colonels Island Terminal just prior to the accident, GPA Executive Director Griff Lynch confirmed Sunday..

The first three crew members were rescued after USCG rescue and salvage teams drilled a hole measuring about two feet by three feet into the ship's hull, Capt. John Reed, Commander of Coast Guard Sector Charleston, said.

The fourth crew member was stuck behind glass enclosed in an engineering control room in the ship's stern. In a video posted on Twitter by the USCG Southeast the man can be seen climbing out of an opening as rescuers assist him.
The Golden Ray may remain in St Simons Sound for weeks, according to The Brunswick News.
The channel leading to the Port of Brunswick is closed and a Coast Guard spokesman said it's uncertain how long it will take salvage crews to upright the vessel.

State Rep. Jeff Jones spoke at a public event on St. Simons Island on Monday, where he discussed the accident and when the channel will be cleared by salvage teams.

"This is going to be a unique kind of a challenge," Jones said. "They sort of set themselves up for scenarios like this on how to handle situations like this, but they don't yet know."

The Coast Guard has currently closed the channel but Clayton said the Port of Brunswick remains open "with restrictions."
Lowndes County will be one of six to pilot new voting machines, according to the Valdosta Daily Times.
"Now, for the first time in 20 years when we have those close elections, we'll be able to do a physical recount," [Georgia Secretary of State Brad] Raffensperger said. "We'll be able to mathematically prove that the winner really won and the loser really lost."

The state approved buying 30,000 new machines in July for a cost of $107 million. For now, only six counties will be testing the machines. The rest of the state will switch to the new system by the 2020 presidential election.

Raffensperger said they decided against paper ballots because not everyone can use a paper ballot. The touch-screen will make it easy for every voter to fill out a ballot, he said.

Deb Cox, Lowndes County supervisor of elections, said she is excited for the new machines and is honored Lowndes County has been chosen as a pilot community.

"The system is phenomenal, and I think the voters are going to love it," Cox said. "It's amazing, high-tech and easy to use because it's not connected to the internet in any way shape or form."

"It's the most secure system I've ever seen anywhere in the United States," Cox said. "There is no way anyone can get into this system. It's as secure as anything I've ever seen."
The AJC reports on polling location closures in Georgia.
"In Georgia, we're seeing a lot of rural counties close their polling places, leaving voters with only one polling place, which can create many hurdles if you have to drive many miles to vote," said Leigh Chapman, a co-author of the report and the voting rights program director for The Leadership Conference Education Fund.

The AJC found that the 214 precinct closures in Georgia since 2012 often occurred in counties with high poverty rates and significant African American populations.

The only states to close more precincts than Georgia were Texas with 760 and Arizona with 320, according to the report.

County election officials said precinct closures saved taxpayers' money that was being spent on low-turnout locations staffed by at least three poll workers. They said so many voters take advantage of early and absentee voting — 55% in last November's election — that there's no longer a need to have so many in-person polling places on Election Day.

"In our little county, we could struggle. If I could save the county money, that's what I wanted to do," said Warren County Elections Superintendent Janice Thigpen. "A lot of these precincts were created because we had farmers in the field and people who didn't have transportation into town. That's not the case anymore."
The Muscogee County Board of Education is planning to place an E-SPLOST (Special Purpose Local Option Sales Tax for Education) on the March 2020 ballot, according to the Ledger-Enquirer.
The Muscogee County School District is planning to ask Columbus voters to renew the sales tax that helps pay for its capital projects.

And that question is expected to be on the March ballot — beating by seven months the sales tax referendum Columbus Council is planning for November.

As the Muscogee County School Board's monthly work session ended Monday night, chairwoman Pat Hugley Green of District 1 asked her fellow board members whether there is a consensus for superintendent David Lewis to bring the board a recommendation to renew the five-year 1% Education Special Purpose Local Option Sales Tax (or, ESPLOST), which expires June 30.

But the superintendent made it clear: The March election is the best option, he said, because that's the traditional time frame for the sales tax referendum.

Asked whether it benefits the school board to ask voters to renew the ESPLOST before the city council's sales tax referendum in November 2020, Lewis said, "We don't look at it one way or the other as an advantage. It's just our routine process."
Rome City Commission voted to add a "Brunch Bill" referendum to the November ballot, according to the Rome News Tribune.
Sunday brunch enthusiasts looking forward to having a mimosa or bloody mary before noon in Rome can now toast the Rome City Commission for unanimously agreeing Monday to allow voters to decide Nov. 5 whether local establishments can serve alcohol as early as 11 a.m. on Sundays.

As the law stands now, those who wish to imbibe must wait until 12:30 p.m. There were no public comments and very little discussion on the matter during the Commission's regular meeting at City Hall.
Democrat Jordan Johnson will run for Augusta Commission District 1, according to the Augusta Chronicle.
Jordan Johnson, the chairman of the Richmond County Democratic Party, announced Monday that he is running for the District 1 seat on the Augusta Commission.

Johnson joins former District 1 candidate Michael Thurman and downtown businesswoman Shawnda Griffin in the May 2020 election. Term limits prevent incumbent Bill Fennoy from seeking a third term.
Westside Elementary School in Valdosta will add agriculture education, according to the Valdosta Daily Times.
The Georgia Sea Turtle Center moved back into its normal quarters after evacuating ahead of Hurricane Dorian, according to The Brunswick News.
"Starting a couple weeks ago, we knew that Hurricane Dorian was heading our way, and we prepared early for that," said Katie Mascovich of the GSTC. "We started getting things together in case we needed to transport animals in the event of an evacuation.

"We actually released seven of our healthy sea turtle patients that were on the release track as it was, because we didn't want to put them through the shock of evacuation, if we had to do that. You may notice we have some empty tanks here, and that is why, because we released about half of our patients."

For the turtles staying, in addition to getting the patients ready to move, staff also had to put equipment up, literally, so it would be OK if the facilities flooded. Staff loaded the 89 creatures — sea turtles, diamondback terrapins, etc. — and the equipment that came with them into two vans and a minibus for the trip to the Georgia Aquarium in Atlanta.