On July 11, 1782, British colonists including British Royal Governor Sir James Wright, fled Georgia.
Wright had been the only colonial governor and Georgia the only colony to successfully implement the Stamp Act in 1765. As revolutionary fervor grew elsewhere in the colonies, Georgia remained the most loyal colony, declining to send delegates to the Continental Congress in 1774.
Congress ordered the creation of the United States Marine Corps on July 11, 1798, after the Corps was inactive for a period following the Revolutionary War. From 1799 to 1921, Marine Corps Day was observed on July 11, but is now celebrated on November 10, the date of it's Revolutionary War establishment.
On July 11, 1804, Aaron Burr shot Alexander Hamilton in a duel in Weehawken, New Jersey. Burr was the sitting Vice President of the United States and Hamilton a former Secretary of the Treasury.
After he shot Hamilton, Aaron Burr quickly fled the nation's capitol, making his way to St. Simons Island, Georgia, spending a month as a guest of Pierce Butler at Hampton Plantation.
Burr was a fugitive, but his killing Hamilton in a duel held a certain justifiable reasoning since dueling was not illegal, though morally questionable, to be sure. According to H. S. Parmet and M. B. Hecht in their Aaron Burr: Portrait of an Ambitious Man, after the duel, he immediately completed, by mid-August, plans which he had already initiated, to go to St. Simons, "an island off the coast of Georgia, one mile below the town of Darien."

Jonathan Daniels' "Ordeal of Ambition" handles the situation this way: "With Samuel Swartwout and a slave named Peter ('the most intelligent and best disposed black I have ever known'), Burr secretly embarked for Georgia. There on St. Simons Island at the Hampton Plantation of his friend, rich former Senator Pierce Butler, he found refuge…" As Georgia Historian Bernice McCullar, author of "Georgia" puts it, Burr was "fleeing the ghost of Alexander Hamilton" when he arrived on the Georgia island.

"Major Pierce Butler," she relates, "had fought in the British army and remained in America after the war." He had married a South Carolina heiress, Miss Polly Middleton, and acquired two Georgia Coastal plantations, which he ran like a general storming after the troops. In fact, he was so strict that none of his slaves could associate with any of the others. He also required anyone who visited his plantations to give his or her name at the gate. With this tight security, Burr should have felt safe..

Actually, Butler's invitation to visit the island fitted the escapee's plans nicely. Not only was the Hamilton affair a bother, but also Burr needed to get away from a lady by the name of Celeste; however, the real reason, aside from being near his daughter, who was also in the South, was the nearness of the Floridas. No real purpose is given why the Vice-President wanted to spend "five or six weeks on this hazardous and arduous undertaking."

Daniels underscores that from this St. Simons point Burr could "make any forays into Florida he wished to make. He traveled under the name 'Roswell King." After his Florida odyssey, he planned to meet his South Carolina son-in-law "at any healthy point."
Parts of the Hampton Plantation survive in the form of tabby ruins on St Simons.
A house in St. Marys, Georgia bears a plaque stating that Aaron Burr visited there in 1804.
Clark lived in the home from 1804 until his death in 1848. He was appointed in 1807 by then-President Thomas Jefferson as customs collector for the Port of St. Marys, a position he held until his death. The year Clark bought the house, he is said to have provided a temporary hideout to Aaron Burr, who was traveling in the South to evade federal authorities holding a warrant for his arrest after he killed Alexander Hamilton in their infamous duel in July 1804.

Verification of Burr's stay in St. Marys is hard to come by. But it is confirmed that he stayed on St. Simons Island and Cumberland Island late in the summer after he killed Hamilton. That Burr knew Clark is not disputed. The two attended law school together in Litchfield, Conn., but there is no mention in either man's records that Burr stayed in the home.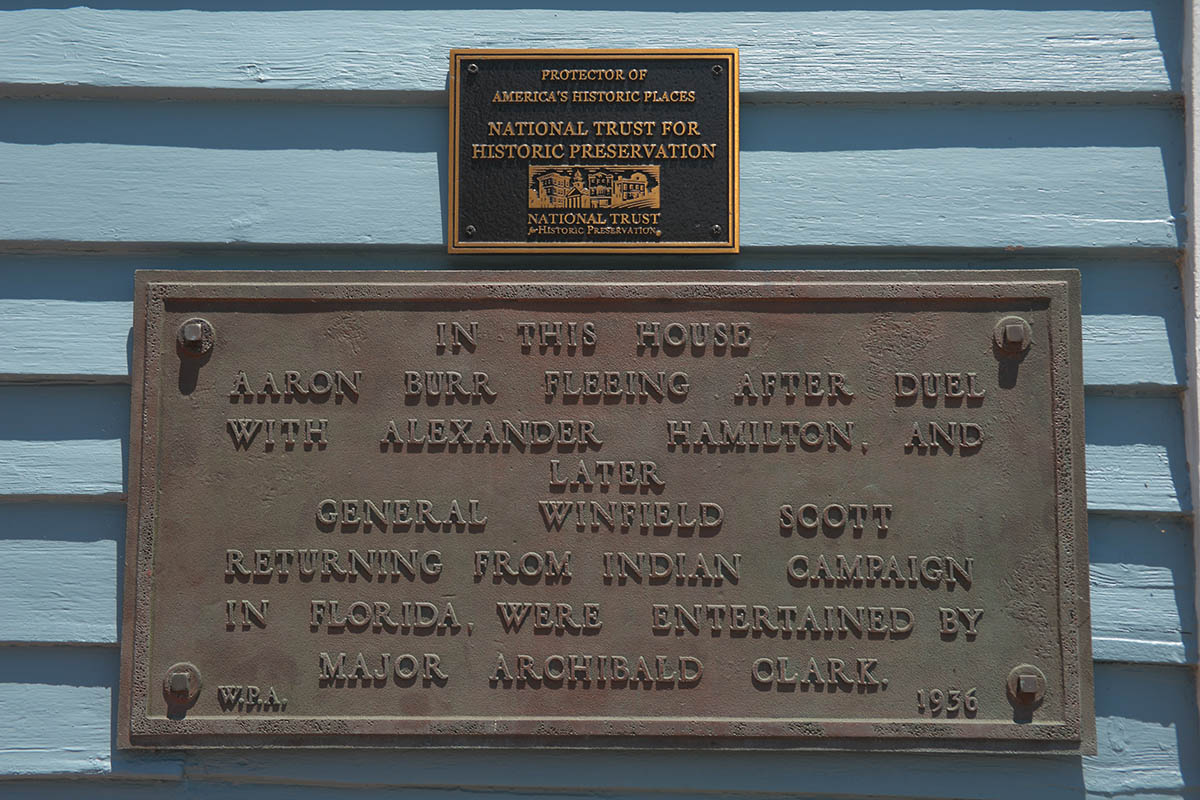 On July 11, 1877, a Constitutional Convention convened in the Kimball Opera House in Atlanta to replace the 1868 Reconstruction Constitution.
On July 11, 1916, President Woodrow Wilson signed the Federal Aid Road Act, establishing a federal program of paying for highway development.
President Franklin D. Roosevelt accepted the Democratic nomination for a fourth term on July 11, 1944.
General Dwight D. Eisenhower was nominated for President by the Republican National Convention on July 11, 1952.
July 11, 1969 was an epic day in rock and roll history, with David Bowie releasing "Space Oddity" and the Rolling Stones releasing "Honky Tonk Women."
On July 11, 1985, Astros pitcher Nolan Ryan became the first major league player to strike out 4000 batters.
Georgia Politics, Campaigns, and Elections
Flags on Georgia state buildings are at half-staff today in honor of Deputy Nicolas Blane Dixon, at the order of Governor Brian Kemp.
U.S. District Court Judge Amy Totenberg ruled that Georgia must turn over electronic copies of voting information in a lawsuit, according to the Augusta Chronicle.
The ruling came Tuesday in the lawsuit filed by election integrity advocates and voters that challenges Georgia's election system and seeks statewide use of hand-marked paper ballots.

The plaintiffs' experts had said inspection of the databases was necessary to begin to evaluate security vulnerabilities and flaws.

Lawyers for the state had argued disclosure of sensitive information in the databases could jeopardize the security of the election system. Totenberg wrote that they provided no evidence of that.
The review of election management databases is needed to understand what caused problems during November's heated race for governor between Republican Brian Kemp and Democrat Stacey Abrams, said Bruce Brown, an attorney for some of the plaintiffs.

Voters reported that voting machines failed to record their choices, flipped their votes from one candidate to another and produced questionable results.

"We can see the system malfunctioning, and everybody knows it is intrinsically vulnerable," said Brown, who represents the Coalition for Good Governance, a Colorado-based organization focused on election accountability. "We're trying to learn more about the exact causes of the particular problems we're seeing in Georgia."

Georgia Secretary of State Brad Raffensperger's attorneys objected to allowing a review of election databases, which have a variety of information including candidate names, party affiliations, ballot layouts and vote counts for each precinct. The databases don't contain confidential information, Totenberg wrote.

"We are disappointed that Judge Totenberg has ordered us to give sensitive election infrastructure to those who seek to disrupt Georgia's elections," said Tess Hammock, a spokeswoman for Raffensperger. "There is no evidence that Georgia's voting machines have ever been hacked or that the vote count has ever been manipulated."
Georgia State Senate Minority Leader Steve Henson (D-DeKalb) will not run for reelection, according to the AJC.
Senate Minority Leader Steve Henson, the only white male Democrat in the chamber, said Wednesday that he would not seek re-election to his suburban Atlanta seat in 2020.

Henson survived a primary scare in 2018, when he finished 111 votes ahead of an unknown Democratic challenger, Sabrina McKenzie.

"I'm over 60 now, and I have to attend to some personal matters and my real business. Plus, as minority leader, I need to focus this next year on making sure Democrats pick up seats. And I don't want to be distracted by my own election," he said in an interview.

Senate District 41 includes the cities of Stone Mountain and Clarkston in DeKalb County, but also stretches into Gwinnett County, which has experienced a tumultuous change in voting patterns in recent years.
Hispanic voter turnout "surged" in 2018, according to the AJC.
[Univision] found that 135,000 Hispanics voted in the 2018 election, which was headlined by the gubernatorial race between Democrat Stacey Abrams and Republican Brian Kemp. About 56,000 Hispanic voters cast ballots in 2014, according to Univision.

The data suggest Hispanic voters could play a larger role in state politics in the 2020 race. It found turnout increases among Hispanic voters far outpaced those of non-Hispanic voters, particularly among younger voters and independents.
A vigil in Statesboro will highlight concerns for refugees, according to the Statesboro Herald.
The nonpartisan, peaceful gathering is set for 9 to 10 p.m. Friday on the Bulloch County Courthouse lawn, said organizer Cynthia Stewart.

"You read these things (reports on refugee camp conditions) and want to know what you can do," she said. "We all feel helpless and want to do something."

Eduardo Delgado will serve as facilitator for the vigil.

"This is just to pay respect to the children in detention centers, separated from their families," he said, reiterating, again, that the Statesboro event will be nonpartisan. "We are hoping we can bring people from both sides of the issue."
Also, the vigil is to remember those whose lives have been lost in their quest to come to the United States, albeit often illegally, he said.
Columbus area local officials are considering how to make the Chattahoochee River safer, according to the Ledger-Enquirer.
Mayor Skip Henderson on Tuesday convened a task force of public safety officials on both sides of the river to brainstorm suggestions to help prevent another tragedy. Last week, a boy slipped while playing on the rocks at Waveshaper Island the along RushSouth Whitewater Park and fell into the class IV whitewater rapids.

Leaders of Uptown Columbus, Safe Kids Columbus and Whitewater Express made suggestions that sparked debate centered around safety versus business and recreation.

Henderson started the meeting with this caution: "The No. 1 objective from my perspective is not to react in a way that's so reactionary that we end up over-legislating or doing something that doesn't really achieve the desired effect."

Halfway through this year, three water-related deaths have occurred during 2019 in the Columbus/Phenix City section of the Chattahoochee River, between Lake Oliver and Rotary Park, according to the DNR: two drownings and one fatal boating incident with drowning ruled as the cause of death.

There were five water-related deaths there last year, three in 2017, one in 2016, four in 2015, two in 2014 and one in 2013, when the whitewater course opened.
The U.S. Army Corps of Engineers will consider removing an underwater feature from the Savannah River near Augusta, according to the Augusta Chronicle.
Known as "the training wall," it is a nearly two-mile wall in the river channel closer to North Augusta that was designed to keep the water deeper on the Georgia side when Augusta operated a port downtown. Installed in 1902, it runs from near Eighth Street in downtown to 1,800 feet past the Boathouse.

The wall made a startling appearance in February when the Corps was simulating likely conditions that would result from replacing the downstream New Savannah Bluff Lock and Dam with a rock weir fish passage, an idea the agency is still mulling. The simulation dropped the river level a few feet, and the top of the training wall was visible just beneath the surface, causing some to view it as a potential hazard should the river drop that low again.

That sentiment was echoed in a news release from the Corps' Savannah District.

″(M)any point out that it is an impediment to navigation and that its presence increases the risks to water-borne activities for its nearly 2-mile-long length of the river in the downtown Augusta area," said Beth Williams, the district's chief of hydraulics and hydrology.
Bulloch County will open a new senior center by the end of the year, according to the Statesboro Herald.
Savannah-Chatham County Public Schools is moving forward with a bus hub system, according to the Savannah Morning News.
Savannah-Chatham County public schools is moving forward with plans for a hub transportation program for choice and charter high school students that would eliminate regular door-to-door school bus service for them a year from this fall and require the students to catch the school bus at the nearest regular high school.

The students or their parents would have to drive to the hub stop if they wanted to take the school bus the rest of the way to their choice or charter school. Some students could take the CAT bus to the hub if they chose to.

The presentation was a follow-up to one earlier this year, where the hub plan was discussed as a way to cut about $923,000 from the district's $627 million annual budget. It also could reduce the number of school buses and drivers the district relies on. A similar plan discussed several years ago was turned down by the school board then after parents complained about the inconvenience.

In February, the school board approved by a 6 to 3 vote the plan to require high school students attending choice and charter schools to meet at a central location, most likely the attendance-zone high school nearest to them, if they wanted to ride a school bus to their schools.
Savannah-Chatham County Public Schools Police Chief Terry Enoch says that security at local schools is improving, according to the Savannah Morning News.
Savannah-Chatham County Public School System is continuing to invest in security measures with new spending on technology and capital improvements.

But human resources in the form of trained school resource officers are at the core of the district's safety and security program, Terry Enoch, chief of police for the Savannah-Chatham County board of education, said Wednesday in an informal presentation to the school board.

"We're taking every step we can to make sure our schools are secure and our staff is safe," Enoch said. "It's evolved and it's getting better."

The district hired and trained 30 school safety officers and 25 school resource officers. About seven vacancies remain, according to Enoch's presentation.
Macon-Bibb County employees may receive a $1000 bonus, according to the Macon Telegraph.
The proposed $1,000 bonus comes at a time when County Commissioners have wrangled over whether to implement a small property tax increase to cover raises for employees. In this instance, however, the $2.2 million for the bonuses would come from the county's reserve fund, which is expected to bounce back after taking a severe hit in recent years.

The bonus ordinance will be on next week's County Commission meeting agenda. It was approved Tuesday by the Operations and Finance Committee.

Employees who have worked at least 30 days for the county would get the bonus on Dec. 20.
Ryan Earnest was elected to chair the Development Authority of Floyd County, according to the Rome News Tribune.
The Rome News Tribune looks at fundraising totals in the 2020 race for Floyd County Sheriff.
Tom Caldwell, Ronnie Kilgo and Dave Roberson are vying to replace Sheriff Tim Burkhalter, who is not running for reelection. Monday was the deadline for candidates to file campaign finance disclosure reports through June 30.

Roberson reported $18,284 in his war chest. Caldwell had $32,290, including a $20,000 loan. Kilgo's net balance was $4,273 as of Jan. 31.

The qualifying period isn't until the first week of March 2020, so more candidates may emerge.
The Lee County Road Committee discussed Special Purpose Local Option Sales Tax (SPLOST) funding and projects, according to the Albany Herald.
"(The T-SPLOST) money is starting to come in, and it looks like about $200,000 a month," District 2 Commissioner Luke Singletary said. "We're allocating those funds as they come in to different road projects, whether it be resurfacing or whether that be paving new roads."
Henry County Commissioners approved a 75/25 split of SPLOST revenues with local municipalities in advance of a referendum, according to the Henry Herald.
The Henry County Board of Commissioners voted to approve the 75/25 revenue split for the proposed SPLOST V referendum at Tuesday's meeting, but the cities are not on board.

The motion made by Commissioner Dee Clemmons and passed 4-2 by the board called for the 75/25 split and required cities to present their project lists to the county within 10 days.

The 75/25 split would mean the county would receive 75% of the revenue from the SPLOST program, while the four cities — McDonough, Stockbridge, Hampton and Locust Grove — would split the remaining 25% of the revenue.

Based off comments made by city officials from three of the four cities, those cities are not in favor of the 75/25 split.
Hampton City Council voted against merging municipal election polling places with Henry County, according to the Henry Herald.
At a recent Hampton City Council meeting, Tina Lunsford, the director of elections for Henry County, suggested moving Hampton's polling place from the Fortson Library to Cavalry Baptist Church for those on the north side of town and Berea Christian Church for those on the south side of town.

The council voted 3-3, with Mayor Steve Hutchison casting the tiebreaker vote against the proposal. Errol Mitchell, Ann Tarpley and Willie Turner voted to keep the polling places separate, while Henry Byrd, Stephanie Bodie and Elton Brown voted to align the city's polling places with the county's.

The rationale behind the proposal was to prevent confusion between polling places, as both the county and the cities will have elections this year. Henry County will hold an election for voters to decide if they want the SPLOST V sales tax, while the cities will vote on members of their respective city councils.

With the vote cast by the Hampton City Council, Hampton voters will cast their ballots at two separate locations on election day. For the city elections, all voters will cast their vote at the Fortson Library, while voters will cast their ballot for the county referendum at either the Cavalry Baptist Church or the Berea Christian Church, depending on where they live.