On May 15, 1791, George Washington left Augusta for Savannah.
On May 15, 1800, President John Adams ordered all 125 employees of the federal government to begin packing to move the capital from Philadelphia to Washington, DC.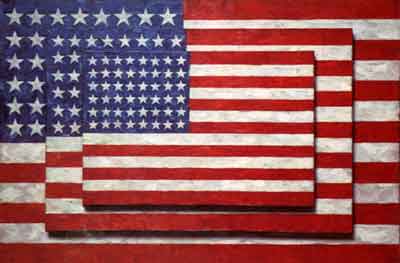 American artist Jasper Johns was born May 15, 1930 in Augusta, Georgia.
Carl Sanders was born on May 15, 1925 in Augusta, Georgia. He served in the United States Air Force, Georgia House of Representatives and State Senate, where he was President Pro Tem. In 1962, Sanders won the Democratic Primary for Governor, defeating former Governor Marvin Griffin, and in November was the first Governor of Georgia elected by popular vote after the County Unit System was abolished.
Former Atlanta Braves pitcher John Smoltz was born on May 15, 1967 in Lansing, Michigan. Smoltz pitched a complete game shutout against the Pittsburgh Pirates in the seventh game of the National League Championship Series in 1991, sending the Braves to their first World Series since moving to Atlanta in 1966. Smoltz was chosen for the All Star team eight times and won the Cy Young award in 1996.
Georgia Politics, Campaigns, and Elections
Gwinnett County Commission Chair Charlotte Nash (R) will not run for reelection in 2020, according to the Gwinnett Daily Post.
Nash became chairwoman after winning a special election in 2011 to replace former Chairman Charles Bannister. She was reelected in 2012 and 2016.

"I have mixed emotions as I announce that I have decided that I will not seek re-election," Nash said in an email to the Daily Post. "I believe that it is time for me to focus on my family and to follow through on a promise I made to my husband that we will enjoy retirement together."

"For four decades, I have enjoyed the opportunity to serve, in one role or another, the place I have called home all my life. I know that I have been fortunate in that," Nash said. "To all those who have supported and helped me along the way, I say thank you.

Nash's decision to not run for re-election leaves the field to replace her wide open. So far, only former state Sen. Curt Thompson, a Democrat, has announced plans to run for commission chairman in 2020.
"While Chairman Nash's leadership of the county will be most remembered in restoring the trust with the citizens of Gwinnett in the wake of elected officials' misgivings," said Lawrenceville City Manager Chuck Warbington, "her impact on Gwinnett goes much deeper."

Warbington, a conservative who has often been pointed to as a potential Nash successor, credited her with ensuring Gwinnett's continued financial stability.

Said Republican District 1 Commissioner Jace Brooks, who has also considered running for chairman: "She is one of the smartest county leaders in this state, and I have learned an immense amount serving with her."

[Nash] has openly suggested another transit referendum could be called in the near future, irking Gwinnett Republicans in the legislature.

Democrats have dominated recent county elections, with a growing number of voters showing a willingness to vote for candidates with a "D" next to their name.
Georgia Insurance Commissioner Jim Beck was indicted on 38 federal charges, according to the AJC.
Georgia Insurance Commissioner Jim Beck was accused Tuesday by a federal grand jury of stealing more than $2 million from his former employer.

The 38-count indictment charges Beck, an ex-insurance lobbyist and long-time leader of the Georgia Christian Coalition, with fraud and money laundering in an elaborate scheme to defraud the Georgia Underwriting Association. With the stolen cash, the Republican allegedly paid his credit card bills and taxes — and even funded the 2018 campaign that landed him in office.

Beck's, whose lawyers said he denies the charges, is expected to surrender to U.S. Marshals on Wednesday in downtown Atlanta, said U.S. Attorney Byung J. "BJay" Pak.

Pak said the crimes took place between February 2013 and August 2018, when he left the Georgia Underwriting Association in the middle of the campaign for insurance commissioner. The prosecutor said the allegations don't relate to Beck's current job.

"However," Pak went on, "holding a powerful position does not shield you from the (consequences) of your past criminal activity."
Governor Brian Kemp will postpone a trip to Los Angeles for a time it's less hot – literally and figuratively, according to the AJC.
Abortion rights activists had threatened to protest the May 22 event, and Georgia film executives were worried that tepid turnout and no-shows from studio chiefs could do lasting damage to the state's movie-making business.

Kemp spokesman Cody Hall said that the trip would now take place in the fall, and that the governor plans to soon tour Georgia film production firms and meet with employees to show support for the industry.
Georgia House Speaker David Ralston (R-Blue Ridge) will sit for a Facebook Live interview with the Augusta Chronicle.
Georgia House Speaker David Ralston will be in Augusta on Thursday for a Facebook Live interview with The Augusta Chronicle's editorial board.

The Republican from Blue Ridge, Ga., has served as speaker since 2010. The position, held by a member of the majority party, oversees nearly all aspects of the House of Representatives, including committee assignments and scheduling of debates and votes.

The Chronicle will broadcast the interview with Ralston starting at 9 a.m. Thursday and invites readers to watch on Facebook and submit questions for Ralston, although time and relevance will limit the number used.
Click here for the Chronicle's Facebook page.
Gwinnett County Sheriff Butch Conway announced a memorandum of agreement with the Army to help soldiers seeking work, according to the Gwinnett Daily Post.
On Tuesday, Gwinnett County Sheriff Butch Conway signed a memorandum of agreement with the Army's Partnership for Youth Success, or PaYS, program, a "strategic partnership" between the Army and corporations, companies and public sector agencies that guarantees soldiers a job interview after completing reserve training or their first term of service.

While the Army has signed MOAs with employers in many different job sectors across the nation through the program, the public safety profession is especially fitting for those with a military background, Lt. Col. Fredrick Parker, commander of the Army's Atlanta Recruiting Battalion, said at Tuesday's signing ceremony.

The sheriff's office currently has a similar agreement with the Marine Corps, Jones said; every year, deputies travel to Camp Lejeune in North Carolina, where they spend several days recruiting and helping marines complete the first phase of the hiring process.
Macon residents came out to a public hearing about decriminalizing marijuana possession, according to the Macon Telegraph.
About 40 people came out Tuesday for a public hearing on a proposed ordinance that would give Macon-Bibb County sheriff's deputies the option of handing out a $75 citation if a person is caught with less than an ounce of marijuana, instead of stiffer penalties.

The majority of people who spoke were in favor of the new ordinance. There also were representatives from organizations such as Reform Georgia and the local chapters of the National Action Network and NAACP.

Backers of the proposal say they want to minimize damage caused if someone is forced to pay a large fine, spend time in jail or deal with probation because of a small amount of pot.

Several people spoke about how young black people are disproportionately charged with marijuana possession.
The Macon Telegraph looks at 4 major issues in the 2020 proposed budget.
Banks County designated Bobby Blackwell as senior magistrate judge, according to AccessWDUN.
A proposed transit system for Statesboro will require federal and local funding, according to the Statesboro Herald.
The University System Board of Regents approved the renaming of a recreational facility, according to the Athens Banner Herald.
When football announcers tell us where the University of Georgia's football team is playing in its Sept. 7 home opener, they'll be saying "Dooley Field at Sanford Stadium."

The state Board of Regents made it official Tuesday.

In a vote with no suspense, the board gave its formal approval to naming the field in honor of former UGA football coach and athletic director Vince Dooley.

"I'm pleased that the board approved it," said UGA President Jere Morehead, who attended the meeting with UGA Vice President for Government Relations Toby Carr.
Columbus Council voted to remove the director of the Columbus Civic Center, according to the Ledger-Enquirer.
The Columbus Council voted at 12:15 [Tuesday] to allow City Manager Isaiah Hugley to remove Jon Dorman from his position as the director of the Columbus Civic Center.

Dorman was appointed to the position by the city manager after a unanimous vote of council Jan. 24, 2017. Starting with an annual salary $90,233, he replaced former director Ross Horner.
The Albany City Commission will consider a $288.3 million dollar FY 2020 budget, according to the Albany Herald.
"This budget includes new initiatives that will allow us to dress up our front door, to make improvements in our cemeteries, to put our very successful wellness program in a permanent location, and provide updated and renovated facilities for our hardest-working employees in Public Works," the city manager said.

Before getting into the specifics of the FY 2020 spending plan, Subadan mentioned some of the positives from the current fiscal year. She noted storm recovery work, completion of Phase I of the city's road improvement plan, work on the connector trail that will allow access from downtown to the Albany-to-Sasser rail trail, transit improvements, ongoing work on a passenger bridge at the Southwest Georgia Regional Airport, a new automated parking system at the airport and the implementation of an LED lighting program.

Brown went over some of the details of the spending plan, pointing out to commissioners that this is the fifth year that the city can expect to roll back its millage rate.

"There will be around a 2.6% rollback over that period," Brown said. "That shows fiscal responsibility on the city's part."

Brown also said that, primarily because of the T-SPLOST referendum approved by voters, the city will have an additional $13.7 million in revenue during the 2019-20 fiscal year.
Dougherty County Commissioners opened a new Government Center in downtown Albany, according to the Albany Herald.
Sea level sensors have been installed across Chatham County, according to the Savannah Morning News.
The goal is to provide emergency managers and area residents with real time measures of rising water at bridges, creeks and backyard docks around the county. It's a need that Hurricanes Matthew and Irma made evident.

"The pitch I made after Matthew and Irma is we have this one tide gauge at Fort Pulaski," [Georgia Tech Senior Research Scientist Russ] Clark said at a session about the project at the Chatham County Hurricane Conference earlier that same day. "It told us one perspective. Just like everyone else, I was hitting reload on my web browser as fast as I could during each of those storms. Still today if you look at graphs from Pulaski it says the peak water level was the same for both storms. Even that Matthew was higher. In reality, most of the county saw more significant flooding from Irma because of the wind and the direction the storm approached. Why do we only have one vantage point, wouldn't it be great to see in real time the impact all over the county?"
A settlement announcement is expected in the civil case against former Chatham County Probate Court Chief Clerk Kim Birge, according to the Savannah Morning News.
Attorneys in the civil case against former Chatham County Probate Court Chief Clerk Kim Birge on Tuesday apparently reached a settlement with a formal announcement expected when court resumes on Wednesday.

Visiting Senior State Court Judge Orin Douglass from Brunswick on Tuesday sent Chatham County State Court jurors home after hearing testimony from a number of victims and a Chatham County internal auditor with explanations that court officials had to work out some matters.

Attorneys were expected to put the settlement on the record before Douglass Wednesday, ending the case.
The Shellfish and Mariculture Advisory Panel will be appointed after Governor Kemp signed legislation creating it, according to The Brunswick News.
One of the frequently discussed issues with House Bill 501, in the last session of the General Assembly, was the possible existence of a citizen advisory panel regarding oyster mariculture. Gov. Brian Kemp recently signed H.B. 501 into law, which legalizes methods of oyster mariculture in the state.

The Shellfish and Mariculture Advisory Panel, as it's named, will have 11-15 members and operate similarly to already-existing panels like those on shrimp, blue crab and finfish. The panel will be a subgroup of the state Marine Fisheries Advisory Council.

The shellfish panel is to include, "a maximum of four Department of Agriculture-certified shellfish dealers and four CRD- permitted master shellfish harvesters; a minimum of two recreational shellfish harvesters or coastal county residents; one non-DNR scientist experienced with shellfish science and affiliated with an academic institution in Georgia; one Georgia Department of Agriculture food safety officer; and one related business owner such as a restauranteur."