On May 1, 1707, the Act of Union with England, passed by the Scottish Parliament brought together England and Scotland and made the Union Jack the official flag of Great Britain.
The Second Confederate National Flag was adopted on May 1, 1863.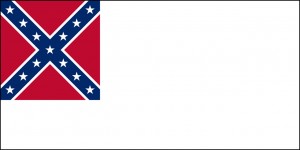 On May 1, 1886, Jefferson Davis visited the Benjamin Hill monument at Peachtree and West Peachtree Streets in Atlanta, having arrived the previous day.
On May 1, 1971, "Joy to the World," by Three Dog Night was the #1 song in the nation.
Kennesaw, Georgia City Council adopted an ordinance on May 1, 1982 requiring each household to own a gun and ammunition.
(a) In order to provide for the emergency management of the city, and further in order to provide for and protect the safety, security and general welfare of the city and its inhabitants, every head of household residing in the city limits is required to maintain a firearm, together with ammunition therefore.

(b) Exempt from the effect of this section are those heads of households who suffer a physical or mental disability which would prohibit them from using such a firearm. Further exempt from the effect of this section are those heads of households who are paupers or who conscientiously oppose maintaining firearms as a result of beliefs or religious doctrine, or persons convicted of a felony.
On May 1, 1991, Rickey Henderson broke the major league baseball stolen base record on the same day that Nolan Ryan, the greatest pitcher in the history of baseball, recorded his seventh no-hitter.
The official state tartan of Georgia was designated on May 1, 1997.
Georgia Politics, Campaigns, and Elections
Carolyn Meadows of Georgia was elected President of the National Rifle Association, beating incumbent Oliver North, according to Breitbart.
The National Rifle Association board of directors re-elected CEO Wayne LaPierre in Indianapolis on Monday. The NRA board also elected Carolyn Meadows as the new president of the powerhouse organization and granted outgoing president Lt. Col. Oliver North a lifetime seat on the NRA's executive council.

The board elected Meadows as president, only the third woman ever to hold that position. She has served on the NRA board of directors since 2003, and has been second vice president since 2017. As such, it was expected that the board of directors would eventually elect her to the president's chair.

Meadows is a longtime political veteran, not only on Second Amendment issues but of other conservative issues as well. For years she was the national committeewoman representing Georgia on the Republican National Committee, and has been in leadership at the American Conservative Union (ACU) and its movement-wide flagship annual event, the Conservative Political Action Conference (CPAC).

NRA officers serve one-year terms, and the remaining officers were all reaffirmed. The board of directors will vote again on the organization's leadership after its 2020 annual meeting, which will be held in Nashville.
The new president of the National Rifle Association is a lifelong East Cobb resident who lives in metro Atlanta's 6th congressional district which has already been declared a battleground 2020 election. Carolyn Dodgen Meadows was elected during the NRA's recent national convention in Indianapolis, Indiana, and in a recent interview, she said whoever eventually becomes the Republican nominee against McBath will get the NRA's endorsement.

Meadows has worked on dozens of county, state and national political campaigns, including campaigns for Ronald Reagan, George H.W. Bush and Bob Dole. She was an RNC national committeewoman from Georgia and served as a delegate for many years.

She has also been active in the American Conservative Union and served as chair of the Stone Mountain Memorial Association Board.
Carolyn Meadows, newly elected as president of the National Rifle Association, promises to bring the group's resources to bear when U.S. Rep. Lucy McBath is up for reelection.

She lives in the 6th Congressional District, where Democrat McBath campaigned, drew national attention and won in part on her gun control stances last year.

"Whoever (runs against McBath) will get an endorsement from the NRA," Meadows said shortly after arriving home from the raucous NRA convention in Indianapolis.

Meadows, 80, is no stranger to political or fratricidal strife. She is a pioneer in Georgia Republican politics. She campaigned door-to-door for Republican Bo Callaway as governor in 1966, when Georgia was deep blue. She ended up on the winning side of Cobb County Republican politics in 1988, when a subset of conservative Christians with eyes on Pat Robertson as a presidential candidate managed to corral power for a while.

She has served as a Georgia representative on the Republican National Committee, helped organize the 1999 state presidential campaign for Steve Forbes, and supported Casey Cagle for governor in 2018, bringing with her an NRA endorsement.

"She has shattered a lot of glass ceilings throughout her time," Cagle said. "She is a testament to what hard work can do for you, and she never shied away from that. Or from her convictions."
Former Columbus Mayor Teresa Tomlinson will run as a Democrat for the United States Senate, according to the Ledger-Enquirer.
Tomlinson made the formal announcement Wednesday on Facebook — one day after fellow Georgia Democrat Stacey Abrams said she would not enter the race against incumbent Republican senator David Perdue.

"I'm running for U.S. Senate in 2020 because I have spent my life ensuring that government makes a positive difference in yours," Tomlinson said in the Facebook video.
State Rep. Brenda Lopez Romero (D-Norcross) has declared herself a candidate for the 7th Congressional District seat being vacated by Republican Rob Woodall, according to the AJC.
In an interview, the Gwinnett Democrat said she would focus her campaign for one of the nation's most competitive U.S. House seats on improving workforce development and easing student debt while trying to avoid more "Washington dysfunction."

Lopez Romero said she planned to emerge from the crowded field by recruiting more first-time voters who often skip primaries. The district, which spans parts of Gwinnett and Forsyth counties, is home to one of the nation's more diverse electorates.

"The district should have already flipped – it's trended Democratic for years," said Lopez Romero. "We didn't do well in 2018 to reach out to those potential first-time voters. We need Democrats that have been disenchanted or haven't been reached, and if we do we can flip the 7th."

Lopez Romero, an attorney who was born in Mexico, defeated a well-connected party activist in 2016 to become the first Latina elected to the state Legislature. She emerged as a party go-to on immigration and voting rights issues, and a staunch opponent of GOP-backed restrictions on abortions and expansion of gun rights.
Georgia Attorney General Chris Carr will investigate allegations of the Roman Catholic church covering up child abuse allegations, according to the Savannah Morning News.
Georgia's attorney general Tuesday has followed more than a dozen state prosecutors by reportedly opening a probe into sex abuse claims against the Catholic Church – this time in a region whose leader heads in a few weeks to take over the scandal-ridden Archdiocese of Washington.

The Atlanta Journal-Constitution and Channel 2 Action News in Atlanta reported that Attorney General Chris Carr and others have been working on the case since summer, and the investigation itself is just starting, the outlets reported.

Carr told Channnel 2 that his office has been in "open dialogue" with the church and that Atlanta Archbishop Wilton D. Gregory encouraged them to do the investigation. Georgia has a second Catholic diocese, based in Savannah, which is also included in the probe.

Carr told the Atlanta media that the investigation will be handled by Georgia's Prosecuting Attorneys' Council. If any prosecutions come out of the investigation, the Atlanta Journal-Constitution reported, they'll be handled on a local level, he said.

"I heard from those that I go to church with every Sunday," Carr, who is Catholic, told the Journal-Constitution and Channel 2. "And I saw the level of anger and frustration and distrust. Both on a personal and professional level, this was important to me. I think it's important that we hold accountable those that have done wrong but also lift the cloud of suspicion from those that may not have."
Senate Bill 15 by State Senator John Albers (R-Roswell) is under fire from activists asking the Governor to veto the legislation, according to the Valdosta Daily Times.
The critics, who delivered a petition to the governor's office, said the bill's vague language requiring schools to report suspicious incidents to authorities could lead to racial profiling and overpolicing.

"This bill will take something as simple as a schoolyard fight and turn it into, potentially, a criminal record," said Democratic Rep. Renitta Shannon of Decatur. Shannon said it would be better to focus on common-sense gun control and add more counselors in schools.

Bill sponsor Sen. John Albers, a Republican from Roswell, responded in an emailed statement Tuesday that the bill only requires reporting "a reasonable suspicion of violent criminal activity." He emphasized the word "reasonable." Albers had previously said the goal of the legislation is to identify problems before they happen. Albers said he spoke about the bill with parents from Parkland, Florida, where 17 high school students and staff were killed by a gunman in February 2018.

The bill would also require that public schools in Georgia receive a threat assessment every four years and conduct regular violence- and terrorism-response drills. It would create the position of "school safety coach" and a smartphone app that students and others could use to report suspicious activity.
From a separate story in the Valdosta Daily Times:
The bill allows students and others to anonymously report "suspicious, unsafe or unlawful activity" through an app maintained by the state's counterterrorism agency. And it tasks principals, or their designees, with reporting suspected criminal activity – particularly any potentially violent act – to local law enforcement.

"We do recognize that there are opportunities where we don't want to get law enforcement involved in our children's lives too early," Rep. Trey Kelley, a Republican from Cedartown who serves as the majority whip, said of a last-minute change that attempted to narrow the scope of what principals are to report.

"But when there's a reasonable suspicion of violent criminal activity, we owe that responsibility to our children and our teachers to address it," Kelley said.

The anonymous tips would be made through an app overseen by the Georgia Information Sharing and Analysis Center, the state's post-9/11 agency that gathers counterterrorism and criminal intelligence information.

The bill also requires schools to hold mass casualty drills – with or without students present – and undergo regular reviews to pinpoint security vulnerabilities.
Prospective medical cannabis users face uncertainty in supplies of the medicine, according to the Macon Telegraph.
The in-state production and selling of low THC oil was legalized by Gov. Brian Kemp when he signed Georgia's Hope Act into law on April 17. But there are factors at play beyond just the simple limitations of plant growth, harvesting and production.

Georgia medical marijuana advocates think it will be one to two years before the first batch of state-sanctioned THC oil is ready for patients. That means many patients who need the oil now still don't have a legal way to get it in Georgia.

The new law leaves most of the state's medical marijuana program in the hands of the Georgia Access to Medical Cannabis Commission, an appointed board with broad powers that include issuing licenses to producers and establishing quality control requirements.

Members have not yet been appointed, and the commission must be formed before growing can begin, said state Rep. Micah Gravley, one of the sponsors of the act.
Gwinnett County Sheriff Butch Conway will continue participating in the federal 287(g) immigration program, according to the AJC.
Over the past decade, Conway's deputies working in the Gwinnett County jail have questioned more than 52,000 arrestees about their immigration status. Nearly 15,000 of those questioned have been handed over to federal immigration authorities as part of the controversial program.

"It has saved people," the sheriff said in a recent interview with The Atlanta Journal-Constitution. "I certainly think there have been fewer child molestations, rapes, murders, robberies."

Conway says he'll renew his agency's participation in 287(g) when the three-year term of the current agreement with the federal government expires in June. And while such renewals have garnered little attention since Gwinnett joined the program in 2009, a growing protest movement is already forming to oppose the sheriff and Gwinnett's continued participation in 287(g) — with an eye toward making the program a central issue in the 2020 election season.

Two Democrats have announced their intentions to run to replace Conway as sheriff of the state's second most populous county, a quarter of whose 927,000 residents are foreign-born. Both challengers have said they oppose the program.
An Augusta Commission committee approved an additional $100,000 dollars to fight U.S. Army Corps of Engineers plans to lower the level of the Savannah River, according to the Augusta Chronicle.
Augusta leaders could be getting more ammunition in the fight to save New Savannah Bluff Lock and Dam after an Augusta Commission committee on Tuesday approved $100,000 more for experts. Some Augusta residents also said Augusta Mayor Hardie Davis' taxpayer-funded vehicle needs to keep a city decal on it.

The Augusta Commission held a required public hearing needed before the decals could come off, as Davis has requested out of concern for his safety. Arlene White said Davis can choose what he wants on his city vehicle "as long as he pays for (the vehicle) himself" which elicited laughs and cheers from the audience. There was no action after the short hearing and the commission would have to give its approval for the decals to come off, Commissioner Sammie Sias said.

Augusta Utilities Director Tom Wiedmeier had requested the additional money in part because the two expert firms hired by the city, Merrick & Co. and Cranston Engineering Group, had already exceeded the $45,000 Augusta and North Augusta allocated for them by more than $36,000 in the furious run-up to get the cities' lengthy comment about its objections to a plan proposed by the U.S. Army Corps of Engineers by the deadline.
Lyle Grant was placed on paid leave as Varnell Police Chief after the District Attorney referred allegations to a grand jury, according to the Dalton Daily Citizen.
Varnell Police Chief Lyle Grant was placed on paid administrative leave on Tuesday after District Attorney Bert Poston said a Whitfield County grand jury will hear evidence from the Georgia Bureau of Investigation on May 30 concerning Grant's providing a county-owned, encrypted radio to a Dalton wrecker service.

Mayor Tom Dickson said Grant is on leave pending a decision by the grand jury. Lt. Greg Fowler will serve as interim chief.

The Whitfield County Sheriff's Office referred the matter to the GBI in March after Grant gave the radio to Bob Cummings, owner of Bob's Wrecker Service in Dalton. The sheriff's office said in a statement at the time, "It was determined shortly after starting the investigation that criminal charges could arise from this incident, therefore the case was turned over to the GBI to investigate."

"Until the district attorney actually had done something, there had been nothing to say Chief Grant had done something wrong," Dickson said. "I think what he did was probably not the right thing to do, but did it go to the level of being criminal? The sheriff's office had made some allegations, but allegations are not charges. The District Attorney's Office saying they would present this indictment gives it a little more weight. Pending the outcome of that, we will decide what to do moving forward."
The Brunswick and Glynn County Development Authority hired Vanessa Wagner as their new director of business development, according to The Brunswick News.
Wagner has more than 10 years of marketing, sales and business development experience in public and private sector industries. She most recently worked in the Washington D.C. metro area, where she served as the small business and entrepreneurship manager for the Loudoun County Economic Development Authority, the No. 1 county in Virginia for business growth from 2016 through 2018.

"I am excited to bring the skills and experience I have gained in my past economic development and other marketing roles to support the long-term vision for Brunswick and Glynn County," she said. "During my visit to the area I was impressed with the infrastructure and existing resources for the business community. I can't wait to help tell Brunswick and Glynn County's story to help attract new opportunity."
The Glynn County Commission discussed spending SPLOST (Special Purpose Local Option Sales Tax) funds for a new animal control center, according to The Brunswick News.
n SPLOST 2016, the commission set aside $1.5 million for a new animal control facility. After paying an architect — Ussery Rule Architects — to design a new shelter, $1.33 million is left. The architect's design is estimated to cost $2-2.5 million, depending on how much fat is shaved off.

Building the proposed shelter out as designed would cost an estimated $2.5 million. By changing some construction materials and building half of the dog kennels, the cost could be reduced to $2 million.

[Commissioner Allen] Booker suggested paying for the money out of the county's pocket and reimbursing itself with SPLOST 2020 revenue.

The county could do that, or could issue bonds to cover the cost and use SPLOST revenue to pay off the bonds, Mumford said.

Ultimately, the commission decided to hold off on making a formal decision to give [County Attorney Aaron] Mumford time to prepare a list of funding options.
The Rome city school board will discuss transportation at a retreat, according to the Rome News-Tribune.
Hall County's burn ban begins May 1, according to the Gainesville Times.