Button Gwinnett, one of Georgia's signers of the Declaration of Independence, was born on April 10, 1735 in Gloucester, England, though some authorities say it was his baptism that was recorded that day. Gwinnett also served in the Georgia legislature, where he wrote the first draft of the state Constitution and served as Speaker.
On April 11, 1768, Benjamin Franklin was named Georgia's agent "to represent, solicit, and transact the affairs of this province in Great Britain." Arguably, this makes Benjamin Franklin the first American lobbyist. This is what his lobbyist badge looked like: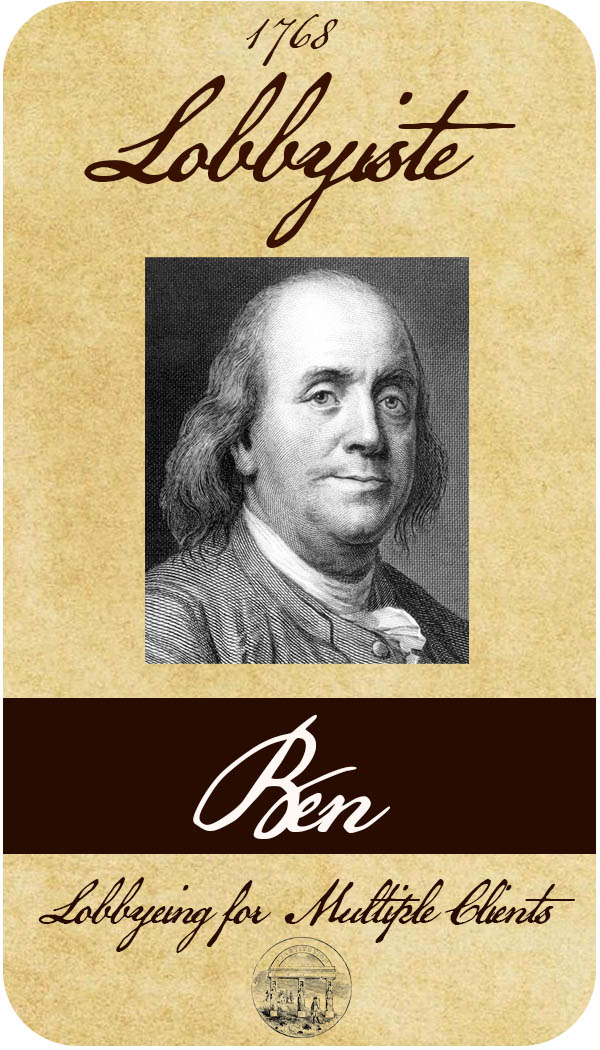 Napoleon Bonaparte, Emperor of France, was exiled to Elba Island in the Mediterranean, on April 11, 1814
On April 11, 1853, John Archibald Campbell was appointed Justice of the United States Supreme Court by President Franklin Pierce. After graduating from the University of Georgia at 14, he attended West Point, where his fellow cadets included Jefferson Davis and Robert E. Lee. After the beginning of the Civil War, Campbell resigned from the Court and was appointed Assistant Secretary of War for the Confederacy by Confederate President Jefferson Davis.
Confederate troops surrendered Fort Pulaski, on Cockspur Island off Savannah, on April 11, 1862. Part of the construction of Fort Pulaski was overseen by a young Second Lieutenant in the United States Army named Robert E. Lee.
General Robert E. Lee gave his last address to the Army of Northern Virginia on April 10, 1865.
The American Society for the Prevention of Cruelty to Animals was founded on April 10, 1866.
The American Third Army liberated Buchenwald concentration camp in Germany on April 11, 1945. Among the survivors of Buchenwald was Elie Wiesel; in 1986, Wiesel won the Nobel Peace Prize.
On April 10, 1947, Jackie Robinson became the first African-American professional major league baseball player when the Brooklyn Dodgers bought his contract.
Apollo 13 was launched on April 11, 1970.
The craft was launched on April 11, 1970, at 13:13 CST from the Kennedy Space Center, Florida, but the lunar landing was aborted after an oxygen tank exploded two days later, crippling the Service Module (SM) upon which the Command Module (CM) depended. Despite great hardship caused by limited power, loss of cabin heat, shortage of potable water, and the critical need tojury-rig the carbon dioxide removal system, the crew returned safely to Earth on April 17.
On April 11, 1977, President Jimmy Carter hosted the Easter Egg Roll on the lawn of the White House. In the finest tradition of Georgia Democrats, Carter added a circus to the event.
Winners of the Masters Tournament on April 10 include Sam Snead (1949), Gary Player (1961), Tom Watson (1977) and Tiger Woods (4th – 2005). Congratulations to the following winners of the Masters Tournament who donned the green jacket on April 11: Seve Ballesteros (2d – 1983), Jack Nicklaus (2d in 1965; 3d in 1966), Ray Floyd (1976), Nick Faldo (1996), Jose Maria Olazabal (2d – 1999), Phil Mickelson (1st -2004; 3d – 2010), and Claude Harmon (1948), the first Georgian to win the Masters.
Georgia Politics, Campaigns, and Elections
Republican Chris Erwin won the latest round in the never-ending Primary Election for House District 28 by a 75.48% to 24.52% margin.
Governor Brian Kemp and Agriculture Commissioner Gary Black spoke about federal aid in the wake of Hurricane Michael, according to the Valdosta Daily Times.
"The simplest, easiest thing is for Congress to pass the disaster bill," Kemp told reporters at a Wednesday press conference at the state Capitol. "We have done this in the past. We have done this for Puerto Rico.

"I know in southwest Georgia, these people feel like, 'We are out of sight. We're out of mind. People could care less about us.' And that is not right. That is absolutely not right."

It has been six months since Hurricane Michael entered the southwest corner of the state as a Category 3 storm, inflicting about $2.5 billion in damages to the agricultural industry.

A disaster relief bill that would have delivered about $13.5 billion in aid to several states, including Georgia, failed in the U.S. Senate earlier this month.

"I'm asking for action from Congress, and there's plenty on both sides that need to come to the table to help," Black said.

A state loan program has likely helped dozens of farmers at least plant again this year, Black said. Lawmakers have approved $75 million for the program, with 274 farmers receiving loans.

"We cannot continue to wait," Kemp said. "We already have generational losses, but we're going to run the risk of just this whole industry for some families just completely going away."
Governor Kemp spoke at the annual meeting of the Chatsworth-Eton-Murray County Chamber of Commerce, according to the Dalton Daily Citizen.
Gov. Brian Kemp said Wednesday that the state's 2020 budget contains a "healthy down payment" on his promise of a $5,000 raise for the state's public school teachers.

That budget includes a $3,000 raise for teachers and other certified school employees starting July 1.

State Rep. Rick Jasperse, R-Jasper, said after the meeting that the teacher pay raise shows how much the governor and lawmakers value the work teachers do, and he said it will have a particularly big economic impact on rural counties.

"In all but our largest counties, the school system is the largest employer, so this is going to give those communities a big shot in the arm," said Jasperse, who represents parts of Murray, Gordon and Pickens counties.

Kemp gained a big round of applause when he noted that lawmakers passed the LIFE (Living Infants Fairness and Equality) Act, which he said will "protect the innocent unborn." That bill will ban most abortions when a fetal heartbeat can be detected, which is at about six weeks. Kemp is expected to sign the bill.

But while Kemp said he is proud of what he and the General Assembly have done, he said he is frustrated that Congress has failed to pass a disaster relief bill that would help Georgia farmers hurt by Hurricane Michael, victims of last year's wildfires in California and those harmed by recent flooding in the Midwest. Democrats in the U.S. Senate blocked a relief bill earlier this month, saying it didn't do enough to help Puerto Rico. Puerto Rico was hit by Hurricane Maria in September of 2017.

"That makes it even more frustrating," Kemp said. "They (Puerto Rico) have gotten tens and tens of billions of dollars already. I think everybody supports doing more for them. I think they need it. But it shouldn't hold up what we are trying to do for our farmers. It's just ridiculous."
Republicans claim Congresswoman Lucy McBath (D-6) signed for a package at an address in Tennessee, alleging she is not a Georgia resident, according to FoxNews.
Georgia Democratic Rep. Lucy McBath was the target of some creative trolling by the Republican Party over her widely disputed claim that she actually lives in Georgia, after receiving and signing for a gift basket the GOP sent to her address – in Tennessee.

The state's Cobb County Tax Commissioner's Office, which refrained from issuing a decision during the election due to appeals, confirmed last month that McBath didn't meet the requirements to call her Cobb County home her primary residence for the three tax years leading up to the election, meaning she was a Tennessee resident when she was elected to Congress.

To point out McBath's deep Tennessean roots, the National Republican Congressional Committee sent a goody bag containing coffee infused with Jack Daniel's Tennessee Whiskey, Memphis-style BBQ sauce and a hat of the Tennessee Volunteers to her Rockford, Tenn., home

The lawmaker accepted the gift on Friday at 10:45 a.m. and signed for it as "LMCBATH". Fox News obtained a copy of the signature.
McBath claims it was her mother who signed for the package.
The Coalition for Good Governance has filed suit aiming to stop implementation of Georgia's new voting system, according to the Gainesville Times.
A law signed last week by Gov. Brian Kemp provides specifications for a new voting system. Bids are due later this month, and state officials say they plan to implement the new system in time for next year's presidential election.

Lawyers for the Coalition for Good Governance and for a group of voters, who had filed a lawsuit challenging Georgia's election system, told U.S. District Judge Amy Totenberg they plan to ask her initially to stop the state from using the current machines for special and municipal elections scheduled this year. Ultimately, they said, they want her to prohibit the state from using the current paperless machines, as well as the ballot-marking machines provided for in the new law.

The new law calls for voters to make their selections on electronic machines that print out paper ballots that are read and tallied by scanners.

The 2020 state budget awaiting Kemp's signature includes $150 million in bond funding that's intended to cover the initial purchase of the machines as well as rollout and training.

Coalition for Good Governance lawyer Bruce Brown argued Tuesday that any system that puts a computer between the voter and the permanent record of the vote can't be effectively audited and is unconstitutional.
Members of Congress from Georgia and South Carolina took the U.S. Army Corps of Engineers to task over plans for the Savannah River, according to the Augusta Chronicle.
Both U.S. Senate delegations – Sen. Johnny Isakson, R-Ga., Sen. David Perdue, R-Ga., Sen. Lindsey Graham, R-S.C. and Sen. Tim Scott, R-S.C. – as well as U.S Rep. Rick Allen, R-Ga., and U.S. Rep. Joe Wilson, R-S.C., signed a joint letter to the Corps' leadership in Washington, D.C. expressing concern about the plan and its impact on the Savannah.

In particular, they cited conditions seen in a simulation in February of what the river would look like under the recommendation of the Corps' Savannah District to built a rock weir fish passage and remove New Savannah Bluff Lock and Dam. They note that the simulation was halted early due to damage to a seawall at Goodale Landing from riverbank instability from the decreased pool.

"In addition, the simulation resulted in numerous docks becoming useless for recreational activities while they sat in the mud given the reduced pool level" they wrote. "Clearly these results do not reflect the intent of Congress."
Savannah City Manager Rob Hernandez will leave to take a job in Fort Lauderdale, according to the Savannah Morning News.
Coweta County Public Schools renewed the contract of Dr. Steve Barker as Superintendent for four more years, according to the Newnan Times-Herald.
Newnan City Council adopted an ordinance for film and video production in downtown, according to the Newnan Times-Herald.
During Tuesday's City Council meeting, members unanimously approved the policy aimed at managing the review and approval of filming projects within the city limits.

Instead of requiring all applicants to appear before the city council, they can now seek approval directly from the city manager's office for projects that would require the full closure of public streets and sidewalks for up to three days, and the use of intermittent traffic control for up to seven days.

Applicants who do not receive approval from the city manager's office will have the ability to appeal before the council.