On April 6, 1776, the Continental Congress announced that all ports in America would be open to trade with other countries not ruled by the British. The action was taken several months after Britain passed the American Prohibitory Act which forbade trade with the colonies and was intended to punish colonists for the growing rebellion.
President George Washington exercised the veto power for the first time on April 5, 1792.
The bill introduced a new plan for dividing seats in the House of Representatives that would have increased the amount of seats for northern states. After consulting with his politically divided and contentious cabinet, Washington, who came from the southern state of Virginia, ultimately decided that the plan was unconstitutional because, in providing for additional representatives for some states, it would have introduced a number of representatives higher than that proscribed by the Constitution.
On April 7, 1776, the United States warship Lexington captured a British warship, HMS Edward, for the first time.
On April 7, 1798, President John Adams signed legislation authorizing negotiations between three representatives of Georgia and three Presidential appointees over Georgia's claim to land west of what is now the Georgia-Alabama state lines. Georgia would continue to claim most of what is currently Alabama and Mississippi until 1802.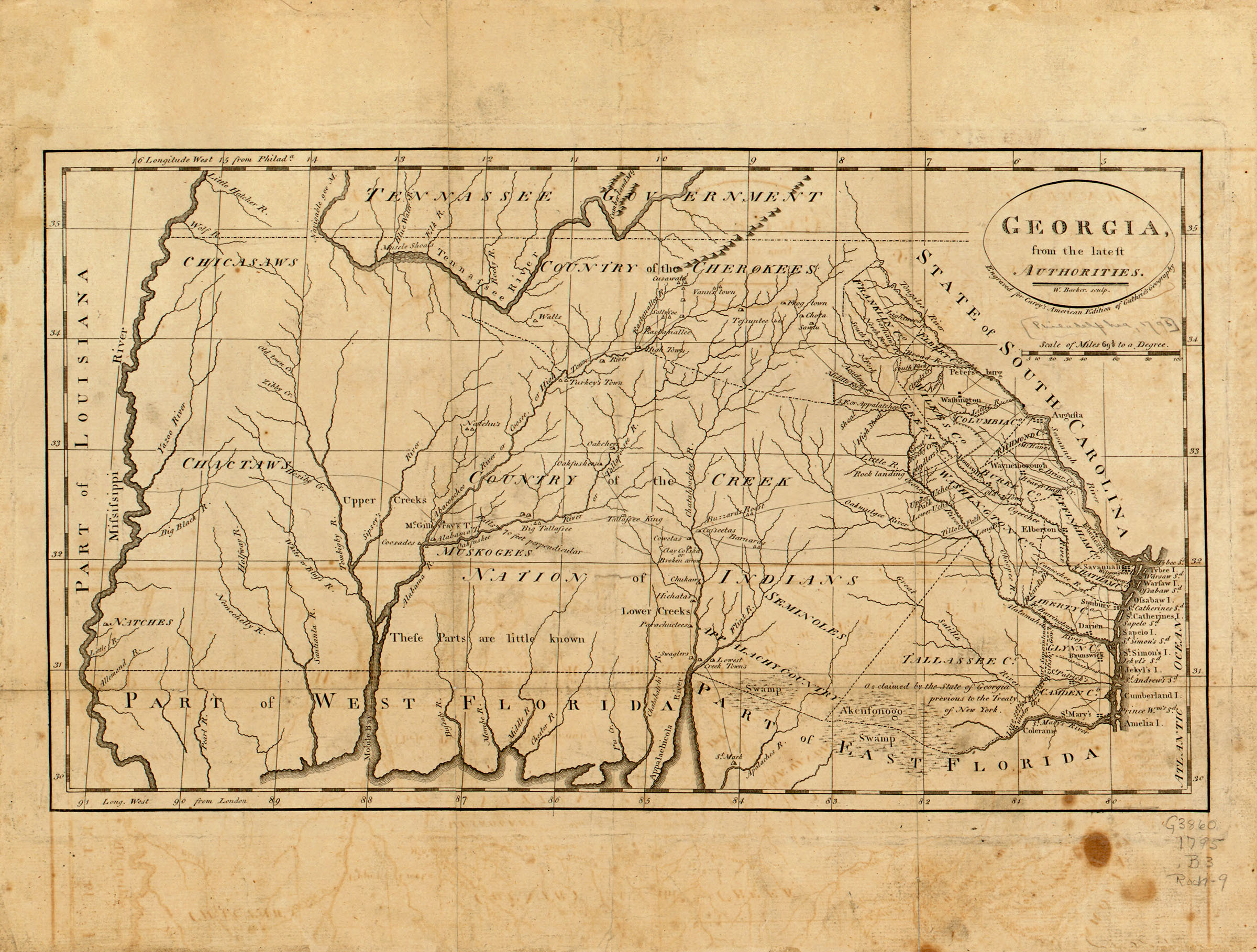 Above: a 1795 map showing Georgia extending west to Louisiana. "These Parts are little known."
John Tyler was sworn in as the tenth President of the United States on April 6, 1841.
Tyler was elected as William Harrison's vice president earlier in 1841 and was suddenly thrust into the role of president when Harrison died one month into office. He was the first vice president to immediately assume the role of president after a sitting president's untimely exit and set the precedent for succession thereafter.
The first modern Olympic Games opened in Athens, Greece on April 6, 1896.
The United States entered World War I on April 6, 1917, when the US House of Representatives voted 373-50 on a declaration of war that passed the Senate two days earlier.
The Brown Thrasher was first recognized as the official state bird of Georgia on April 5, 1935 through an Executive Order signed by Governor Eugene Talmadge. Later the designation of official state symbols through executive fiat was challenged and the General Assembly would recognize the Brown Thrasher again as official state bird in 1970.
On April 5, 1962, Governor Ernest Vandiver called a Special Session of the Georgia General Assembly to revise the state's election code following a decision by the United States Supreme Court in the case of Baker v. Carr.
On April 5, 1968, amid racial tension following the assassination of Martin Luther King, Jr., musician James Brown helped keep the peace in Boston.
2001: A Space Odyssey was released on April 6, 1968.
On April 5, 1977, Wyche Fowler won a runoff election over John Lewis for the Fifth Congressional District, following the appointment of Andrew Young as Ambassador to the United Nations. Fowler would win election to the United States Senate in 1986, and ironically, lose his seat in a 1992 runoff election to the late Paul Coverdell.
On April 5, 1980, the band that would come to be known as R.E.M. played their first show as Twisted Kites in Athens, Georgia.
On April 7, 1995, Governor Zell Miller signed legislation recognizing the peach as the official state fruit of Georgia.
Georgia Politics, Campaigns, and Elections
Early voting begins Monday, April 8, 2019 in the runoff election for Atlanta City Council District 3, according to Under the Georgia Sun.
Next week Fulton County voters can cast their ballots early for the City of Atlanta Council District 3 Special Election Runoff at the Fulton County Government Center, at 130 Peachtree Street, SW, Atlanta 30303.

The one polling location will be open from 8:30 a.m. to 6 p.m. starting Monday, April 8 and continuing through Friday April 12.
President Donald Trump will appoint Herman Cain to the Board of Governors of the Federal Reserve, according to the Associated Press.
"I've told my folks that's the man," Trump told reporters in the Oval Office, saying that Cain is currently going through background checks prior to a formal nomination.

"He's a very terrific man, a terrific person. He's a friend of mine," Trump said. "I have recommended him highly for the Fed."

The choice of Cain would mark the second Trump nomination that would elevate a conservative Trump ally to the Fed's main policy-making body, a panel that the president has been highly critical of in recent months.
Former Columbus Mayor Teresa Tomlinson filed to run for United States Senate, according to the Ledger-Enquirer.
Former Columbus Mayor Teresa Tomlinson is planning to take the first official steps today toward challenging Republican U.S. Senator David Perdue in the 2020 election, according to an exclusive interview Thursday with the Columbus Ledger-Enquirer.

"We'll be taking this time, of course, to talk with people, citizens. I'll also be talking with donors, setting up our team and laying a strong foundation for a successful candidacy, should Stacey Abrams, who, of course, is also looking at this seat, not run."

Will your plans change if Abrams enters the race?

"Well, we're still in the exploratory committee, obviously. That's what we're attempting to all coordinate through staying in touch, is making sure that everyone's interest is being served. The major objective, of course, is getting the best representation for the state of Georgia that we possibly can in the U.S. Senate, and certainly the Democratic Senatorial Campaign Committee wants to make sure that they have a strong Democratic candidate in that race. And so we're trying to allow Stacey to finish her book tour, which is very exciting. We're very proud of what she's doing. It's a strong Georgia voice on a national stage, and at the same time, make sure we've laid that groundwork that's so necessary to have a successful campaign."

So you can't say that you would drop out, if she got in?

"Well, I think if she got in, she's clearly the Democratic Party's selected candidate for this particular race. It's been offered to her by the minority leader, very publicly. I'm not saying anything that hasn't been in the press and that they themselves have not stated publicly. That position's been offered to her, should she want it. And you know, Stacey Abrams and I have been in the trenches of Democratic politics in the state of Georgia for a very long time, and we're excited about the fact that finally all this hard work is paying off. It is a two-party state, and we are well poised to have a Democratic senator in the United States Senate from Georgia. So we want to make sure that we're not working against each other, or that our efforts are not colliding in that shared objective.
Democrat Carolyn Bourdeaux says she has raised more than $350,000 toward her next bid for the Seventh Congressional District, according to The Hill.
By comparison, Bordeaux raised $219,545 in the first quarter of 2018, a midterm election year.

Bourdeaux's campaign said that the first-quarter total came from more than 1,000 individual contributions and brings her total cash on hand to nearly $400,000. Bourdeaux started the quarter with just under $142,000 in her campaign account.

"I'm incredibly grateful to our supporters who have put us in a strong position as we kick off this campaign," Bourdeaux said in a statement.

"Together, we're sending a strong message that we are tired of partisan divisions and gridlock holding us back, and we're ready to forge a new path forward to get things done for our communities. We have a long way to go, but this is the start of a movement to finish the job."

John Eaves, a former Fulton County Commission chairman, filed paperwork last month with the Federal Election Commission declaring his candidacy. And two others, attorney Marqus Coles and activist Nabilah Islam, have also announced campaigns for the Democratic nomination in the district.

Candidates have until April 15 to file their first-quarter fundraising reports with the FEC. But campaigns can choose to put out their fundraising totals themselves.
Bourdeaux outpaced primary challenger Nabilah Islam, who raised more than $100,000 from more than 500 individual contributions since announcing her campaign in late February, according to her campaign.

Fellow Democratic candidate Marqus Cole hadn't disclosed his first-quarter fundraising figures as of Wednesday. Candidates are required to file first-quarter fundraising reports to the Federal Election Commission by April 15.

The race figures to attract national attention in 2020 after Bourdeaux's near-miss attempt last November. In her first run for office, the Georgia State University professor came 419 votes shy of defeating Woodall, who has held the seat since 2011. The razor-thin margin allowed Bourdeaux to seek a recount under Georgia law, which she eventually lost.

To Democrats, it was a sign that the traditionally-conservative district formed by the majority of Forsyth and Gwinnett counties is part of a recent demographic shift observed in other metro Atlanta suburbs. They hope to follow the 6th District, another longtime Republican stronghold that saw political newcomer Lucy MacBath defeat incumbent Karen Handel in 2018 as part of the Democratic takeover of the House of Representatives.

Democrats are eager for the 2020 rematch, particularly after Woodall announced on Feb. 7 that he would not seek re-election. Within minutes, Bourdeaux she would run again.
The Washington Times has a collection of twelve times Stacey Abrams complained about the 2018 Georgia election results.
The Port of Savannah notched more records in March, according to the Savannah Morning News.
Rail and containerized cargo volumes continue to grow at the Port of Savannah with records set in March, both in time and quantity.

"I would like to thank our employees at GPA, the stevedores and the International Longshoremen's Association for helping to make this accomplishment possible," said Griff Lynch, GPA's executive director. "To have handled this level of intermodal volume, while reducing the time it takes for a container to move between rail and vessel operations, is a big win for our customers. We are just beginning to see this port's capabilities."

The port handled more than 410,000 20-foot container units, or TEUs in March. That is an increase of 15.5 percent, according to the GPA.

Rail volumes jumped by 26 percent, for a total of 82,135 TEUs.
Federal Law Enforcement Training Center Director Thomas Walters discussed the center's economic impact on Glynn County, according to The Brunswick News.
Established in Brunswick in 1975, the center's staff of more than 2,400 employees trains anywhere from 2,000 to 3,000 students every day, with more than 35,000 graduates expected over the next five years.

An estimated $11 million in small business contracts are awarded each year, supporting the local economy even more.

The center has housing but an estimated 800 trainees stay in local motels and hotels at any given time, generating lots of business for local merchants. Tourist season can be problematic, with some trainees having to stay in rooms as far as Savannah and Jacksonville, he said.
Rome City Commissioners discussed attracting development at a retreat, according to the Rome News Tribune.