The British ship Mayflower landed at what is now Plymouth, Massachusetts on December 18, 1620.
Charles Wesley, brother of John Wesley who founded Methodism, and one of the great hymn-writers, was born on December 18, 1707. Wesley accompanied James Oglethorpe to Georgia in 1736.
France formally recognized the United States as an independent nation on December 17, 1777.
The first national day of thanksgiving was observed on December 18, 1777 commemorating the American victory over the British at Saratoga the previous month.
Congress wrote, "It is therefore recommended to the Legislative or executive Powers of these UNITED STATES, to set apart THURSDAY, the eighteenth Day of December next, for solemn THANKSGIVING and PRAISE; That at one Time and with one Voice the good People may express the grateful Feelings of their Hearts, and consecrate themselves to the Service of their Divine Benefactor".
On December 18, 1834, Governor William Lumpkin signed legislation chartering the Georgia Methodists Conference Manual Labor School at Oxford, Georgia, which would later become Emory College in 1836 and Emory University in 1915.
General Ulysses S. Grant expelled all Jews from his military district, which covered parts of Tennessee, Mississippi, and Kentucky on December 17, 1862. President Lincoln ordered Grant to rescind the order.
On December 18, 1865, U.S. Secretary of State William Seward issued a statement verifying the 13th Amendment to the Constitution, which outlawed slavery in the United States.
The office of Superintendent of Public Education and Georgia Schools was created on December 18, 1866 when Gov. Charles Jenkins signed legislation passed by the General Assembly; on December 18, 1894, Gov. William Atkinson approved a resolution for a Constitutional Amendment to make the State School Commissioner elected statewide.
President William McKinley visited Savannah, Georgia on December 17, 1898. While there, McKinley attended church at Wesley Monumental Methodist Church and visited Georgia Agricultural and Medical College (now Savannah State University) and the Seventh Army.
On December 17, 1902, legislation changed Georgia's state flag changed to include the coat of arms on the blue band.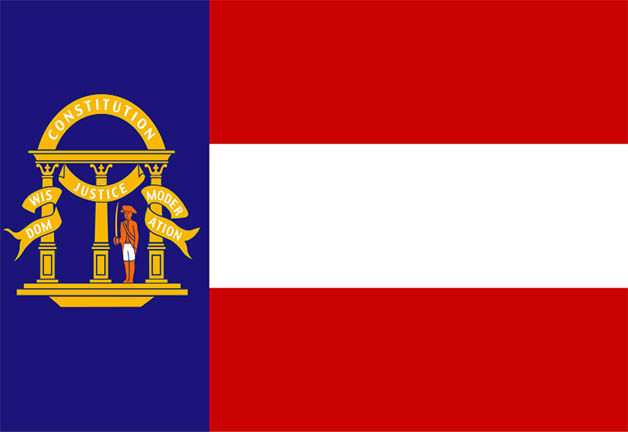 On December 17, 1944, Major General Henry C. Pratt ordered the end of the imprisonment of American citizens of Japanese descent in prison camps.
WTBS began broadcasting under new call letters on December 17, 1976 and uplinked its programming to satellite to become "America's Super Station."
Georgia Politics, Campaigns, and Elections
Voters in parts of Floyd and Bartow Counties go to the polls today in a Special Election for the State House district formerly held by Christian Coomer, according to the Rome News-Digest.
A week of early voting ended Friday, netting a total of just 696 mailed and in-person ballots. That included 609 from Bartow, where the majority of the district lies, and 87 from Floyd, according to a secretary of state data report.

In comparison, there were a total of 18,677 votes cast in the 2016 election for the seat: 13,166 in Bartow and 5,511 in Floyd.

Tuesday's election is billed as a Republican primary special election, although Georgia voters don't register by party so anyone in the district registered by Nov. 27 is eligible to vote in the race.

Robert Brady, Floyd County's chief elections clerk, said the purpose is to replace Christian Coomer, who was unopposed for re-election but withdrew for a seat on the Georgia Court of Appeals.

"The winner of the Republican primary did not make it to the general election, so a special election is needed to determine a candidate," Brady explained.
The RN-T also has Q&A with the candidates – Ken Coomer, Nickie Leighly, Mitchell Scoggins and Nathan Wilson.
State Representative Dan Gasaway (R-Homer) has asked for a recount of a re-done election, according to WNEG in Toccoa.
On Monday afternoon, Gasaway asked for a recount of the votes in all three counties of House District 28.

"We decided to go ahead and ask for the recount.  We will have to have our own personal monitor at each location during the recount," he said. "I'm hoping it will be at different times otherwise I'll have to hire poll monitors to watch the procedure."

Under the terms of the recount, the Election Supervisors must also manually review by hand, in plain view of the public and designated officials from both candidates, any optical scan ballots in which an overvote is detected for House District 28.

In the Special Primary, with all votes counted, including provisional ballots, Gasaway lost to Republican challenger Chris Erwin by just two votes.

However, Gasaway claims two provisional ballots that were accepted in Habersham County were illegal.
The Rome News-Tribune spoke to local legislators about the upcoming 2019 session.
Sen. Chuck Hufstetler and Reps. Katie Dempsey and Eddie Lumsden are slated to attend a joint session of the Rome and Floyd County school boards this morning.

The Republican legislators, all from Floyd County, also heard Friday from the Rome City Commission. Priorities for the board include state action on illegal gaming machines, better accountability of sales tax collected locally and potential re-use of the state-owned Northwest Georgia Regional Hospital property.

The local legislative delegation, however, is one short.

A special election is set for today to fill the state House District 14 seat vacated by Christian Coomer when he accepted an appointment to the Georgia Court of Appeals.

Polls are open from 7 a.m. to 7 p.m. in the district, which covers the western half of Bartow County and five precincts in Floyd: Barkers, Chulio, Etowah, Howell and part of North Rome.

On the ballot today are Pastor Ken Coomer, who is Christian Coomer's father; small business owner Nickie Leighly; retired Probate Court Judge Mitchell Scoggins; and Nathan Wilson, owner of Wilson Contracting Co.

Coomer reported taking in over $36,000 in campaign contributions, starting with $2,600 from his son. Other Georgia lawmakers backing him with cash included House Speaker David Ralson, Reps. Jay Powell of Camilla, Butch Miller of Gainesville and several others. Lumsden donated $500.
Floyd County Commissioners are considering supplementing their District Attorney's pay, according to the Rome News-Tribune.
Floyd County Commissioners plan to consider in January a boost to the local supplement paid on top of the state salaries in the district attorney's office.

"Caseload-wise, we're off the charts," County Manager Jamie McCord told the board. "They have the biggest caseloads in the state."

The Georgia General Assembly sets minimum salaries for elected county officials and certain non-elected officers, usually based on population. Most counties add local supplements to make the pay more competitive.

District Attorney Leigh Patterson's request for an increase notes that Floyd County's supplement for assistant district attorneys, set at $8,200 each, has seen little change in more than a decade. It's now below most comparable judicial circuits.

"She's trying to hire bar-certified attorneys and (base pay of) $45,000 to $50,000 is not real attractive," McCord said.

Patterson gets a $13,135 local supplement added to her base pay of $120,072. However, the local supplement for Floyd County superior court judges was increased to $24,000 — on top of the state base rate of $126,265 — and she's seeking the same level.
Houston County is considering how to expand transit beyond Warner Robins, according to the Macon Telegraph.
That effort, which is in its infancy stage, has several obstacles to be cleared, including getting backing from city and county governments. It would be a transformation to the Warner Robins Transit bus system that currently has two shuttle buses making several dozen stops on weekdays throughout Warner Robins and to the Houston County Galleria in Centerville..

The push to expand the Warner Robins Transit system to areas like Byron and Perry is being led by local nonprofit Educare Center, Inc.

The organization took over the management of the system earlier this year from the Warner Robins and Houston County Housing authorities. Starting in January the nonprofit will have full control over the entity, and its CEO says she'll be reaching out to government leaders to gauge their interest.

"We want to continue providing public, demand transportation and paratransit for the community but we need your help to expand the current public transportation system to meet the needs of our growing cities in our urban community," Educare's CEO Spring Rosati wrote in a letter to the Warner Robins City Council.
Dalton City Council members voted unanimously for a FY 2019 budget that increases spending, according to the Dalton Daily Citizen.
When the budget proposal was tabled on Nov. 19, council members said they hoped to find savings in the proposed $34.645 million budget, which would have been an increase of 6.87 percent from the $32.5 million in spending in the 2018 budget. Instead, the council members Monday night approved a 2019 budget of $34.72 million.

City resident Cathy Holmes said income data for the area and the City Council's reluctance to cut spending signal more taxes in the future.

"Even though I know you are not proposing a millage rate increase for this year, you are setting the stage for a millage rate increase," she said. "And we are already the highest taxed city in northwest Georgia, which you know. When you look at the data … it speaks to the fact that our community, unfortunately, is not as wealthy as it used to be, nor as we would like it to be. We are taxing an ever poorer community. Our taxes are the highest, and again I would like to express my disappointment that you could not find any cost reductions for the 2019 budget."
The Dalton Daily Citizen editorial board is not amused.
Almost four weeks ago when some members of the public and this newspaper called for the Dalton City Council to find cost savings in its ever-escalating 2019 budget, they said they would try.

They couldn't find any. Actually, councilmembers found a way to increase next year's budget.

We find it disheartening that the City Council, its department heads and city administrator found no cost savings.

We understand that running a city isn't cheap, and maintaining a level of service that residents demand requires spending. But with residents facing stagnant wages and rising health costs, many of us are constantly tightening our spending.

We are astonished that the City Council refuses to do the same.
Glynn County Commissioners will consider allowing elected officials to be added to the pension plan, according to The Brunswick News.
The Glynn County Commission is expected to discuss on Tuesday allowing elected officials to participate in the county's pension plan.

"We have some constitutional officers who aren't county employees but are elected officials who have a retirement plan through the state. Some of them want to get on (the county's pension) because they think it's a better deal, I guess," said county commission Chairman Bill Brunson.

Several elected county officials had signed a letter making the request, including the Glynn County Solicitor General, Sheriff, Tax Commissioner and state and magistrate court judges, he said.

As of Friday, Brunson said the county was still looking into it. Glynn County offers a defined benefit pension plan, which is more costly than most. The commission held multiple meetings to consider changing the plan but ultimately decided to stick with it.
Glynn County is also considering whether to amend the Brunswick-Glynn County Joint Water and Sewer Commission, according to The Brunswick News.
The Glynn County Board of Elections discussed the open position of Elections Supervisor, according to The Brunswick News.
he Glynn County Board of Elections held a special-called meeting Monday to discuss a job listing for its recently-vacated supervisor positions.

The board fired former Elections and Registration Supervisor Monica Couch following a discussion in closed session at its regular meeting last week.
Habersham County Commissioners voted to spend up to $60,000 for a new van or bus for the local 4-H, according to AccessWDUN.com.
Commission Chairman Victor Anderson pointed out the new vehicle will be a mini-bus to accommodate safe transport of students.

"I did feel strongly about it," Harper said after the meeting. "We have a van that we are transporting our children in that is 26 years old. The door was being held together with a rope, and it had no air conditioning.

"We ought to be ashamed that we even allowed that to happen, so I am so proud that my fellow commissioners agreed with me tonight to put on some funds so that they can buy a decent van," Harper said. "They go around the state representing us, winning all sorts of awards and we need to show them how proud we are, but we also need to keep them safe."
Muscogee County Board of Education members Frank Myers and John Thomas spoke at their last meeting, according to the Ledger-Enquirer.
Philip Schley, who served 21 years on the board (1972-81 and 1998-2010), including nine as chairman, defeated Myers in May for the District 8 seat.

Mike Edmonson will replace Thomas in the District 2 seat after beating Bart Steed in the July runoff. Thomas didn't run for re-election.

Thomas said he was honored to serve on the board. He sought a seat on the governing body to advocate for "more transparency and efficiency" in the school district.

"After four years, I did not accomplish any of the goals," Thomas said. ". . . I appreciate the support of the voters of District 2, and I'm sorry that I could not deliver on the platform that I set."

Their critics, Myers said, called them "controversial, disruptive, disorderly, negative, all these things, even though John and I vote with this board, just like tonight, about 80 percent of the time."

Myers lamented that he and Thomas couldn't "curb the epidemic of good people, especially teachers, leaving this school district in droves, seeking to only find a nontoxic environment where they can do what they love to do, which is to teach young people. And we were never able to convince a majority of this board that it is the job of the board to establish policy and the job of the administration to carry out that policy. That is black-letter law."
Hall County Board of Education member-elect Mark Pettitt was arrested and charged with DUI, according to the Gainesville Times.
"I regret to share with you that I was charged with driving under the influence this past Saturday," Pettitt acknowledged in a Facebook post on Monday afternoon, Dec. 17. "While I plan to defend this accusation, I want to convey my respect for law enforcement and the rule of law."

Pettitt's attorney, Graham McKinnon, asked that his client be allowed to be "innocent until proven guilty."
Snellville Mayor Tom Witts pled guilty to eleven charges and will leave his post, according to the Gwinnett Daily Post.
Snellville Mayor Tom Witts maintained his innocence regarding more than five dozen criminal charges lodged against him, but pleaded guilty to 11 of those charges Monday, while promising to resign from office and never again run for a political position.

Witts, who was indicted in Sept. 2017 on 66 charges ranging from tax evasion and theft to lying under oath and abusing his position as an elected official, entered an Alford plea before Gwinnett County Superior Court Judge Melodie Snell Conner Monday afternoon, where he was also sentenced for the crimes.

While Witts' plea and his sentencing will allow the embattled mayor to avoid jail time all together, he will serve 10 years probation, with the first six months on house arrest. He must also pay $40,000 in delinquent taxes immediately.

"It's been a long time in the making, from the investigation to the resolution," Porter said Monday. "There have been a lot of turns in the road, the latest being (Witts') health issues. Initially, I felt like this was a case where, given the number of offenses and the long term offenses, it justified at least some period of incarceration … but all of a sudden, there were the medical issues that are so serious that I didn't want to put the burden of care onto the state."