Mabel is a female Labrador Retriever & Siberian Husky puppy who is available for adoption from Athens Canine Rescue in Athens, GA.
Mabel is a 4 month old lab-husky mix puppy who we think will top out at around 50 pounds once she's full grown. Mabel didn't have the best start to life, so she's currently learning how to be a puppy!
Mabel is nearly potty trained! She knows that outside is where she should go potty, but sometimes her bladder just can't hold it any more! But, Mabel tries really hard to wait until she's outside to do her business. Mabel is also crate trained! Foster Mom said that Mabel picked up on crate training very quickly – Mabel is a fast learner! Mabel will go into her kennel on command, and will lay quietly in there until Foster Mom comes home.
Mabel is still a little shy around other dogs, but she is willing to approach them to see if they want to be friends! Mabel currently lives with other ACR adoptables and Foster Mom's own dogs, and has started trying to play with them. We think that once she's older she will be a good dog park dog as long as her confidence keeps going up! As far as feline friends go, Mabel met one at the vet's office, and didn't really react to it. Mabel is shy with new human friends, too, but quickly warms up once she realizes that they just want to give her some love!
Mabel is a puppy, so she has a lot of puppy energy. She loves to play around the house and chew on some toys, and then takes a nice nap. One of her favorite ways to get energy out is practicing her puppy paws – she prances towards objects and taps them with her paws to make sure they're safe/good to play with or investigate! Once she's done exploring, she'll climb up on the couch and cuddle next to Foster Mom. But, she can self-entertain with a toy if Foster Mom is busy.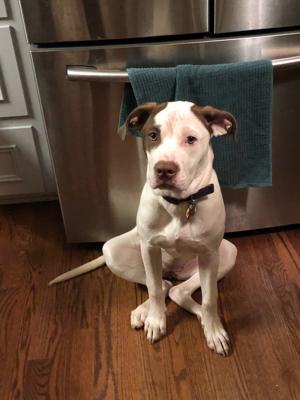 Chancey is a female American Bulldog & Labrador Retriever mix puppy who is available for adoption from Athens Canine Rescue in Athens, GA.
Chancey is a sweet 6-month old American Bulldog puppy. Chancey currently weighs ~50 pounds, and will probably top out at around 60-70 pounds.
Chancey has graduated from Potty Training 101 with gold stars, and is officially potty trained! Chancey also does great in her crate. She keeps her crate clean when she's in it, and will go in with a little food encouragement. Once inside, Chancey will lay down and go to sleep – you won't hear a peep out of her. Foster Mom has been working with Chancey on learning new commands, and now knows ""sit" and "stay." Chancey also has good house manners, and only chews on her toys instead of other objects in the house!
Chancey is good with kids! She has been around kids aged 6-13 years old, and just wanted to play with them. She also does well with other dogs, and Foster Mom told us that Chancey gets along great with her older dogs. Since Chancey is still a puppy she can get a little rowdy with them sometimes; but, she has learned dog code for, "I don't want to play" and backs off once she gets that message! We think she'd have a great time at the dog park, as she loves meeting new dogs and playing with them.
Chancey would be happiest with a family that's willing to work with her to get some of her puppy energy out. She loves walks around the blocks, wrestling sessions with doggie-friends, and exploring the outdoors in rainy weather. After a walk or play session, Chancey is ready to snuggle up next to Foster Mom and take a snooze. She loves to be loved on, but understands that you might have other thing to do than snuggle with her. There's only one thing Chancey loves more than snuggling with her family: her tennis ball. Chancey almost always has a ball, and will even sleep with it!
Emily is a female Dalmatian & Boxer mix puppy who is available for adoption from Athens Canine Rescue in Athens, GA.
Emily is an adorable 8 month old dalmatian x boxer mix. She currently weighs around 40 pounds, and we think she'll top out around 50-60 pounds. Earlier this year Emily hurt her tail from wagging it too much, but we are glad to say that she has recovered from her case of Happy Tail!.
Emily has almost mastered potty training! Emily doesn't have a consistent potty signal just yet, but knows to wait until Foster Mom lets her go outside to do her business. She as also completely mastered crate training! She will walk right in on command and settles in quickly without whining. Emily has also mastered going to the dog park – you can often find her there playing with anyone who is willing, or running around playing a game of chase with the dogs there.
Emily is great with familiar and unfamiliar folks! While at a recent ACR outreach event, she was friendly as can be with college kids, adults, and even those in electric wheelchairs! As far as dogs go, she loves them – especially dogs that love to roughhouse! Her eagerness to roughhouse can overwhelm some dogs, but Emily is working on learning which dogs to play rough with and which dogs to tone it down with. As far as energy goes, Emily has a lot of it. Since she is a puppy, she is full of puppy energy. She would do well with an active family who is able to take her on walks, trips to the dog park, or play with her throughout the day!
When Emily isn't running outside or trying to find her next adventure, you can catch her trying to get some cuddles with Foster Mom. She loves attention and snuggling, but understands that she can't get attention 24/7.