On December 3, 1775, the Grand Union Flag, comprising the Union Jack with thirteen red-and-white stripes was raised for the first time by Lieutenant John Paul Jones over the USS Alfred, a colonial warship. The flag would be used by Continental forces thorugh 1776 and early 1777.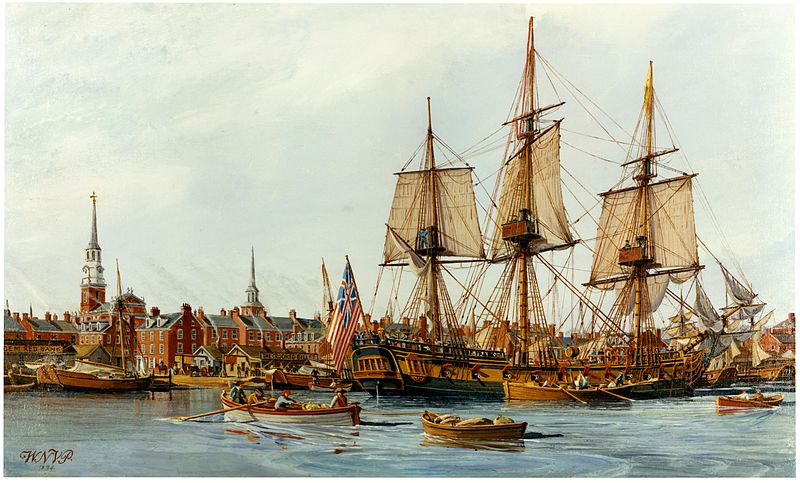 On December 3, 1776, General George Washington wrote Congress that he had moved most of his army across the Delaware River from Trenton, New Jersey to Pennsylvania.
On December 3, 1864, Union forces under the command of Gen. William T. Sherman skirmished against Wheeler's Confederate cavalry at Thomas' Station in Burke County, Georgia.
Georgia Politics, Campaigns, and Elections
Glynn County saw high turnout during early voting for tomorrow's elections, according to The Brunswick News.
Voters cast 3,768 ballots during the early voting period, said Elections and Registration Supervisor Monica Couch.

The Glynn County Board of Elections mailed out 1,418 absentee ballots and accepted 450 of them as of 5 p.m. Friday, with more in the hopper, Couch said.

Early voting for this runoff election surpassed the last two, likely because the ballot included statewide races this time around. In 2016, the total turnout was 538 — 183 early — for the Brunswick Glynn County Joint Water and Sewer Commission Post 1 runoff election.

There was no general election runoff in 2014, but JWSC's Post 2 seat went to a runoff in 2012. 1,079 voters turned out for it, 140 of them early. Utility commission elections were held during the primary elections this year, and that race was decided in July during the primary runoff.

If a voter still has an absentee ballot or recently mailed one, Couch recommended checking the ballot's status at mvp.sos.ga.gov. Absentee ballots will continue to be accepted until the close of business, 5 p.m., on Dec. 7.
Cowetans who have chosen to vote an absentee ballot by mail will have extra time to get their ballots to elections officials, following a decision by interim Secretary of State Robyn Crittenden. Typically, absentee ballots, except those coming from overseas, must be in the Coweta Voter Registration Office by 7 p.m. on election day. But for the runoff, as long as the ballots are postmarked by Tuesday, they have until Friday at 5 p.m. to arrive at the office.

Because a general election runoff is held just four weeks after the general election, there's already a shorter turnaround time for absentee ballots and a shorter early voting period. This year, the delay in certifying the general election because of extremely close races shortened that time even more, and many counties weren't able to begin mailing absentee ballots out until Nov. 26 – just eight days before the election.

Overall, approximately 1,800 ballots were mailed out and less than 100 had been returned by mail as of Friday, Scoggins said. Voters also have the option of bringing their ballots to the voter registration office, at 22 East Broad St., Newnan, and dropping them in a lock box at the office. Ballots can be brought in from 8 a.m. to 5 p.m. on Monday and until 7 p.m. on Tuesday. Voters must bring in their own ballots, though elderly or disabled voters can have their ballots returned by an immediate family member.

The agreement will make things a little bit more time-consuming for election officials, "but at least it gives people a chance to get their ballots back, especially if they are out of town," Scoggins said. "If we mail out those ballots, we want to get them back."
A Saturday printout of early votes by precinct, including both mail-in and absentee in-person ballots, totaled 9,243.
Just under 4 percent of Floyd County's eligible voters cast early ballots in the statewide runoff election set to be decided Tuesday.

All 25 local precincts will be open from 7 a.m. to 7 p.m.

Residents may vote in the runoffs even if they didn't vote in the general election, as long as they were registered by the Oct. 9 deadline.

About 30 percent of Floyd's 52,475 registered voters showed up during the three weeks of early voting leading up to the November election, where turnout ended up at 57.79 percent.

So far, just 2,045 county residents have participated, either in person or through absentee ballots, according to the website GeorgiaVotes.com.
From Mother Jones, who should be viewed with a healthy amount of skepticism:
Barrow has vowed to reverse Kemp's voting restrictions. He called Kemp's voter purging "plainly illegal" and wrote in the AJC, "Any thing we do that makes it harder than necessary for honest citizens to register, stay registered, or vote undermines their right to vote." He wants to get rid of Georgia's electronic voting machines, which are vulnerable to election hacking, and replace them with paper ballots. His other immediate priority is to implement automatic voter registration to make it easier for voters to register and stay on the rolls.

In contrast, Raffensperger, an engineer and state representative since 2015, has been endorsed by President Donald Trump and supports Kemp's restrictive policies. He says Barrow's election would lead to "more illegal voting than ever," even though there's scant evidence of noncitizens voting in US elections. He called Kemp "a man of high integrity," said he shouldn't have resigned as secretary of state while running for governor, and dismissed the allegations of voter suppression as "unfounded and unfair." Despite rampant problems on Election Day, which included three-hour lines in metro Atlanta and a dramatic increase in contested provisional ballots, Raffensperger said there were "actually very few precincts" with voting problems.

Abrams has endorsed Barrow, releasing a mailer and radio ad for his campaign. "John Barrow's first priority is stopping voter suppression in Georgia," she says in the ad. "I know John Barrow and I trust him."

Yet Abrams' coalition, particularly black voters, has yet to turn out in large numbers for Barrow based on the early voting data. It's been difficult for Democrats to mobilize black voters following Abrams' razor-thin loss, especially given how many problems they faced at the polls, says LaTosha Brown, co-founder of Black Voters Matter, a get-out-the-vote organization that mobilized black voters for Abrams. African Americans make up 30 percent of Georgia's electorate, and they turned out in big numbers to push Abrams to the brink of the governorship in a red state. But without an inspiring black candidate atop the ballot, everyone expects a decline in black turnout in the runoff, which could make it difficult if not impossible for Barrow to come out on top.

Black turnout started low in the runoff but picked up toward the end of early voting, giving Barrow supporters some hope. But in order to win, Barrow will need a huge turnout from voters of color on Election Day, while also peeling off enough moderate white voters from Raffensperger.
But even with Abrams's urging and the controversy around the Nov. 6 vote, formerly bustling campaign offices are seeing notably less traffic. The celebrities who flew in to endorse Abrams have stayed home. The airwaves have largely been reconquered by local businesses, with only occasional election spots. The relatively low-key election worries Democrats.

"We've got to re-motivate some folks that were already disillusioned and frustrated after seeing an election stolen," said Cliff Albright, the co-founder of the Black Voters Matter Fund, which is running turnout efforts across the state and which, like the New Georgia Project, has less money to spend.

In digital ads, Barrow's campaign appeals to voters who are "outraged at the recent voter suppression tactics in our state's elections" and "fed up with politicians who enable our fellow citizens to be disenfranchised." But in higher-profile settings, Barrow doesn't go there.

"I want to make sure that Americans vote in elections, and I want to keep our voter ID," Raffensperger said in one of his final pre-election stops. "I want to update our voting machines; John Barrow said that the gold standard is a hand-marked paper ballot. That's what they use in Florida. Can I stop there? Do I need to say anything else?" Left unsaid: Florida's paper ballots allowed a relatively smooth recount, while Georgia's electronic machines left some voters stranded for hours because of errors such as local officials forgetting to plug them in.

Republicans hope Abrams's high-profile criticism of the election, with lawsuits ongoing, will stir their base to vote Tuesday. In interviews here, Republican voters said they were offended by the image Abrams was giving their state.

"What's driving me crazy is that they accuse Brian Kemp of keeping people from voting," said Jan Horne, a Republican voter who saw Raffensperger talk to supporters in Fayetteville on Saturday. "Either Stacey Abrams doesn't know our process, or she's dumb. I don't think she's dumb."
Governor Nathan Deal ordered flags at state buildings and properties flown at half-staff from December 1 through December 31, 2018 in honor of the late President George H.W. Bush.
First Lady Sandra Deal completed her 1000th school visit to read to children.
First Lady Sandra Deal was today joined by Bright from the Start: Georgia Department of Early Care and Learning (DECAL) Commissioner Amy M. Jacobs to visit The Academy Child Development Center in Oakwood, marking Mrs. Deal's 1,000th school visit since Gov. Nathan Deal took office in 2011.

"My goal is to encourage students to enjoy reading so that they will be prepared for a lifetime of learning," said Mrs. Deal. "Reading is the gift that keeps on giving and education is essential for all children to succeed in their pursuits. I believe that knowledge is power and when we teach students to love reading, we give them the confidence to learn on their own and acquire that power far into the future."

As a former teacher of 15 years in Georgia public schools, Mrs. Deal is dedicated to promoting statewide childhood literacy. In total, Mrs. Deal has completed 1,000 school visits in all 159 counties and all 181 public school districts during her time as Georgia's first lady. When visiting a school, Mrs. Deal typically meets with office staff, reads to a class of students, recognizes educators and discusses the importance of childhood literacy. She has visited as many as eight schools in a single day.

"Since Gov. Deal took office, Mrs. Deal has demonstrated her passion for childhood literacy and inspired others through her hard work," said Chris Riley, Gov. Deal's chief of staff. "By reading to students and listening intently, Mrs. Deal connects with students and guides them to see the importance of academic achievement. I'm not surprised that she reached the 1,000th visit threshold so quickly, but I look forward to seeing how the imaginations she sparked will shape the future of Georgia."
Naval Submarine Base Kings Bay, near St Mary's, Georgia, was hit by a tornado on Sunday, according to Weather.com.
Scott Bassett, a public information officer at the base, told weather.com that no submarines were damaged in the storm. He said there was wind damage to a pier facility in the southeast part of the base where smaller Coast Guard vessels dock. One of those boats flipped in the storm, Bassett said. He also said the storm knocked down utility poles and flipped vehicles.

Later Sunday, another public information officer, Chris Tucker, told First Coast News that four people had been injured in the storm. Tucker said their injuries were not severe, but they were taken to a local medical facility where they were treated and released.
Former President George H.W. Bush played a large role in the success of Morehouse School of Medicine in Atlanta, according to the AJC.
A July 1982 building dedication ceremony at Atlanta's Morehouse School of Medicine drew a politically prominent crowd.

Former U.N. Ambassador Andrew Young, who was Atlanta's mayor at the time, shared the stage with then U.S. Rep. Wyche Fowler (later a U.S. senator), the late U.S. Sen. Paul Coverdell (a state senator at the time) and Michael Lomax, then serving as chairman of the Fulton County commission.

Then-Vice President George Bush headlined the festivities, lauding the school and announcing a $2.6 million federal grant.

The friendship Bush struck up with Dr. Louis Sullivan, Morehouse School of Medicine's founding dean and president, was key to the school's success.

"We really hit it off," Sullivan recalled. "I formed a great relationship with both Bushes."

Not long after George Bush's appearance at the building dedication, he invited Sullivan to accompany his delegation on a goodwill trip through Africa. The Bushes provided sustained fundraising support for the Morehouse School of Medicine for years.

In November 1983, a $15 million expansion drive aimed at expanding Morehouse School of Medicine from a two to four-year institution kicked off with a Capitol Hill press conference following a luncheon at the Bushes' Washington home, The Atlanta Constitution (then a separate entity from The Atlanta Journal) reported at the time.
United States Senators Johnny Isakson and David Perdue penned a letter seeking federal hurricane relief funding, according to the Albany Herald.
"Hurricane Michael caused extensive damage to Georgia and across the Southeast," the senators said in the letter. "Georgia's agricultural industry alone suffered more than $2.5 billion in losses. Late-season crop losses are especially devastating with the producer having already invested the vast majority of production costs into the crop. Additionally, the losses extend beyond crop damage to include buildings, equipment, irrigation pivots and other infrastructure.

"Due to the severity and timing of the losses, additional assistance is needed to allow producers to recover a portion of expenses associated with the 2018 crop and secure production financing for the 2019 crop."

Additionally, it urges the inclusion of a Pecan and Specialty Crop State Block Grant Program. This would give the secretary of the U.S. Department of Agriculture the authority to provide assistance in the form of block grants to eligible states and may include compensation to producers for expenses such as forest restoration, vegetable plant preparation, and reimbursement for losses of pecan production expected before tree maturity.
The Georgia Forestry Commission has completed an assessment of the post-Hurricane Michael, according to the Albany Herald.
The Georgia Forestry Commission estimates that 2.4 million acres of timber were damaged by Hurricane Michael. This equates to $763 million in direct losses.

In Georgia, 300,000 acres, or approximately 16 percent of the state's timber, were classified as being catastrophically damaged. An estimated 1.4 million acres, or 61 percent, were deemed moderately damaged. As of now, there are an estimated 37.68 million tons of timber on the ground. Now comes the hard part — salvaging what's left.
A study by the University of Georgia's Carl Vinson Institute of Government demonstrated the viability of a new municipality comprising several islands on Georgia's coast, according to the Savannah Morning News.
A new city government could operate much more efficiently as long as a "wackadoodle" is not elected, Adam Avant told a crowd of more than 200 people at St. Andrew's School Thursday night.

Avant, a board member of the Islands Community Association, was touting the results of a $30,000 study his nonprofit group had paid for following a fundraising campaign to determine the feasibility of incorporating Oatland, Talahi, Whitemarsh and Wilmington islands.

While a referendum would not take place until 2020, legislation would need to be introduced during next year's legislative session for that to happen. And Avant said he wants to give people that choice.

"I think we can govern ourselves better than people who don't live here," he said.

The movement to form what would be Chatham's second largest city – estimated at almost 26,000 residents – began after Rep. Ron Stephens, the Republican chairman of the Chatham County legislative delegation, started taking steps about two years ago to consolidate Chatham and Savannah's two governments.

Many of the islands' residents were opposed to the idea of becoming part of the county's largest city, which they believed would result in higher taxes and diluted representation.
For more audio content from SavannahNow:

Stephens said he is no longer pursuing consolidation due to a lack of support from Chatham and Savannah officials. And the islands' state representative, Jesse Petrea, along with State Sen. Ben Watson, both said they would oppose any consolidation legislation. They urged residents on Thursday not to let fear of consolidation be a motivating factor in deciding whether or not to incorporate.
Northwest Georgia legislators are prioritizing broadband access, according to the Rome News-Tribune.
State Rep. Eddie Lumsden, R-Armuchee, sits on the House Rural Development Council, which is slated to spend three days this week focusing on connectivity. The meeting starts Tuesday in Dahlonega.

Getting high-speed internet into less-populated areas remains a priority for Lumsden, who has called it a necessity for sustainable economic development. The cost has been a deterrent for most companies. However, SB 240 — Achieving Connectivity Everywhere — which passed earlier this year, includes incentives.

Lumsden has said the best bet for rural service is to continue building on extensions into the far reaches of the state.

One sticking point has been access to rights of way, which are controlled by the local jurisdictions. Under the ACE legislation, the Georgia Department of Transportation will make state rights of way available, including along the interstates.
Covington and Newton County legislators spoke to the local chamber of commerce about legislative priorities in 2019, according to the Covington News.
With a little over a month remaining until the Georgia General Assembly convenes, state Sens. Tonya Anderson and Brian Strickland along with state Reps. Dave Belton and Andrew Welch joined local business leaders for breakfast Thursday morning at the Covington/Newton County Chamber of Commerce for the chamber's annual pre-legislative breakfast.

Welch predicted there will be a change in the state's budget direction next year.

"I think there is going to be a significant change in our budgetary direction," he said. "Governor-elect Kemp's promise of pay increases for teachers across the board, so I think that will be a budgetary item that we have to look into."

Welch also said property tax reform will be looked at.

"We're looking at the assessment process, local government's assessment process and how taxes are levied and what rights the property taxpayers have to challenge those and is that process effective."
Whitfield County Commissioners are considering asking the General Assembly to change their term limits, according to the Dalton Daily Citizen.
For the past 25 years, no one could be elected to more than three consecutive four-year terms on the Whitfield County Board of Commissioners.

But commissioners are considering asking the state Legislature to make a change to the term limits law that could potentially allow someone to serve up to six straight four-year terms, 24 years total, on the board if they are elected chairman during their third term on the board.

Dalton resident Ed Painter recently asked the commissioners to ask state lawmakers to change the law so that the term limits "clock" would start over if someone serving in one of the four district seats is elected chairman.

"Under the law now, if a commissioner has served two terms and runs for chairman and is elected, he can only serve one term as chairman," Painter said.

"With district voting, the chairman is the only commissioner elected countywide," Painter said. "Allowing those commissioners serving in a district seat to be elected chairman and start their term limits all over allows people who are experienced and understand the dynamics of the board and what the departments are doing to bring that experience to being chairman."
Bulloch County Board of Education members adopted a new sex education policy, according to the Statesboro Herald.
With three members absent, the vote Thursday night was 5-0, as were all other votes in what may have been the board's last meeting of the year.

One of the changes in the policy makes age-appropriate sexual abuse and assault awareness instruction a required part of the program for kindergarten through ninth grade. The policy already contained a provision allowing parents and guardians, by written request, to exempt their children from sex education, but another change allows this to be done through a form the school system provides. A third change leaves intact a board-mandated emphasis on abstinence but simplifies the wording.

"For the most part these changes were made to make sure that our policy is in alignment with state requirements, law and guidelines," Superintendent of Schools Charles Wilson said Friday. "We really want to make sure our policy reflects what it should, so that's the gist of it."

Board members did not comment on the revisions during the Oct. 25 meeting, when the sex education policy changes and proposed changes to another now-revised policy were introduced as "new business." During Thursday's meeting the revised policies appeared under "old business," and Wilson recommended approval.
State Rep. Brad Raffensperger (R-Johns Creek) campaigned in Newnan, according to the Newnan Times-Herald.
Raffensperger, a state representative from John's Creek, faces former Democratic congressman John Barrow in a Dec. 4 runoff for Georgia secretary of state after neither garnered the more than 50 percent of votes required to win outright on Nov. 6.
The Columbus Government Center's cafe was closed for two days due to water leaks, according to the Ledger-Enquirer.
While city officials scramble to repair four damaged courtrooms in the Columbus Government Center tower, a work crew was busy last week repairing some faulty sewer pipes on the ground floor of the 100 10th St. building.

The crew worked through the weekend but still had to shut down Chester's Cafe for two days before the eatery was allowed to re-open on Wednesday, said Pat Biegler, director of Public Works for the Columbus Consolidated Government.

The city has faced problems with sewage backing up on the ground floor in the toilets and at the restaurant. Workers decided to take a hard look at the problem after the pipes were repeatedly cleaned but they continued to fail. The sewer pipes in the 47-year-old building were installed at 90-degree angles with many clumped together.
The National Oceanic and Atmospheric Administration Fisheries division approved five private companies to conduct seismic exploration off the Georgia coast, according to the Savannah Morning News.
The authorizations require monitoring, reporting, and mitigation measures to reduce the impacts of survey activities on marine mammals, including observers on board the survey vessels to listen and watch for marine mammals and alert operators if a protected species comes within a certain distance. Surveys are subject to seasonal and spatial restrictions based on the animals' known habits, such as right whales giving birth off the coast of Georgia in the winter. The survey vessels are also required to shut down when certain sensitive species or groups are observed and to guard against striking animals.

Despite the required mitigation, NOAA Fisheries estimates the surveys, which would cover an area from Cape May, N.J., to Cape Canaveral, Fla., would injure or harass dolphins and whales hundreds of thousands of times. BOEM denied these same permits in early 2017, concluding the "value of obtaining the geophysical and geological information from new airgun seismic surveys in the Atlantic does not outweigh the potential risks of those surveys' acoustic pulse impacts on marine life," but the Trump Administration put them back in play.

Ten Georgia municipalities including Tybee, Thunderbolt, Savannah, Richmond Hill and Hinesville have passed resolutions opposing seismic testing and offshore drilling. Environmental groups oppose the seismic testing because of the risk it poses to marine life and also because it provides a gateway to offshore oil drilling.
Augusta is considering how to address abandoned or dilapidated buildings, according to the Augusta Chronicle.