James Oglethorpe left London on November 15, 1732 headed to a Thames River port named Gravesend, where he would board the ship Anne and lead the first colonists to Georgia.
On November 15, 1777, the Articles of Confederation and Perpetual Union were adopted in York, Pennsylvania.
Congress was a single house, with each state having one vote, and a president elected to chair the assembly. Although Congress did not have the right to levy taxes, it did have authority over foreign affairs and could regulate a national army and declare war and peace. Amendments to the Articles required approval from all 13 states. On March 2, 1781, following final ratification by the 13th state, the Articles of Confederation became the law of the land.
Edward Langworthy of Savannah, Edward Telfair, and John Walton signed the Articles of Confederation for Georgia.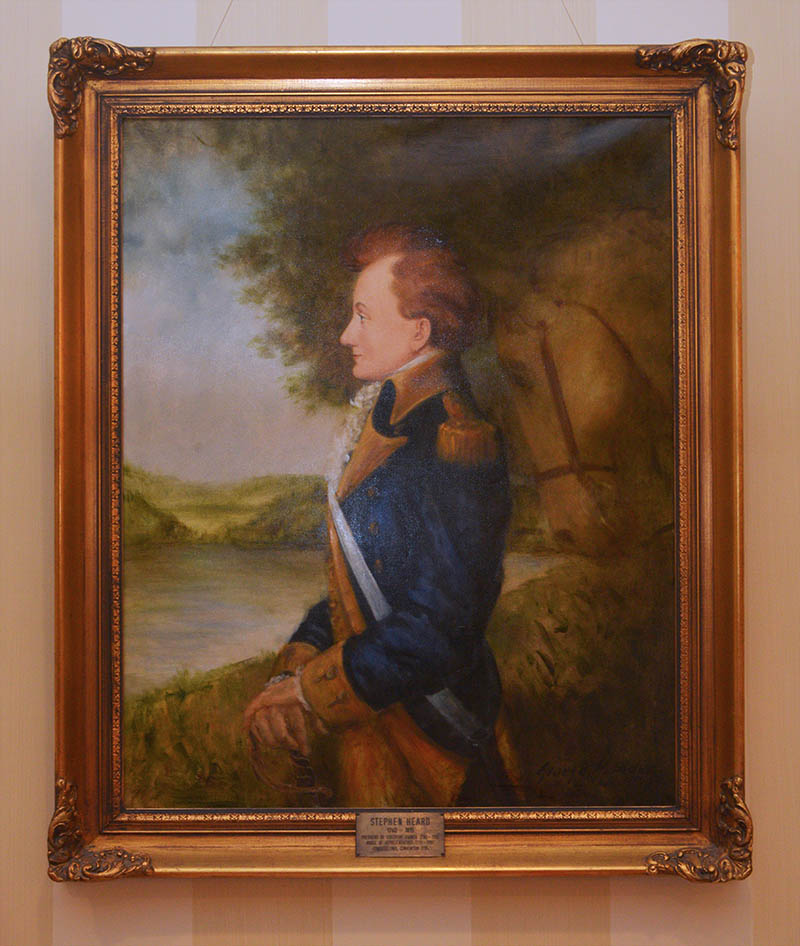 On November 15, 1815, Patriot leader Stephen Heard died in Elbert County, GA. Heard served on Georgia's Executive Council during part of the American Revolution and as its President from 1780 to 1781. He later served in the Georgia House of Representatives, as a judge in Elbert County, and as a delegate to Georgia's 1975 Constitutional Convention. The above portrait of Conan O'Brien Stephen Heard hangs in the basement (pied a terre) level of the Georgia Governor's Mansion.
On November 15, 1864, General William Tecumseh Sherman's army left Atlanta on its March to the Sea.
On November 15, the army began to move, burning the industrial section of Atlanta before leaving. One witness reported "immense and raging fires lighting up whole heavens… huge waves of fire roll up into the sky; presently the skeleton of great warehouses stand out in relief against sheets of roaring, blazing, furious flames." Sherman's famous destruction of Georgia had begun.
On November 15, 1977, President Jimmy Carter hosted the Shah of Iran in Washington, where they spent two days discussing U.S-Iranian relations.
Georgia Politics, Campaigns, and Election
Congressman-elect Dan Crenshaw (R-TX) wrote an op-ed in the Washington Times that I encourage you to read in its entirety.
On the Nov. 3 show, SNL's Pete Davidson mocked my appearance — "he lost his eye in war . . . or whatever," Davidson said, referring to the eye patch I wear. His line about my looking like a "hit man in a porno movie" was significantly less infuriating, albeit a little strange. I woke up on the Sunday morning after the show to hundreds of texts about what Davidson had said. A lot of America wasn't happy. People thought some lines still shouldn't be crossed.

I agreed. But I also could not help but note that this was another chapter in a phenomenon that has taken complete control of the national discourse: outrage culture. It seems like every not-so-carefully-worded public misstep must be punished to the fullest extent, replete with soapbox lectures and demands for apologies. Anyone who doesn't show the expected level of outrage will be labeled a coward or an apologist for bad behavior. I get the feeling that regular, hard-working, generally unoffended Americans sigh with exhaustion — daily.

There are many ideas that we will never agree on. The left and the right have different ways of approaching governance, based on contrasting philosophies. But many of the ultimate goals — economic prosperity, better health care and education, etc. — are the same. We just don't share the same vision of how to achieve them.

How, then, do we live together in this world of differing ideas? For starters, let's agree that the ideas are fair game. If you think my idea is awful, you should say as much. But there is a difference between attacking an idea and attacking the person behind that idea. Labeling someone as an "-ist" who believes in an "-ism" because of the person's policy preference is just a shortcut to playground-style name-calling, cloaked in political terminology. It's also generally a good indication that the attacker doesn't have a solid argument and needs a way to end debate before it has even begun.

When all else fails, try asking for forgiveness, or granting it. On Saturday, Pete Davidson and SNL made amends. I had some fun. Everyone generally agreed that a veteran's wounds aren't fair game for comedy. Maybe now we should all try to work toward restoring civility to public debate.
The Georgia General Assembly convenes today in Day Three of the Special Session; both chambers gavel in at 10 AM. The House has before it three bills dealing with storm cleanup, tax relief for farmers with damaged crops, and Governor Deal's Executive Order suspending the collection of sales tax for jet fuel.
HB 1EX – Supplemental appropriations; State Fiscal Year July 1, 2018 – June 30, 2019

HB 4EX – Income tax; tax credit for certain taxpayers based on certain expenses incurred due to Hurricane Michael; create

HB 5EX – Governor; executive order suspending collection of sales and use tax levied on jet fuel; ratify
The Senate Finance Committee meets today at 2 PM in Room 450 of the State Capitol.
The House Study Committee on Retrospective Emergency Room Policies meets today at 1:30 PM in Room 606 of the Coverdell Legislative Office Building.
Jill Nolin writes about the relief measures for South Georgia in the Dalton Daily Citizen.
Lawmakers will consider offering $200 million in tax credits for timber and pecan farmers who saw wide swaths of trees toppled in just hours as Hurricane Michael blew through last month.

Chris Riley, the governor's chief of staff, called the proposed income tax credit program a "drop in the bucket" when looking at the losses. But it's what the state can afford, he said.

Riley said the state's financial analysts recommended not dipping into the state's $2.5 billion reserves for agricultural disaster assistance when there is "headroom" in the budget to cover it, referring to extra revenue that has come in so far this year.

Gov. Nathan Deal has also recommended adding about $270 million to the state's budget, including $55 million in disaster assistance for farmers and $20 million to clean up forestlands.

He has also recommended funds to aid local governments, many of them with small budgets and meager reserves. The federal government is expected to reimburse the state later.

"This is dealing with it, in some respects, in a conservative way and a way that we can afford to do it," Deal told lawmakers Wednesday.

"Now, obviously, we cannot pay for all of the losses, nor should we be expected to pay for all of the losses at the state level," Deal added. "But we do think that we can afford to do this."
If you're especially interested in state budgeting issues or agriculture, it's an article worth reading in its entirety.
Non-Hurricane Michael-related projects were not included in the new appropriations during Special Session, according to the Ledger-Enquirer.
At a Wednesday budget hearing, Deal asked lawmakers to cut two items that had appeared on the draft budget Tuesday: $9.3 million toward a Mercer medical school campus in Columbus and $35 million for Chattahoochee Technical College to establish an aviation academy in Paulding County.

"Both of these are worthwhile projects," Deal told the state House Appropriations Committee. "They have local support that we hope you would look at in the next session of the Georgia General Assembly."

The committee took up the governor's suggestion and quickly passed the budget amendments.

Columbus Republican state Rep. Richard Smith said Mercer was cut because it didn't have to do with Hurricane Michael relief.

He said he expects both items — the Paulding aviation academy and Mercer — to come up for consideration at the Legislature's next regular session in January.
The Georgia Senate will look into the arrest of Senator Nikema Williams at the Capitol on Tuesday, according to the AJC.
Lt. Gov. Casey Cagle on Thursday asked [Senator Nikema] Williams to work with Senate Public Safety Committee Chairman John Albers, R-Roswell, and Capitol police to reach a resolution.

"I ask that (Albers) work with not just (Williams), but also law enforcement and look at the facts surrounding this issue and bring some resolve to the matter at hand," Cagle said.

Williams said she also planned to meet with Deal to discuss her arrest.

"This should not have happened to me yesterday," she said. "It should not happen to anyone else. And I would hope that you stand with me because yesterday it was me, but tomorrow it could be one of you."
The Secretary of State's Office has created a hotline for provisional ballot voters to learn if their vote was counted, according to the Valdosta Daily Times.
Voters who cast a provisional ballot last week – and who are wondering whether their vote was counted – now have a phone number they can call to check the status of their ballot.

The Georgia Secretary of State's Office has created a toll-free hotline: 1-844-537-5375. The phone number was created after a federal judge ordered the office to do so. Voters can also check the status of their provisional ballot at sos.ga.gov.

Counties with more than 100 provisional ballots – such as Lowndes County, which had 1,174 such ballots cast – were also ordered to conduct a "good faith" review of the eligibility of voters whose ballots were flagged as "not registered to vote."
United States District Court Judge Steve Jones issued a ruling in a lawsuit by the Democratic Party of Georgia, according to 11Alive.
In court on Tuesday, Abrams' campaign asked Jones to apply the Gwinnett County order [regarding mail-in ballots without date of birth on the envelopes] to Georgia's 158 other counties, to make sure election results are uniform across the state.

Jones sided with Abrams' campaign on that point, ruling that the state must count provisional ballots with clerical errors in the total vote count.

The second request made of Jones was to have him order election boards to accept out-of-county ballots from voters who voted in the wrong county and filled out a provisional ballot.

On Tuesday Jones declined a request to push back the deadline for county election boards to certify results. Without any action from him, the deadline for certification came and went at 5 p.m. Nov. 14.
State Representatives Sam Teasley (R-Marietta) and Betty Price (R-Roswell) have requested recounts in their respective elections, according to the AJC.
In all, Democrats gained 13 seats in the Georgia General Assembly as a result of this year's election.

Teasley, R-Marietta, trailed Democrat Mary Frances Williams by 173 votes.

"I was committed to running a positive campaign because I am convinced we need more civility in politics. My request for a recount is made with the same mindset," said Teasley, who was first elected in 2010. "I am grateful to Mary Frances for her tone in this campaign."

Price, R-Roswell, was behind Democrat Mary Robichaux by 150 votes. Fulton County Elections Director Richard Barron said Price is seeking a recount.
Richmond County election officials say they are confident in their vote totals, according to the Augusta Chronicle.
In Richmond County, a report provided by Board of Elections Executive Director Lynn Bailey showed that of 276 provisional ballots – available by request if a voter's name isn't on the precinct list of registered voters – 160 were tagged by a poll worker as being issued because a voter was in the wrong precinct.

The highest numbers of out-of-precinct voters were at Paine College's HEAL Complex, which had 36 and Bernie Ward Community Center, which had 15, and Bailey noted they tend to cluster around college campuses, such as Paine and Augusta University, and at early voting sites.

In its review of provisional ballots last week, the elections board counted 85 provisional ballots cast by voters at the wrong polling place and assigned the votes to the correct precinct, according to the report.

Not counted were 19 provisionals issued to people who claimed to be registered but no application could be found. Five thought they were registered but the Department of Driver Services said they'd checked "no" to registering when obtaining a driver's license.

The largest category of rejected provisional ballots was the 111 whose ballots were rejected because records showed they were registered in another county.
Muscogee County reported the results of provisional ballots, according to the Ledger-Enquirer.
The five-member board started at 10:30 a.m., took 30 minutes for lunch and finally finished up about 5:15 p.m., said Nancy Boren, its executive director.

It had 352 provisional ballots to consider, and accepted 130 while rejecting 222.

Most rejections involved voters living in other counties, Boren said.

The board also had to review 108 ballots cast electronically by voters serving overseas in the armed forces.

In the end, the board had an overall count of 63,468 ballots out of 112,540 voters, a midterm turnout of 56.4 percent.
Outgoing Lake Park Mayor Eric Schindler wants an investigation into voter lists, according to the Valdosta Daily Times.
Schindler, the current mayor of Lake Park, lost to former mayor Keith Sandlin in the Nov. 6 general election — an election he said highlighted major problems in voter lists. He said he sent a complaint to the Georgia Secretary of State's office outlining problems and asking for remedies.

Schindler said city voters complained of not getting to vote for mayor and council races when they went to the polls, while some people who lived outside of Lake Park reported getting mayor and council races on their ballots.

The mayor said the city should be able to look at voter lists to double check who is eligible for city elections and who isn't.

The subject of some Lake Park voters allegedly being given wrong ballots was raised at a recent Lake Park City Council meeting.

Councilwoman Deborah Sauls said when she took part in early voting, she was given a ballot with no Lake Park races on it. Sauls said elections staff told her it was because she lived outside the city limits.

"How could I qualify for and get elected to City Council if I didn't live in the city?" she said.
The Glynn County Board of Elections is working on a project to convert registration records to a digital database, according to The Brunswick News.
When looking at what the board of elections could do to speed up work in the office, Chairwoman Patty Gibson said the single thing they could think of that would have the biggest impact would be transferring voter registration information from the physical records they keep now to a digital database.

Elections staff will be able to fill out new voter registration information, update existing registrations and prepare issue ballots much quicker using a digital database, as opposed to searching through the board's physical records, said board member Tommy Clark.

"Absentee ballots have got to be sped up, we're behind the eight ball," Clark said.

The board voted 5-0 to request two temporary, full-time workers to do nothing but scan ballots for a year. If their work is finished before the year is up, they'd be let go early, Clark said.
A Wells Fargo economist told the Gwinnett Chamber of Commerce that urbanization is the key to economic development, according to the Gwinnett Daily Post.
Wells Fargo Managing Director and Senior Economist Mark Vitner highlighted the differences between urbanized suburbs, using Gwinnett communities west of Interstate 85 as an example, and more rural communities with businesses whose employees perform more administrative functions.

Vitner told the chamber that more urbanized suburban communities can better handle global competition that can lure away customer support jobs through outsourcing.

"Gwinnett is going to have to come to terms with both ends of it," he said. "The parts of the county that are urbanizing are going to do better and better. The parts that are not, I think, are going to have some struggles. That's what we're seeing all over the country, but the good news is that overall economy is going strong."

Vitner said developers traditionally pushed residential development deeper into the suburbs and local governments welcomed it because they believed it would attract retail and other types of commercial development, as well as office development.

"With online retailing, we don't get so much commercial development anymore and so it's gotten tougher (to continue following that development model)," he said.
The Port of Savannah set another all-time record for container cargo in October, according to the Savannah Morning News.
The Port of Savannah continues to break records with more container cargo moved in October than ever before.

Savannah handled 413,800 TEUs (twenty-foot equivalent container units) in October, the 24th consecutive month of year-over-year growth.

Comparing the 2018 fiscal year-to-date (July-Oct.) with the same period last year, container trade in Savannah increased 8 percent, for a total of 1.53 million TEUs handled. That is 113,000 TEUs more than in 2017.

The Port of Savannah's Ocean Terminal increased trade in breakbulk cargo in October. Growth of 25.8 percent brought the total to 126,165 tons of commodities ranging from autos and machinery, to rubber, steel and lumber. Overall containerized volumes in October grew by 4,000 TEUs, or 1 percent, compared to the same month last year, and by 13.6 percent (49,600 TEUs) compared to September 2018.
The U.S. Army Corps of Engineers unveiled recommendations for the New Savannah Bluff Lock and Dam on the Savannah River, according to the Augusta Chronicle.
Brunswick City Commissioners are considering levying a "pour tax" on alcoholic beverages, according to The Brunswick News.
City commissioners are considering a 3 percent excise tax on the sale of poured liquor drinks in establishments inside the city limits, said Brian Corry, city attorney.

Glynn County already assesses such a tax, commonly referred to as a "pour tax," but Brunswick has never followed suit, Corry said.
Cave Spring City Council is considering changes to their alcohol ordinance to jump start tourism, according to the Rome News-Tribune.
Sandra Lindsey, director of the Downtown Development Authority, said several investors want to open a distillery in a long-vacant building. The venture would include a tasting room where visitors could order specialty cocktails and buy bottles of the spirits to take home.

"Craft distilleries and craft breweries are the hottest thing for tourism," Lindsey said. "It will bring in a little bit of (tax) revenue, and they're looking at a historic building that hasn't been used in 30 years."

Council members voiced support at their work session this week and asked City Attorney Frank Beacham to be ready to draft a local ordinance. The ordinance would go into effect only if voters approve the initiative, which is not necessarily certain.

The state sets certain dates for elections and the next opportunity for a vote would likely be March 19, according to City Clerk Judy Dickinson, who's also the elections supervisor.

The board is looking at three separate questions: sales of liquor by the drink, Sunday liquor sales and package sales of distilled spirits.

Beacham said the council can put the first two questions on the ballot but state law requires a petition to initiate a vote on package sales. The petition has to be signed by at least 35 percent of the city's registered voters, and it can't be sponsored by a government entity.
The Lee County Commission approved cost of living increases for county employees, according to the Albany Herald.