On October 14, 1735, John and Charles Wesley sailed with James Oglethorpe from Gravesend, England, for Georgia and John Wesley wrote the first entry in his journal that would eventually cover 55 years. On that date, John Wesley wrote,
Our end in leaving our native country, was not to avoid want, (God having given us plenty of temporal blessings,) nor to gain the dung or dross of riches or honour; but singly this, to save our souls; to live wholly to the glory of God.
The First Continental Congress adopted the Declaration of Colonial Rights in Philadelphia, Pennsylvania on October 14, 1774.
Former Confederate President Alexander Stephens was released from federal prison on October 12, 1865 and returned to Georgia.
On October 13, 1870, Governor Rufus Bullock signed legislation creating the Georgia State Board of Education.
On October 13, 1885, Governor Henry McDaniel signed legislation authorizing the creation of a state school of technology as a branch of the University of Georgia; the school would open in Atlanta in October 1888, and in 1948 was renamed the Georgia Institute of Technology.
Then-former President Theodore Roosevelt was shot before a campaign speech in Milwaukee, Wisconsin, on October 14, 1912.
Roosevelt, who suffered only a flesh wound from the attack, went on to deliver his scheduled speech with the bullet still in his body. After a few words, the former "Rough Rider" pulled the torn and bloodstained manuscript from his breast pocket and declared, "You see, it takes more than one bullet to kill a Bull Moose." He spoke for nearly an hour and then was rushed to the hospital.
On October 13, 1918, the ban on public gatherings in Atlanta to prevent spread of the Spanish flu, was extended an additional week.
A.A. Milne published Winnie-the-Pooh on October 14, 1926. E. H. Shepard illustrated the Pooh books.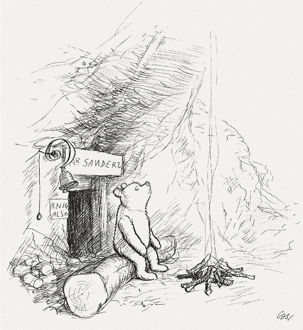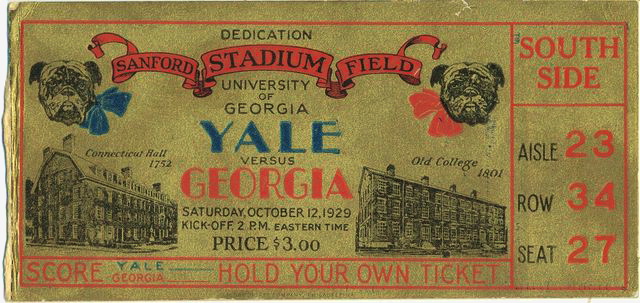 The first game in Sanford Stadium was played on October 12, 1929, with the University of Georgia Bulldogs beating the Yale Bulldogs. Here is ten minutes of the game.
The War Department renamed Wellston Air Depot to Warner Robins Air Force Depot to honor Brigadier General Augustine Warner Robins on October 14, 1942.
On October 12, 1958, The Temple was bombed after a phone call to WSB warned that Black churches and Jewish temples would be blown up.
On October 14, 1964, Martin Luther King, Jr. was announced as the winner of the Nobel Peace Prize, becoming Georgia's first native-born winner. In 2014,  the Atlanta Journal Constitution ran a story on how King's Nobel Prize affected Atlanta.
The honor wasn't just a watershed for King and the civil rights movement but also for Atlanta. It set off a series of events that some say fundamentally changed the city's business, religious and racial cultures by bringing blacks and whites together for the first time to share a meal in public.

That simple act, holding a multi-racial banquet in the new Nobel laureate's honor, tested the will and even the nerves of those determined to make Atlanta a more just and inclusive place.

"It was a defining moment in the history of the city, and it should go down in the city's documented memory," said Janice R. Blumberg, the widow of Rabbi Jacob Rothschild, who was instrumental in organizing the event.

King's three surviving children are due in court in December to determine if the 23-karat gold medal — along with a Bible their father once owned — should be sold at auction. Brothers Martin Luther King III and Dexter King, representing the King Estate, plan to sell the items. Sister Bernice King has opposed the sale.

Mayor Allen and J. Paul Austin, chairman of Coca-Cola, gathered the business elite at the Piedmont Driving Club. Allen warned then he would be taking notes on who did not attend the dinner. But Austin delivered the crushing blow.

According to Young's written account, Austin said: "It is embarrassing for Coca-Cola to be located in a city that refuses to honor its Nobel Prize winner. We are an international business. The Coca-Cola Company does not need Atlanta. You all have to decide whether Atlanta needs the Coca-Cola Company."
On October 13, 1976, Democrat Jimmy Carter received a post-debate bump against President Gerald Ford, with polls showing Carter at 50%-40% over the incumbent, up from 47%-45% before the debate.
On October 14, 1980, Republican candidate for President Ronald Reagan announced he would name a woman to the Supreme Court if elected.
To achieve those ends, we need the best people possible at the highest levels of Government regardless of sex, race or religion. I am also acutely aware, however, that within the guidelines of excellence, appointments can carry enormous symbolic significance. This permits us to guide by example, to show how deep our commitment is and to give meaning to what we profess.

One way I intend to live up to that commitment is to appoint a woman to the Supreme Court. I am announcing today that one of the first Supreme Court vacancies in my administration will be filled by the most qualified woman I can find, one who meets the high standards I will demand for all my appointments.

It is time for a woman to sit among our highest jurists. I will also seek out women to appoint to other Federal courts in an effort to bring about a better balance on the Federal bench.
Former President Jimmy Carter was awarded the Nobel Peace Prize on October 11, 2002, becoming the second native Georgian to win the award, with Rev. Martin Luther King, Jr., having won in 1964.
Georgia Politics, Campaigns, and Elections
President Donald J. Trump yesterday declared a state of emergency in Georgia, according to the AJC.
The president is expected to visit the state next week to survey damage from the storm.

Vice President Mike Pence had been scheduled to visit Atlanta on Thursday but cancelled his trip due to the storm.
President Trump is expected to visit Georgia on Monday, according to Fox News.
The United States Senate confirmed Billy Ray of Gwinnett County to a seat on the U.S. District Court for the Northern District of Georgia by a 54-41 vote, according to the Gwinnett Daily Post.
The Senate voted just before 6 p.m. Thursday to confirm President Donald Trump's nomination of Ray, a former Gwinnett County Superior Court judge and Georgia Court of Appeals justice, to a seat on the U.S. District Court for the Northern District of Georgia. The confirmation measure passed on a nearly partisan line 54-41 vote.

In addition to serving as a judge at the county and state levels, Ray also previously served in the Georgia General Assembly and was a partner at the law firm of Andersen, Davidson and Tate, P.C.

"Judge Billy Ray has an outstanding record of service to Georgia in our state Legislature and on the bench and a history of getting things done," [Senator Johnny] Isakson said. "Judge Ray created Heidi's Law in Georgia to tighten penalties in repeat DUI cases, and he created the drug court in Gwinnett County.

"I'm pleased the Senate confirmed Judge Ray and look forward to his continued service."

[Senator David] Perdue said, "I'm confident Judge Ray will continue to serve with integrity in this new role, just as he did during his combined 16 years on the Court of Appeals of Georgia and Superior Court in Gwinnett County. President Trump has selected an exceptional Georgian to fill this seat on the federal bench, and I congratulate Judge Ray on his confirmation."
From the Valdosta Daily Times:
The southwest corner of Georgia – Decatur County, in particular – bore the brunt of the storm, which crossed state lines as a Category 3 hurricane. Details remained scarce Thursday, as state officials struggled to even communicate with local officials there.

One fatality has been reported in Georgia. An 11-year-old girl was killed in Seminole County after a tree fell onto her home.

"Thanks goodness, that's the only one that I'm aware of at the present time," Gov. Nathan Deal said Thursday morning.

At least 53 poultry houses were destroyed in southwest Georgia. More than 450,000 people were without power statewide. Nearly 130 state routes were closed because of fallen trees and another 120 roads strewn with debris – tallies that are expected to grow. Twenty hospitals and 15 nursing homes were relying on generators for power.

Agriculture Commissioner Gary Black said it is too soon to know the impact to the state's top industry. He said in some cotton fields it was impossible to tell where farmers stopped harvesting the crop and where the storm ravaged the rest.

"Our worst dreams, I believe, are being realized," Black said. "It's a very serious day for agriculture. This is going to have lingering effects on rural parts of our state for some time to come."

"Past experience tells us that one of the greatest impediments to restoring power is people who get in the way of the power trucks and the crews who are working to make that happen," Deal said. "Do not impede those who are trying to help you. They are working there very hard."
From the Ledger-Enquirer and Macon Telegraph:
The damage to agriculture overall in Georgia was still being assessed Thursday, but Agriculture Commissioner Gary Black said early indications are bad.

"This could be the worst we've ever seen," he told The Telegraph "It's absolute devastation."

The worst damage was in southwest Georgia, but Black said the destruction continued over a large swath across the state. He compared it to the damage of a tornado, except over about a 200-mile wide path. He said about 50 broiler chicken houses were destroyed.

Cotton appears to have been hit especially hard. The winds blew the cotton off the plants. Black said he saw photos from one field where a farmer had been harvesting up until the last minute. The storm picked the cotton off the plants about as thoroughly as the harvester.

One area of concern that might not have been as bad as expected in Middle Georgia is pecan trees. The remnants of Hurricane Irma did significant damage to pecan trees in the area last year, but the trees appeared to have fared better this time.

Robert Dickey, owner of Dickey Farms in Crawford County, mostly grows peaches but also has pecan trees. He said he was very worried about what the storm would do to the pecan trees but he saw little damage. Peach trees also survived the storm well, he said.

"We dodged a bullet," Dickey said.
Areas east of Columbus were hit much harder, however. Flint Energies, which provides power service from Columbus to Warner Robins, Ga., reported that as of 10 a.m. Thursday it had just over 18,000 customers without power and that it likely will take five to six days to get electricity back on for everyone.

"Flint has brought in extra crews from Tennessee, Kentucky, North Carolina and Arkansas to assist with restoration," Ty Diamond, Flint's chief operating officer, said in a statement. "Flint will have crews working around the clock until all members are restored."

Another significant impact was mail delivery in the Columbus area, with the U.S. Postal Service putting service on hold until it could get a handle on damages at its facilities in the city and at its processing plant in Macon, Ga., which is a hub used to sort mail and packages to and from Columbus. Locally, the ZIP code areas that didn't receive mail were those starting with "318" and "319."

"The Macon Processing Plant is expected to resume operations on Friday," Kanickewa "Nikki" Johnson, a strategic communications specialist with the USPS, said via email Thursday. "To ensure the safety of our customers and our employees, we will assess the aftermath of the storm prior to reopening our post offices or resuming mail delivery. At this time, we anticipate resumption of delivery and retail services at post offices in Columbus on Friday, but that is dependent on our evaluation of conditions. We apologize for any inconvenience and are working to restore service as soon as we can safely do so."
The impact of Hurricane Michael on Georgia agriculture could top $1 billion dollars, according to the AJC.
The damage is so widespread that Georgia Agriculture Commissioner Gary Black believes it will "definitely" be a $1 billion hit to the state's economy. To recover, Black and farmers said the federal government must come through with assistance — and a lot of it.

Black said he spoke with Vice President Mike Pence and U.S. Agriculture Secretary Sonny Perdue, who assured him the federal government would help the farmers, who reported extensive damage across South Georgia and near Macon.

The biggest crops of concern are cotton, pecans and fall vegetables, which were all in the midst of harvest and most were grown within Michael's path. Combined, the crops are worth some $1.5 billion a year to Georgia's economy.

Black is also worried for the state's top commodity, poultry, because several large farms are in Grady County, where he'd heard of nothing but "utter devastation."
Jackson EMC employees will assist with power restoration in areas served by other utilities, according to AccessWDUN.
"We were having conversations all week, actually, planning that if the damage in our area wasn't significant, what could we do to possibly help other EMCs," Sorrow said. "All week we've had a list of linemen that were ready to go as soon as things were cleared up here and now we're really happy and excited that we're able to put that plan in action."

On Friday morning, 26 linemen, two foremen and a mechanic will report to Georgia EMC for assignment. Sorrow said she is unsure of the exact location – or locations – the Jackson EMC workers will serve.

In addition, Jackson EMC has released 97 contractors to assist with restoration efforts in impacted areas.

Sorrow said it's standard operating procedure for EMCs to assist each other in emergency situations.
A federal lawsuit has been filed asking to overturn Georgia's "exact match" processing of voter registrations, according to the AJC.
The legal action comes after The Associated Press reported this week that at least 53,000 voter registrations were flagged because of the law. Those voter registrations are on hold because of discrepancies between application information and government records, such as a missing hyphen in a last name or data entry errors.

But potential voters can still participate in this year's elections if they show photo ID either when they go to vote or beforehand. They can also mail identification to county election officials in advance. If their ID resolves the discrepancy, they will immediately become active voters eligible to cast a normal ballot on Georgia's voting machines.

The "exact match" law has drawn criticism from voting rights groups that say it could suppress voters in the upcoming election for Georgia governor between Republican Brian Kemp and Democrat Stacey Abrams. Kemp is Georgia's secretary of state, responsible for oversight of elections and voter registration.

The lawsuit alleges that the law, passed by the Georgia General Assembly last year, has a disproportionate impact on African-Americans, Latinos and Asian-Americans who want to become registered voters. About 80 percent of applications put on pending status were submitted by those minority groups, according to the lawsuit.

"It imposes unnecessary and discriminatory burdens on the voter registration process," according to the lawsuit, filed by the Lawyers Committee on Civil Rights Under Law, which is representing several civil rights organizations in the legal action.
GeorgiaForward hosted a forum in Macon, according to the Macon Telegraph.
"The goal today was to bring people that think differently together and to talk about the challenges that different communities of different sizes and locations face around engaging young people and really elevate the level of awareness around the importance of engaging younger people in communities," said Kris Vaughn, the executive director of GeorgiaForward.

Leaders from the local community spoke including Macon-Bibb County Mayor Robert Reichert, Cathy Cox, the dean of the Walter F. George School of Law at Mercer University and Josh Rogers, president of NewTown Macon.

There were two panels at the forum. The first included Amy Carter, the deputy commissioner of rural Georgia initiatives for the Department of Economic Development, and Kasey Carpenter, member of the Georgia House of Representatives. The panel included discussions about the obstacles as well as the opportunities for involving young adults in civic development.

"Young leaders need to really stand out and show what they can do to prove that they have what it takes," Carter said.
Tybee Island beaches remain closed until further notice, according to the Savannah Morning News.
The Talmadge Bridge in Savannah has reopened, according to the Savannah Morning News.
The Sidney Lanier Bridge in coastal Georgia is open, according to the Brunswick News.
Jaguar Land Rover Classic canceled previously announced plans to build a facility in Savannah, according to the Savannah Morning News.
This has nothing to do with your town, or state," Chas Hallett, a spokesman for the United Kingdom's Jaguar said. "We are all disappointed."

Hallett said the relationships established with SEDA and others have all been "extremely positive."

Hallett said a 46 percent drop in sales in China, anti-diesel rhetoric in Europe and an upcoming drop in the import tax China charges are all factors Jaguar had to consider.

"With those global headwinds we are having to make some tough choices," Hallett said. "You can weather a storm, but not three or four at the same time."

China has been charging an import tax on vehicles of 25 percent. That tax is set to drop to 15 percent – causing customers to wait on a purchase.
The Coweta County Board of Education voted to seek legislative approval of a property tax exemption for seniors, according to the Newnan Times-Herald.
After months of publicly advocating for lower taxes, Linda Menk cast the sole vote against a measure that would provide more than $1.8 million in tax relief for seniors.

On Tuesday night, the Coweta County Board of Education voted 6-1 – with Menk opposed – to submit to the local legislative delegation a new school property tax exemption, adjusted for inflation, for Cowetans ages 65 and older. "Local legislation" must be approved in the Georgia General Assembly to move forward with the changes to the exemption.

Historically, the local delegation has required a unanimous vote to move forward with local legislation. If local legislation is approved, the proposal can be placed on a ballot in 2019 for Coweta voters to decide whether to increase the current exemptions. The legislative session begins in January.

During board discussion, Menk said the adjustments "aren't aggressive enough."
Violent crime involving guns was down for August in Statesboro, according to the Statesboro Herald.
The Gwinnett County Board of Commissioners, sitting as the county Urban Redevelopment Agency board, will meet next week to approve issuing $36.5 million in bonds to purchase the OFS manufacturing site at Jimmy Carter Blvd. and I-85, according to the Gwinnett Daily Post.
The Gainesville Times looks at the election for Hall County Board of Education Post 2.
The candidates for Post 2 on the Hall County Board of Education representing South Hall have enough contrasts to make them distinct from one another.

But one of the most pressing issues facing school districts across the country has Republican Mark Pettitt and Democrat William Wallace sharing similar concerns.

"I think our school board has done a really good job in years past, and especially this year, in strengthening our school safety plans," Pettitt, 25, said. "But I'm not sure in the world that we live in today that you can ever do enough."

Wallace, 44, a former police officer in New York and Atlanta who now conducts security for a private school, said everything must be on the table for discussion when it comes to improving student safety and campus security.
The Savannah Harbor Expansion Project hit the $1 billion mark, according to the Atlanta Business Chronicle.
A water resources authorization bill the U.S. Senate passed overwhelmingly Wednesday requests an increase in the federal share of the project to $731.7 million, bringing the total cost of the work to just more than $1 billion. The state already has contributed its full share of $287.2 million.

The harbor is being deepened from 42 feet to 47 feet to accommodate the new generation of giant containerized cargo ships that have been calling increasingly at the Port of Savannah since the Panama Canal was widened in 2016. The Savannah project is scheduled to be completed in 2021.

"As our ports continue to set new records for commerce, the America's Water Infrastructure Act will help ensure there is no last-minute bureaucratic hurdle to completing the Savannah Harbor Expansion Project on time," said Sen. Johnny Isakson, R-Ga.
The Georgia Manufacturing Summit drew more than 600 attendees to the Cobb Galleria, according to the Gwinnett Daily Post.