The Chicago Fire began on October 8, 1871. A completely different kind of Chicago Fire is underway now.
On October 8, 1895, the Liberty Bell arrived in Atlanta for the Cotton States Exposition.
The famously–cracked 2,000 pound pealer left Philadelphia on seven trips between 1885 and 1915. Each time it came home with more cracks. It turned out the men hired to guard the Bell were taking liberties, literally: chipping off pieces and selling them as souvenirs.

Cheering crowds greeted the Bell in Atlanta. A two–mile parade took it to Piedmont Park, where 50,000 people lined up to see it.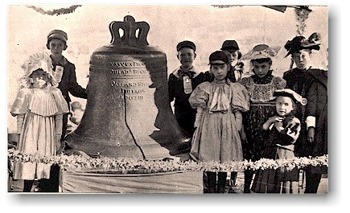 Georgia Public Broadcasting and the Georgia Historical Society have an interesting video on the Liberty Bell's trip to Atlanta. You can view a photo of the Liberty Bell Parade at the Atlanta History Center.
Polling released on October 8, 1976 indicated that Democrat Jimmy Carter won the second debate against President Gerald Ford by a 50-27 margin.
On October 8, 1981, former Presidents Nixon, Ford, and Carter visited with President Ronald Reagan at the White House before heading to Egypt to represent the United States at the funeral of assassinated Egyptian President Anwar Sadat.
Long-time Atlanta Braves pitcher Phil Niekro won his 300th game on October 8, 1984, though he wore Yankees pinstripes for that game.
The first C-5A airplane arrived at Robins Air Force Base on October 8, 1997.
On October 8, 1998, the United States House of Representatives voted 258-176 to authorize an impeachment inquiry against President Bill Clinton.
President George W. Bush issued an Executive Order establishing the Department of Homeland Security on October 8, 2001.
Georgia Politics, Campaigns, and Elections
Governor Nathan Deal announced that Georgia's state revenue for September was up 7.4% from the previous year.
Georgia's net tax collections for September totaled $2.23 billion, for an increase of $153.1 million, or 7.4 percent, compared to last year when net tax collections totaled nearly $2.08 billion. Year-to-date, net tax revenue collections totaled $5.81 billion, for an increase of $329.9 million, or 6 percent, compared to September 2017.
Donald Trump, Jr. will headline an event for Republican Brian Kemp in Athens tomorrow, according to the Athens Banner-Herald.
The event will feature Donald J. Trump Jr., Republican gubernatorial candidate and Georgia Secretary of State Brian Kemp and former Fox News personality Kimberly Guilfoyle, according to an email sent last week to Kemp supporters.
Former President Barack Obama has [surprise, surprise] endorsed three Democratic state legislative candidates, according to the Gwinnett Daily Post.
The Democratic Legislative Campaign Committee announced Monday that Obama has endorsed state House District 105 candidate Donna McLeod, Senate District 40 candidate Sally Harrell and Senate District 48 candidate Zahra Karinshak.

"Our incredible array of candidates up and down the ticket, all across the country, make up a movement of citizens who are younger, more diverse, more female than ever before," Obama said in a statement. "They're Americans who aren't just running against something, but for something."
The Georgia Department of Driver Services closed customer service locations after their online systems crashed, according to the Gwinnett Daily Post.
The issuance software provided by IDEMIA to handle driver's licenses experienced the outage at all of DDS' customer service centers Friday morning, and initially there was uncertainty about when it would be out. DDS has customer service centers in Lawrenceville and Norcross among others around the state.

"Department of Driver Services has been experiencing a statewide system outage at all of its Customer Service Centers," department officials announced on Facebook just before noon Friday. "Early indications are that the issue is vendor-related, and DDS continues to work closely with everyone involved to resolve the situation.

"Unfortunately, at this time, there is still no estimated time for the resolution."

The system outage forced state officials to urge Georgia residents who needed to visit a center to instead use the department's website to renew, replace or update their licenses. By late Friday afternoon, IDEMIA and department officials indicated they expected to begin reopening centers over the weekend.
Constitutional Amendment One will raise up to $40 million dollars per year for conservation, according to the Newnan Times-Herald.
Amendment One would fund the Georgia Outdoor Stewardship Trust with existing sales taxes on outdoor equipment sold at sporting goods stores. It wouldn't increase or create new taxes but would set aside up to 80 percent of state sales taxes collected at sporting goods stores.

It's one of five constitutional amendments and two statewide referendum questions that will be on the Nov. 6 general election ballot.

"The main thing this does is it creates a dedicated fund," said [State Rep. Lynn] Smith, chair of the House Natural Resources and Environment Committee.

"This has taken years. It first started with the name 'Legacy Fund,'" she said.

Now, Gov. Nathan Deal is supporting the amendment.

Smith expects money to go toward bringing state parks up to standard, because many aren't right now, and to purchasing land needed to protect forests, fish and wildlife. Local governments will have the opportunity to apply for grants for their park and conservation projects.
That article is worth reading for its summaries of all the statewide amendments and referendums.
The AJC looks at the election for Gwinnett County Commission District Four.
The battle for the Gwinnett County District 4 seat, which covers Lawrenceville and Buford, features stark contrasts in the candidates: incumbent John Heard and challenger Marlene Fosque. But the two also have some goals in common. Both say Gwinnett needs to maintain its focus on fiscal responsibility and economic development — but to make sure that the growth ahead is smart growth.

Heard is fond of calling Gwinnett the best place "in the universe" to do business and pointed to the county's prestigious "Triple-AAA" bond rating, which means it has achieved the highest marks possible from all three rating agencies. He also boasted about his role in the creation of the county's planned "water innovation center," which he said could ultimately create thousands of jobs.

Fosque says she'll improve communication with residents ("a lot of our citizens don't know what's going on") and business owners who would like to bid on projects or seek contracts with the county but may not understand the process. She said she also wants to find ways to diversify the county's staff.

The District 4 seat is one of two Gwinnett Commission spots up for grabs Nov. 6. In District 2, which primarily covers parts of Lilburn, Norcross and Peachtree Corners, Republican incumbent Lynette Howard will try to fend off Democratic challenger Ben Ku.
Statesboro voters will decide whether to expand hours for Sunday alcohol sales, according to the Statesboro Herald.
Statesboro is holding a separate special election coinciding with the Nov. 6 statewide and county election. But there are no candidates in the city election, only a question about how early restaurants in the city limits can serve alcoholic beverages on Sundays.

Early voting in the referendum will be available Oct. 15-Nov. 2, just as with the state and county election, and in the same places but on a separate ballot. But some Statesboro residents who wait until the traditional Election Day, Nov. 6, will then need to vote in two separate places.

The referendum is Statesboro City Council's initiative under the so-called Brunch Bill passed by the Georgia General Assembly in March and signed May 8 by Gov. Nathan Deal. Cities and counties that get local voter approval can allow restaurants that serve alcohol on Sundays to do so an hour and a half earlier, beginning at 11 a.m. instead of 12:30 p.m.

The city has only two voting precincts, Statesboro 1 at the William James Educational Complex on Williams Road, and Statesboro 2 at Pittman Park United Methodist Church on Fair Road. Meanwhile, the county has several precincts that include parts of Statesboro. So unless a Statesboro resident's county precinct happens to be at the William James Complex or at Pittman Park, that person would have to go to one voting house for the statewide, congressional and county election  and to a different voting house for the city's one-item special  election.

A way to avoid having to vote in two different places is to vote early. The county's early voting places will all be equipped to accommodate early voters in the city referendum.
Woodstock voters will also have to go two different places to vote in all this year's general elections, according to the AJC.
Woodstock residents will have to go to two polling places Nov. 6 if they want to cast ballots for both the statewide general election, and the special election on the so-called "Brunch Bill" to move up to 11 a.m. Sunday serving of alcohol in restaurants.

The place to vote for the statewide general election is your usual, county polling place; while the polling place for the municipal special election on the serving hours is the Woodstock Public Library, 7735 Main St.,the city says in its October newsletter.

Residents can avoid the hassle of having to go to two polling places by participating in early/advance voting, the city says
Maggie Lee writes for the Macon Telegraph about more women running for office this year.
Women are getting on the tops of ballots in record numbers this year, inching toward a still far-off scenario of gender parity in highest office. But in some of the more modest chambers of Georgia's local governments, women are already a little less rare.

That's a typical path for a woman to local elected office, as described by Mirya Holman, an associate professor of political science at Tulane University who studies women and local office.

There are almost 5,000 mayors, members of county commissions, school boards and city councils across Georgia. Not quite three in 10 are women.

While that's not near parity, it's still closer than the U.S. Congress, where 20 percent of officeholders are women. Those Congressional numbers are likely to rise after elections this year, though. As tracked by the Center for American Women and Politics at Rutgers University, a record 235 women have won U.S. House nominations this year.

Back in Georgia, headline figures mask some differences among local offices. Across the state, about 37 percent of school board seats are held by women. About 30 percent of Georgia's city council members and mayors are women. In county office, including Macon-Bibb and Columbus leadership, only about 14 percent of officeholders are women, according to organizations for each of those local governments.
The Murray County Democratic Party held a reception for voters to meet their candidates, according to the Dalton Daily Citizen.
"People seem to be energized right now, and we want them to get out and vote," said Murray County Democratic Party Chair Liz Gould.

Gould noted that Democratic Party gubernatorial candidate Stacey Abrams is locked in a tight race with Republican Brian Kemp, who is currently secretary of state. She said she hoped interest in that race and enthusiasm for Abrams will boost Democratic candidates further down the ballot.

Fred Swann, the Democratic candidate for agriculture commissioner, says the interest in the governor's race — Abrams would become the state's first black and first female governor if elected — should boost other candidates.

"There's historically a very low drop-off between how people vote for governor and how they vote for (agriculture commissioner)," said Swann, a programmer analyst from the Macon area. "If there's a tight governor's race, we have a very good shot of winning this seat."

Swann faces incumbent Agriculture Commissioner Gary Black, a Republican, in November.
The Chatham County Police Department will begin aggressive enforcement of traffic laws, according to the Savannah Morning News.
The success of a traffic safety grant Chatham County has been awarded will be measured in part by how many traffic stops Chatham County police officers make each month, according to documents filed with the Chatham County Commission.

The Chatham County Police Department expects to make more stops as a result of the new radar and alcohol-sensor equipment the grant funds are providing for, said Betsy Nolen, county spokesperson. The department also is increasing the number of officers it employs. It has 15 vacancies, which it hopes to fill by the end of the year, bringing its police officer headcount to 127 from 112 now, Nolen said.

The county received $49,330 in federal funds in a High Visibility Enforcement Grant to purchase RADAR units, alcohol sensors, LIDAR units and other detection devices. The goal is to reduce serious traffic accidents on routes in Chatham County.

"This is equipment that will allow us to better enforce traffic laws and (help) in getting impaired drivers off the road and hopefully discourage them from getting on the road in the first place. We hope it is a proactive solution as well as a reactive one," Nolen said.
Glynn County Manager Alan Ours delivered a "State of the County" address to the Golden Isles Chamber of Commerce, according to The Brunswick News.
A 10 percent pay raise for all public safety officers in 2017 has increased retention and led to a lot of new applicants, Ours said, and the county has hired and trained 17 police and 28 firefighters in the last year.
Muscogee County property owners must pay at least 40 percent of their property tax bill by October 15, according to the Ledger-Enquirer.
Oct. 15 also is the deadline to pay at least 40 percent of your Muscogee County property taxes, if you don't pay it all by then. If you pay 40 percent, the rest is due in December.

Like Columbus' early voting poll, the tax office is on the ground floor of the City Services Center at 3111 Citizens Way, west of the library and south of the school administration building. The office hours are 8:30 a.m. to 4:30 p.m. Monday through Friday, but the city government's closed this Monday for Columbus Day.

Taxes can be paid in cash, checks, money orders, or, with a 2.5 percent processing fee, credit cards.
The Ledger-Enquirer also looks at elections on their local ballot.
The Rome News-Tribune looks at fundraising by legislative candidates.
[Republican State Senator Chuck] Hufstetler reported $174,882 in his campaign chest, with more than $43,000 coming in between July 1 and Sept. 30 — the period covered by the latest reports filed with the State Ethics Commission.

In contrast, [Democrat Evan] Ross had $4,357 left after taking in about $6,000 this period. So far, he's reported just over $30,000 in donations, cash and in-kind, since his campaign started.

Democrat John Burnette II, owner of a Farmers Insurance agency, is challenging incumbent Republican Katie Dempsey for the District 13 seat, which covers the city of Rome and much of central Floyd County.

Burnette reported $151 in his campaign account on Sept. 30 compared to Dempsey's $54,557.
Rome City Commission will likely consider buying take-home cars for police officers from SPLOST funds, according to the Rome News-Tribune.
Collections won't start until the current SPLOST expires on March 31, 2019, but the board approved a resolution in May that allows the city to advance funds for a project and reimburse itself when the revenue comes in. The public safety committee is recommending the purchase of 20 police cars.

The 2017 SPLOST contains a $925,000 earmark for the cars, which would complete the Rome Police Department's take-home car program.

Police Chief Denise Downer-McKinney told the citizen-committee that approved the earmark that the program helps recruit and keep trained officers. Having the cars at their homes also speeds officers' responses if they're called out while off-duty and the parked vehicles deter crime in those neighborhoods.
Johnny Vardeman writes for the Gainesville Times about the history of local school systems starting class in July.
Bill Kirby of the Augusta Chronicle looks at the last debate over where to build a civic center in Augusta.