King George, III issued the Proclamation of 1763 on October 7, 1763.
With respect to Georgia's official boundaries, the proclamation expanded Georgia's southern boundary by giving the colony all lands between the Altamaha and St. Marys rivers. Previously, the Altamaha had served as Georgia's southern boundary.

So, the impact of the Proclamation of 1763 was to set Georgia's official southern boundary as the St. Marys River from its mouth to the headwaters, then north to the Altamaha River, then north to the headwaters of that river, and then westward to the Mississippi River. Georgia's northern boundary was the Savannah River from its mouth to its headwaters.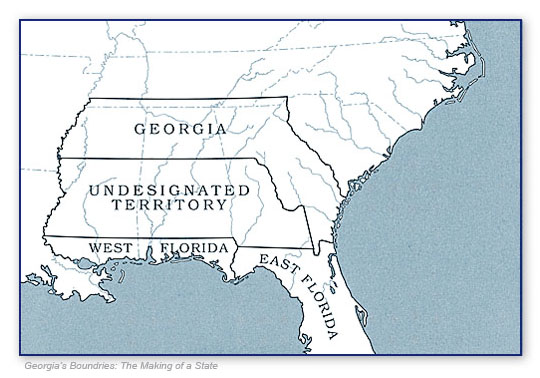 Patriot militia defeated Loyalists at the Battle of King's Mountain in North Carolina, near the South Carolina border on October 7, 1780.
On October 5, 1864, the Battle of Allatoona Pass was fought in Bartow County, Georgia.
On October 7, 1916, Georgia Tech beat Cumberland College in the most-one-sided college football game in history, by a score of 222-0.
The Engineers led 63–0 after the first quarter and 126–0 at halftime. Tech added 54 more points in the third quarter and 42 in the final period.
Recently, a Georgia Tech alumnus paid $44,388 for the game ball with the intention of donating it to the trade school.
The first televised Presidential address from the White House was broadcast on October 5, 1947.
The Democratic Republic of Germany (East Germany) was created by the Soviets on October 7, 1949.
Democrat John F. Kennedy and Republican Vice President Richard Nixon met in the second televised Presidential debate on October 7, 1960.
President Richard Nixon proposed a structure for peace and eventual withdrawal of American forces from Vietnam on October 7, 1970.
The Georgia Supreme Court outlawed use of the electric chair as "cruel and unusual punishment" on October 5, 2001.
President George W. Bush (43) announced military action in Afghanistan on October 7, 2001.
In a televised address that evening, Bush informed the American public that "carefully targeted actions" were being carried out to crush the military capability of al-Qaida and the Taliban, with help from British, Canadian, Australian, German and French troops. An additional 40 nations around the world provided intelligence, as well as bases from which the operations were conducted.

Bush touted the multinational effort as proof that America, in the aftermath of the September 11 attacks, was "supported by the collective will of the world." He also warned that the war in Afghanistan would likely be only the first front in a long struggle against terrorism. He vowed to continue to take what he called the "war on terror" to those countries that sponsored, harbored or trained terrorists.
Arnold Schwarzenegger was elected Governor of California on October 7, 2003.
Gwinnett County will host the 40th annual Elisha Winn Fair in Dacula this weekend, according to the Gwinnett Daily Post.
This year will mark 40 years since the Gwinnett Historical Society first held a fair at the Elisha Winn Fair to both celebrate the history of the house — one of the oldest, if not the oldest, structures in Gwinnett — and raise money for the society.

Now in Gwinnett's bicentennial year, the county and the fair will celebrate milestone birthdays by combining them together. This year's Elisha Winn Fair will be held Saturday and Sunday at the Elisha Winn House, which is located at 908 Dacula Road in Dacula.

"We have been so busy celebrating Gwinnett's bicentennial, we have not planned anything extra special for the 40th year of the fair," Gwinnett Historical Society co-president Betty Warbington said. "The two celebrations really go together well! And this year's fair is turning out to be the best one, in my opinion, that we have had."

The Elisha Winn House, which is believed to have been built in about 1812, holds a special significance in Gwinnett County because it is where the county's founding father laid out the plans for setting the county up. It was also the county's first voting poll site and housed the Inferior and Superior Courts for a time in the county's early years.
Georgia Politics, Campaigns, and Elections
At this week's debate among candidates for the Public Service Commission, Republican incumbent Chuck Eaton asked Libertarian Ryan Graham about Graham's writings advocating legalizing all drugs and eliminating public schools. Watch the question and answer here or below:
Graham denied having written such things. From the AJC Political Insider:
"I'd like for you to expand," Eaton said to Graham, "On some of your statements in the past regarding the legalization of heroin and other drugs, and the elimination of our public school system."

A puzzled look crossed Graham's face. "I have never said anything about the elimination of our public school system. I don't really understand what this has to do with the Public Service Commission at all," the Libertarian said.

"This is important," Eaton said. "He's written about it on the internet, he's written about it on liberty websites. We don't know a whole lot about him, and it gives some insight into somebody's mind, and how they think."

After the debate, the Eaton campaign sent us a pair links to explain what the Republican was driving at. We'll let you be the judge. On the question of public schools, Graham wrote this as part of a critique of the 2017 "campus carry" law – emphasis ours:

"In a truly free society, there would be no public education facilities. These would be privately managed institutions and they would be allowed to make rules for themselves on whether firearms are permitted on their campus or not. A bill in Georgia should allow these institutions, public or private, to make these decisions for themselves."

And in an analysis of medical marijuana legislation:

"While the libertarian answer is to legalize all drugs as the state has no business regulating what individuals put in their own bodies, this is clearly a step in the right direction."
Later that day, Libertarian Ryan Graham doubled-down on his statements about legalizing all drugs on Twitter.
So, the Libertarian has written that there should be no public schools, and that Georgia should legalize all drugs. When confronted with his statements, he denied having written them, but later admitted to me in person that he did write the statements in question. He suggested googling him to see what he's written. That's how his radical ideology first came to light: Google search. Maybe he should have Googled himself first.
Tuesday is the deadline for registering to vote in November's General Election, according to the Augusta Chronicle.
In Richmond County, registrations are at an all-time high of 122,089, which exceeds the county's previous record of approximately 109,000 in the 2012 presidential election, said Lynn Bailey, executive director for Richmond County Board of Elections.

"It's the highest number by far we have ever had to register to vote here," she said.

Registrations are up by around 6,000 since the May primary, and Bailey said she expects the number to rise.

"Registrations are steadily coming in," she said. "We're very busy doing data entry. I suspect to see that number go up by maybe as many as 1,000 to 1,500 between now and the voter registration deadline."
The Georgia Criminal Justice Coordinating Council and the Georgia Bureau of Investigation will receive federal grants to fight opioids, according to the Gainesville Times.
The projects will increase information sharing as well as a statewide program focused on helping Drug Court participants.

The GBI is set to receive nearly $500,000 from the Bureau of Justice Assistance under the Technology Innovation for Public Safety grant program, which will focus on enabling "strategic information sharing across agencies to address the opioid epidemic," according to the Department of Justice.

More than $1 million went to the council for the "Opioid Affected Youth Initiative," which will address opioid abuse.

Samantha Wolf, communications and external affairs director for the Criminal Justice Coordinating Council, said the grant was applied for in a partnership with the attorney general's office and the statewide opioid task force.

"After conducting a comprehensive gap needs analysis, this project will target evidence-based programming for youth with (an) identified opioid-abuse disorder," Wolf wrote in an email.

The council also received funding for a statewide program "that will be administered in partnership with the Council of Accountability Court Judges" for Drug Court participants.
Savannah-Chatham County Public Schools will receive a $500,000 federal grant for school safety, according to the Savannah Morning News.
The funds, which will be awarded in two grants, are part of more than $70 million in grant funds the Department of Justice announced for schools and first responders to school violence incidents.

The Savannah-Chatham County Board of Education Police Department will receive a STOP School Violence grant for $187,500 from the Bureau of Justice Assistance, one of 85 grants nationally designed to provide training on ways to prevent violence and respond to mental health crises.

Chatham County will receive a $306,911 grant through the COPS Office School Violence Prevention Program. The grant, one of 91 nationally, provides funds for school safety and law enforcement coordination efforts, training for law enforcement officers, technology for emergency notification, and target hardening.

The grant funds can be used for new reporting systems, threat deterrent programs, and to educate school staff, students and first responders about safety measures.
Chatham County Police Department held their first-ever ceremony for newly-graduated recruits, according to the Savannah Morning News.
"With our graduating officers, we are 88 percent staffed," [Chief Jeff] Hadley said. "We hoped to be fully staffed by the first of the year. We've worked tirelessly to find the best people possible to police the unincorporated areas of Chatham. So I'm very proud of the work of our agency. There is a lot more work to be done, but we're off to a great start."

During the ceremony, Chatham County Commission Chairman Al Scott commended the officers for responding to the need for officers in February after the Savannah-Chatham police de-merger.

"I'm proud of you all who stepped up," he said. "You're the ones who help those who are vulnerable during disaster."
Macon-Bibb County Mayor Robert Reichert took the stand as a witness in a bribery trial involving the school system, according to the Macon Telegraph.
The criminal case revolves around the tenure of former Bibb schools superintendent Romain Dallemand and the Macon Promise Neighborhood plan, a widely-backed civic effort to acquire millions in federal grants to bolster education and living conditions in the city's crime-torn, poverty-stricken Unionville and Tindall Heights communities.

Reichert has been in office since 2007, around the time that planning began for pursuing the Promise grant. Reichert said he then came to know Cliffard D. Whitby, who runs a construction firm and is the former chairman of the Macon-Bibb County Industrial Authority. The men toured the dilapidated and shuttered Ballard-Hudson Middle School near Henderson Stadium on Anthony Road.

The abandoned school, prosecutors say, was eventually purchased by one of Whitby's interests, a nonprofit known as the Central Georgia Partnership for Individual and Community Development (GCPICD), which is also a defendant in the criminal case against Whitby and Knowles.

The government's attorneys contend that Whitby enlisted Dallemand as a maestro to direct the county's school board to support and to, in January 2012, send $1 million of a $10 million, 10-year commitment to GCPICD to lease the Promise Center building.
The Georgia Rural Hospital Tax Credit program helped South Georgia Medical Center Berrien and Lanier campuses to receive $1.2 million dollars in contributions, according to the Valdosta Daily Times.
The program has enabled Georgia taxpayers (businesses and individuals) to redirect their Georgia income tax liability to help support qualifying rural hospitals such as the ones in Berrien and Lanier counties, hospital officials said.

SGMC Interim CEO Bill Forbes said the program is a tremendous benefit to rural communities. In Berrien and Lanier counties, higher rates of the uninsured with chronic medical conditions such as hypertension and diabetes contribute to high levels of uncompensated care.

"It's challenging to make financial ends meet, much less have surplus funds to purchase new equipment and renovate our aging facilities," Forbes said. "We are thankful that donors from the local community and throughout Georgia have recognized the importance of quality rural health care and have chosen to support the SGMC Berrien and Lanier campuses."

Forbes said funds would help purchase high-tech diagnostic equipment such as 3-D mammography at the Lanier campus and replace outdated hospital beds and other furnishings.
The City of Stockbridge has hired James Touchton as their new Economic Development Director, according to the Henry Herald.
"The city of Stockbridge is excited to welcome James Touchton to the team," said Randy Knighton, Stockbridge city manager, in a press release. "James' varied experiences and skills make him the ideal fit for our economic development director. Stockbridge continues to be a progressive city with some of the best talent in the state on its team."

According to the city, Touchton comes from the Council for Quality Growth, where he held the title of director of Policy and Government Affairs. Prior to that, he served five years in the Georgia Senate Research Office as a senior policy analyst and advisor.

"I'm excited to begin the role as the economic development director for the city of Stockbridge and to work with the city council, city staff and community leaders, the county, chamber of commerce and other organizations to continue the great work already in place to keep a vibrant and robust Stockbridge moving forward," Touchton said in a press release.
Cartersville-Bartow County Convention and Visitors Bureau Executive Director Ellen Archer said that Cartersville needs more hotel rooms, according to the Rome News-Tribune.
She told business leaders in Adairsville Thursday that studies have shown the county is losing an average of 205 hotel room nights every night and desperately needs at least two additional 100 room or larger properties.

One is on the way, in the form of a new Courtyard by Marriott which will be constructed adjacent to the Clarence Brown Conference Center off Ga. 20 across from the Cartersville campus of Georgia Highlands College. Archer also said the Adairsville community needs another hotel comparable to the Hampton Inn and Suites on Ga. 140 east of I-75.

"Adairsville is also in dire need of another upper class, upper mid-class, another Hampton Inn-type facility," Archer said.  She explained that traffic on the www.visitAdairville.org website is up 291 percent for the first nine months of this year as compared to the same period a year ago.

"Why do people come to Adairsville? Events, events, events," Archer said.
Gwinnett Medical Center and the FBI are investigating the release of patient information, according to the Gwinnett Daily Post.
GMC spokeswoman Beth Hardy told the Daily Post on Wednesday that 40 patients had their information accessed and exposed online, though said the hospital does not believe patient Social Security numbers or medical information was compromised.

FBI Public Affairs Specialist Kevin Rowson said Wednesday that the agency is "aware of the breach and working with all the appropriate entities," though "because it's an ongoing investigation, we are not going to comment any further."

Hardy said the "information (she is) able to provide is limited" also, though she "can confirm that patient care activities have not been impacted."
Gwinnett County Comprehensive Correctional Complex graduated its first class of welding certificates students, according to the Gwinnett Daily Post.
On Saturday, the men, who made up the program's first graduating class, received certificates in Gas Metal Arc Welding from Gwinnett Technical College, a partner in the program.

An 18-week program, the certification is offered through a partnership between Gwinnett County Corrections, the Georgia Department of Corrections, the Atlanta Regional Commission and Gwinnett Tech, said Warden Darrell Johnson.

"The goal of this program is to make it easier for offenders to succeed once they are released," Johnson said. "When they have a skill like welding, it's easier to find employment and become a productive member of our community, which reduces recidivism."
The Glynn County Public Schools discussed progress made in raising the graduation rate along with Communities in Schools, according to The Brunswick News.
CIS served more than 420 students last school year in the seven schools in which the program has site coordinators. The program works with students who may be at risk of dropping out by helping them on an individual, case-by-case basis and supporting students through different programs. CIS also promotes family involvement in schools.

The program celebrated a significant milestone last school year, said Lynn Love, executive director of CIS. For the first time, she said, CIS had a 100 percent graduation rate.

"For the first time in the history of CIS here in Glynn County — we've been here a little over 10 years — 100 percent of our seniors at Brunswick High School and Glynn Academy who were enrolled in Communities in Schools graduated from high school on time," she said.
CIS served more than 50 seniors last year who most likely would not have graduated on time without the program's support, Love said.

School board member Millard Allen credited CIS with helping Glynn County Schools achieve a 95.1 percent graduation rate this year.

"The graduation rate wouldn't be what where it is without you all," he said.
Troup County Commissioners revised their zero tolerance policy relating to drug and alcohol use by transit employees, according to the LaGrange Daily News.