On July 11, 1782, British colonists including British Royal Governor Sir James Wright, fled Georgia.
Wright had been the only colonial governor and Georgia the only colony to successfully implement the Stamp Act in 1765. As revolutionary fervor grew elsewhere in the colonies, Georgia remained the most loyal colony, declining to send delegates to the Continental Congress in 1774.
Congress ordered the creation of the United States Marine Corps on July 11, 1798, after the Corps was inactive for a period following the Revolutionary War. From 1799 to 1921, Marine Corps Day was observed on July 11, but is now celebrated on November 10, the date of it's Revolutionary War establishment.
On July 11, 1804, Aaron Burr shot Alexander Hamilton in a duel in Weehawken, New Jersey. Burr was the sitting Vice President of the United States and Hamilton a former Secretary of the Treasury.
After he shot Hamilton, Aaron Burr quickly fled the nation's capitol, making his way to St. Simons Island, Georgia, spending a month as a guest of Pierce Butler at Hampton Plantation.
Burr was a fugitive, but his killing Hamilton in a duel held a certain justifiable reasoning since dueling was not illegal, though morally questionable, to be sure. According to H. S. Parmet and M. B. Hecht in their Aaron Burr: Portrait of an Ambitious Man, after the duel, he immediately completed, by mid-August, plans which he had already initiated, to go to St. Simons, "an island off the coast of Georgia, one mile below the town of Darien."

Jonathan Daniels' "Ordeal of Ambition" handles the situation this way: "With Samuel Swartwout and a slave named Peter ('the most intelligent and best disposed black I have ever known'), Burr secretly embarked for Georgia. There on St. Simons Island at the Hampton Plantation of his friend, rich former Senator Pierce Butler, he found refuge…" As Georgia Historian Bernice McCullar, author of "Georgia" puts it, Burr was "fleeing the ghost of Alexander Hamilton" when he arrived on the Georgia island.

"Major Pierce Butler," she relates, "had fought in the British army and remained in America after the war." He had married a South Carolina heiress, Miss Polly Middleton, and acquired two Georgia Coastal plantations, which he ran like a general storming after the troops. In fact, he was so strict that none of his slaves could associate with any of the others. He also required anyone who visited his plantations to give his or her name at the gate. With this tight security, Burr should have felt safe..

Actually, Butler's invitation to visit the island fitted the escapee's plans nicely. Not only was the Hamilton affair a bother, but also Burr needed to get away from a lady by the name of Celeste; however, the real reason, aside from being near his daughter, who was also in the South, was the nearness of the Floridas. No real purpose is given why the Vice-President wanted to spend "five or six weeks on this hazardous and arduous undertaking."

Daniels underscores that from this St. Simons point Burr could "make any forays into Florida he wished to make. He traveled under the name 'Roswell King." After his Florida odyssey, he planned to meet his South Carolina son-in-law "at any healthy point."
Parts of the Hampton Plantation survive in the form of tabby ruins on St Simons.
A house in St. Marys, Georgia bears a plaque stating that Aaron Burr visited there in 1804.
Clark lived in the home from 1804 until his death in 1848. He was appointed in 1807 by then-President Thomas Jefferson as customs collector for the Port of St. Marys, a position he held until his death. The year Clark bought the house, he is said to have provided a temporary hideout to Aaron Burr, who was traveling in the South to evade federal authorities holding a warrant for his arrest after he killed Alexander Hamilton in their infamous duel in July 1804.

Verification of Burr's stay in St. Marys is hard to come by. But it is confirmed that he stayed on St. Simons Island and Cumberland Island late in the summer after he killed Hamilton. That Burr knew Clark is not disputed. The two attended law school together in Litchfield, Conn., but there is no mention in either man's records that Burr stayed in the home.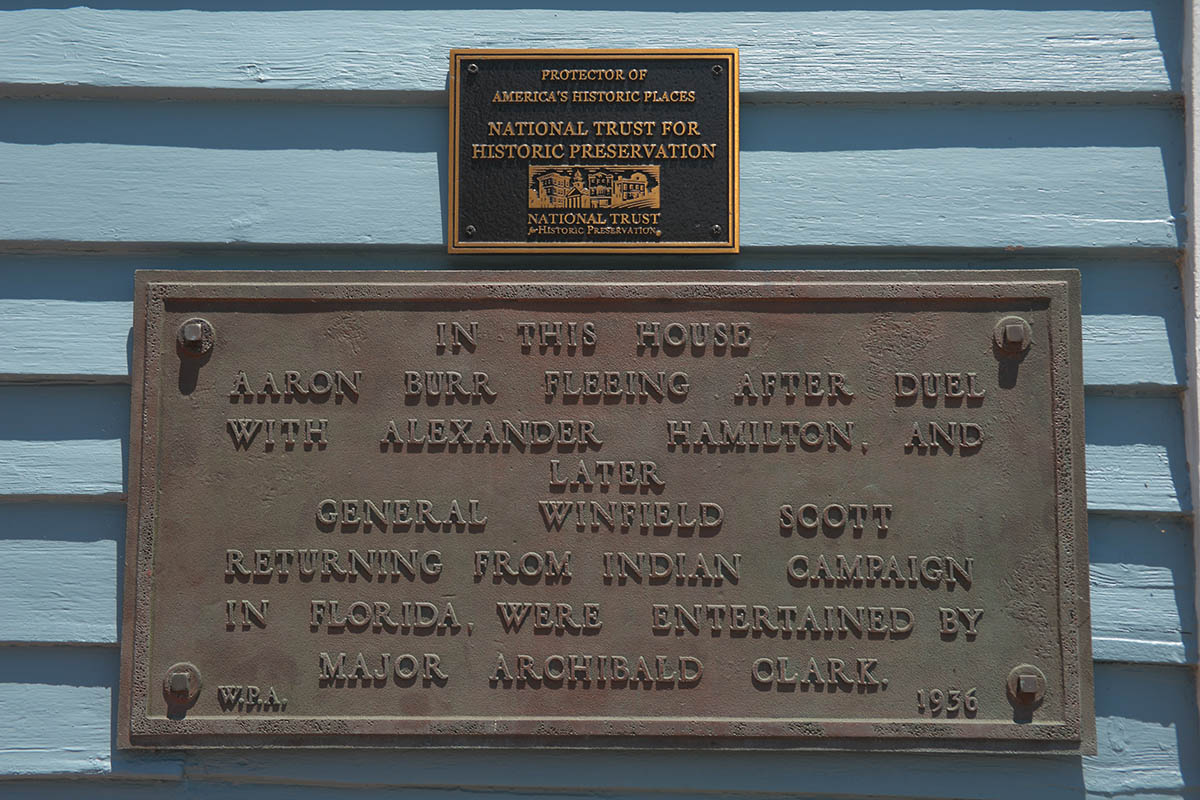 On July 11, 1877, a Constitutional Convention convened in the Kimball Opera House in Atlanta to replace the 1868 Reconstruction Constitution.
On July 11, 1916, President Woodrow Wilson signed the Federal Aid Road Act, establishing a federal program of paying for highway development.
President Franklin D. Roosevelt accepted the Democratic nomination for a fourth term on July 11, 1944.
General Dwight D. Eisenhower was nominated for President by the Republican National Convention on July 11, 1952.
July 11, 1969 was an epic day in rock and roll history, with David Bowie releasing "Space Oddity" and the Rolling Stones releasing "Honky Tonk Women."
On July 11, 1985, Astros pitcher Nolan Ryan became the first major league player to strike out 4000 batters.
Georgia Politics, Campaigns, and Elections
Governor Nathan Deal reached for his pocket knife to cut the ribbon at the Georgia Cyber Center opening yesterday, after giant scissors failed, according to the Augusta Chronicle.
Georgia Gov. Nathan Deal called the moment a historic day for Augusta.

"This new facility that I have had the opportunity of touring just a little while ago is named for two of your native sons from right here in Augusta," Deal said. "We are all going to be proud of what this building has done and what it will do."

Governor Deal's chief of staff, Chris Riley, announced that the campus will be called the Nathan Deal Campus For Innovation.
Georgia Power customers will receive a $25 dollar credit on their bills after constructions costs at Plant Vogtle's new nuclear reactors came in lower than projected, according to the AJC.
Georgia Power customers will see a $25 credit applied to their bills in July, the company announced in a press release Monday, the second of three credits Georgia Power is giving customers after the company's costs associated with the expansion of Plant Vogtle have gone down.

The credits, totalling $188 million across the state, are attributed to the $1.47 billion payment Georgia Power received from Toshiba in December of last year. Toshiba made the payment to honor a previous commitment to the Vogtle expansion project by its subsidiary, Westinghouse Electric Company, which went bankrupt in 2017.

The infusion of capital means Georgia Power will be contributing less of its own money to the construction of two new units at the Waynesboro nuclear power plant. Also contributing to the decreased cost, Georgia Power said, are changes in federal tax law which will cut the corporate tax rate.
Senator David Shafer's campaign for Lieutenant Governor rolled out a new website to rebut accusations by his runoff opponent. From a press release:
"Deceptive Geoff Duncan will say anything, no matter how untruthful or dishonest," said Shafer campaign spokesman Bryan Piligra. "Duncan has repeatedly and blatantly lied throughout his increasingly desperate campaign.  This new website exposes and rebuts Duncan's lies."

The website launched by Shafer's campaign points out the most egregious lies spread by Deceptive Geoff Duncan, including:

LIE #1: David Shafer is being sued for conspiracy.
TRUTH: The newspaper headlines in the Duncan advertisement ("Candidate accused of conspiracy in CEO's ouster") refers to a lawsuit filed against former gubernatorial candidate Clay Tippins. Shafer is not named as a defendant or accused of wrongdoing in the Tippins lawsuit. In fact, David Shafer has never been named in any lawsuit.

LIE #2: David Shafer doesn't pay his taxes.
TRUTH: Shafer's tax dispute was resolved in his favor and the tax lien issued against him was marked "issued in error and withdrawn."

LIE #3: David Shafer used political power to end an ethics investigation.
TRUTH: David Shafer was completely exonerated by a two-month, bipartisan ethics investigation. Shafer cooperated fully. He sat for two interviews and produced 10 years of email and telephone records. The independent counsel hired by the Ethics Committee to investigate the complaint determined that the allegations had been "fabricated" and were "politically motivated."

LIE #4: David Shafer got rich as a State Senator.
TRUTH: David Shafer has worked his entire life. He opened his first bank account at age 8 with money saved from mowing lawns. He worked as a church janitor at age 13 and a restaurant busboy at age 16. He worked his way through college as a department store sales clerk. After college, he earned his real estate license and invested in real estate and he has invested in and started numerous businesses. Shafer is proud of his business success.

For more information about Deceptive Geoff Duncan, visit: https://deceptiveduncan.com/lies/
Murray County's inland port is being partially credited with three companies locating nearby, according to the Dalton Daily Citizen.
The Appalachian Regional Port, near Crandall in northern Murray County, won't open for another month. But officials say it's already giving the economy a boost.

"I can't say a whole lot because of confidentiality agreements, but in the near future you'll see at least three companies coming in," said Murray County Sole Commissioner Greg Hogan.

Hogan said some of those companies are coming, at least in part, because of the port.

Commercial trucks will drop off and pick up loads at the port, which will be connected by rail to the Port of Savannah by CSX. The Murray port is on what was formerly 42 acres of cattle pasture just off U.S. 411 near the Petty-Fairy Valley Park.
Savannah City Manager Rob Hernandez says the repeal of a new fire fee may cause fiscal problems for 2019, according to the Savannah Morning News.
With the elimination of the dedicated fee, which would have freed up millions in general funds, the city may be facing a difficult budget process for 2019, according to City Manager Rob Hernandez.

Hernandez warned the Savannah City Council last week that their plan to increase the property tax rate by 0.92 mills, or 7.4 percent, will not resolve long-standing financial challenges that the fee was meant to help address.

"I don't want anyone leaving here today with a rosy picture of 2019′s budget process," he said. "We are structurally imbalanced."

The mayor and aldermen are expected to adopt the tax increase on July 19 to restore almost $10 million of the $16.5 million in revenue lost with the elimination of the fire fee. The city also implemented a hiring freeze and cut expenses, including $1 million Mayor Eddie DeLoach had sought for an early childhood learning center being planned by the Savannah-Chatham School Board.
The Macon Telegraph compares property tax rates in Macon-Bibb County with those of nearby jurisdictions.
Macon-Bibb is unique because it's one of only a few other consolidated governments in Georgia. In Macon-Bibb there is one tax rate while other Middle Georgia counties have millage rates for those living in both unincorporated areas and cities.

For instance, in 2017 Warner Robins properties were taxed at 19.9 mills when taking into account the city and county rates, according to the Georgia Department of Revenue. And Forsyth residents paid 16.3 mills for city and county government operations. In Fort Valley, the combined millage rate is 26.4 with Peach County accounting for 14.6 mills.
The City of Demorest is moving forward to join a national lawsuit against opioid manufacturers, according to AccessWDUN.
Congressman Drew Ferguson (R-LaGrange) toured a local manufacturer to learn how tax code changes are affecting local businesses, according to the LaGrange Daily News.
Jeffrey Willis, CEO of Emma Hill, said the company is increasing its manufacturing capabilities as it looks to max out its productivity in its current location. Emma Hill is an automobile floor mats manufacturer that can currently produce about 7,000 mats a day.

The company current employs 27 people, but the increased production would mean another 50 jobs.

"He doesn't know who we are," Willis said of President Donald Trump. "But we are a walking example, a textbook [example] of what he expects out of these changes he is trying to make."
Brian Kemp campaigned for Governor in Rome, according to the Rome News-Tribune.
Floyd County Tax Commissioner Kevin Payne introduced — and endorsed — the secretary of state, who is battling Lt. Gov. Casey Cagle in the July 24 runoff election to be their party's nominee for the governor's race.

"If we get Brian in the governor's office, he's not going to represent the values of Atlanta," Payne told the crowd. "He's going to represent the values of Rome, Georgia."

"No. 1 is making Georgia No. 1 for business, and I'll start by taking a chainsaw to burdensome regulations," Kemp said.
Kemp also campaigned in Harris County, according to WTOC.
"We have a lot of momentum in the race. We have had a big surge. The race is ours to win now. The last two polls we have seen, it shows that the race is tied and that is really what the bus tour is all about. It's getting our folks out, getting them fired up, and getting them working for a candidate that is going to put them ahead of the special interest status quote and the politically correct," said Kemp.
The Times-Georgian covered Kemp's campaign stop in Carrollton.
Alabama Secretary of State John Merrell and Lori Tippins, wife of former governor candidate Clay Tippins, led the rally and introduced Kemp to supporters.

"He's solidified himself as a leader by reorganizing the way that Georgia does elections, by making sure that the greatest participation in the history of the state is taking place under his purview, by streamlining business services in the state of Georgia, by making sure that it is easier to cut through all the red tape that holds people from creating jobs," Merrell said. "You know that if you need help all you need to do is call him or call his team, and they'll have somebody assigned to you and your problem and they're going to make sure that this problem is handled because you have a friend in the state capital that has proven himself to be the accountable leader that we need as this state's governor."

Tippins said that while her husband was running they got the opportunity to see how some of the other candidates presented themselves on the campaign trail.

"We had the chance to go out to a lot of candidates and see how they handled themselves and what was going on behind the scenes," Tippins said. "It became readily apparent that there was only one candidate who we could support. We need a leader who is honest, we need a leader with integrity, we need a leader who is going to do the right thing when nobody's looking. We need a leader who is not going to be a puppet for special interest groups and a leader who is going to lead all of Georgia and not just Atlanta and not just outside Atlanta. We need someone who will represent every single Georgian."
The Floyd County Board of Education adopted a semi-rollback of the millage rate that will still yield higher revenues, according to the Rome News-Tribune.
The tax rate approved by board members is a decrease of 0.055 mills. The rate is expected to generate an estimated $32.3 million, a $1.3 million increase, in local property tax revenue for the 2019 budget.

Though it is a slight decrease, the board had to advertise the change as a tax increase and hold three public hearings — two on July 2 and one Tuesday. The board chose not to completely drop the rate to the calculated rollback rate, which would have brought in the same amount of property tax revenue as the previous year, to provide funding for planned security improvements to elementary school entrances. The board has allocated $1 million in funding for those improvements.

Those whose assessed property value has gone up would pay more than if the calculated rollback rate was set. Those whose property value did not increase would see a small cut to their tax payment — $2.20 for the owner of a $100,000 home, for example.
Doug Duncan continues to hold a fundraising advantage in the runoff for Columbia County Commission Chair, according to the Augusta Chronicle.
Doug Duncan has maintained his fundraising lead over Pam Tucker as the two head into a July 24 runoff for chairperson of the Columbia County Commission.

Duncan reported raising $31,802 in cash and $2,500 in in-kind donations during the period that ended June 30, bringing his fundraising total for the race to $166,493, which includes a $50,000 loan to his campaign.
Early Voting Turnout in Runoff Elections
The Statesboro Herald looks at early voting numbers in the second week of in-person advance voting.
In the first five days of early voting, 278 Bulloch County residents cast ballots in Republican runoffs for governor, lieutenant governor, Georgia secretary of state and one county commission seat and a single Democratic Party runoff for state school superintendent.

So far, 180 voters have been mailed no-excuse absentee ballots, and these remain available for mailing to voters who request them until July 20.
From the Henry Herald on early voting turnout,
A total of 1,289 voters cast their ballots in the first week of early voting for the July 24 runoff election, according to Tina Lunsford, Henry County's director of Elections and Registration.

On the local level, a seat on the Henry County State Court and the District 4 seat on the Henry County Board of Education are up for grabs.

The other local race in Henry County to go to a runoff will be the Democratic primary for the District 111 seat in the Georgia House of Representatives.
The AJC covers voter turnout in the Runoff Election.
Early voting began July 2 and lasts through July 20. The runoff will be held July 24.

Nearly 75 percent of the ballots cast were in the Republican runoff. A little less than one-fourth of the nearly 57,000 votes cast went to Democratic candidates, and only 396 ballots have been submitted for nonpartisan races.
I looked at the numbers in Gwinnett County Early and Advance Voting and found the following:
For the period covered by yesterday's Secretary of State Early Voting numbers in Gwinnett County
Republican ballots cast:   1546  –  59.3%

Democratic ballots cast:   1063  –  40.7%

Total ballots cast:              2609
During the same period in the General Primary Election, ending May 8, 2018, the parties' respective shares of ballots cast were almost exactly reversed:
Republican ballots cast:    806  –  39.9%

Democratic ballots cast:   1212  –  60.1%

Total ballots cast:              2018
My hunch is that this voting trend is driven by the ballot – Republican have runoff elections for Governor, Lt.Governor, Secretary of State, and three House seats (HD 97, HD 102, and JD 105) in Gwinnett, while Democrats have only the runoffs for State School Superintendent and the 7th Congressional District contest to lose the General Election to incumbent Republican Congressman Rob Woodall.