On May 15, 1791, George Washington left Augusta for Savannah.
On May 15, 1800, President John Adams ordered all 125 employees of the federal government to begin packing to move the capital from Philadelphia to Washington, DC.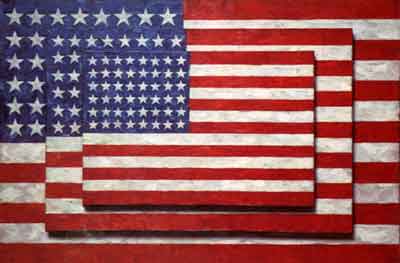 American artist Jasper Johns was born May 15, 1930 in Augusta, Georgia.
Carl Sanders was born on May 15, 1925 in Augusta, Georgia. He served in the United States Air Force, Georgia House of Representatives and State Senate, where he was President Pro Tem. In 1962, Sanders won the Democratic Primary for Governor, defeating former Governor Marvin Griffin, and in November was the first Governor of Georgia elected by popular vote after the County Unit System was abolished.
Former Atlanta Braves pitcher John Smoltz was born on May 15, 1967 in Lansing, Michigan. Smoltz pitched a complete game shutout against the Pittsburgh Pirates in the seventh game of the National League Championship Series in 1991, sending the Braves to their first World Series since moving to Atlanta in 1966. Smoltz was chosen for the All Star team eight times and won the Cy Young award in 1996.
Georgia Politics, Campaigns, and Elections
Governor Nathan Deal ordered flags on state grounds to be flown at half-staff today in recognition of Peace Officers Memorial Day.
The Georgia Bureau of Investigation Child Fatality Review Unit reported that 18 Georgia children have committed suicide this year, according to the Albany Herald.
"So far, 18 children have taken their own lives in Georgia this year," Special Agent in Charge Trebor Randle said Monday. "That is the same number as this time in 2017. Total last year, we had 43 child suicides, and the year before it was 51."

According to Randle, the majority of the suicides were committed by hanging, with firearms as the second-most-used method.

"This year, the youngest we have seen was 11, with last year 9-years-old being the youngest," she said. "What we are seeing is that kids today simply do not have the mechanisms to cope with rejection or depression. These numbers are why we are trying to push for more awareness to drive the prevention."

"If it is a crisis in their mind, then we need to treat it as a crisis," she explained. "As parents, educators or physicians, we need to handle that child as if it is the biggest crisis they will ever see, because that is their reality. Some of the most commons signs that parents and teachers should be aware of are the things that we have always known about suicide, in general. It just needs to be applied to a child. If you see changes in your child's behavior that is outside the norm, that is a sign. I know that sounds simple, but it is true.

"One of the things that we know is a sign of depression is excessive sleeping. If that is not your child's normal behavior, but now they are retiring to their room all the time, they don't want to be bothered, they want to be closed off from the world, they are sleeping excessively and you are starting to see behavioral issues, not only at school affecting their grades, but also at home, something is going on with that child and you need to ask them questions. You need to ask your child if they are OK."
Georgia's DC mafia is making national headlines. From the New York Times:
Steering Mr. Pence's strategy is Mr. Ayers, a 35-year-old operative who is the subject of the most pointed criticism from Trump stalwarts. Mr. Ayers regularly joins Mr. Pence in meetings with the president and has told associates that if aides in the West Wing cannot stay on top of things, his office will step up, White House officials said.

Mr. Ayers again unsettled skeptics in the West Wing this month by poaching a politically savvy aide to Mr. Trump, William Kirkland, to join the Pence team. Mr. Kirkland ran Senator David Perdue's 2014 campaign in Georgia, and Trump officials believe he will effectively run a shadow political office for Mr. Pence, a setup unheard-of so soon into a new administration.

Mr. Pence's team is aware of the unease within the White House, and Mr. Ayers recently told one Republican ally that one reason Mr. Pence is so effusive in his public remarks about Mr. Trump — he has recently hailed Mr. Trump as a "champion" for conservatives and branded the recent tax cuts a "Trump bonus" for America — is to tamp down questions about his loyalty.
Nick Bowman of the Gainesville Times writes about increasing rhetoric in the Gubernatorial race.
Candidates running to replace Gov. Nathan Deal have poured money into advertising in the final month of the primary campaign, and there have been two targets of criticism above all others: other candidates and illegal immigrants.

On Monday, May 14, Lt. Gov. Casey Cagle waded into the debate on immigrants who are living in Georgia illegally, saying he would send National Guard troops to the southern border as governor.

In an announcement, the Cagle campaign said the Republican would "answer President Trump's call" to send troops to the border with Mexico as part of Operation Guardian Support.

Cagle wades into the debate as Secretary of State Brian Kemp has been making national headlines for a new advertisement featuring explosions, guns and his pickup truck.

"I got a big truck," Kemp says in his long drawl. "Just in case I need to round up criminal illegals and take them home myself."
Lowndes County is seeing typical levels of early voting, according to the Valdosta Daily Times.
Early voting will come to a close Friday, May 18, and a little more than 1,000 people have voted, according to Deb Cox, supervisor of elections for Lowndes County.

So far, voter turnout has been on par with midterm elections in the past six years, Cox said. Typically early voting ramps up during the last week.

Cox said she thinks voters may be holding off on early voting because there is a large number of governor's races going on.

For comparison, the 1,119 residents who voted in the first two weeks is about the same the election office expects during a presidential election.
The AJC reports that while overall early voting numbers are down, Democratic ballots are being chosen at a higher percentage.
An Atlanta Journal-Constitution review of the first two weeks of early-voting data shows an increase of more than 50 percent of Democratic ballots cast from the same period in 2014, the last time a midterm election was held.

Overall, early-voting turnout is on track to decline compared with four years ago, when about 240,000 cast their ballots before Election Day.

Two years ago, Republicans accounted for 62 percent of the early vote. This year, they're at 52 percent.

One difference this year is that more Democrats are running in high-profile primary races, such as for the governorship and seats in Congress. That wasn't the case in the last midterm election in 2014, when Jason Carter was the only Democrat running for governor and more races were uncontested.
The Floyd County Elections Board had an error on some ballots for county board of education, according to the Rome News-Tribune.
Floyd County early voters in the May 22 election are asking for a Republican ballot over a Democratic ballot by a margin of more than 2 to 1 and elections officials are addressing an error on a small amount of ballots in the county school board race.

Elections Supervisor Willie Green said 850 people voted in the Republican primary compared to 364 in the Democratic primary as of the close of the polls Sunday night. Another 61 have asked for the nonpartisan ballot, containing only the judge races, bringing the total of early votes to 1,275 out of more than 50,000 eligible.

Signs also have been posted regarding an error on some local Republican ballots, and Elections Board members firmed up plans Monday for dealing with it. The two county school board races appear on city ballots, although city residents are ineligible to vote on those positions.

"It was an oversight in the elections office," Miller said.

Incumbents Chip Hood and Tony Daniel are unopposed for re-election in both the primary and the general election. That makes the fix easier, said Elections Board member Mardi Haynes-Jackson.
The Southern States Police Benevolent Association-West Georgia Chapter endorsed candidates in a number of local elections, according to WTVM.
Former Atlanta Mayor Kasim Reed faces questions about withholding subpoenas from City Council, according to the AJC.
Former Atlanta Mayor Kasim Reed's administration last year withheld from the public a potentially explosive federal subpoena, concealing the full scope of the corruption investigation at City Hall, The Atlanta Journal-Constitution and Channel 2 Action News have learned.

The 10-point subpoena — dated Sept. 9, 2016, and kept from the public with Reed's knowledge — included demands from federal prosecutors for information about lucrative construction and concessions contracts at Hartsfield-Jackson International Airport; vendors with close political ties to Reed; and financial records for three members of his cabinet.

In addition to being kept secret from the public, the subpoena was withheld from City Council, which voted to award four multi-million dollar contracts without knowing they were under federal investigation.

The disclosure would have significantly increased council scrutiny on the contractors before them, and possibly changed the political dynamic of the 2017 mayoral race, said Ceasar Mitchell, who was council president and a mayoral candidate last year. At the time, the council and the public knew of only two subpoenas, both of which suggested the federal inquiry was far narrower.
Sarah Fay Campbell of the Newnan Times-Herald write about what Metro Atlanta transit could mean for Coweta County.
The ATL Authority only has jurisdiction over the 13-county metro-Atlanta area, including Coweta. Other counties in Georgia do their regional transit planning in their own regions, and each county in the state has the ability to impose its own transit sales tax.

Coweta could do projects and implement the tax by itself, or as part of the transit district laid out in the bill.

If Coweta and the other counties choose to work together on a regional transit tax, the tax must pass in each county to go into effect – Coweta taxpayers can't be pulled into the tax because it passes overwhelmingly in other counties if a majority of Coweta voters don't vote in favor of it.

Or, the county could choose not to take advantage of provisions of the bill.
A home-schooled boys soccer team won a state championship, and the girls team went to the final, according to the Macon Telegraph.
Q: So this: how do home-schoolers organize soccer teams?

A: It's through Central Georgia Arts and Athletics. That's our overall program, and our mascot name, our team name, is Mustangs.

Q: What is it, a collaboration of home-schooled families?

A: CGA started four or five years ago to help home-schooled and other non-traditional students have programs for competitive athletics, arts and different enrichment possibilities. It's a nonprofit charitable organization overseen by a board of Christian parents.

Q: It's not just a soccer group?

A: Not at all. I'm involved with soccer, but there are sports like baseball, basketball, cross country and volleyball. Other sports, too. Then there's an arts side with things like drama, literary, music and a robotics group, which I guess may be more enrichment. There are different interest clubs and things like field trips and community service opportunities.
Savannah and Chatham County will collaborate to reduce youth crime, according to the Savannah Morning News.
[O]fficials behind an effort to dissipate youth crime in Savannah determined that a city-owned building at 2203 Abercorn St. would serve as an ideal location for a proposed multi-agency resource center being planned to address the issue.On Thursday the Savannah City Council approved an agreement to allow Chatham County to use the building for the center, which is a collaboration between the city, county, law enforcement agencies, the juvenile court system, healthcare providers and social service organizations.

Mayor Pro Tem Carol Bell, who has served as the city representative with the group behind the effort, praised the partnership while presenting the plan to the mayor and aldermen during a morning workshop before the council's vote.

"This is one of the greatest collaboratives in this community," Bell said. "Especially since it will affect the way we handle juveniles who have somewhat strayed and have minor offenses."

The center is meant to use evidence-based screenings and referrals to divert lower-risk juveniles from the court system for less serious infractions such as underage drinking, truancy, or violating curfew, said Chatham County Juvenile Court Judge Lisa Colbert.
The Savannah Morning News has Q&A with five candidates for school board president.
The Brunswick News profiles candidates for Glynn County Board of Education.
The Golden Isles Republican Women hosted candidates for Glynn County Commission and Board of Education yesterday.