On April 11, 1768, Benjamin Franklin was named Georgia's agent "to represent, solicit, and transact the affairs of this province in Great Britain." Arguably, this makes Benjamin Franklin the first American lobbyist. This is what his lobbyist badge looked like: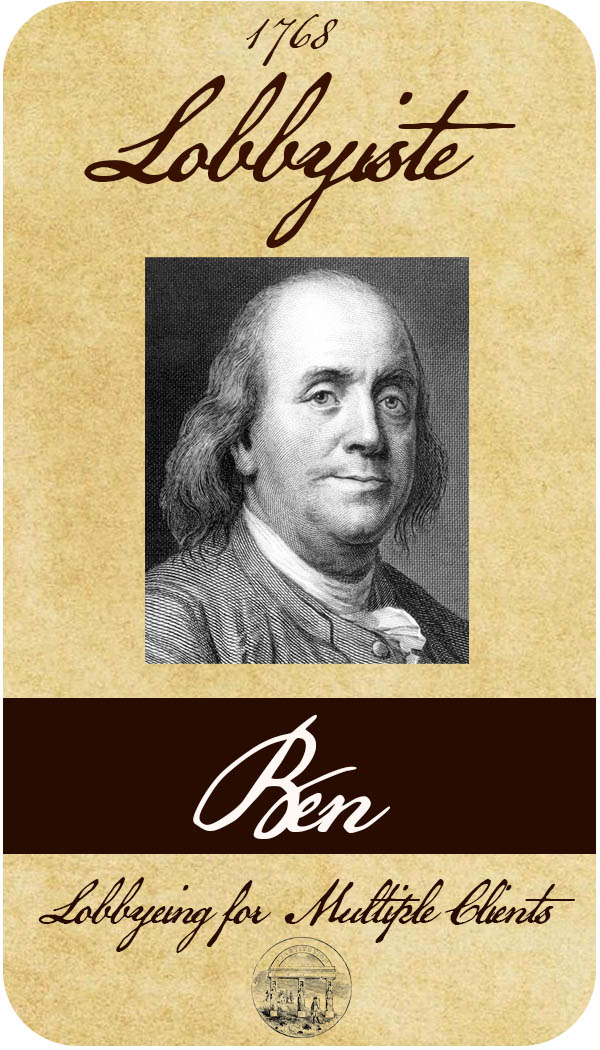 Napoleon Bonaparte, Emperor of France, was exiled to Elba Island in the Mediterranean, on April 11, 1814
On April 11, 1853, John Archibald Campbell was appointed Justice of the United States Supreme Court by President Franklin Pierce. After graduating from the University of Georgia at 14, he attended West Point, where his fellow cadets included Jefferson Davis and Robert E. Lee. After the beginning of the Civil War, Campbell resigned from the Court and was appointed Assistant Secretary of War for the Confederacy by Confederate President Jefferson Davis.
Confederate troops surrendered Fort Pulaski, on Cockspur Island off Savannah, on April 11, 1862. Part of the construction of Fort Pulaski was overseen by a young Second Lieutenant in the United States Army named Robert E. Lee.
The American Third Army liberated Buchenwald concentration camp in Germany on April 11, 1945. Among the survivors of Buchenwald was Elie Wiesel; in 1986, Wiesel won the Nobel Peace Prize.
Apollo 13 was launched on April 11, 1970.
The craft was launched on April 11, 1970, at 13:13 CST from the Kennedy Space Center, Florida, but the lunar landing was aborted after an oxygen tank exploded two days later, crippling the Service Module (SM) upon which the Command Module (CM) depended. Despite great hardship caused by limited power, loss of cabin heat, shortage of potable water, and the critical need tojury-rig the carbon dioxide removal system, the crew returned safely to Earth on April 17.
On April 11, 1977, President Jimmy Carter hosted the Easter Egg Roll on the lawn of the White House. In the finest tradition of Georgia Democrats, Carter added a circus to the event.
Congratulations to the following winners of the Masters Tournament who donned the green jacket on April 11: Seve Ballesteros (2d – 1983), Jack Nicklaus (2d in 1965; 3d in 1966), Ray Floyd (1976), Nick Faldo (1996), Jose Maria Olazabal (2d – 1999), Phil Mickelson (1st -2004; 3d – 2010), and Claude Harmon (1948), the first Georgian to win the Masters.
Georgia Politics, Campaigns, and Elections
President Donald J. Trump announced yesterday he is nominating Georgia Supreme Court Justice Britt C. Grant to a seat on the 11th Circuit Court of Appeals.
If confirmed, Britt C. Grant of Georgia will serve as a Circuit Judge on the U.S. Court of Appeals for the Eleventh Circuit.  Britt Grant currently serves as a Justice of the Supreme Court of Georgia. Prior to her appointment to the bench, she served as the Solicitor General of Georgia and, before that, as counsel for legal policy to the Attorney General of Georgia. Earlier in her career, Justice Grant practiced in the Washington, D.C., office of Kirkland & Ellis, where she focused on complex commercial litigation. Upon graduation from law school, Justice Grant served as a law clerk to Judge Brett M. Kavanaugh of the U.S. Court of Appeals for the District of Columbia Circuit.

She earned her J.D., with distinction, from Stanford Law School, where she served as managing editor of the Stanford Journal of International Law and as senior articles editor of the Stanford Law and Policy Review. Before enrolling in law school, Justice Grant served in The White House as Deputy Associate Director of the Office of Cabinet Affairs and earlier as Assistant to the Director in the Domestic Policy Council and USA Freedom Corps. She also served as Legislative Correspondent and Communications Director to Georgia Congressman Nathan Deal. Justice Grant earned her B.A., summa cum laude, from Wake Forest University, where she was inducted into Phi Beta Kappa.
"Britt Grant has served our state and nation with distinction in her roles on the Georgia Supreme Court, as solicitor general in the Georgia attorney general's office and in various positions in the George W. Bush administration," [Senator Johnny] Isakson said in a joint press release he and [Senator David] Perdue sent to media . "She will be an excellent addition to the 11th Circuit Court."

"President Trump has made an excellent choice in selecting Justice Britt Grant to serve on the Atlanta-based 11th Circuit Court of Appeals," Perdue added. "As both a Georgia Supreme Court justice and as Georgia's former solicitor general, Justice Grant has displayed the highest level of integrity and professionalism in her career, and I am certain that will continue with her service on the 11th Circuit."
Jim Galloway in the AJC has a good piece on rural health care in Georgia.
"At the end of the day, if we don't act now, if we don't address Medicaid and Medicare in Georgia, if the federal government doesn't address it, you could have 26 percent of the rural population in Georgia without health care access over the next few years. There's a huge need to act," [Georgia Chamber of Commerce CEO Chris] Clark said.

"I think we have to continue to have the conversation about a Medicaid waiver. It needs to be a Georgia solution," he said. "There are new waivers coming online every day from the federal government. We've just got to make a decision to go after that, and try to get some of those billions of dollars that we've been sending to other states to take care of their people."

In essence, the chairman of the Georgia Chamber was asking Republicans to bow to two realities: First, that the ACA is here to stay, at least for some time to come. Secondly, that the situation in rural Georgia is bad enough to warrant a break with a decade of GOP orthodoxy.
Augusta Commissioners disagreed about whether the fire department should provide ambulance service, according to the Augusta Chronicle.
Commissioner Wayne Guilfoyle questioned why Fire Chief Chris James did not respond to questions emailed to him prior to a previous commission meeting where James was requesting to buy two new ambulances. James replied that he was out late battling damage caused by straight-line winds to a business and did not see the email until late. He also said he had heard from Commissioners Sammie Sias and Ben Hasan and also had consulted with Administrator Janice Allen Jackson.

"I think it is very, very disrespectful" not to respond, Guilfoyle said. The bottom line Guilfoyle said he was trying to ascertain is "what it's going to cost the taxpayer to run an ambulance service."

For instance, in the questions Guilfoyle had put up on the overhead monitor was his calculation of what it would cost to staff those ambulances, with an emergency medical technician and a paramedic, at an advertised rate of $13.50 and $16.50 an hour. Running the city's four ambulances 24 hours a day at those rates would cost more than $1 million a year just in salary, according to his calculations.

Commissioner Sean Frantom said it was "disappointing" that a couple of commissioners would block information to another, adding, "Two people don't run this government."
A rough draft of the audit of the Glynn County Clerk of Courts office determined that nearly $1.2 million dollars are unaccounted for, according to the Brunswick News.
A rough draft of an audit into the Glynn County Clerk of Superior Court's office suggests nearly $1.2 million is missing due to what it indicates was "a classic break down in internal controls."

Over the course of seven years, from 2008 to 2014, money from or intended for some accounts managed by the clerk's office was used to cover up cash taken from other accounts, according to the audit report.

Larry Morten was the bookkeeper during that time frame, according to the audit, and had significant control over the office's finances.

He was indicted in November on 70 counts of alleged theft by taking from the clerk's office amounting to $76,000. The case is being handled by the Prosecuting Attorneys' Council of Georgia.
Gwinnett County Superior Court candidate Tracie Cason received the endorsement of the local Fraternal Order of Police Lodge, according to the Gwinnett Daily Post.
Gravitt Everett Davis Fraternal Order of Police Lodge 66 has endorsed Gwinnett County Deputy Chief Assistant District Attorney Tracie Cason in one of Gwinnett's open Superior Court judicial races.

Cason received a letter from lodge president Connie Chesser informing her of the endorsement. She is one of three candidates running for the seat being vacated by retiring Judge Debra Turner. The winner of the nonpartisan seat will be decided in the May 22 election.

"Having worked for eighteen years in the Gwinnett County District Attorney's office, prosecuting felonies, I am pleased to receive the endorsement of the local Fraternal Order of Police lodge, which represents many of our front-line law enforcement officers," Cason said in a statement.

"I have been blessed to be entrusted to work with our law enforcement officers to protect Gwinnett County's residents and their families."
The Albany Civil Rights Institute hosted a candidate forum for local offices yesterday.
The Albany City Commission voted to approve the privatization of operations at Albany Civic Center, according to the Albany Herald.
The commission approved a contract with Spectra by Comcast that will allow the Philadelphia-based company to manage the Civic Center, Albany Municipal Auditorium and the Veterans Park Amphitheatre for a base fee of $125,000 per year for a five-year term with two options to renew for additional five-year terms.

Albany Finance Director Derrick Brown said the contract is expected to save the city about $900,000 in the first year. The contract includes incentives that would allow Spectra to save money, a percentage of which would be returned to the city.