On April 6, 1776, the Continental Congress announced that all ports in America would be open to trade with other countries not ruled by the British. The action was taken several months after Britain passed the American Prohibitory Act which forbade trade with the colonies and was intended to punish colonists for the growing rebellion.
On April 7, 1776, the United States warship Lexington captured a British warship, HMS Edward, for the first time.
On April 7, 1798, President John Adams signed legislation authorizing negotiations between three representatives of Georgia and three Presidential appointees over Georgia's claim to land west of what is now the Georgia-Alabama state lines. Georgia would continue to claim most of what is currently Alabama and Mississippi until 1802.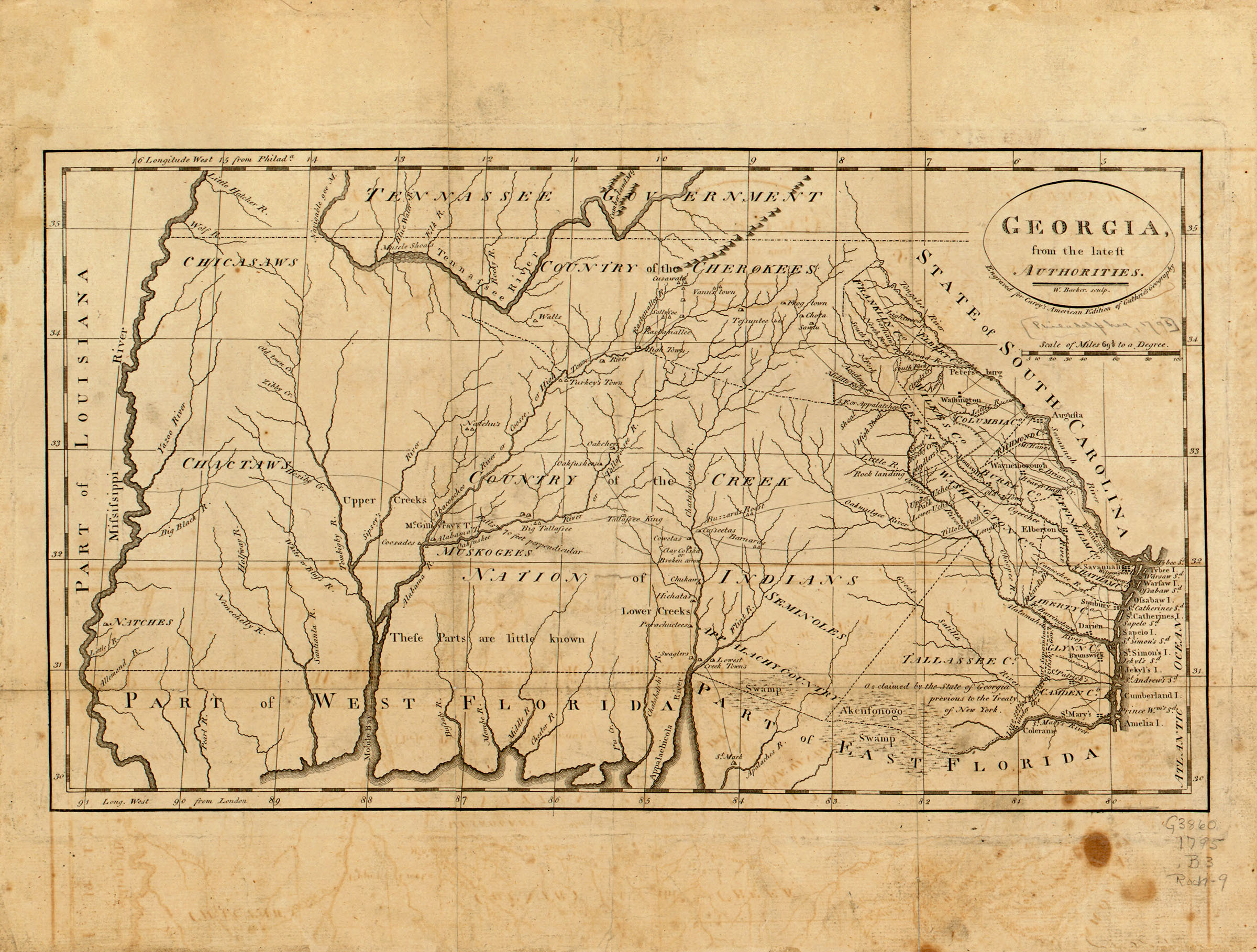 Above: a 1795 map showing Georgia extending west to Louisiana. "These Parts are little known."
John Tyler was sworn in as the tenth President of the United States on April 6, 1841.
Tyler was elected as William Harrison's vice president earlier in 1841 and was suddenly thrust into the role of president when Harrison died one month into office. He was the first vice president to immediately assume the role of president after a sitting president's untimely exit and set the precedent for succession thereafter.
After two days of exchanging letters with his Union counterpart, Lt. General Ulysses S. Grant, Robert E. Lee agreed to meet and make arrangements for the surrender of the Army of Northern Virginia. At 2 PM on April 9, 1865, Lee and Grant met in a private home owned by Wilmer McLean at Appomattox Court House, Virginia and Lee agreed to the surrender of his army.
Lee was resplendent in his dress uniform and a fine sword at his side. Grant arrived wearing a simple soldier's coat that was muddy from his long ride. The great generals spoke of their service in the Mexican War, and then set about the business at hand. Grant offered generous terms. Officers could keep their side arms, and all men would be immediately released to return home. Any officers and enlisted men who owned horses could take them home, Grant said, to help put crops in the field and carry their families through the next winter. These terms, said Lee, would have "the best possible effect upon the men," and "will do much toward conciliating our people." The papers were signed and Lee prepared to return to his men.
The first modern Olympic Games opened in Athens, Greece on April 6, 1896.
The United States entered World War I on April 6, 1917, when the US House of Representatives voted 373-50 on a declaration of war that passed the Senate two days earlier.
2001: A Space Odyssey was released on April 6, 1968.
On April 9, 1968, Ebenezer Baptist Church in Atlanta held the funeral for Dr. Martin Luther King, Jr. More than 100,000 mourners reportedly showed up for the funeral, which could accomodate only 800; 200,000 mourners followed the mule-drawn hearse to Morehouse College.
Hank Aaron hit home run number 715 on April 8, 1974 to become the all-time home run champion, a title he holds to this day.
On April 7, 1995, Governor Zell Miller signed legislation recognizing the peach as the official state fruit of Georgia.
Governor Zell Miller signed legislation proclaiming Gainesville, Georgia the Poultry Capital of the World on April 8, 1995.
The Square Dance became the official state folk dance on April 8, 1996, when Gov. Zell Miller signed legislation recognizing it.
On April 8, 2005, Eric Rudolph agreed to plead guilty to the fatal 1996 bombing at Atlanta's Centennial Olympic Park.
Georgia Politics, Campaigns, and Politics
Governor Nathan Deal ordered flags on state buildings and properties to fly at half-staff today in honor of the 50th anniversary of the assassination of Dr. Martin Luther King, Jr., and in recognition of a "March for Humanity."
On April 3d, Gov. Deal transferred $3.65 million from the Governor's Emergency Fund, with $3 million to pay for water litigation and $650,000 for storm debris cleanup.
Georgia's United States Senators spoke about King's legacy, according to the Gwinnett Daily Post.
"Fifty years ago … the life of a great Georgian and historic civil rights leader was cut short far too soon," Isakson said. "Thankfully, the legacy of Dr. Martin Luther King Jr., endures. On this anniversary and on every day, we remember the equality and justice that Dr. King fought for on behalf of all mankind."

Perdue said, "Dr. King changed America forever. He preached peace and togetherness. That's what America is all about, and it's something we need to remind ourselves of daily. Dr. King said America was a country of destiny, and I believe that."
Gov. Deal announced that February tax collections by the state were down .5 percent over February 2017.
Gov. Nathan Deal today announced that Georgia's net tax collections for March totaled nearly $1.56 billion, for a decrease of $8.2 million, or -0.5 percent, compared to last year when net tax collections totaled almost $1.57 billion. Year-to-date, net tax collections totaled $16.66 billion, for an increase of $860.6 million, or 5.4 percent, compared to March 2017, when net tax revenues totaled $15.8 billion nine months into the fiscal year.

The changes within the following tax categories contributed to the overall net tax revenue decrease in March:

Individual Income Tax: Individual Income Tax collections for March totaled $709.8 million, for a decrease of $23.8 million, or -3.2 percent, compared to last year when Income Tax collections totaled almost $733.7 million.

The following notable components within Individual Income Tax combine for the net decrease:

Individual Income Tax refunds issued (net of voided checks) were down $2 million, or -0.3 percent.
Individual Withholding payments were down $5.5 million, or -0.5 percent.
Individual Income Tax Return payments were up roughly $6.2 million, or 12.5 percent.
All other Individual Tax categories, including Non-Resident tax payments, were down a combined $26.5 million.

Sales and Use Tax: Gross Sales and Use Tax collections totaled $887.2 million, an increase of $61.1 million, or 7.4 percent, over last year. Net Sales and Use Tax totaled almost $451 million, for an increase of $15.8 million, or 3.6 percent, over March 2017. The adjusted distribution of sales tax to local governments totaled $425.2 million, for an increase of nearly $44 million, or 11.5 percent, over last year. Finally, sales tax refunds increased by $1.3 million, or 13.5 percent, to a total of $11 million.

Corporate Income Tax: Corporate Income Tax collections for March decreased by roughly $15.5 million, or -16 percent, compared to March 2017, when Corporate Tax collections totaled $96.9 million.

The following notable components within Corporate Income Tax make up the net decrease:

Corporate Income Tax refunds issued (net of voided checks) were down $20.7 million, or -57.5 percent.
Corporate Income Tax payments were down approximately $14.6 million, or -31 percent.
All other Corporate Tax categories, including Corporate Estimated payments, were down $21.6 million.

Motor Fuel Taxes: Motor Fuel Tax collections during the month totaled $136.5 million, for an increase of nearly $4.7 million, or 3.5 percent, compared to March 2017.

Motor Vehicle Tag & Title Fees: Motor Vehicle Tag & Title Fees for the month totaled $37.9 million, for an increase of $6.3 million, or 20 percent, over last year. Title Ad Valorem Tax (TAVT) collections decreased by roughly $13.6 million, or -17.9 percent, compared to March 2017, when TAVT collections totaled nearly $76.3 million.
Political consultant Mitzi Bickers has been indicted for offenses including public corruption, according to the AJC.
On Thursday, Rev. Bickers wore handcuffs and leg irons under a gray pantsuit to a first appearance in federal court, after an 11-count indictment was unsealed that charged her with conspiracy to commit bribery, money laundering, wire fraud, tampering with a witness or informant, and filing false tax returns.

Federal prosecutors allege that Bickers, 51, accepted more than $2 million from 2010 to 2014 in exchange for steering $17 million of city work to two construction contractors who have already pleaded guilty.

Richard Hendrix, one of Bickers' defense attorneys, declined to comment as he left the courtroom. Kevin Ross, a well-known attorney and political consultant who said he attended the hearing to support Bickers as a friend, also declined to comment. Bickers pleaded not guilty and was released on a $50,000 bond.

In addition to being a minister, Bickers is a go-to political consultant who helped [former Mayor Kasim] Reed become mayor with an extensive get-out-the-vote effort in his paper-thin victory over Mary Norwood in 2009. She then worked as Reed's director of human services for three years, from 2010-13 — a position for which Reed said she was qualified because of her career in ministry.
Tamar Hallerman of the AJC writes about U.S. Secretary of Agriculture Sonny Perdue's role in the debate over food stamps.
Agriculture Secretary Sonny Perdue is throwing his weight behind the GOP in a ballooning fight over food stamps that is threatening the quick passage of the most important legislation for the sprawling federal department he oversees.

The former Georgia governor said Tuesday that changes Republicans on the House Agriculture Committee are pursuing in the upcoming farm policy bill that would boost work requirements for food stamp recipients are "reasonable" and "worth fighting for."

The Supplemental Nutrition Assistance Program, or SNAP, was "supposed to be a hand-up, not a continual dependency," Perdue told reporters after touring a local greenhouse here. "I think the current proposal that the House Republicans have had is trying to lift people out of dependency to a job and to a workforce so that they can become productive citizens."
 The AJC looks at legislation for school funding that passed this session.
Lawmakers approved a budget that, for the first time since 2002, fulfills the state's requirement to fund schools under a 1985 formula. Gov. Nathan Deal has gradually closed a funding gap that exceeded $1 billion after the Great Recession, and rising revenue projections allowed him to plug the remaining $167 million hole.

That money goes to public schools, and they will likely also gain additional income from revised car title taxes from House Bill 329. Schools also stand to benefit because an educational grant fund which was expiring in two years was extended an additional three years. That was tucked into House Bill 217, legislation that otherwise was ill-received by public school teacher groups. The main focus of HB 217 is funding for private schools. It increases the annual $58 million cap on tax credits for private school tuition to $100 million for the next decade.

House Bill 787 was also seen as competing for money with traditional public schools. It increases funding for state authorized charter schools, which have complained for years that they must outperform traditional schools while getting less money. The legislation proved explosive in the Senate, where the leader of the Education and Youth Committee resigned his chairmanship over the way the bill was handled. The senator, Lindsey Tippins, R-Marietta, a former member of the Cobb County school board, was concerned about accountability with state charter schools. His committee amended the bill to require higher performance in exchange for more money, but the leader of the Senate, Lt. Gov. Casey Cagle, didn't agree with the changes. The full Senate rejected them. Now, if Deal signs it, state charter schools will get as much as or more money than many traditional public schools.
There's a lot more in that article, and I recommend reading it in its entirety.
Greg Bluestein of the AJC writes about the latest campaign disclosures in the gubernatorial election.
 The Bainbridge Post-Searchlight looks at what happened with legislative recommendations from the House Rural Development Council.
During the 2018 legislative session of the Georgia General Assembly, the Georgia House of Representatives and the Georgia State Senate passed several key pieces of legislation aimed at boosting economies in rural Georgia. House Bills 876, 735, 769, 951 and Senate Bill 402 are all rural development-related measures that received final passage during this legislative session.

"I don't think rural Georgia has had a better session than it had this year," said Speaker of the House David Ralston (R-Blue Ridge). "We will continue to work with local governments, private businesses and civic leaders to find more ways we can support Georgia's rural communities as we look forward to the 2019 legislative session."

House Bill 769, sponsored by Rep. Rick Jasperse (R-Jasper), would implement recommendations from the House Rural Development Council relating to health care issues. The bill revises provisions relative to pharmacy practices, as well as provisions relative to credentialing and billing. This legislation provides for the establishment of the Rural Center for Health Care Innovation and Sustainability and the establishment of micro-hospitals. Also, HB 769 provides for a grant program for insurance premium assistance for physicians practicing in medically underserved rural areas of the state. Finally, HB 769 would increase the value of the tax credit to 100 percent related to contributions to rural hospital organizations.

"Healthcare makes up the second largest sector of our state budget," said Rep. Terry England (R-Auburn), who also serves as Co-Chairman of the House Rural Development Council. "By instituting common-sense reforms like those recommended by the Rural Development Council, we can make access to healthcare more affordable for Georgians in rural communities and save taxpayers money in the process."
The Rome News-Tribune looks at local effects of House Bill 751, which will increase revenue to support 911 centers.
The Floyd County Commission is scheduled to hear from 911 Director John Blalock on Tuesday about the local impact of House Bill 751.

The measure codifies the Georgia Emergency Communications Authority — a coalition of local government 911 centers — and gives it the power to audit service providers that are billing 911 telecommunications fees. The authority also will be able to apply for grants, set technology standards and study other potential efficiencies.

HB 751 also increases the fee on prepaid phone cards to $1.50 from 75 cents, a move Blalock has said could bring in another $300,000 to $400,000 a year for the county. The administrative fee providers can keep for collecting the money also is reduced to 1 percent from 3 percent.
State Senator Lindsey Tippins (R-Marietta) resigned his Chairmanship of the Senate Education Committee, according to the AJC.
State Sen. Lindsey Tippins, R-Marietta, is resigning as chairman of the senate's education committee after disagreeing with Republican colleagues on a bill that would pump more money into state charter schools.

"I didn't see a fruitful future if the vast majority of the (Republican) caucus is different than you on a critical issue," said Tippins, explaining his decision in a telephone interview Tuesday.

Tippins, who has been the committee's chairman for six years, said he didn't know who would be the next chairman. With education accounting for about half the state's budget, the post is one of the most influential positions in the Georgia Legislature.
Two former Congressmen spoke to students at Georgia College, according to the Union Recorder.
Georgia College's American Democracy Project, an intercollegiate association that promotes civic engagement, hosted former Representatives Gil Gutknecht (R-MN) and William Enyart (D-IL) in a discussion with students and community members.

"The founding precept of this program is to send out a "D" and an "R" for a nonpartisan talk (although Gil and I will exchange some partisan episodes), so that we can discuss policy differences without being disagreeable," said Enyart. "If you get us off and bring up hot-button issues we may offer differing perspectives on those, but 80 percent, 90 percent of what we talk about, we agree on."
Hall County Public Schools and Gainesville continue to be challenged by costs for their bus fleet, according to the Gainesville Times.
State lawmakers allocated $15 million to upgrade aging school bus fleets in public school districts across Georgia when it passed its 2019 fiscal year budget last month, but the money is not nearly enough to serve the needs of the Hall County and Gainesville school systems.

"While I am always thankful for any funding, the state allotment will mean approximately two buses for Hall County," Superintendent Will Schofield said.

Hall County Schools currently operates 400 buses.
The Albany County Commission is moving forward on a plan to privatize the Albany Civic Center, according to the Albany Herald.
Campaigns and Elections
Lieutenant Governor Casey Cagle is running ads for his gubernatorial campaign in coastal Georgia markets, according to the Brunswick Times.
Lt. Gov. Casey Cagle is the first of the Republican gubernatorial primary field to reserve television airtime through the election — along the coast — and reserved an estimated $4.5 million of airtime statewide from now through May 22, according to campaign filings.

For Southeast Georgia, those ads are almost all coming out of Savannah, so Glynn County residents tuning into WTOC, WSAV, WJLC or WTGS over the next six weeks can expect a regular diet of the lieutenant governor, depending on what and when they decide to watch.

Overall, Cagle reserved close to $240,000 worth of time, which is only a little more than 5 percent of the total he's spending elsewhere in Georgia. That encompasses more than 1,000 ads over the four major broadcast network affiliates.

Most of Cagle's money and time, by far, is going to CBS affiliate WTOC, and its 11 p.m. newscast. According to the latest reports available, his media consultants secured 46 30-second spots for more than $21,000. That's only followed in quantity by the 34 ads scheduled to run in the program the newcast — the Late Show with Stephen Colbert — though that ad time only had a price tag of around $6,000.
Democratic candidate for Governor Stacey Evans has begun running TV ads, according to the AJC.
The four top Republican candidates for governor have unleashed waves of TV ads and reserved more than $6 million in airtime. But the ad from Evans, a former state lawmaker, was the first from either of the two Democrats running for the state's top job.

It's not immediately clear how much funding Evans' campaign is putting behind the ad, which ends with a "to be continued" tag. They are the first in a series of three spots that will air until the May vote.
WMAZ interviewed Stacey Abrams, the other Democratic candidate for Governor.
[WMAZ]: If you prevail in the May 22 primary, you have a chance to make history this fall. But Republicans in Georgia hold every elected state office, as well as majorities in the General Assembly and its congressional delegation. Realistically, what are your chances of being elected governor?

[Stacey Abrams]: I understand first-hand the struggles that everyday Georgians are facing, and I am ready to be a governor who helps families boldly seek opportunity so that they can succeed — not just survive. As the former House Democratic Leader, a nonprofit leader that led the way on transformative voter registration drives, and an entrepreneur who has helped create and save thousands of jobs, I am the most qualified candidate to lead a state that is growing and becoming more diverse every day. I have been to nearly every county in Georgia, and have had the opportunity listen to people from all walks of life who don't feel seen or heard by their leadership. Our families are ready for a leader who understands the Georgia of the past, the Georgia of today, and the bold new Georgia we can build for tomorrow if we work together.
State Rep. John Deffenbaugh (R-Lookout Mountain) hosted his Republican Primary opponent at the State Capitol, according to the (Chattanooga) Times Free-Press.
Take March 28, the day before Sine Die, the closing of the Georgia state legislature's 2018 session. [Colton] Moore met in the Capitol with John Deffenbaugh, 73, who represents Dade and Walker counties in the House. On May 22, the two will face each other in the Republican primary for Deffenbaugh's seat. No Democrat is running.

When Moore signed up to run, Deffenbaugh invited him to Atlanta. He wanted to show Moore how to do the job. If nothing else, he said, the trip would allow them to become friends. And everyone always needs more friends.

The day Moore arrived, the legislature was out of session. So with the room empty, Deffenbaugh brought him to the House floor. He shared a couple rules. Don't touch the desks. Don't touch the chairs. Don't smoke, despite the old ashtrays built into the desks. Don't walk down the middle aisle.

Deffenbaugh said the pay isn't worth the work, if that's what you're after. It's especially difficult to justify in the early stages of your career.
Macon-Bibb County Commissioners and the local Board of Elections are at odds over when to hold a special election for an open seat on the Commission, according to the Macon Telegraph.
The elections board voted 3-1 Friday against holding a special election May 22 to fill the commission seat left vacant when County Commissioner Gary Bechtel qualified for a state House race in March. That decision went against the County Commission's vote on Tuesday to allot $19,553 for the special election.

Commissioners reversed course on funding the election after hearing from residents of the north Macon district concerned about going nine months without representation, should the race be held in November.

Board members Mike Kaplan, Herbert Spangler and Henry Ficklin voted against having a May 22 election while Rinda Wilson voted for it. Board member Cassandra Powell did not attend Friday's called meeting.

"The county has recklessly spent so much money that they're basically in a hole, and I can't feel right in voting to spend extra money for this when we can do it in November," Spangler said. "Everybody I talk to thinks we should wait."

County Commissioner Joe Allen said the elections board should not use the county's finances as an excuse not to approve the May 22 date.

"We're responsible for the money. We gave them the money and they had (enough) time" to schedule a special vote in May, Allen said after Friday's vote. "If I had a vote, they would not be on the election board for (making) those comments, and a lot of them are my friends."
Forsyth County Commissioners will host a Town Hall to discuss a proposed SPLOST referendum, according to AccessWDUN.
The Board of Commissioners has scheduled a town hall meeting for Thursday, April 12 at 6 p.m. at the Forsyth County Administration Building at 110 E. Main Street in Cumming to talk about moving forward with the Special Purpose Local Option Sales Tax (SPLOST) for an eighth time.

SPLOST has been in place in the county since 1987, when it was first approved by Forsyth County voters. The one percent voter-approved sales and use tax remains in place for a specified period of time (up to six years) and raises an estimated amount of revenue for designated programs or named capital items.

Since the vote on the first SPLOST, Forsyth County voters have approved six referendums continuing the program. Previous SPLOST programs have funded road improvement projects, parks, fire stations and apparatus, libraries and the county's new courthouse, jail and parking facilities, according to a press release from the county. An eighth referendum could appear on the November 2018 ballot.
Republican candidates for two seats on the Glynn County Commission spoke at a forum this weekend, according to the Brunswick Times.
Commission At-Large Post 1 candidates Jane Fraser, David O'Quinn and incumbent Mark Stambaugh participated alongside commission District 3 candidates Tom Boland and Wayne Neal. District 3 incumbent Richard Strickland is not running for re-election.

Local GOP member Phil Viviani moderated the event and posed four questions. Each of the five candidates were given two minutes to answer.
The Rome News-Tribune looks at campaign funding in a local race for an open judicial seat.
Locally, attorneys Emily Matson and Kay Ann Wetherington are facing off for the seat being vacated by Floyd County Superior Court Chief Judge Tami Colston.

Matson reported $18,466 in her account after taking in $47,466 in donations and spending $29,000 on her campaign.

Her biggest donation for this reporting period, which started Jan. 1, was $2,500 from the campaign account of Sen. Chuck Hufstetler, R-Rome.

Wetherington reported $36,594 in her campaign account after taking in donations totaling $63,551 and spending $26,957 through March 31.
Georgia voters will decide on four statewide referendums in November.
The victims' rights amendment, called Marsy's Law, would require notification before court hearings of those accused of harming them, according to Senate Resolution 146.

The green space amendment will ask voters whether the state should dedicate millions of dollars annually to fund conservation of parks, outdoor areas and waterways, according to House Resolution 238.

One proposal would create a statewide business court, which would be designed to lower costs and "promote predictability of judicial outcomes in certain complex business disputes," according to House Resolution 993.

Another constitutional amendment, House Resolution 51,  would change how the state levies property taxes on timberland and allow the state to keep up to 5 percent of grants related forest land conservation for administrative costs.
The Newnan Coweta Chamber of Commerce will host candidate forums later this month, according to the Newnan Times-Herald.
The Newnan Coweta Chamber of Commerce is sponsoring two evenings of forums, April 23 and 24 at the Central Educational Center. The forums will run from 6 to 8 p.m.

The April 23 forum will include the candidates for four seats on the Coweta County Board of Education, as well as the candidates for Coweta County Commission District 2.

The April 24 forum will be for the U.S. Congress District 2 candidates, which include two Republicans and two Democrats,  and the Republican candidates for Georgia House districts 70, 71 and 72.