On December 7, 1801, Georgia's United States Senator Abraham Baldwin was elected President Pro Tem of the Senate.
On December 6, 1847, Dr. William White spoke to a group of Atlanta residents about a proposal to move the state capital to Atlanta and was met with cheers.
The Thirteenth Amendment to the United States Constitution was ratified on December 6, 1865, when Georgia ratified the Amendment outlawing slavery.
"Neither slavery nor involuntary servitude, except as a punishment for crime whereof the party shall have been duly convicted, shall exist within the United States, or any place subject to their jurisdiction."
The Washington Monument was completed on December 6, 1884.
Today is the 76th anniversary of the Japanese bombing attack on Pearl Harbor on December 7, 1941.
GeorgiaInfo has the reactions of Georgia leaders to the Pearl Harbor attack,
U.S. Sen. Walter F. George stated: "Japan's deed is an act of desperation by a war-mad people. The attack on Hawaii is a deliberate act of the Japanese government. I am utterly amazed. It is unthinkable… . An open declaration of war will give us greater freedom of action." Noting the vastness of the Pacific Ocean, George optimistically predicted that "it may take two or three years to fight this war to the end."

U.S. Sen. Richard B. Russell responded to the attack by stating: "Japan has committed national hari-kari. I cannot conceive of any member of Congress voting against a declaration of war in view of the unpardonable, unprovoked attack on us. I am utterly astounded."

U.S. Rep. Carl Vinson, chairman of the House Naval Affairs Committee, added: "Of course we will have to declare war. There is nothing else for Congress to do. This is a concerted action by the Axis Powers, but I am confident our Navy is ready and will render a glorious account of itself. It probably means we will be drawn into the world conflict on both oceans."
Chief Boatswain's Mate Joseph L. George was posthumously awarded the Bronze Star Medal with V device for valor for his actions aboard USS Vestal at Pearl Harbor.
George, a second class petty officer at the time, saved the lives of several sailors from the battleship USS Arizona. He survived the war and retired from the Navy in 1955 but passed away in 1996.

The Bronze Star Medal will be presented by Rear Adm. Matthew J. Carter, deputy commander of the U.S. Pacific Fleet, to George's daughter, Joe Ann Taylor, today during a 4:30 p.m. (Hawaii-Aleutian time) ceremony at the USS Arizona Memorial in Pearl Harbor.

"The presentation of the medals is not only appropriate but simply the right thing to do," Spencer said in a release sent out by the Navy. "One of my highest priorities is to honor the service and sacrifice of our sailors, Marines, civilians, and family members. It is clear that Lt. (Aloysious H.) Schmitt and Chief George are heroes whose service and sacrifice will stand as an example for current and future service members."

In addition to George's Bronze Star, the secretary also awarded the Silver Star Medal to Lt. j.g. Schmitt for action at Pearl Harbor while serving on the battleship USS Oklahoma.
The Augusta Chronicle profiles the last known Pearl Harbor veteran in the area.
[Alvin] Mays, an Army veteran, had been assigned to the 21st infantry, 24th Division, at Schofield Barracks when the attack occurred. He reflected Monday on the Japanese fighter planes that flew overhead, spraying those below with bullets, following the bombing of the U.S. naval base, located near Honolulu, Hawaii.

"I just had walked out of the mess hall that morning and heard all the bombing and everything sounding off at a distance," Mays said . "Just minutes after that we began to see the planes flying over. They came in striking the 21st infantry at treetop level and lucky for us we did not have any casualties that morning."

Mays, who served as a mechanic, was assigned to the base after enlisting in 1941. He was 18. Following the Pearl Harbor attack, Mays deployed to Australia, then to the Philippines where he fought on the front lines before being ordered back to the States.

"When I got to Hawaii, I didn't take any basic training," he said. "That was very unusual, but they were just motorizing their infantry at that time. I went straight into the motor pool and that's where I stayed until MacArthur signed the treaty."
On December 7, 1946, the Winecoff Hotel in downtown Atlanta, previously considered fireproof, burned in the worst hotel fire to date.
Georgia Politics, Campaigns, and Elections
 Greg Bluestein of the AJC has the best 140-character explanation of Atlanta politics and the racial polarization that drove the Atlanta Mayor's runoff election.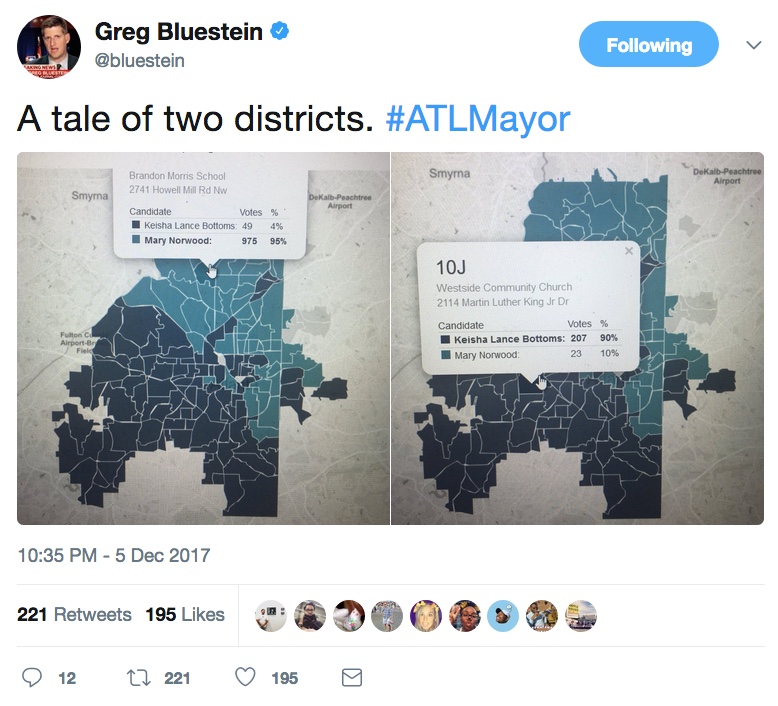 Democrat Jen Jordan won the special runoff election for State Senate District 6, completing the Democratic flip of the seat formerly held by Republican Hunter Hill.
A Democratic victory in Georgia's state Senate election on Tuesday put an end to the Republican's two-thirds supermajority.

Democrat Jen Jordan beat out fellow Democrat Jaha Howard in a runoff election for Georgia's 6th state Senate district Tuesday night, according to the Cobb County Courier.

Jordan will take the seat vacated in August by Republican Hunter Hill, who left the chamber to mount a bid for Georgia governor.

None of the five GOP candidates to run in the initial election made it to the runoff election.

Republicans still hold a significant majority in the state Senate, though with Jordan's victory on Tuesday they no longer hold the supermajority in the chamber that they once did.
From the Marietta Daily Journal:
The fact that the top two vote-getters in this year's November primary were Democrats came as a shock to many, but Cobb Democratic Party chair Michael Owens said it is a sign of things to come.

"We're seeing a change in tides," Owens said. "We're seeing the Democratic Party increasingly starting to truly rebound and starting to become influential, the wills of the people starting to be influential about Democratic ideas and principles. Those candidates that are talking about those issues, it's clear that voters are responding and are listening to the message."

Speaking before the results came in, Jordan said she had been helped by a primary field with more Republican candidates, splitting the vote. The primary included five Republicans and three Democrats.

"I think some folks were taken by surprise by Trump's victory," she said. "Maybe that was a lesson learned. If we want this democracy to work, we have to work at it, and we have to participate in it. And we have to support candidates that we like and we think can do a good job for us. People really are wanting to be more involved and participate more in elections across the board."

"(District 6 is) a competitive district," [Kennesaw State University political scientist Kerwin] Swint said. "I do think this fits into the trend of it being a Democrat winning streak. … I think Democrats should celebrate."

The real test will come next year when Jordan faces election again, this time as an incumbent. Swint said she may end up serving for more than just the remainder of Hill's term.

"I think a Democrat, that being a competitive district, stands a reasonable chance," he said. "It will depend in part on her and her service and her record. … In the whole metro area, both parties can't take anything for granted. It's really going to require a lot of attention to the precinct level."
Democrat Nikema Williams won the special runoff election for State Senate District 39, which was vacated by Vincent Fort.
Sarah Riggs Amico announced she will run as a Democrat for Lieutenant Governor in 2018.
Sarah Riggs Amico joins three Republicans in the race to succeed Lt. Gov. Casey Cagle: Senate Pro Tem David Shafer, state Sen. Rick Jeffares and former state Rep. Geoff Duncan.

Amico is executive chairman at Jack Cooper Holdings Corp., a trucking and logistics firm run by her father, Michael Riggs. Trained at Harvard's business school, she's previously worked at talent and literary agencies in New York and Hollywood.

Her campaign roll-out included a video focusing on her executive leadership at Jack Cooper, replete with folks music and images of tractor trailers hauling cars on highways. Her family bought the company during the Great Recession in 2008 and grew it from 120 employees to more than 3,000.

"We literally had suppliers betting on whether or not we would make it through the summer. There were a lot of executives who thought this would be a great time to cut back on healthcare benefits we pay for," she said. "We went the other direction and said we're going to pay for all of it."

Her campaign platform includes vows to work across party lines with Republicans, expand access to rural healthcare and a pledge to pursue more apprenticeships and vocational educational programs.
Augusta Judicial Circuit District Attorney Natalie Paine kicked off her campaign to retain the seat to which Governor Nathan Deal appointed her.
Gov. Nathan Deal appointed Paine in March to fill the district attorney's position and replace now Richmond County Superior Court Judge Ashley Wright.

"As district attorney, I have worked tirelessly to protect citizens, families, and businesses from violence and crime," Paine said in a news release. "I am committed to the people of the Augusta Judicial Circuit and refuse to back down from prosecuting those who want to hurt our children, take advantage of the elderly, or create fear in our communities and neighborhoods."

"Serving as district attorney is an honor and a privilege. I humbly ask for your vote with the promise to always fight hard and do the right thing – even when no one is looking. Together, we will ensure a safe and promising future for our families and loved ones."

As district attorney of the Augusta Judicial Circuit, Paine serves as the top prosecutor in Richmond, Columbia and Burke counties.
Lori Henry was elected Mayor of Roswell and will succeed Mayor Jere Wood.
According to the Georgia Secretary of State's website, Henry, the incumbent Post 4 City Council member, defeated fellow challenger Lee Jenkins in the Dec. 5 runoff with 55 percent, or 6,551 votes. Jenkins received 45 percent, or 5,390 votes.

Residents will also greet two new faces on the Roswell City Council. These same results show Matt Judy defeating fellow challenger Karen Parrish for the Post 6 seat and [Sean Groer] edging out Mike Nyden for the special election to fill the Post 3 seat.

Judy received 60 percent, or 6,660 votes, to Parrish's 40 percent, or 4,452 votes. Groer won with 54 percent, or 5,768 votes, to Nyden's 46 percent, or 4,910 votes.
Peachtree Corners City Council member Jeanne Aulbach was reelected with a 15-vote margin.
John Bradberry was elected to the Johns Creek City Council Post 3 seat vacated by Cori Davenport.
According to unofficial results posted by the Georgia Secretary of State's Office, Bradberry received 58 percent, or 2,151 votes, compared to Horton's 42 percent, or 1,573 votes.

Bradberry will succeed Davenport, who chose not to run for re-election. The office of mayor and the Post 1 and Post 3 seats on the City Council were decided in the Nov. 7 general municipal election. Lenny Zaprowski was re-elected to the Post 1 seat while Stephanie Endres won another four-year term for the Post 5 seat, respectively.

Mayor Mike Bodker initially faced challenger Alex Marchetti for re-election, but the challenger opted to drop out of the race, leaving Bodker unopposed for another four-year term.
Chad Crane beat incumbent Chuck Welch for Cumming City Council Post 1.
Maryline Blackburn won the runoff election for Smyrna Council Ward 3.
Cheryl Anderson won the runoff election for Marietta City Council.
The Polk County Board of Elections will recount votes in the runoff election for Board of Education District 6.
Interim school board member and candidate Judy Wiggins requested a recount of the ballots in the Tuesday run-off vote that came down to a 191-190 victory for Chris Culver. That will take place Thursday morning at 9:30 a.m. at the Board of Elections office in the County Administration offices at 144 West Ave., Cedartown.

"More than anything else, hearing from supporters and my campaign group, I felt that with it being just one vote it bears looking at one more time," Wiggins said.

She added that "I just want to be sure."
Governor Nathan Deal spoke to the Valdosta-Lowndes County Chamber of Commerce Legislative Luncheon.
"Our tourism is also one of those areas you have benefited (from) greatly," Deal said. "We have had tourism expand in our state. … The more we can get the message out to the world that Georgia is a great place to visit … and that there is more to Georgia than just 'Georgia on My Mind,' we want you to come have it on your eyesight."

In 2015, Lowndes County brought in $282.4 million in direct tourist spending and generated $11.8 million in state tax revenue and $8.7 million in local tax revenue, Deal said.

Deal spoke about the expansion of the film industry in the state and how he wants to develop a workforce of stage, sound and light engineers so the film companies can pull from Georgia's workforce.

"We don't just want them bringing people in to do that," Deal said. "We want Georgians to have those skills so that when they decide to shoot a film in our state they can find the right people right here and trained with the skill set to get those jobs."

Deal talked about how he has helped tackle issues with formerly incarcerated residents and residents looking for jobs that require technical skills.

The final message Deal left Valdosta was that economic success must continuously be earned.

"We're number one in the nation in meaningful criminal justice reform," he said. "We're number one in the nation as a place in which to do business. We're number one in the nation and in the world in terms of film production."

'We are number one in a lot areas. We've got to keep pushing because the world is always changing and we need to be sure we stay ahead of those changes."
Public schools entering the state's "Turnaround School District" have been selected.
The 11 schools picked by the state's first Chief Turnaround Office, Eric Thomas, are mostly in south Georgia. All are south of Atlanta; they are in Bibb, Clay, Dooly, Dougherty and Randolph counties.

Thomas said all these districts agreed to be part of the program, which was established this year by The First Priority Act. The new state law came in reaction to voter rejection last year of a constitutional amendment that would have created a statewide "opportunity" school district with authority to seize "chronically failing" schools.
Lt. Governor Casey Cagle spoke about transit at the Cobb County Chamber of Commerce.
Georgia must be willing to build the infrastructure of tomorrow, and while that includes updating existing roads and bridges, it also includes transit, Cagle said.

"It doesn't mean MARTA or transit has to be placed or forced on anyone, but we certainly have to recognize that it is a piece of the puzzle going forward," he said.

In addition to its effects on reducing congestion, proximity to public transit has become a priority for companies when they are looking to relocate, Cagle said, such as the recent announcement from Amazon that it is looking to build its second headquarters.

"I think all of you know a little bit about this Amazon issue, and every single major headquarter deal that we are getting, all of them are requiring to be located on a transit line," Cagle said. "They understand what that future is going to look like, and so we have to plan for the infrastructure of tomorrow, both in terms of roads and bridges, but also transit as well."

Does that mean MARTA rail will extend into Cobb County?

"I am not going to force MARTA on Cobb County. I want to be very clear. That is a decision by which Cobb County needs to make," Cagle said. "But I do think it is my role to set up a system by which we determine where the needs are today, but also in the future. And if it makes sense to Cobb, then they have an opportunity to do that. And the other thing is MARTA fundamentally, the governance structure within MARTA, I think people are fearful of that. They're fearful of that in Cobb. They're fearful of that in Gwinnett as well. So there is an opportunity for Cobb County to have their own transit system to where they would then have an intergovernmental agreement with an entity like MARTA or there could be an option by which MARTA is the governance structure's changed tremendously."
Savannah-Chatham School Board members heard from Savannah Mayor Eddie DeLoach.
Mayor Eddie DeLoach made an appearance at Wednesday's Savannah-Chatham School Board meeting to explain his vision to help the city's children.

The mayor's appearance followed reports that plans for the city and the school system to fund an education center for low-income preschoolers was a surprise for board members.

The Savannah City Council added $2.22 million to the 2018 city budget last week for the $7.2 million education center.

DeLoach had said that the city/school partnership had been in development for more than a year with the support of Superintendent Ann Levett, and her predecessor, Thomas Lockamy.

School board President Jolene Byrne said she had never heard of the plan until the city's budget meeting.
Georgia Power and the other Vogtle co-owners will receive billions from Toshiba as payments on Plant Vogtle overages.
Georgia Power and its partners in the new reactors will receive the remaining $3.2 billion it is owed from Toshiba by Dec. 15 instead of monthly payments scheduled to go through the end of 2020. The companies had already received $455 million in payments.

Georgia Power's share of the new payments would be $1.47 billion. The agreement to make the remainder of payments is still subject to approval by Toshiba's board and the U.S. Department of Energy.

"We are pleased to have reached this constructive agreement with Toshiba regarding the parent guarantees for the Vogtle project and every dollar will be used to benefit our customers," said Georgia Power CEO Paul Bowers. "We remain committed to making the right decisions for our state's energy future and continue to believe that completing both Vogtle units represents the best economic choice for customers and preserves the benefits of carbon-free, baseload generation for Georgia electric customers."

The Public Service Commission is currently reviewing the request and receiving testimony about the project and hearings will resume next Monday with testimony from the public. A decision on whether to proceed is scheduled for Feb. 6.