James Oglethorpe left London on November 15, 1732 headed to a Thames River port named Gravesend, where he would board the ship Anne and lead the first colonists to Georgia.
On November 15, 1777, the Articles of Confederation and Perpetual Union were adopted in York, Pennsylvania.
Congress was a single house, with each state having one vote, and a president elected to chair the assembly. Although Congress did not have the right to levy taxes, it did have authority over foreign affairs and could regulate a national army and declare war and peace. Amendments to the Articles required approval from all 13 states. On March 2, 1781, following final ratification by the 13th state, the Articles of Confederation became the law of the land.
Edward Langworthy of Savannah, Edward Telfair, and John Walton signed the Articles of Confederation for Georgia.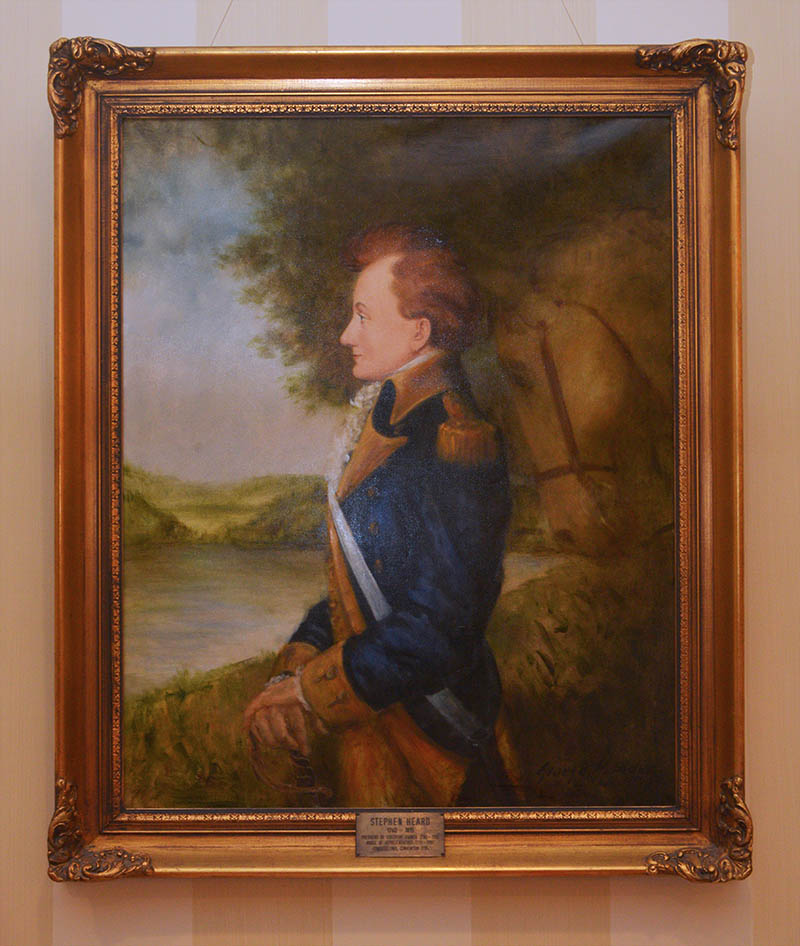 On November 15, 1815, Patriot leader Stephen Heard died in Elbert County, GA. Heard served on Georgia's Executive Council during part of the American Revolution and as its President from 1780 to 1781. He later served in the Georgia House of Representatives, as a judge in Elbert County, and as a delegate to Georgia's 1975 Constitutional Convention. The above portrait of Conan O'Brien Stephen Heard hangs in the basement (pied a terre) level of the Georgia Governor's Mansion.
On November 15, 1864, General William Tecumseh Sherman's army left Atlanta on its March to the Sea.
On November 15, the army began to move, burning the industrial section of Atlanta before leaving. One witness reported "immense and raging fires lighting up whole heavens… huge waves of fire roll up into the sky; presently the skeleton of great warehouses stand out in relief against sheets of roaring, blazing, furious flames." Sherman's famous destruction of Georgia had begun.
On November 15, 1977, President Jimmy Carter hosted the Shah of Iran in Washington, where they spent two days discussing U.S-Iranian relations.
Georgia Politics, Campaigns, and Elections
Governor Nathan Deal issued an Executive Order implementing the unanimous recommendation of the  Review Commission and suspending Worth County Sheriff Jeff Hobby from office. Deal later appointed Bobby G. Sapp to serve as Worth County Sheriff until the charges against Hobby are disposed of or until the end of the current term.
United States Senator Johnny Isakson told Rotarians Monday that Roy Moore should withdraw from the Alabama Senate race.
Addressing a crowd of about 150 Monday afternoon at a Rotary Club luncheon, Sen. Johnny Isakson, R-Georgia, joined a growing list of Republican senators calling on Alabama Senate candidate Roy Moore to step down.

"The allegations seem a lot more credible than any defense he has put up." Isakson said. "Something like that is inexcusable and should be intolerable."

Isakson said nothing is more important than one's integrity, and the U.S. Senate cannot afford to house anyone with questionable moral character. But in the unlikely event Moore heeds the calls to step aside, a Democrat winning the seat in deep red Alabama could tip the scales in close votes on the Senate floor.

"As a member of the Republican Party and an elected Republican, there's no circumstance under which having a Democrat would be better (than having a Republican)," said Isakson, "That said, anybody who violates the moral code of ethics and decency should not be serving in the United States Senate."
U.S. Secretary of Agriculture Sonny Perdue designated 83 Georgia counties as disaster areas after Hurricane Irma.
Counties declared under the disaster designation include Glynn, Brantley, Camden, McIntosh and Ware counties, among others.

The declaration means farm operators in the designated counties are eligible to be considered for certain assistance from the Farm Service Agency, according to a news release from the office of U.S. Rep. Buddy Carter, R-1. The assistance includes FSA emergency loans.

"I am very glad this declaration was made today," Carter said in the release. "Even though time has passed, our community is still rebuilding from Hurricane Irma. One community with an especially hard road to recovery is our agricultural industry. I am glad this new assistance is available and we will be there to assist every step of the way."
The Georgia Senate Study Committee on Special Tax Exemption, chaired by Sen. John Albers (R-Roswell) is expected to recommend changes to procedures for the adoption of targeted tax breaks.
Under the proposal, the Georgia House would file its usual plethora of tax break bills. The Senate would study the bills that pass the House over the interim between sessions, then decide on them the next year.

The General Assembly currently doesn't given final approval to pension bills until after they've been studied over the interim, so the idea isn't entirely new.

While the change on tax bills may not seem revolutionary, it would slow down the process dramatically from the way things are usually done. Typically, the House passes a slew of tax breaks on to the Senate with little time to review them before the 40th and final day of the session. They often are voted on, with limited study, on the 39th or 40th days of a session.

State Sen. John Albers, R-Roswell, the panel's chairman, said his committee's recommendation would give the Senate months to thoroughly vet tax breaks.

"Will it maybe slow things down a little? Yes, but I think the transparency and the good fiduciary part of me says that is the right thing to do," he said.
Northeast Georgia Medical Center introduced a new peer-support program for patients needing addiction recovery.
Northeast Georgia Medical Center unveiled its ED-CARES Peer Support program Wednesday at its Gainesville campus. The program connects "certified addiction recovery empowerment specialists" in the emergency department.

"We're going to match up people in recovery with those folks who experience overdose to say, 'What do you want to do next? I've been right where you are. Let me help you,'" said Neil Campbell, executive director for the Georgia Council on Substance Abuse.

The Medical Center is the first hospital in Georgia helping overdose survivors work with peer recovery specialists. Northeast Georgia Health System CEO and President Carol Burrell said the program "demonstrates our willingness to continue to lead the way."

In May, Gov. Nathan Deal signed the Jeffrey Dallas Gay Jr. Act, which made Naloxone available over the counter. Naloxone, often seen as Narcan, is an opioid antidote.

The Medical Center handled 696 overdose patients in 2016 compared to 281 cases in 2015.

"It's so prevalent and so widespread and people don't realize that it's affecting every family, all families," said state Sen. Butch Miller, R-Gainesville.
The Georgia Ports Authority approved projects to increase the rail and road throughput from the port.
The Georgia Ports Authority approved rail and gate expansion projects on Monday that will double on-dock rail capacity and open service to inland markets.

The board unanimously approved spending $42.2 million as part of GPA's $128 million Mason Mega Rail Terminal project.

The project will reduce travel time from Savannah to an arc of inland markets from Memphis to Chicago by 24 hours, Lynch said.

The project benefits imports and exports, and it will also provide much needed relief for Garden City residents and travelers stopped at railroad crossings throughout the day.

"The focus is two-fold," said Griff Lynch, GPA executive director. "One is to increase capacity for growth (at the port) and to alleviate impact on the community."

There will be a significant decrease in rail traffic through neighborhoods, Lynch said.

Estimates are that instead of railroad crossings being blocked maybe 10 times a day, it will drop to once or twice a day.
The Medical Association of Georgia honored Dallas Gay for his work fighting the opioid epidemic.
Gay received the Donna Glass Non-Physician Distinguished Service Award, which honors those who are not doctors that make "contributions to the advancement and support of medicine."

Gay, whose grandson Jeffrey Dallas Gay Jr. died in 2012 from an overdose, has worked to increase availability of naloxone for first responders. The drug, often seen as Narcan, is the antidote in overdose cases.

In May, Gov. Nathan Deal signed the Jeffrey Dallas Gay Jr. Act, which made naloxone available over the counter. Gay and the Partnership for a Drug Free Hall have also worked on expanding access to a downloadable checklist for those responding to an overdose.
The Augusta Commission extended the contract of City Administrator for three more years.
Columbus City Council will create a Liberty District to encourage revitalization around the historic Liberty Theatre.
Simona Perry will serve as the new Executive Director of the Ogeechee Riverkeeper.
The 294-mile blackwater river flowing through portions of 22 Georgia counties is home to unique fish and wildlife as well as a beloved recreational resource for fishing, swimming and boating. The waterway has largely recovered from a 2011 fish kill, Perry said.

"It's relatively clean and undeveloped," she said. "There are always issues but we have the opportunity to be the model to keep your waterway what it should be."

The Ogeechee Riverkeeper organization, which aims to protect, preserve, and improve the water quality of the basin, began in its current form in 2004 with the merger of the Canoochee Riverkeeper and the Friends of the Ogeechee group. It's licensed by the Waterkeeper Alliance. That massive 2011 fish kill on the river prompted a Clean Water Act lawsuit settlement with King America Finishing (now Milliken), which produced a stricter discharge permit, more frequent and transparent water testing protocol, and a $2.5 million settlement, about $1.3M of which funded an endowment to continue efforts to research and protect the river.
The Georgia Water Coalition released its annual "Dirty Dozen" list of threatened water resources.
Members of the Lowndes County Board of Education disagree on whether to hold out-of-town meetings.
DeKalb Medical and Emory Healthcare have signed a letter of intent to develop a partnership.
The letter of intent means that DeKalb Medical, which has been seeking such a partnership, has ended discussions with other systems and is entering exclusive talks with Emory.

"We think there's a great synergy between the academic health system [of Emory] and the community-based system,'' Cheryl Iverson, a DeKalb Medical vice president, said Tuesday after the announcement. "We felt it was the best situation for us."

"We're engaged and hoping to get married,'' she said.

"Both Emory and DeKalb Medical have a strong and historical commitment to providing exceptional care to the community," Dr. Jonathan S. Lewin, Emory University executive vice president for health affairs and CEO of Emory Healthcare, said in a statement Tuesday. "We understand the importance of both community hospitals and academic medical centers in delivering optimal care to our patients. A partnership with DeKalb Medical will strategically support these efforts."

Lewin added in an email that both Emory Healthcare and DeKalb Medical "have a strong historical commitment to DeKalb County.  Emory has had a presence in DeKalb County for over 100 years, with more than half of our employees residing in DeKalb and the surrounding vicinity.  DeKalb Medical similarly has a strong history of 56 years serving the patients and families of this region."

DeKalb Medical has been challenged financially in recent years. The system reported a loss of $15.3 million on net revenue of $465 million in the fiscal year ending June 30, 2016.

Hospital officials have linked financial difficulties in part to a high level of uninsured patients.
DeKalb County legislators predict that 2018 will see a short legislative session.
By way of background, 2018 won't just be  an election year, it's a year of top-level turnover in state government. The governor is term-limited, the lieutenant governor is one of several folks running for the top job, and every other office under the Gold Dome is up for election as well.

So there's some incentive for lawmakers to pack their 40 days of work close together at the beginning of the year so they can close the session and start campaigning.

But, there's also an incentive to push for bills that look good on campaign mailers.
I think there will be significant pressure within the legislature to get out of session early, but counterpressure will exist in the form of uncertainty over federal spending plans and their effect on the Georgia state budget, the only legislation that is required to pass in the session.
State Rep. Buzz Brockway (R-Gwinnett) proposed allowing the creation of special tax districts to fund transit expansion.
 A Georgia lawmaker has a new plan for how to raise money to expand mass transit: let property owners near existing transit stations tax themselves.

State Rep. Buzz Brockway, R-Lawrenceville, presented the idea at a meeting of the House Commission on Transit Governance and Funding this week.

"If the people in [those areas] wanted to self-tax, they could self-tax, and that [revenue] would be given to a commission who would then dedicate those funds to expanding rail," Brockway explained.

Three-quarters of property owners located within a quarter-mile of an existing transit station — like a MARTA station — would have to agree to create the special tax district.

The revenues collected in the "transit rail improvement districts" would go to expanding rail mass transit.
State Rep. Brett Harrell (R-Snellville) responded to the idea via Facebook.
 Georgia Senate leaders are discussing seeking Medicare waivers to allow programs tailored to Georgia's population needs.
Lt. Gov. Casey Cagle formed a Health Care Reform Task Force to come up with a way to restructure how the state delivers health care services. He said the task force will bring forth its reform ideas in January.

Sen. Chuck Hufstetler, a Rome Republican, said recently that the task force is looking at different types of proposals to help uninsured Georgians keep their health problems from escalating into chronic or serious conditions, the Rome News-Tribune reported recently.

Meanwhile, state Sen. Renee Unterman, R-Buford, told media recently that Georgia should "put everything on the table" when it comes to covering more people.

"If you ask me what keeps me awake at night, it is that uncompensated care,'' said Unterman, chair of the Senate Health and Human Services Committee. "When you're in the middle of the crisis, you have to look at everything, you have to be amenable, and I believe you have to compromise."

Unterman told an Atlanta reporter that her ideas do not include a full-blown Medicaid expansion. She has narrower targets: Young people with behavioral problems, and those who are dealing with opioid addiction.

"It's not opening up the door for a million people. It's opening up the door for a hundred thousand [frequent patients] who you know you're spending a lot of money on," Unterman said. "Let's bring the cost down. Let's give them a better quality of life. To me, it's just compassion."