Former Confederate President Alexander Stephens was released from federal prison on October 12, 1865 and returned to Georgia.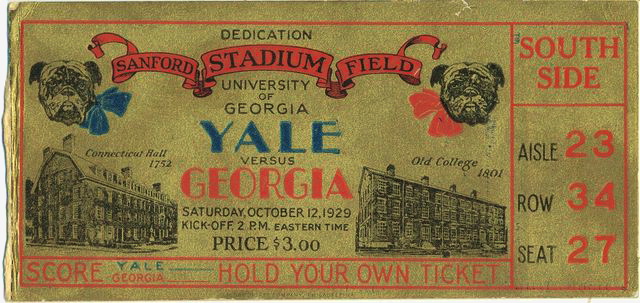 The first game in Sanford Stadium was played on October 12, 1929, with the University of Georgia Bulldogs beating the Yale Bulldogs. Here is ten minutes of the game.
On October 12, 1958, The Temple was bombed after a phone call to WSB warned that Black churches and Jewish temples would be blown up.
Georgia Politics, Campaigns, and Elections
Governor Nathan Deal issued an Executive Order naming a commission to review charges against Snellville Mayor Tom Witts and yesterday suspended Witts from office.
Gov. Deal lauded Gwinnett County's water management programs.
Gwinnett County is the poster child for how communities should handle their water, Gov. Nathan Deal said during Gwinnett Clean and Beautiful's Governor's Environmental Address at the Infinite Energy Center Wednesday.

"You continue to be my poster child, and I don't just say these things whenever I come to Gwinnett County," Deal said. "I say these things all over the state of Georgia because you are my poster child for what should be done for treating and returning clean water back to the system."

"Every chance where you have an opportunity to speak to a member of Congress, our two senators and our representatives, remind them if you want to do something that really means something and is not just window dressing, and not just having a press release that is of maybe marginal importance, convince the Army Corps of Engineers to give communities like Gwinnett credit when they have spent millions (to clean water)," Deal said.

Credits are important, because the the amount of credits that a community has can impact how much water the Army Corps of Engineers will let that community pull from a water source.

Gwinnett County Commission Chairwoman Charlotte Nash agrees. Gwinnett has continually made the argument that the Corps of Engineers, which manages Lake Lanier, should give it credit for its returns. The chairwoman said she saw "Gwinnett all over" the special master's report to the Supreme Court.

"We just can't imagine a place where it wouldn't be a good thing to provide the incentive to treat water to the level that we treat it and return it back as high up in water stream as possible," Nash said. "I'm waiting for somebody to give me an example where that wouldn't be a good thing, but that hasn't happened yet, so I think Gov. Deal is right on the money with his remarks about that."

She also said Gwinnett has high expectations for itself when it comes to water treatment because county leaders see it as the right thing to do.

"We think we have simply moved to the level everybody is going to have to eventually be at," Nash said.
The Board of Regents approved a new degree, the Masters in Intelligence and Security Studies.
The new degree plans to appeal to not only current students but those already in the military at Fort Gordon who need an advanced degree to further their careers, said Dr. Gregg Murray, chair of the AU Department of Political Science, where the degree will be located. A 2012 survey of 303 intelligence personnel at the fort found that 42 percent were very interested in a masters program, according to information given to the board.

"In the military, they do a lot of graduate work as they move up in the ranks and we see this as an opportunity to provide some support for them as they are making their way up through their progression while they are here in Augusta and at Fort Gordon," Murray said.

The program will seek to pull together a lot of the expertise at the school in areas like terrorism and seek to combine that with prowess in areas like the Cyber Institute to understand burgeoning security threats like cyber warfare and cyber terrorism and espionage among others, he said.

The new program also seeks to take advantage of the school's and the area's growing cybersecurity presence….
Georgia State Senator Bruce Thompson (R-White) chaired the Senate Study Committee on Cyber Security Education meeting in Augusta.
The committee was created March 28 with the adoption of Senate Resolution 454, which empowers an appointed group "to study the current and future implementation of a cybersecurity curriculum in Georgia high schools."

Augusta is a growing focal point of cyber activity. Fort Gordon, already home to the Army's largest cyber training center, will become the home of the U.S. Army's Cyber Command by 2020. Also, the Georgia Cyber Innovation and Training Center – designed to promote modernization in cybersecurity through public-private partnerships – is under construction on Reynolds Street downtown.

"Some of us who live in other parts of the state want to duplicate what you're doing here. I applaud you for that," state Sen. Bruce Thompson told meeting attendees. He chairs the study committee.
Atlanta City Council earlier this week passed an ordinance decriminalizing possession of small amounts of marijuana.
What that means is that if someone is caught with less than an ounce of marijuana, it's now a fine instead of time. It's still illegal, as the change in Atlanta does not make it legal to possess it. For the rest of the state, penalties include a six-month jail term and a fine of up to $1,000.

Savannah City Manager Rob Hernandez says he supports the idea of no jail time for these small crimes. He believes it helps individuals avoid life-affecting charges to a relatively petty offense. However, that's not to say an individual won't have consequences for their actions. He also believes Atlanta's fine of $75 is too low. He's been through this before while in office in Florida and believes a higher fine, community service hours, or enrollment in a substance abuse program is more effective – all without jail time or criminal charges.

For now, Hernandez says decriminalization is not on the city's radar. Still, the Georgia CARE Project says the domino effect has begun and the jurisdictions around Atlanta will be the first to jump on board. They're close in proximity and will get fed up quickly. The end goal? State decriminalization, but that's a heavy load.
Atlanta's City Council twitter account inaccurately reported that Mayor Kasim Reed vetoed the legislation.
"We received an email overnight that the Mayor VETOED our marijuana legislation for less than one ounce," said an early-morning tweet from the official account of the Atlanta City Council.

There was just one problem. It wasn't true.

The tweet wasn't corrected for close to an hour, and it took more than four hours before it was deleted.
Mayor Reed signed the legislation Tuesday.
Mayor Kasim Reed announced Wednesday morning that he signed the city council ordinance decriminalizing marijuana.

He made the announcement on the Ryan Cameron show saying he signed the ordinance at 6:24 p.m. yesterday. Reed said they had a signing ceremony planned to include the politicians who played a roll in the legislation.

A vote to decriminalize is not a vote for legalization. Marijuana is still very illegal in the city of Atlanta.  The decriminalization vote proposed a change to the way people are prosecuted after being found in possession marijuana within the city limits of Atlanta.

It took imprisonment off the books for people caught with less than an ounce of the illegal drug.  The ordinance would have also reduced any potential fine to a maximum of $75.

Punishment would essentially become a citation, similar to a traffic ticket.
Clermont City Council voted 3-2 to place a nonbinding "straw poll" on the November municipal ballot.
Clermont Town Council voted Monday night to place a nonbinding straw poll on the Nov. 7 ballot over whether to allow beer and wine sales. Council directed the town clerk to get the help of legal counsel to draft the wording for the straw poll and have it on the ballot in time for the start of early voting Oct. 16.

The action came following an appearance by state Rep. Lee Hawkins, R-Gainesville, who talked about the process of de-annexation and asked local officials to let two businesses de-annex from their jurisdiction.

Hawkins told council and those who attended the meeting that the two business owners had petitioned his help.

"This is a situation where these two folks will probably go out of business," Hawkins said at the meeting. "I don't want to see anybody go out of business … So, I'm just here to appeal to you to consider letting these folks de-annex."

During a regular meeting last week, council agreed to send Hawkins a letter containing the results of a straw poll taken during a 2014 council meeting. Of the 48 residents who voted, 32 were against having the sale of beer and wine. Another 16 of 20 non-residents who voted did not want beer and wine sales.

Hawkins said the problem he has with the 2014 straw poll is the small number who participated.

"It's hard to get people to meetings, I understand that," Hawkins said. "But, I think if you did a straw poll, nonbinding straw poll, I think everybody could live with that."
City council candidates in Grovetown and Harlem met voters in a joint forum Tuesday night.
Local candidates in Lowndes County attended a public meet-and-greet.
This didn't work in the 1980s, and it still doesn't work.
[A] Bibb County sheriff's deputy noticed a crashed Honda Accord on the side of a road.

Another deputy soon pulled up there along Vinson Robinson Road, which runs off Log Cabin Drive near Sam's Club in west Macon. The second deputy walked over to the wrecked 2002 Honda and caught wind of a "strong odor" of alcohol. The odor was intermingled with the scent of Polo cologne "that appeared to have been used to cover up" the alcohol, the deputy's report noted.

The car's driver, a 28-year-old man, smelled like he had been drinking, and he also seemed to have splashed himself with "a heavy amount of the Polo," the report added. The man's eyes were glassy and bloodshot. His speech was slurred. "He failed to answer questions," the write-up said, "and would repeat over and over that he was 'not a bad guy' and that he would walk home because he stays 'right around the corner.'" After a breath test, the man was found to be "well above the legal limit" and charged with drunken driving.
Rome may hike garbage fees under a recommendation from the public works committee.
Rome City Commission voted against a proposal to allow open alcohol containers in part of downtown.
Banks County is seeking to leave the Piedmont Judicial Circuit and join the Mountain Judicial Circuit.
Banks County is wanting to leave the Piedmont Judicial Circuit and join up with the Mountain Judicial Circuit, which includes Habersham, Rabun and Stephens counties. Whether that can occur has to be determined by the Georgia General Assembly.

The Habersham County Commission took up a request from Banks County to approve the change at a called Oct. 2 meeting.

The Piedmont Circuit currently includes Banks, Jackson and Barrow counties.

Banks County will be putting forward a request for local legislation in the General Assembly to make the change.

28th District Rep. Dan Gasaway said Oct. 12 he has "been hearing talk for about six months" about a possible request for a change. He said he was not aware the Habersham County Commission had received an endorsement request from Banks County.

Still, if a change is acted on, "we will do it slowly," Gasaway said. "I want to talk to all the stakeholders. It will not happen this year."
Piedmont Judicial Circuit Chief Judge David Motes urged the Banks County Commission to remain in the circuit.
Chief Judge David Motes addressed the commission Tuesday night, saying he spoke on behalf of himself, Judge Currie M. Mingledorff II, Judge Wayne D. McLocklin and Judge Joseph H. Booth, the judges of the circuit, all of whom were in attendance.

"I'm here for one purpose and one purpose only," Motes told commissioners. "I want to tell you that I think it is not in the best interest of the citizens of Banks County of the state of Georgia for Banks County to divorce the Piedmont Judicial Circuit."

Likening the commission's desire to leave the judicial circuit to a marriage coming to an end, Motes said divorces are costly.

"We do have concerns about Banks County leaving the Piedmont Judicial Circuit," Motes said. "We're concerned about what this will cost the citizens of Banks County and how that will impact them. I speak for all the judges when I tell you that we're all committed to serve the citizens of Banks County. That is our job, that is our duty, and we will continue to do our duty for as long as we are judges of the Superior Court of Banks County."
Habersham County municipal elections begin early voting on Monday, October 16th.
Alpharetta City Council Post 2 candidates will appear in a forum on Wednesday, October 25th at 7 PM.
A Gordon County election forum will be held tonight.
The event will take place in downtown Calhoun at the City Depot from 6:00-8:30 p.m. It will include a meet-and-greet with the candidates; this year's election has seats up for re-election from the City of Calhoun, City of Fairmount, City of Plainville and Town of Resaca.
Atlanta TV news reader Bobby Kaple quit in order to mount a Democratic challenge to Congressman Karen Handel.
Emory University's annexation into the City of Atlanta could add 2500 voters to the Mayoral and City Council elections in November.
About 2,500 registered voters who will become city of Atlanta residents if Emory University's annexation is approved this month can vote in the city's Nov. 7 election for mayor and city council, according to election officials.

DeKalb County Interim Elections Director Erica Hamilton said even though the voter registration deadline was Tuesday, newly annexed voters can participate in municipal elections. She had said last week those voters would be ineligible but changed course after city of Atlanta attorneys cited a state law allowing them to cast ballots.

The Atlanta City Council could vote Monday to approve the incorporation of a 1.14-square-mile area that includes Emory, the Centers for Disease Control and Prevention, and Children's Healthcare of Atlanta. It would be the city's largest expansion since adding Buckhead in 1952.

The Georgia Secretary of State's Office confirmed that voters in the annexed area would be included in the election.

"We certainly see no legal impediment to participation in the upcoming municipal election," said Chris Harvey, the state's elections director.
Port Wentworth Mayor "Pig" Jones withdrew from his reelection campaign.
Jones qualified in August for what would have been his fourth term.

"My heart just isn't in it," Jones said.

Jones withdrew officially on Wednesday afternoon when he filed a notarized statement with the town's city clerk.
Congressman Jody Hice will host a telephone Town Hall meeting tonight at 6:15 PM.
Hice will update residents on legislation and local and national affairs during the town hall. The telephone town hall will also give residents the opportunity to pose their questions to the congressman directly.

According to the press release, this is the 11th conference call hosted since Hice came into office in 2015 and fifth time hosting the event this year.

"With so much going on currently before Congress, fostering thoughtful discussion, where my constituents and I can talk about the issues of the day, is of the utmost importance," said Hice in the press release. "That's why I regularly host Telephone Town Halls, which are an effective, large-scale effort to stay in touch with my constituents as part of my communication outreach."

The telephone town hall will be open to the public.
Phoebe Putney Memorial Hospital became the first South Georgia hospital recognized by the World Health Organization as "baby-friendly."