The Continental Congress renamed their new nation the United States of America, from the previously used "United Colonies" on September 9, 1776.
An American fleet of nine ships under the command of Captain Oliver Hazard Perry routed a British fleet in the Battle of Lake Erie on September 10, 1813.
After the battle, Perry sent a famous dispatch to U.S. General William Henry Harrison that read, "We have met the enemy, and they are ours." The Battle of Lake Erie forced the British to abandon Detroit, ensuring U.S. control over Lake Erie and the territorial northwest.
Years later, Pogo, Georgia's Official State Possum, would paraphrase Perry's dispatch.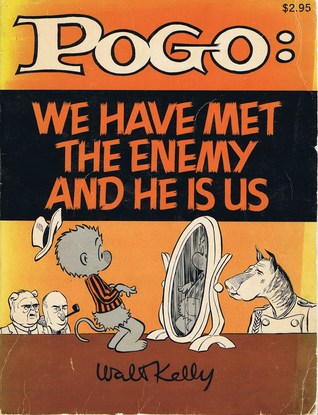 And eventually, Pogo's statement that, "We have met the enemy and he is us" would become the official slogan of the Georgia Republican Party.
On September 7, 1864, General William T. Sherman sent a letter to his Confederate counterpart, General John Bell Hood, offering to transport civilians out of Atlanta for their safety.
The Georgia General Assembly appropriated $1 million for construction of a new State Capitol on September 8, 1883.
The Fulton County Courthouse was dedicated on September 8, 1914.
On September 9, 1933, WSB Radio in Atlanta was upgraded to broadcasting via 50,000 watt transmitter. The first broadcast included Will Rogers and a letter from President Roosevelt.
On September 9, 1939, an audience at the Fox Theater in Riverside, California watched a preview of Gone With the Wind.
The first actual computer bug was identified on September 9, 1947, when Grace Hopper removed a moth from an electrical relay in the Harvard Mark II computer. Hopper received her Ph.D. in Mathematics from Yale in 1934 and attained the rank of Rear Admiral, Lower Half in the United Stated Navy. USS Hopper (DDG-70) was named after her.
On September 9, 1954, Marvin Griffin won the Democratic Primary election over Melvin Thompson.
Elvis Presley first appeared on The Ed Sullivan Show on September 9, 1956.
The Professional Football Hall of Fame opened on September 7, 1963 in Canton, Ohio.
On September 8, 1966, viewers of the Star Trek debut first heard the monologue opening, "Space, the final frontier…"
On Sept. 8, one of the most enduring franchises in TV and movie history celebrates its 50th birthday. Star Trek debuted on NBC in 1966, developed by Roddenberry, a former Los Angeles cop who wanted to make a TV series which could sneak past the rampant escapism of most programs back then.

At a time when scripted TV rarely dealt directly with the turbulence of the times, Star Trek set its social messages against a space opera backdrop. Swashbuckling Captain Kirk ran the Enterprise, backed by cerebral first officer Mr. Spock and emotional Southern medical officer Dr. Leonard McCoy.

On the surface, the show's plots dealt with exotic alien worlds in a future where space travel was commonplace. But Roddenberry and his writers slipped in subtle messages.

One classic story pointed out the absurdity of racism by depicting a war among members of an alien race, where one faction was colored black on the left side of their face and body and white on the right. The other faction had the colors reversed.

And as the end of state-sanctioned segregation rattled America, Roddenberry featured TV's first interracial kiss: Aliens forced Captain Kirk to smooch his African American communications officer Lt. Uhura.
President Gerald Ford pardoned former President Richard Nixon on September 8, 1974 for"all offenses against the United States which he, Richard Nixon, has committed or may have committed or taken part in during the period from January 20, 1969 through August 9, 1974."
Future Atlanta resident Curtis Mayfield saw his song, "Superfly" turn gold on September 7, 1972.
On September 7, 1977, President Jimmy Carter signed the Panama Canal Treaty, which promised to turn over control of the canal to Panama by 2000.
On September 10, 1991, Senate confirmation hearings began for Georgia-born Clarence Thomas, who was appointed by President George H.W. Bush (41) to the United States Supreme Court.
Nirvana's Smells Like Teen Spirit was released as a single on September 10, 1991.
Google was founded by Larry Page and Sergey Brin on September 7, 1998.
On September 10, 2002, the Atlanta Braves clinched an eleventh straight division title without playing, as a loss by the Philadelphia Phillies assured the Braves the title.
On Saturday, we wish a happy 75th birthday to former Congressman John Linder. Linder served in the State House from 1974-1980 and 1982-90. In 1990 he ran unsuccessfully for Congress against incumbent Democrat Ben Jones; in 1992, after redistricting, Linder was elected to Congress from the 7th District and served until his retirement after the 2010 election.
Georgia Politics, Campaigns, and Elections
Governor Nathan Deal yesterday declared a State of Emergency covering six Georgia counties, later expanding it to cover 30 counties.
Following a recommendation from Georgia Emergency Management and Homeland Security Agency (GEMA/HS) officials and local Emergency Management Agencies, Gov. Nathan Deal is expanding his emergency declaration to include 24 additional counties, with a total of 30 counties now included in a state of emergency. Deal also issued a mandatory evacuation order for all areas east of I-95, all of Chatham County and some areas west of I-95 that could be impacted by potential storm surge from Hurricane Irma. The executive order also authorized up to 5,000 Georgia National Guard members to be on state active duty to support Hurricane Irma response and recovery. The state of emergency prohibits price gouging for all goods and services related to the storm. Read the executive order here.

"The state is mobilizing all available resources to ensure public safety ahead of Hurricane Irma," said Deal. "I encourage all Georgians in our coastal areas that could be impacted by this storm to evacuate the area as soon as possible. Beginning Saturday, a mandatory evacuation order will take effect for Chatham County, all areas east of I-95 and some areas west of I-95 that could be impacted by this catastrophic hurricane and storm surge. GEMA/HS continues leading our preparedness efforts as we coordinate with federal, state and local officials to safely evacuate the coastal areas, provide public shelter and minimize the disruption of traffic. Finally, I ask all Georgians to join me in praying for the safety of our people and all those in Hurricane Irma's path."

The 30 counties under a state of emergency are: Appling, Atkinson, Bacon, Brantley, Bryan, Bulloch, Burke, Camden, Candler, Charlton, Chatham, Clinch, Coffee, Echols, Effingham, Emanuel, Evans, Glynn, Jenkins, Jeff Davis, Liberty, Long, McIntosh, Pierce, Screven, Tattnall, Toombs, Treutlen, Wayne and Ware Counties.
At 10 AM, Gov. Deal will hold a press conference to discuss storm preparations. You can watch the live stream here.
This weekend in Georgia, you may run into folks who are part of the evacuation. They will cause traffic delays, possible shortages, and jean shorts. Please treat them with the grace you would wish for if you were forced from your home.
Georgia Court of Appeals Judge Lisa Branch has been nominated to a seat on the 11th Circuit U.S. Court of Appeals.
President Trump intends to nominate Judge Elizabeth L. "Lisa" Branch, of Atlanta, to serve on the U.S. Court of Appeals for the 11th Circuit in Atlanta. Branch has served as the 77th Judge on the Georgia Court of Appeals since September 4, 2012.

For the U.S. District Court for the Southern District of Georgia, President Trump intends to nominate R. Stan Baker of St. Simons Island, Georgia, where he has served as magistrate judge for the same district since February 3, 2015.

"I applaud the president's choices and look forward to working with these excellent judges as the confirmation process moves forward in the Senate," said Senator Isakson.

"Once again President Trump has nominated two impressive Georgians to fill judicial vacancies in Georgia," said Senator Perdue.

"I look forward to working through the Senate confirmation process with Lisa Branch on her nomination to a Georgia-based seat on the 11th Circuit Court of Appeals and Stan Baker on his nomination to be a judge in the Southern District of Georgia."
The Senate Study Committee on Georgians' Barriers to Access to Care will meet on Monday at 10 AM in Room 310 of the Coverdell Legislative Office Building.
Georgia Ports are closing ahead of Hurricane Irma.
With some 40 ships scheduled to call on Garden City and Ocean terminals between Friday morning and Tuesday night, advance planning is critical, Witt said.

"Typically by this point, most ships are in storm avoidance mode, either delaying transit or changing routes," he said, adding that ships under power are usually safer riding out a storm at sea.

At GPA's Savannah terminals, truck gates will close at 6 p.m. Friday with operations ceasing around midnight and the last ship sailing on the high tide before dawn Saturday, according to GPA executive director Griff Lynch.

Gates at Colonel's Island and Mayor's Point terminals in Brunswick will close at 5 p.m. Friday.

"The safety of our employees and partners in the maritime community is our highest priority," Lynch said, adding that operations will be restored as soon as it is safely possible.

"Our terminals in Savannah and Brunswick play a vital role in customer supply lines," he said. "After the hurricane passes, we are committed to assessing any damage and getting our ports back up and running as quickly as possible."
Rev. Jentezen Franklin of Gainesville's Free Chapel talked about lobbying President Trump for DACA.
Franklin said he hopes the approximately 800,000 people involved in the program are not deported.

"I can tell you now that I believe … and the other ministers that are there, the black pastors and Hispanic pastors and those of us who pastor to multicultural churches," Franklin said. "We were basically saying, 'We're in the trenches.' I know these kids; they've been in my home. I know these kids; they've been in my children's ministry, my youth ministry. I love these kids — these are great kids. We pleaded passionately with the president that we have got to find a pathway."

He said that he believed Trump would sign a bill granting amnesty for DACA residents if Congress sent one to his desk. People covered by DACA are often called "Dreamers" — an acronym referencing the failed Development, Relief and Education for Alien Minors Act first introduced in 2001.

Franklin's discussions with Trump were reported by The Washington Post on Monday. He's one of several pastors on Trump's evangelical advisory council.

If the residents here illegally do end up getting deported, Franklin said he wouldn't resign from Trump's faith council.

"Dr. Martin Luther King Jr. said, 'Presence is everything,' when he was asked, 'Why are you going to the White House?' He said presence is everything," Franklin said. "(If I wasn't on) that board, I wouldn't have been able to look across the table there, the desk in the Oval Office, and have this very conversation that I'm having for you."

Franklin said that if "you're not at the table, you can't argue the points."

"If he chooses not to listen, he chooses not to listen, but you know, you don't resign from a board — at least I don't — every time somebody does something you don't agree with," Franklin said. "The president has done (several) things that I didn't agree with, but I can't influence that world if I'm not in it. I didn't ask other pastors who served on President Obama's board to resign — I wanted them there."
Snellville Mayor Tom Witts has been indicted on 66 charges, of which 65 are felonies.
Valdosta and Lowndes County have adopted emergency ordinances to discourage "price gouging" during the evacuation.
The declaration states Lowndes County Emergency Management Agency activates both the emergency operations plan and ordinance 04-1265, which prohibits the overcharging for goods, materials, services and housing during an emergency, better known as "price gouging."

While some prices could increase based on supply and demand, price gouging is when prices are raised above the legally allowed margin solely because of an emergency, according to officials.

Since the beginning of the week, Lowndes County has observed a shortage of gasoline, bottled water and other supplies while Florida residents make their way north to escape Hurricane Irma.

"With I-75 coming out of the middle of Florida, there is certainly going to be a lot of traffic coming up," Lowndes County Commission Chairman Bill Slaughter said during a press conference Thursday. "It's going to be extremely important to protect those evacuating (from price gouging). They're going to be needing to buy gas and food."
The City of Columbus is opening a 220-bed shelter for storm evacuees.
The mayor's office confirmed that a 220-bed shelter will be opened at Frank D. Chester Recreation Center at 1441 Benning Drive to help house evacuees from Florida and the affected areas of the Georgia coast as Hurricane Irma approaches the mainland.

If the shelter fills up, another shelter could be opened at the Roy Martin Center in Russell County, said Candace Poole, 2-1-1 Manager at United Way of the Chattahoochee Valley.

Poole also said that people can find housing resources by dialing 211 or by texting "31902 IRMA" to the number 898211.

Evacuees have already booked nearly every hotel room in Georgia, including those in Columbus. Columbus State University will host more than 130 students from Armstrong State University after the university announced an emergency closure.
Campaigns and Elections
Cumming City Council Post 2 member Quincy Holton drew an opponent for his reelection to the seat he was first elected to in 1969.
Holton, the longest-serving member of the City Council, will face a challenger for the seat this year from local businessman Jason Evans. Holton said the city has changed a lot since he took office but that he wants to continue serving its residents.

"I've been in office quite a while, and when I went in we only had about a $15,000-a-year budget, and today we have about $29 million, almost $30 million for the budget," Holton said. "Also, I'd like to keep the ad valorem tax off so we don't have to pay it, and I like to work for the people; that's what I'm in there for."

Mayor H. Ford Gravitt, who was first elected to his seat in 1970, will face challenger Troy Brumbalow, a local businessman. Post 1 Councilman Chuck Welch, who took office in 2015 to fill the unexpired term of predecessor Rupert Sexton, will be challenged by Chad Crane, a project manager.

The election will be held on Nov. 7, and three weeks of advance voting will be held 8 a.m.-5 p.m. on weekdays between Oct. 16 and Nov. 3. All voting will take place at City Hall.

The candidate with the most votes in each race will be elected, and no run-off will be held if a candidate gets less than 50 percent of votes plus one vote, as is the case in Forsyth County and other municipalities.
Qualifying has been set for the following Special Elections:
HD 42 (formerly Stacey Evans)

HD 89 (formerly Stacey Abrams)

HD 117 (formerly Regina Quick)

HD 119 (formerly Chuck Williams)

SD 6 (formerly Hunter Hill)

SD 39 (formerly Vincent Fort)

Qualifying for the special election shall be held in the Elections Division of the Office of Secretary of State, 2 Martin Luther King Jr. Drive SE, 802 West Tower, Atlanta, Georgia 30334.

The dates and hours of qualifying will be Monday, September11, 2017 beginning at 9:00 a.m. and ending at 5:00 p.m.; Tuesday, September 12, 2017 beginning at 9:00 a.m. and ending at 5:00 p.m.; and Wednesday, September 13, 2017 beginning at 9:00 a.m. and ending at 1:00 p.m. The qualifying fee shall be $400.00.

Tuesday, October 10, 2017 is the last day to register to vote for all persons who are not registered to vote and who desire to vote in the special election. Advance in-person absentee voting will begin on Monday,October 16, 2017.
Steven Strickland announced he will run for State House District 119 in the Special Election, with his party affiliation to be chosen later.
A third Oconee County resident recently announced he will seek the State House of Representatives District 119 seat that was vacated when Chuck Williams resigned to become the director of the Georgia Forestry Commission.

Steven Strickland of Bishop said Wednesday he will wait until he qualifies to announce his party affiliation.

Republican candidates Tom Lord and Marcus Wiedower have already announced they intend to run in a special election in November. During the same election, a candidate will also fill the House District 117 seat vacated by Regina Quick, who was appointed as judge of the Western Judicial Circuit.
Republican Bryan Dobbs announced he will run in House District 19 against incumbent State Rep. Paulette Rakestraw. From the press release:
Dallas,​ ​Ga.​ ​–​ ​Bryan Dobbs, owner of local business Dobbs Defense and community advocate, formally announced his candidacy for Georgia House of Representatives District 19 on Sept. 8, 2017.

The people of District 19 deserve honest diligent representation. Bryan Dobbs wants to put Paulding first by improving the confidence and integrity of the office and give the people a strong voice.

This is Dobbs' first run for public office. The government faces many challenges, to include tax reform, wasteful spending, second amendment rights and public safety.

The community of District 19 wants to see action. Bryan Dobbs humbly asks the people for an opportunity to serve them.

To find out more about the campaign, visit BryanDobbs.com.
Bruce McPherson, running against incumbents Democratic Congressman Sanford Bishop (Albany) campaigned in Cordele.
Pam Tucker kicked off her 2018 campaign for Chair of the Columbia County Commission.
Nearly 50 volunteers gathered for a campaign kickoff meeting and dinner in support of Pam Tucker, the longtime emergency services director in Columbia and Richmond counties, on Thursday night.

Tucker, who is running for the position of Columbia County Commission Chair, discussed and coordinated different duties ranging from installing and collecting yard signs to making phone calls and knocking on doors.

"Tonight kicks everything off, then we will start doing our big fundraiser in October," Tucker said. "Then, after that, we've got fashion show fundraisers, and all kinds of ideas and wonderful things that we are going to be doing."

Tucker said she plans to run on a platform promoting transparency and uniting the county through collaboration. Other than her "Tucker Time" supporter chant, Tucker said she embraces her slogan that she will "bring fresh air and sunshine back to Columbia County."

To date, current county commissioner Doug Duncan and small business owner Mark Herbert have also submitted declarations of intent to run for the county commission seat currently held by Ron Cross. Cross has not announced whether or not he plans to seek re-election.

The primary election will take place May 22.