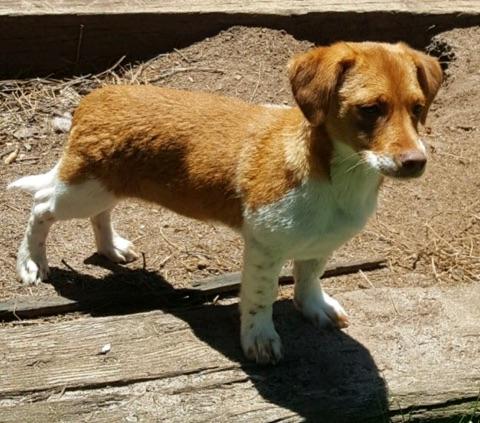 Emme (above, female) and Remington (below, male) are 12-week old Hound mix puppies who are available for adoption separately or together from Rescue Me Ga Inc in Dunwoody, GA.
Emme and Remington are siblings and best friends who love to play and snuggle together. They love playing in the backyard and fetching sticks and pine cones, and they play great with their foster friends too. They'd love to find a forever home together.
Rory is a young male American Bulldog and Terrier mix puppy who is available for adoption from Rescue Me Ga Inc in Dunwoody, GA.
Paddy is a young male Labrador Retriever puppy who is available for adoption from Rescue Me Ga Inc in Dunwoody, GA.
Be careful with your pets
Gwinnett County has had five bear sightings so far this year.
Suwanee resident Colleen Gardner spotted a black bear in the backyard of her Royal Oak Estates subdivision home on Sunday evening. The fuzzy creature was hanging out near — and on — her bird feeder.

"He stayed for about 15 minutes and headed toward Johnson Road," Gardner said.

Gardner's is the fifth known Gwinnett bear sighting this summer.

Two separate homeowners in Buford reported seeing bears days apart in late June, not long after Gwinnett police were captured on video trying to wrangle a bear in Norcross. Earlier in the summer, a resident in the Charleston Bay neighborhood in Duluth shared a video with the Daily Post and said the same bear visited the same home twice.
Coyotes are causing problems in Augusta.
"We used to notice them, but now they're beginning to come out a little bit more than what they were in the beginning," [Augusta Municipal Golf Course] general manager Ira Miller said. "A lot of people have said they've seen dogs out here, I've heard everything from a dog to a fox."

Coyotes are not native to Georgia and began making a home in the Southeast as early as the 1970s, said Mark Whitney, the Georgia Department of Natural Resources assistant director of Wildlife Resources.

By the mid-'90s, the omnivorous predators had populated all 159 Georgia counties. Though widespread, Whitney doesn't believe they pose as much of a threat as the public thinks.

"People see them as a nuisance. It's more of a potential individual perception issue," he said. "Obviously if they show up in someone's backyard, they'll have concerns."

When they showed up at neighboring Daniel Field Airport, Augusta Aviation was more than concerned. Wildlife on the runways can create hazardous conditions for pilots when they are attempting to take off or land.