On July 11, 1782, British colonists including British Royal Governor Sir James Wright, fled Georgia.
Wright had been the only colonial governor and Georgia the only colony to successfully implement the Stamp Act in 1765. As revolutionary fervor grew elsewhere in the colonies, Georgia remained the most loyal colony, declining to send delegates to the Continental Congress in 1774.
Congress ordered the creation of the United States Marine Corps on July 11, 1798, after the Corps was inactive for a period following the Revolutionary War. From 1799 to 1921, Marine Corps Day was observed on July 11, but is now celebrated on November 10, the date of it's Revolutionary War establishment.
On July 11, 1804, Aaron Burr shot Alexander Hamilton in a duel in Weehawken, New Jersey. Burr was the sitting Vice President of the United States and Hamilton a former Secretary of the Treasury.
After he shot Hamilton, Aaron Burr quickly fled the nation's capitol, making his way to St. Simons Island, Georgia, spending a month as a guest of Pierce Butler at Hampton Plantation.
Burr was a fugitive, but his killing Hamilton in a duel held a certain justifiable reasoning since dueling was not illegal, though morally questionable, to be sure. According to H. S. Parmet and M. B. Hecht in their Aaron Burr: Portrait of an Ambitious Man, after the duel, he immediately completed, by mid-August, plans which he had already initiated, to go to St. Simons, "an island off the coast of Georgia, one mile below the town of Darien."

Jonathan Daniels' "Ordeal of Ambition" handles the situation this way: "With Samuel Swartwout and a slave named Peter ('the most intelligent and best disposed black I have ever known'), Burr secretly embarked for Georgia. There on St. Simons Island at the Hampton Plantation of his friend, rich former Senator Pierce Butler, he found refuge…" As Georgia Historian Bernice McCullar, author of "Georgia" puts it, Burr was "fleeing the ghost of Alexander Hamilton" when he arrived on the Georgia island.

"Major Pierce Butler," she relates, "had fought in the British army and remained in America after the war." He had married a South Carolina heiress, Miss Polly Middleton, and acquired two Georgia Coastal plantations, which he ran like a general storming after the troops. In fact, he was so strict that none of his slaves could associate with any of the others. He also required anyone who visited his plantations to give his or her name at the gate. With this tight security, Burr should have felt safe..

Actually, Butler's invitation to visit the island fitted the escapee's plans nicely. Not only was the Hamilton affair a bother, but also Burr needed to get away from a lady by the name of Celeste; however, the real reason, aside from being near his daughter, who was also in the South, was the nearness of the Floridas. No real purpose is given why the Vice-President wanted to spend "five or six weeks on this hazardous and arduous undertaking."

Daniels underscores that from this St. Simons point Burr could "make any forays into Florida he wished to make. He traveled under the name 'Roswell King." After his Florida odyssey, he planned to meet his South Carolina son-in-law "at any healthy point."
Parts of the Hampton Plantation survive in the form of tabby ruins on St Simons.
A house in St. Marys, Georgia bears a plaque stating that Aaron Burr visited there in 1804.
Clark lived in the home from 1804 until his death in 1848. He was appointed in 1807 by then-President Thomas Jefferson as customs collector for the Port of St. Marys, a position he held until his death. The year Clark bought the house, he is said to have provided a temporary hideout to Aaron Burr, who was traveling in the South to evade federal authorities holding a warrant for his arrest after he killed Alexander Hamilton in their infamous duel in July 1804.

Verification of Burr's stay in St. Marys is hard to come by. But it is confirmed that he stayed on St. Simons Island and Cumberland Island late in the summer after he killed Hamilton. That Burr knew Clark is not disputed. The two attended law school together in Litchfield, Conn., but there is no mention in either man's records that Burr stayed in the home.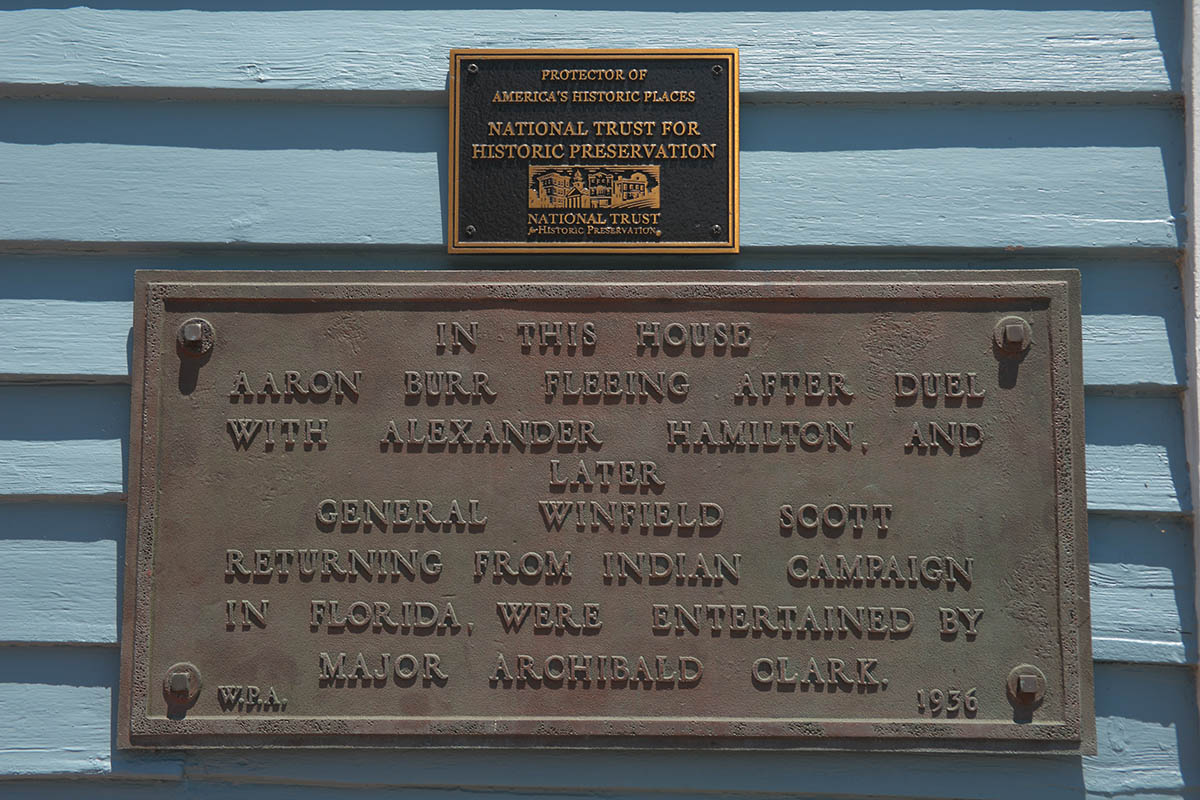 On July 11, 1877, a Constitutional Convention convened in the Kimball Opera House in Atlanta to replace the 1868 Reconstruction Constitution.
On July 11, 1916, President Woodrow Wilson signed the Federal Aid Road Act, establishing a federal program of paying for highway development.
President Franklin D. Roosevelt accepted the Democratic nomination for a fourth term on July 11, 1944.
General Dwight D. Eisenhower was nominated for President by the Republican National Convention on July 11, 1952.
July 11, 1969 was an epic day in rock and roll history, with David Bowie releasing "Space Oddity" and the Rolling Stones releasing "Honky Tonk Women."
On July 11, 1985, Astros pitcher Nolan Ryan became the first major league player to strike out 4000 batters.
Georgia Politics, Campaigns, and Elections
Today's "Oops!" moment comes from the Patrick Morrisey campaign for United States Senate from West Virginia. Look for it starting at :57.
The news of the day is campaign contribution disclosures, which were due yesterday.
| | | | |
| --- | --- | --- | --- |
| Governor | Raised | Cash on hand | |
| Hunter Hill (R) | 1,148,529.59 | 928,444.92 | |
| Brian Kemp (R) | 1,710,592.00 | 1,523,900.80 | |
| Casey Cagle (R) | 2,659,044.40 | 2,515,178.04 | |
| Michael Williams (R) | 1,051,831.12 | 944,024.47 | includes $1 million loan |
| Stacey Abrams (D) | 541,758.45 | 222,468.01 | |
| Stacey Evans (D) | 415,319.93 | 365,825.43 | |
| Rod Mack (D) | DNF | DNF | |
| | | | |
| Lieutenant Governor | Raised | Cash on hand | |
| David Shafer (R) | 900,121.36 | 895,681.82 | |
| Geoff Duncan (R) | 329,570.00 | 304,949.18 |  includes $100k loan |
| Rick Jeffares (R) | 355,575.00 | 349,061.59 | |
| | | | |
| | | | |
| Secretary of State | Raised | Cash on hand | |
| Buzz Brockway (R) | 60,522.80 | 54,976.10 | |
| Brad Raffensperfer (R) | 93,610.00 | 81,921.38 | includes $75k loan |
| David Belle Isle (R) | 291,625.00 | 279,667.07 | |
| Rakeim J. "RJ" Hadley (D) | 4,050.00 | 200.00 | |
Michael Williams loaned his campaign $1 million, LG candidate Geoff Duncan loaned his campaign $100k, while Brad Reffensperger loaned his $75k.
State Senator Josh McKoon is not included in the above tables because he filed paperwork to raise money after the cut-off date, and thus had no disclosure due. No one else is excluded unless they aren't taking the steps necessary to actually run for office.
The AJC Political Insider writes that the gubernatorial contest could shape up to be the most expensive in Georgia history, with more than $7.4 million raised or loaned so far.
Both Cagle and Kemp broke the previous fundraising record for the first reporting period, already showing the high stakes of the race among Republicans to replace Gov. Nathan Deal. Monday is the first reporting deadline for gubernatorial candidates.

"The level of financial support we have received is immensely humbling and encouraging," Cagle said in his Monday announcement.

Cagle, who has been lieutenant governor since 2007, has struck a more moderate conservative tone within the GOP primary and has courted metropolitan voters in Atlanta in addition to mainstream conservatives.
State Senator David Shafer, the front-runner in the race for Lieutenant Governor, gave away a million dollars previously raised for his senate campaign.
On Monday, a Republican political action committee reported it had gotten $1.025 million in leftover campaign money from Shafer's state Senate account.

Under Georgia law, candidates can't raise money for one office and then use it to run for another. So Shafer couldn't directly spend his leftover state Senate money in his lieutenant governor's race.

The Republican Leadership Fund PAC, headed by longtime party activist and statehouse lobbyist Don Bolia, can use what it raises to help support GOP candidates in next year's election, including Shafer.

It has raised $8,000 so far this year from sources other than Shafer.

Before Shafer's Senate campaign contribution to the PAC, it had $188,000 in the bank. It now has $1.2 million.
The money quote on Shafer's fundraising haul comes from John Isakson, Jr, his campaign chair.
"Other than my father, I haven't seen anyone work this hard or be this focused in a campaign," said Isakson.

Shafer, the Senate's pro tem, has racked up endorsements from GOP mega-donor Bernie Marcus, Insurance Commissioner Ralph Hudgens and all five members of the Public Service Commission in an effort to establish himself as the front-runner.
Congratulations to Ashley Jenkins, who will serve as District Director for Congresswoman Karen Handel.
Governor Nathan Deal announced that the film and video industry has added $9.5 billion to Georgia's economy.
Gov. Nathan Deal today announced that Georgia-lensed feature film and television productions generated an economic impact of $9.5 billion during FY 2017. The 320 feature film and television productions shot in Georgia represent $2.7 billion in direct spending in the state.

"Georgia's film industry supports thousands of jobs, boosts small business growth and expands offerings for tourists," said Deal. "As one of the top places in the world for film, Georgia hosted a remarkable 320 film and television productions during the last fiscal year. These productions mean new economic opportunities and real investments in local communities. We are committed to further establishing Georgia as a top film destination and introducing film companies to the Camera Ready backdrops available across Georgia."

In addition to the increase in production expenditures, Georgia has experienced significant infrastructure growth with multiple announcements in FY 2017, including the announcement of Three Ring Studios in Covington. With this additional infrastructure, Georgia can accommodate larger tentpole productions with more capacity for multiple film projects.

"Literally hundreds of new businesses have relocated or expanded in Georgia to support this burgeoning industry – creating jobs for Georgians as well as economic opportunities for communities and small businesses," said Georgia Department of Economic Development (GDEcD) Commissioner Pat Wilson. "Although these support services companies cannot claim the tax credits, they directly benefit from the increased amount of work in the state, and the fact that the savings from the Film Tax Credit are typically re-invested in the project, creating additional economic impact and activity for these Georgia-based businesses."

The economic impact of the film industry can be felt across multiple sectors. In addition to camera, lighting and audio equipment, film companies use a wide range of support services during production including catering, construction, transportation, accounting and payroll and post-production.

"Georgia's growth in the film industry – from $67.7 million in direct spending in FY 2007 to $2.7 billion in FY 2017 – is unprecedented, not only in production spend, but also in the amount of investment that has been made in infrastructure," said Lee Thomas, GDEcD deputy commissioner for the Georgia Film, Music and Digital Entertainment Office. "The unwavering commitment to this industry by Governor Deal and the Georgia legislature has ensured Georgia's place as a top destination for film and television."

In 2017, the GDEcD Film and Tourism divisions partnered to celebrate the "Year of Georgia Film" to highlight Georgia's film tourism sites, including local communities that have served as backdrops for movies and television productions since the 1970s.
Cobb County residents turned out for a hearing on a proposed property tax hike.
ix community members addressed Boyce and county commissioners during Monday's hearing, the first of three scheduled in front of the entire board before commissioners vote on the property tax rate. Boyce is proposing an increase of 0.13 mills, which would amount to an additional $13 in tax on a home valued at $250,000. It comes after the county announced a 6.5 percent jump in Cobb's tax digest, or the measure of the taxable value of property in the county.

The increase is equivalent to the 0.13-mill cost commissioners were told earlier this year would be needed to fund a portion of the $40 million parks bond approved in 2008. Boyce addressed the need to fund the bond in an 18-minute video shown to the meeting's estimated three dozen attendees before public comment began.

"If I were you, I'd be ashamed that you showed us boxes of all of those 'highly important' things that you say we can't fund, but right now, you want to put more parks in," said Loretta Davis, an east Cobb real estate agent. "We can certainly wait a little bit longer for parks, but we already have parks."

Lance Lamberton, who serves as the chairman of the Cobb Taxpayers Association, said he had hoped to see the county commission follow the lead of Cherokee County, which is considering a full rollback of its millage.

"Even if we were to concede the need for more revenue to fill 'holes' in the budget arising from the great recession, a $2.06-billion increase in the tax digest, without even increasing the millage rate, should be more than enough, especially considering that these increases will be realized year after year," Lamberton said. "To add a millage rate increase on top of that is adding insult to injury."
Cobb County Commissioner Bob Ott said he opposes the proposed tax hike.
Commissioner Bob Ott said he does not believe the commission's support of the parks bond justifies the millage increase, and says that he would vote against the millage proposal as it currently stands.

"I understand that we committed to the park bond — I just believe there are ways to get to where we need to be without increasing the millage," Ott said. "I know it's only 0.13 (mills), but I think the board needs to exercise discipline in spending versus just raising the millage. I don't believe the board has truly established the spending priorities that the community has and the board has, and I think the board needs to spend this next year after this millage is set determining what these priorities are."
Gwinnett County Commissioners also heard from taxpayers against a proposed tax increase.
Gwinnett County residents who addressed their Board of Commissioners about a proposed millage rate increase sang a common tune on Monday night.

They were afraid the increase, on top of growth in the county's property value-based tax digest, would make it hard for them to pay their taxes this fall. The general operations millage rate is increasing from 6.826 to 7.4 mills.

That means taxes will go up, but the exact amount per home varies depending on the fair market and taxable values, as well as whether the homeowner has homestead and value offset exemptions.

"I don't understand why you have an increased value and now we're going to get a double whammy with the millage rate going up," Lilburn resident Lana Berry said. "I just think it is unfair. I think when you sit in your offices, you think — I'm assuming you think — everybody gets an increase every day, that every year we get an increase and can afford it.

"People in Gwinnett are getting older. We can't afford a millage rate (increase) and an increase in values in the same year."

In all, five people addressed the board about the proposed increase between the two hearings. One of those people spoke at an early morning hearing while the rest attended an early evening hearing.
Lilburn City Council voted to keep the same property tax millage rate as the previous year.