On May 15, 1791, George Washington left Augusta for Savannah.
On May 15, 1800, President John Adams ordered all 125 employees of the federal government to begin packing to move the capital from Philadelphia to Washington, DC.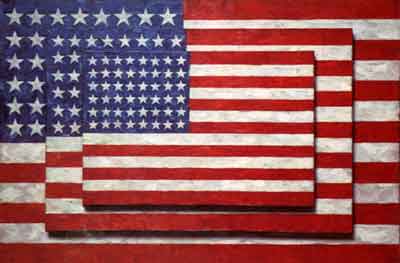 American artist Jasper Johns was born May 15, 1930 in Augusta, Georgia.
Carl Sanders was born on May 15, 1925 in Augusta, Georgia. He served in the United States Air Force, Georgia House of Representatives and State Senate, where he was President Pro Tem. In 1962, Sanders won the Democratic Primary for Governor, defeating former Governor Marvin Griffin, and in November was the first Governor of Georgia elected by popular vote after the County Unit System was abolished.
Former Atlanta Braves pitcher John Smoltz was born on May 15, 1967 in Lansing, Michigan. Smoltz pitched a complete game shutout against the Pittsburgh Pirates in the seventh game of the National League Championship Series in 1991, sending the Braves to their first World Series since moving to Atlanta in 1966. Smoltz was chosen for the All Star team eight times and won the Cy Young award in 1996.
Original heart-pine floors in the Macon federal courthouse were restored during renovations.
Built in 1905, the federal courthouse at the corner of Mulberry and Third streets in downtown Macon is steeped in history.

A long-hidden piece of that history was uncovered earlier this year as part of a project to replace the sound system in the building's original courtroom.

Audio and video connections had run underneath carpet there for years, and in the process of converting the sound system from analog to digital technology, the carpet was pulled up and removed, U.S. District Court Clerk David Bunt said.

The $140,000 project — which includes both the sound system and floor work — is set for completion later this month.

Judge Marc Treadwell, who uses the courtroom the most, said he's happy that the floors, a lost part of the building's past, were rediscovered.

"This courthouse is a historic treasure — not just as a building, but as a place where a lot of history has taken place," he said.
Georgia Politics, Campaigns, and Elections
Speaker Paul Ryan will headline a Get Out The Vote Rally for Karen Handel today at 3 PM at Five Seasons Brewery in Sandy Springs.
Voters in Senate District 32 go to the polls tomorrow in a Special Runoff Election.
May 16 is Election Day in District 32. Voters will choose a replacement for former Sen. Judson Hill, who gave up his seat to run for the District 6 seat of Tom Price, who left the U.S. House to become health and human services secretary.

On the ballot will be Democrat Christine Triebsch, a lawyer, and Republican Kay Kirkpatrick, a physician. Both women call east Cobb home.

In last month's jungle primary, Triebsch earned 14,199 votes, equaling 24.22 percent of ballots cast. Kirkpatrick came in second place with 12,369 votes, equaling 21.09 percent.
The Marietta Daily Journal endorsed Kay Kirkpatrick in the state Senate District 32 election.
In the race, this newspaper endorses Dr. Kay Kirkpatrick.

U.S. Sen. Johnny Isakson, R-Georgia, came to know Kirkpatrick from her involvement in the Republican Party when she worked on his campaign in the 1990s. It was Kirkpatrick who recommended the doctor who performed Isakson's back surgery four months ago.

Isakson calls her a good person and hard worker.

"I think she'll do a great job, and I think if you look at her race in the primary, she really did a heck of a job because they all went after her, they went after her to discredit her as a woman, to discredit her as a Republican, discredit her as a doctor, and they struck out in all three cases. How they stand up against the voters, that's the best test," Isakson said.

Cobb County Sheriff Neil Warren says Kirkpatrick brings the right experience as a physician and businesswoman, which will be needed to restore the health care system after the Obamacare disaster. Kirkpatrick also shares Warren's conservative views and is the right candidate to keep the residents of Cobb and all of Georgia on the path to greater prosperity, he believes.
Check here to see if you're in the district, and if so, where to vote; polls are open from 7 AM to 7 PM.
Chuck Berk writes in the Atlanta Jewish Times that Karen Handel deserves the support of Jewish voters.
Karen Handel and the Republicans, on the other hand, have been great supporters of Israel and Jewish causes. Karen supported the Republican-led legislature's passage of anti-BDS legislation last year, prohibiting any company from doing business with the state of Georgia if it boycotts, divests from or sanctions Israel.

She supported Iran divestiture legislation passed by the Republican-led legislature a few years ago. And she has always been supportive of Georgia's decision, with support from Republican governors, to purchase Israel Bonds.

As the chairwoman of the Fulton County Board of Commissioners, Karen turned a $100 million deficit into a balanced budget without raising taxes. As Georgia's first elected Republican secretary of state, she reorganized the office and reduced expenses by 20 percent.

So, as a Jewish voter, you have a choice. You can choose a young, inexperienced person who will be a rubber stamp for Pelosi, who lives outside the 6th District and who can't even vote for himself.

Or you can choose Karen Handel, a proven, mature, conservative leader who has a record of getting things done, who has been supportive of Jewish issues, and who has worked and lived in the 6th District for 25 years.
President Donald Trump is expected to nominate Callista Gingrich, wife of former Georgia Congressman Newt Gingrich, as U.S. Ambassador to the Vatican.
The White House did not respond to a request for comment, and the announcement is pending approval from the Office of Government Ethics, according to CNN, which first reported the news on Sunday.

Mr. Gingrich, reached by phone on Sunday evening, declined to confirm or deny that his wife would be nominated, saying only that he and his wife were told to "be very cautious" until an actual nomination was announced.

The idea of nominating Ms. Gingrich first became public in January, and during the transition Mr. Trump half-jokingly said he was intrigued by the idea of picking Ms. Gingrich because it could also get Mr. Gingrich, with whom he has a hot-and-cold relationship, out of his hair, according to one of the people with knowledge of Mr. Trump's remarks.
I-85 in Atlanta reopened in both directions over the weekend, in time for today's rush hour.
The bridge was closed for more than 40 days after it caught fire and collapsed several weeks ago.
Gwinnett County Transit may be affected in the future after the bridge collapse.
County officials made adjustments to Gwinnett County Transit Express Routes that went into the city because of the shutdown of the interstate just south of Ga. Highway 400. Among the changes were rerouting of some Express routes and the addition of temporary routes from Park and Ride lots to MARTA's Doraville and Chamblee rail stations.

The temporary routes end this weekend, but Gwinnett County Transportation Director Alan Chapman didn't rule out the possibility that they could come back in the future.

"We are polling our riders right now to find out their thoughts on providing that service to the MARTA rail stations," Chapman said Thursday. "So it's something we could potentially consider doing in the future if there's a strong demand for it."

The collapse of the I-85 bridge happened as Gwinnett County was gearing up to begin a transit study and while it was continuing work on its Comprehensive Transportation Plan update. As a result, it gave county officials a scenario to think about as they decide how to move Gwinnettians around in the future.
Beer brewers and liquor distillers are looking forward to being able to sell directly to consumers beginning September 1, 2017.
But SB 85 will affect more than just crisp, delicious beers. The language of the bill includes all sorts of distilled spirits and malt beverages. That means anything from liquor to alcoholic soda pops to hard apple cider.

For a time, brewers could only offer their beverages as "free souvenirs" to customers going on tours of the facilities. Wheeler said there was a hubbub about whether proprietors could offer different tour prices based on how much the "free souvenirs" customers would receive at the end of the tour was worth.

"The way the state had gone back and forth and said originally you could do the souvenir thing and then the department of revenue came back and said 'Well you can't do tiered pricing, everything has got to be the same' and this and that, it was just kind of a headache, and we just had other things we prioritized ahead of that, just because it was something we could push off and didn't have to deal with it right away … We sped up our time line a little. We probably would have waited until fall or a little later, but we just pushed it forward a little bit because of the bill."

Wheeler said work on the tasting room should start in the next week or so. He hopes it will be completed by July, so they can be ready for the law to go into effect in September.
Senate Bill 109, signed last week by Gov. Deal, authorizes Georgia to join an Interstate Nursing Licensure Compact.
The compact is designed to set up a multi-state licensing system, and a coordinated licensure information system, for nurses so that they can cross state lines to provide care for patients. An Interstate Commission of Nurse Licensure Compact Administrators was also established as part of the new law.

"I want to commend everyone that worked together to get SB 109 passed with several important components that will benefit health care in Georgia," Unterman said in a statement. "Nurses are not only some of the most compassionate and hardworking men and women, but also represent a vital pillar in our health care community through a lifetime devoted to the care and well-being of our citizens.

"I am overjoyed that our nurses will now be able to take part in an interstate network and help those in need across state lines."
Hall County leaders are coming together to discuss fighting the opioid abuse epidemic.
"We're seeing a significant increase in the epidemic in Hall County, so it's time for us to gather together, rise up and try to come up with ways that we can inform the public," [Dallas] Gay said.

Gay, whose grandson died a month short of his 22nd birthday in October 2012, is banding together with members of law enforcement, medical groups and the faith community to bring awareness. The group had its first meeting in April and plans to hold public forums in the near future.

"We're looking at different angles to explore on how do we increase people's awareness, how do we address concerns around treatment and also prevention and the conversations we need to have around stress in life, exacerbating factors that lead to addiction, family dynamics — just the whole comprehensive picture," said the Rev. Stuart Higginbotham of Grace Episcopal Church, the clergy representative in the group.

In December, Deal signed an executive order making Naloxone, the overdose antidote, available over the counter. Senate Bill 121, known as the Jeffrey Dallas Gay Jr. Act, was signed by the governor May 4 to turn the order into law and remove Naloxone from the dangerous drug list.

Gay said it was a "great honor" for his family to be with the governor when the legislation was signed, as it will "save innumerable lives" in his estimation.

"This bill now permits anyone to go to a pharmacy, anyone who might be at a risk of the scene of an overdose, and buy Naloxone without having to go through a doctor and getting a prescription," he said.

For Gay, the focus of the group's work would be tackling the stigma attached to addiction.

"Addiction is a well-documented medical condition," he said. "It is a disease, and we tend to treat it with a stigma attached to it that people don't want to talk about it. They don't want to admit to it. Family members are shunned, but it's a disease no different than leukemia or heart disease or cancer."
Governor Nathan Deal said he supports dedicating additional state funds to the Savannah Harbor Expansion Project.
Speaking to reporters after a welcoming ceremony for the largest container ship to ever call on an East Coast port, Deal said completing the project is vital to keeping the port competitive and to jobs across the state.

"I support whatever is going to be necessary to complete this project in a timely fashion and if that's what it takes I think the citizens, and the voters and the elected representatives in the General Assembly will be willing to do that extra part," Deal said.

The Savannah River deepening took a hit last month when the U.S. Army Corps of Engineers estimated its cost would climb 38 percent to $973 million and take two years longer to finish because rising dredging costs and other complications.

"We are going to continue to ask the federal government to live up to their 75 percent share," Deal said. "It's a cooperative effort and we're going to keep it that way."
A fundraiser for Congressman Barry Loudermilk drew liberal protesters in Acworth.
Many of those who stood outside the Cedar Plantation special events facility held signs and chanted as attendees drove into the venue's driveway, the site of a "spring reception" held for Loudermilk. A flyer for the event listed prices of $125 a head to attend a general reception from 5:30 to 7:30 p.m., with sponsorship levels ranging from $500 to $2,700, earning a donor passage to VIP photo reception held half an hour earlier.

The protest was hosted by the Georgia Sierra Club and Indivisible Georgia's Eleventh District, a citizen group whose website said its members "share progressive values and are united in opposition to the reactionary, divisive, dystopian Trump agenda."

"Barry Loudermilk specifically voted for the Trump health care plan, which I am totally against. I'm here to tell him and the other senators that I don't support you. You have to make this fair for everyone, and not just the rich — I don't support you," Harriman said. "They're going to do away with pre-existing conditions, and they're going to leave the market open, and my insurance is like $300 something a month now. My insurance will probably go up to God-knows-what unaffordable."

Becky Beaver, a 27-year-old Kennesaw State senior studying communications and media studies residing in Kennesaw, said her participation was due to elected officials such as Loudermilk refusing to hold town hall-style meetings open to the general public.

"It bothers me that we have elected officials that won't be transparent with us. Regardless of whether you're registered as a Republican or Democrat, you have a right to speak to your officials," Beaver said. "There's a lot of things that people are very afraid of right now, and (legislators) need to be open about it."
 Tifton will be at the center of events in a new state push for economic development in rural Georgia.
[T]he Atlanta-based Georgia Chamber of Commerce will open the first regional office in its 102-year history on May 15 in Tifton, a city in the heart of economically distressed South Georgia.

Just one week later, Tifton also will play host to the first meeting of a council the state House of Representatives created this year to look for ways to foster economic growth in Georgia's rural communities.

The numbers are eye-opening. While metro Atlanta is expected to add about 1.5 million residents by 2030, 74 of Georgia's 159 counties – primarily in rural areas – are projected to lose population during the same period, according to research conducted on the chamber's behalf.

The chamber is attacking the sluggish rural economy with a new committee of chamber members that will look for ways to take advantage of rural Georgia's strengths, including the defense industry's strong presence, and examine how to tailor state tax incentives to attract business to rural communities.
Medicaid changes in federal law could also affect local school systems.
Administrators say programming and services even beyond those that receive funding from the state-federal health care program could be at risk should Congress follow through with plans to change the way Medicaid is distributed. They say any reduction in the estimated $4 billion schools receive in annual Medicaid reimbursements would be hard to absorb after years of reduced state funding and a weakened tax base.
Southern Living magazine named Savannah the second-best city in the South.
According to Southern Living, Savannah ranked highly because "like a time capsule of historic architecture and city planning, Savannah's old-school exterior belies its status as a progressive art, design, and culinary hub." The magazine added that the city has "become a visual arts and design hub thanks to Savannah College of Art and Design."

The magazine named The Grey as the second best restaurant in the South. The venue, located on Martin Luther King Boulevard near City Market, was narrowly beat out by Commander's Palace in New Orleans, La., for the top spot.

Other restaurants on the list were Husk in Charleston, S.C.; Highlands Bar and Grill in Birmingham, Ala.; Fisher's at Orange Beach Marina in Orange Beach, Ala.; Hominy Grill in Charleston, S.C.; Cooks & Soldiers in Atlanta, Ga.; Chef & The Farmer in Kinston, N.C.; Brennan's in New Orleans, La.; and FIG in Charleston, S.C.

The Grey specializes in American cuisine with Travel and Leisure calling the spot "one of (Savannah's) best dining experiences" and Zagat adding that the restaurant "offers contemporary Southern dishes with Italian influences." It was also named one of the top five restaurants in the country in 2015.
A 100-year-old Dutch tall ship named Oosterschelde visited Savannah last week.
Plant Vogtle
Westinghouse, the primary contractor for the construction of two new nuclear reactors at Plant Vogtle will reject the fixed-price construction contract in bankruptcy proceedings.
"Georgia Power and Westinghouse have, in principle, reached a new service agreement which allows for the transition of project management from Westinghouse to Southern Nuclear and Georgia Power once the current engineering, procurement and construction contract is rejected in Westinghouse's bankruptcy proceeding."

"The interim assessment agreement will remain in place until June 3 while the new service agreement is finalized and all approvals are obtained. During this time, work will continue at the site and an orderly transition of project management will begin. As previously stated, the company will take all actions necessary to hold Westinghouse and Toshiba accountable for their financial obligations."

"Georgia Power will continue work to complete its full-scale schedule and cost-to-complete analysis and work with the project Co-owners (Oglethorpe Power, MEAG Power and Dalton Utilities) and the Georgia Public Service Commission to determine the best path forward for customers."

"The best case scenario is Westinghouse abandons the project and Southern Nuclear takes over, we get the guarantee from Toshiba, and we finish the project," Commissioner Tim Echols said.

"I think the project can be finished even with Westinghouse abandoning it. I don't think we can survive it if Toshiba, the parent company, goes bankrupt," Echols said.

When asked how he would respond to rate-payers who say this is a never ending hole they keep paying into without any return on investment, Echols replied, "You know, that's what people said about the old reactor 1 and 2 back in 1987 and 1989, but Plant Vogtle is the pride of our generating fleet."

He's right; it's not a new storyline. Back in the '70s, construction was halted on the first two reactors when Georgia Power almost went bankrupt. This case is a little different, but Echols says the ending should be the same.

"Clearly finishing the project is the best conclusion," he said.