In Memoriam
First Lieutenant Weston C. Lee was killed in Iraq this past weekend.
According to a Facebook post by the 82nd Airborne Division, 1st Lieutenant Lee died in Iraq when an IED detonated during a patrol outside Mosul.

The post said Lee, a platoon leader, was "an extraordinary young man and officer."

The post also said Lee has been posthumously awarded the Bronze Star Medal, Purple Heart and the Meritorious Service Medal.
Georgia and American History
On May 1, 1707, the Act of Union with England, passed by the Scottish Parliament brought together England and Scotland and made the Union Jack the official flag of Great Britain.
The Second Confederate National Flag was adopted on May 1, 1863.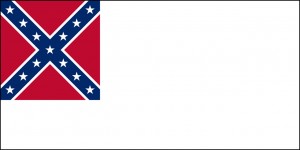 On May 1, 1886, Jefferson Davis visited the Benjamin Hill monument at Peachtree and West Peachtree Streets in Atlanta, having arrived the previous day.
On May 1, 1971, "Joy to the World," by Three Dog Night was the #1 song in the nation.
On May 1, 1991, Rickey Henderson broke the major league baseball stolen base record on the same day that Nolan Ryan, the greatest pitcher in the history of baseball, recorded his seventh no-hitter.
The official state tartan of Georgia was designated on May 1, 1997.
Georgia Politics, Campaigns, and Elections
President Donald Trump headlined a high-dollar fundraiser for Karen Handel on Friday.
At the Capital City Club in downtown Atlanta, the president appeared at a Friday afternoon fundraiser for Handel that invited some of the biggest GOP donors in the state. Trump helped the former Secretary of State raise about $750,000, her campaign announced.

"I am honored to have President Trump's support in this election," Handel said. "Like President Trump, I too have a record of shaking things up and if elected to Congress I hope to work with him to get things done. It is time we stop the talking in Washington and start to look towards governing."

Trump addressed 40,000 people at the NRA convention, trumpeting his accomplishments in an hour-long speech that touched on gun rights, Elizabeth Warren, Jeff Sessions and, yes, the political dogfight the Republicans have found themselves in in the 6th District race.

"I'd like to congratulate Karen Handel for her incredible fight in Georgia 6," Trump said. He added that Handel was "totally for the NRA, totally for gun rights." He then went on to criticize the fact that Ossoff, a 30-year-old investigative filmmaker, doesn't reside in the 6th District.He also chided the Georgia Republican Party for having 11 candidates in the April 18 special election running for one 6th District seat. He said "let's not have" that again … "it's too nerve-shattering."
National Democrats have figured out why Hillary Clinton lost the presidential election to Donald Trump. Wait for it….
[N]ew information shows that Clinton had a much bigger problem with voters who had supported President Barack Obama in 2012 but backed Trump four years later.

Those Obama-Trump voters effectively accounted for more than two-thirds of the reason Clinton lost, according to Matt Canter, a senior vice president of the Democratic political firm Global Strategy Group. In his group's analysis, about 70 percent of Clinton's failure to reach Obama's vote total in 2012 was because she lost these voters.

Much of the debate over how to proceed has centered on whether the party should try to win back working-class white voters — who make up most of the Obama-Trump voters — or focus instead on mobilizing its base.

Turning out the base is not good enough, the data suggest.

"This idea that Democrats can somehow ignore this constituency and just turn out more of our voters, the math doesn't work," Canter said. "We have to do both."

Democrats are quick to acknowledge that even if voters switching allegiance had been Clinton's biggest problem, in such a close election she still could have defeated Trump with better turnout. For example, she could have won if African-American turnout in Michigan and Florida matched 2012′s.
Rural Georgia, which largely backed Donald Trump for the presidency, faces major economic challenges.
Georgia State University's Center for State and Local Finance issued a report this week that detailed a grim fiscal future for rural Georgia:

• Rural Georgia lost 6.9 percent of its jobs from 2007 to 2014; that compares to a loss of 0.3 percent in metro Atlanta, and a loss of 2.7 percent in hub cities;

• Rural Georgia has the lowest job growth relative to its population growth; jobs losses of 6.9 percent occurred during a population growth rate of 12.7 percent;

In August, the Georgia Chamber of Commerce issued a white paper that portrays a grim case for rural health care. According to the report:

• Four rural hospitals have closed since 2013;

• Rural hospitals are scaling back services; this sets the stage for a vicious cycle of health care shortage because physicians won't move to places with limited hospital privileges;

• Rural patients tend to utilize emergency rooms, where care is the most costly to provide.
Duluth dedicated a patriotic statue on its Town Green, bringing in much of Georgia's political establishment.
After years of talking about it, the sculpture — which is an adaptation of Kathy Fincher's 9/11-themed painting of children by the same name — was unveiled to the public. It includes separate bronze sculptures of seven children painting an American flag on a pane of glass while an eighth child sings "God Bless America."

"It shows everybody, the United States and the rest of the world, that we really think our children are special, that our children can succeed and that we want them to grow up and succeed," Georgia First Lady Sandra Deal told the hundreds of people who gathered for the unveiling.

The unveiling was a big affair for Duluth. The first lady and her husband, Gov. Nathan Deal, joined Fincher, sculptor Martin Dawe, city leaders, U.S. Rep. Rob Woodall, former U.S. Rep. John Linder, former Georgia Commission on Equal Opportunity director Melvin Everson, officials from the Duluth Fine Arts League and President Rodney Mims Cook Jr. for the unveiling.

Deal also praised the sculpture. The governor owns a copy of the Dream Keepers painting — his staff bought it for him as a birthday present because he was drawn to it often when it was on loan to the governor's office — and has it hangs in his office at the state Capitol.

"It's certainly nice to see Kathy here tonight and to see her art translated into this monument," Deal said.
Plant Vogtle
Westinghouse, the lead contractor at Plant Voglte, declared bankruptcy a month ago, while Georgia Power and its partners have continued construction during an assessment period. The parties agreed to extend the assessment period by two weeks.
With little more than two hours until it expired, representatives from Georgia Power and Westinghouse agreed to extend the interim agreement keeping construction moving forward at the beleaugered Plant Vogtle expansion near Waynesboro.

"During this time, the parties will continue to work on finalizing a new service agreement which would, if necessary, assure that Westinghouse continues to provide design, engineering and procurement services to Southern Nuclear as a part of their assumption of control over construction management," Georgia Power said in a press release.

Georgia Power representatives said the company will continue to fight to ensure Westinghouse honors its financial obligations. During the interim agreement, the utility company is preparing a full analysis and potential options to present to the Georgia Public Service Commission. According to PSC vice-chairman Tim Echols, those options include considerations to convert the units to natural gas generators.

Vogtle is years beyond deadline, originally scheduled to begin operations this year, and billions over budget. Individual Georgia Power ratepayers have already paid as much as $500 each to fund the expansion project. It is not yet clear how costs currently borne by Georgia Power post-bankruptcy will be passed on to consumers or how the Public Service Commission will vote to proceed once the utility company brings the future options to the table.
Georgia Power has objected to $800 million in financing for Westinghouse because the agreement collateralizes intellectual property that may be necessary to continuing work on the new Vogtle reactors.
Westinghouse filed for chapter 11 bankruptcy at the end of March and wants to borrow money to keep its other businesses healthy, while it contends with the fallout of nuclear construction projects that are years behind schedule and billions of dollars over budget.

If Westinghouse's bankruptcy loan goes through as planned, the company's lenders would be in position to "foreclose on the intellectual property, which could seriously disrupt or even potentially halt construction," lawyers for Georgia Power, the largest subsidiary of Southern Co., warned in a court filing.

Georgia Power's objection to the massive bankruptcy loan is the first flexing of major creditor muscle in a chapter 11 proceeding that has serious implications for Westinghouse parent Toshiba Corp., as well as for utility operators in the southern U.S. states where Westinghouse has been building reactors.
A Georgia Public Service Commission staffer told the AJC that the Commission is not required to allow Georgia Power to pass on additional costs related to Vogtle construction to ratepayers.
Under the current process, the Company is not entitled to a higher approved cost as a condition to finishing the project. Unless the Commission affirmatively decides to cancel the project under O.C.G.A. 46-3A-6, the Company is obligated to finish it under the terms of the Prudency Review Stipulation. (The Company could still cancel the project, but it would lose the right to collect the costs from ratepayers).
Public Service Commissioner Tim Echols meanwhile hand-delivered a note to Energy Secretary Rick Perry.
Tim Echols, PSC Vice-chairman, hand delivered a letter last week to Secretary of Energy Rick Perry, saying the opportunity to deliver a message to the federal government regarding the seriousness of Georgia's situation couldn't be passed up.

The possibility of federal assistance was a topic in a recent SCANA earnings teleconference, in which COO Steve Byrne outlined three avenues for federal help. According to Coyle, Byrne said assistance could be written into the pending Fiscal Year 2017 appropriations bill, it could be added to the comprehensive tax reform bill, or it could be introduced as an independent bill.

Echols said a number of options will be considered when Southern Company brings its analysis to the table. He said several crucial financial elements will be under consideration, including the potential cost to convert the expansion units to natural gas generators.

"I can't speak for the other commissioners, but Georgia Power will be giving us a cost to complete the plant as well as a cost for other options including the cost to convert," he said.
Casey Cagle Kicks Off 2018 Campaign for Governor
The Gwinnett Daily Post covered Casey Cagle's campaign kickoff with greater depth than most.
Lt. Gov. Casey Cagle made his bid for governor official at the Infinite Energy Theater in Duluth on Sunday by making some big promises.

Cagle pledged to create 500,000 new jobs in four years, and to get a $100 million tax cut passed in the 2019 General Assembly session. They are big numbers, but they are also goals that the lieutenant governor asserted can be attainable.

Cagle also said he wants to bring state transportation agencies together to work on a 10-year strategic plan for Georgia's transportation infrastructure.

He committing to having a transit needs assessment done for metro Atlanta to look at where transit expansion is needed.

After the announcement, Cagle explained the tax cuts would include a $12,000 tax exemption for families of four and indexing the personal exemption and standard deduction to inflation.

"It will serve as putting government on a diet as well to where we live within our means just like every other Georgian has to do," Cagle said. "So we will be committed obviously to fiscal stewardship (and) protecting the Triple-A bond rating as we have over the years."

Cagle was joined on the stage by several supporters, including some state officials who represent Gwinnett. Those officials included Sens. Renee Unterman and Fran Millar, former Georgia Commission on Equal Opportunity Executive Director and former Snellville city councilman Melvin Everson and Board of Regents member Richard Tucker.
"It's time for us to be big. It's time for us to be bold as a state. I mean, Georgia is the capital of the South," Cagle said after his campaign launch. "And I'm going to be a governor that's going to lead with passion, with clarity and a decisive mind."

Cagle has the largest number of statewide elections under his belt and, as lieutenant governor, occupies the office historically used as the launch pad for gubernatorial runs — putting a target on his back among the rest of the GOP contenders.

Looking to the fight ahead, Cagle took an early stance against negative campaigning on Sunday.

"I can tell you I'm not going to be running a campaign …  that's going to tear someone else down," he said. "I think most people are tired of negative campaigns, and if all you've got is a campaign that's going to tear others down in order to make yourself look good, you don't have much of a campaign."
The lieutenant governor's speech Sunday to 800 supporters at a concert-turned-rally echoed many of the same policy platforms that he rolled out in an AJC interview a few days earlier. But the tone and the style of the campaign roll-out also sent a signal about how he'll orchestrate his bid to succeed a term-limited Nathan Deal.

"I am not going to be running a campaign that's going to tear someone else down," he said, adding that candidates who focus on attacks "don't have much."

In an interview, he said he supports the president's agenda – but stressed his independence. And at his campaign kickoff speech, he avoided mention of  Trump. Instead, he heaped praise on another Republican: Gov. Deal.

"I've been able to partner with him to make Georgia the No. 1 place in the nation to do business," he said.
Kathleen Foody of the Associated Press spoke to Cagle before the campaign kickoff.
Cagle told the AP that meeting the jobs commitment will be his central focus if elected, and that he can meet the target by focusing on a combination of existing business expansions, new companies wooed away from other states and startup incubator programs at regional universities.

"I'm confident that we can do it," Cagle said. "I'm going to be a governor who's going to work day and night to create the environment, but also make the ask and be the state's No. 1 champion for meeting with companies and requesting them to locate here in Georgia."

It's a high bar. State Department of Labor data shows Georgia has added a net total of 267,100 jobs in the last decade, accounting for the enormous job losses that followed the recession that began in 2008. In the last six years, employers added nearly 518,000 jobs to help the state dig out from a deep hole.

Cagle said he also wants to overhaul the state's method of planning maintenance on roads and other infrastructure, increase Georgia's high school graduation rate and lower taxes on individuals and small businesses by adjusting income tax exemptions and deductions.
A Deeper Look at Allen Peake
Ezra Kaplan of the Associated Press has a fascinating piece about State Rep. Allen Peake (R-Macon).
Once a month, a cardboard box from Colorado appears at the office of a conservative Christian lawmaker in central Georgia, filled with derivatives of marijuana, to be distributed around the state in the shadows of the law.

Operating in ways he hopes will avoid felony charges of drug trafficking, state Rep. Allen Peake is taking matters into his own hands. He's shepherding cannabis oil to hundreds of sick people who are now allowed by the state to possess marijuana, but have no legal way of obtaining it.

"We're going to do whatever it takes to be able to help get product to these families, these citizens who have debilitating illnesses," Peake said. He spoke with The Associated Press in his Macon office, where he runs his business, his campaign operation and his underground medical marijuana network.

Each time one of the nondescript boxes arrives, Peake makes a significant donation to a foundation in Colorado that supports research of medical cannabis. He can't make a direct payment, because that would be illegal. But with his donations of about $100,000 a year, he and his wife are able to supply the oil to hundreds of patients across Georgia.

"I'll never recover that money," but the satisfaction of helping people makes it all worthwhile, he said.
Erratum: on Friday, I mistakenly attributed a Marietta City Council member's calling a colleague lazy to Kennesaw. I apologize to the City of Kennesaw and all of her fine gun-owning citizens.