On April 7, 1776, the United States warship Lexington captured a British warship, HMS Edward, for the first time.
On April 7, 1798, President John Adams signed legislation authorizing negotiations between three representatives of Georgia and three Presidential appointees over Georgia's claim to land west of what is now the Georgia-Alabama state lines. Georgia would continue to claim most of what is currently Alabama and Mississippi until 1802.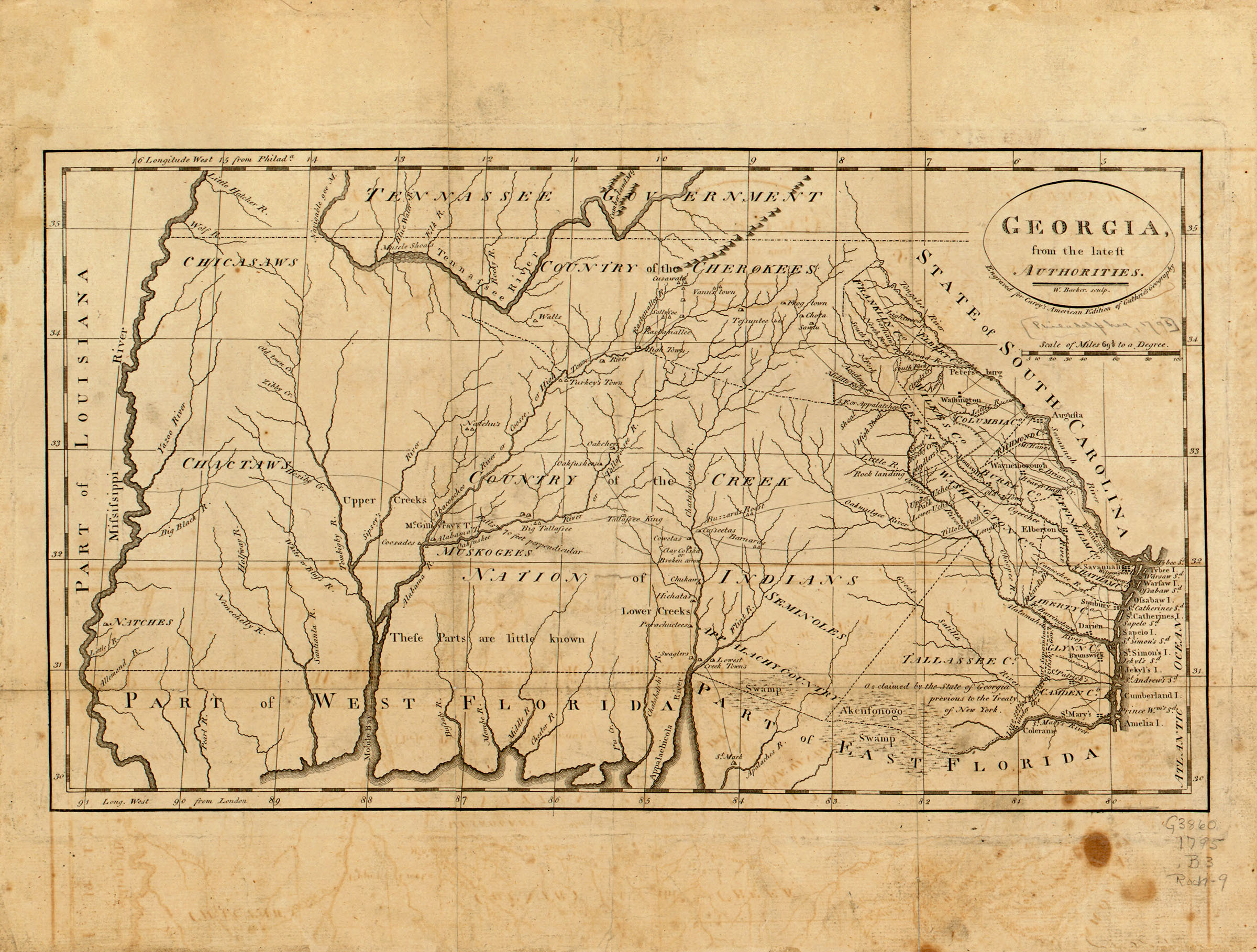 Above: a 1795 map showing Georgia extending west to Louisiana. "These Parts are little known."
After two days of exchanging letters with his Union counterpart, Lt. General Ulysses S. Grant, Robert E. Lee agreed to meet and make arrangements for the surrender of the Army of Northern Virginia. At 2 PM on April 9, 1865, Lee and Grant met in a private home owned by Wilmer McLean at Appomattox Court House, Virginia and Lee agreed to the surrender of his army.
Lee was resplendent in his dress uniform and a fine sword at his side. Grant arrived wearing a simple soldier's coat that was muddy from his long ride. The great generals spoke of their service in the Mexican War, and then set about the business at hand. Grant offered generous terms. Officers could keep their side arms, and all men would be immediately released to return home. Any officers and enlisted men who owned horses could take them home, Grant said, to help put crops in the field and carry their families through the next winter. These terms, said Lee, would have "the best possible effect upon the men," and "will do much toward conciliating our people." The papers were signed and Lee prepared to return to his men.
An excellent account of the laying down of their arms on April 12, 1865, by the Army of Northern Virginia was written by Joshua Lawrence Chamberlain.
On April 9, 1968, Ebenezer Baptist Church in Atlanta held the funeral for Dr. Martin Luther King, Jr. More than 100,000 mourners reportedly showed up for the funeral, which could accomodate only 800; 200,000 mourners followed the mule-drawn hearse to Morehouse College.
Hank Aaron hit home run number 715 on April 8, 1974 to become the all-time home run champion, a title he holds to this day.
On April 7, 1995, Governor Zell Miller signed legislation recognizing the peach as the official state fruit of Georgia.
Governor Zell Miller signed legislation proclaiming Gainesville, Georgia the Poultry Capital of the World on April 8, 1995.
The Square Dance became the official state folk dance on April 8, 1996, when Gov. Zell Miller signed legislation recognizing it.
On April 8, 2005, Eric Rudolph agreed to plead guilty to the fatal 1996 bombing at Atlanta's Centennial Olympic Park.
The Masters Tournament was won on this date by Gene Sarazen (1935), Jack Burke, Jr. (1956), Nick Faldo (2nd win – 1990), Tiger Woods (2nd win – 2001), and former University of Georgia player Bubba Watson in 2012.
The Old Governor's Mansion in Milledgeville will host a doll wedding on Saturday.
From 2 to 4 p.m. the mansion is holding its fourth annual doll wedding modeled after a actual life event held on the property as a callback to the time when Milledgeville was the capital city of Georgia.

"In 1859 Gov. [Joseph] Brown's daughter, Mary Virginia Brown, married her two dolls on the mansion lawn," said Molly Randolph, curator of the mansion. "They hired the local Baptist minister to officiate the marriage, they invited everyone in town, and it was basically hailed as the event of the year. So we decided a few years ago to bring back this event."

The reenactment features replicas of dolls Jack Jones and Sue paired together by young Mary Brown and an ordained minister, curator of education at Georgia College Kierstin Veldkamp, who received her license online. The nuptials will be held in the rose garden adjacent to the mansion, and at the conclusion of the ceremony attendees may bring their dolls forward to also be joined in matrimony.
Georgia Politics, Campaigns, and Elections
Flags at state buildings were at half-staff yesterday in honor of the memory of John Glenn, astronaut and United States Senator.
Senator David Perdue released a statement on US airstrikes against Syria.
"Assad is a tyrant and his chemical weapon attack against innocent civilians this week was beyond inhumane. This will not be tolerated. After six years of inaction by the Obama Administration, I am glad to see that President Trump is willing to stand up for these innocent victims and stop those responsible for this violence. I commend our brave servicewomen and men who are carrying out this vital mission."
Senator Johnny Isakson also released a statement on missile strikes against Syria.
"I salute the brave men and women of the U.S. military who conducted these operations tonight. President Trump's decision to strike the Assad regime's air base where chemical weapons were deployed against the innocent people of Syria earlier this week sends a clear signal to the world that war crimes such as these will not be tolerated. I support the president's swift and decisive action to punish this dictatorship for the atrocities committed."
Two earthquakes near Sparta, Georgia, and at least five tornadoes, possibly as many as 21, hit middle Georgia this week.
The Best Ranger Competition is underway at Fort Benning.
Long before sunrise early Friday, the boots of 53 Ranger teams hit the road at Camp Rogers to start the 34th Annual David E. Grange Jr. Best Ranger Competition at Fort Benning to determine the best team in the U.S. Army.

"Of those 53 teams, we have representatives from the Ranger Regiment, Airborne and Ranger Training Brigade and from every unit across the Army," [Lt. Col. Jim] Hathaway said Thursday. "This is the best of the best. These are some incredible soldiers."

Over the next three days, soldiers cover more than 60 miles with a series of events that include running, shooting, 20-mile road march, maneuvering through a 4-mile obstacle course, swimming and other events. The contest has been compared to the Ironman and Eco-Challenge because Rangers get very little sleep or food during a competition that's physically and mentally challenging.
 In Attapulgus, GA, south of Bainbridge, an 800-acre elephant sanctuary is being developed.
Elephant Refuge North America, Buckley's site in Attapulgus, is the second site that Buckley's organization, Elephant Aid International, has opened. The first site is located in Tennessee.

The site will be the new home for elephants from zoo and circus situations, according to Buckley. Only one elephant from the Tennessee location will be moving to the new site in Georgia.

"This 850 acre piece of land, this one right here, will be heaven for 7-10 elephants," said Buckley. "You could have more, but the reason you wouldn't is that the herd dynamics are affected when you bring in more elephants. Our goal is to create a healthy environment for elephants, and what's healthy is when they act like a family."
Blue Cross Blue Shield is reportedly considering dropping ACA/Obamacare coverage in some markets.
Blue Cross is the largest insurer in Georgia. It is also currently the only exchange health insurer in 96 of the state's 159 counties. Those counties cover the rural southern reaches of the state as well as Augusta. Even a partial pullout by Anthem, would create a vacuum in those areas.

Competition in the metro Atlanta exchange is fairly strong, but a Blue Cross pullout in other areas "would have a profound effect on the market," Bill Custer, a health insurance expert at Georgia State University, said Tuesday.
At Emory yesterday, former President Jimmy Carter said he hopes the Trump administration reinvigorates the women's movement.
Legislation & Local Issues
The Georgia General Assembly failed to pass legislation that would have flattened state income tax rates, but its sponsor, Rep. Jay Powell (R-Camilla) will try again.
Georgia has had a graduated income tax structure, which means a lower rate for the poor and a higher rate for the rich.

Powell thought he had that balance in House Bill 329, a plan that stripped the state tax code of its various levels and replaced it with a single 5.4 percent rate. That's a nice cut for top earners but it represents a huge increase for people at the bottom.

Powell's plan would have everybody pay 5.4 percent starting at the first dollar. So that's a large increase for someone making a little bit of money, but it's a healthy cut for someone who makes a lot.

To balance it out, the bill created an earned income tax credit that would allow lower-income Georgians to roll back much of the increase. Estimates of the cost of the plan ranged from $78 million to $154 million, with most of the savings going to the wealthy.

Part of Powell's interest in flattening the income tax is to make it easier to reduce the rates later. Right now, the income tax is complicated, but a single rate would fix that. At the risk of oversimplifying a complex idea, the state would have a single lever to pull to lower or even raise the rate as needs may occur.

The bill passed the Republican-dominated House easily, but bogged down in the also Republican-dominated Senate. A Senate version of the bill gave across-the-board tax breaks but did not eliminate the graduated system. That more costly version of tax relief likely would have earned a veto from Gov. Nathan Deal, who worried about the bill's effect on state revenue.

"I don't know until after the elections are over next year if there is any point in trying to make that effort," [Powell] said. "What I saw this year was more politics than rational study."
We heard complaints about the General Assembly being a "do-nothing" legislature this year, but I'd say that it's performing as it was designed to.
When talking about the bicameral Congress, and by extension, the 49 state legislatures whose two chambers are modeled on the federal House and Senate structure, many historians focus on the need to balance the idea of each state having equal voting strength in the Senate, with a House that gives more weight to population.
But that's not the only reason for the bicameral legislature.
The Federalist number 51 makes clear that this structure was also intended to limit the legislature's ability to "get things done" as a check on the legislative power.
In republican government, the legislative authority necessarily predominates. The remedy for this inconveniency is to divide the legislature into different branches; and to render them, by different modes of election and different principles of action, as little connected with each other as the nature of their common functions and their common dependence on the society will admit. It may even be necessary to guard against dangerous encroachments by still further precautions.
Federalist 62 make clear that the two-chambers are partly designed as an impediment to legislation.
Another advantage accruing from this ingredient in the constitution of the Senate is, the additional impediment it must prove against improper acts of legislation….

It is a misfortune incident to republican government, though in a less degree than to other governments, that those who administer it may forget their obligations to their constituents, and prove unfaithful to their important trust. In this point of view, a senate, as a second branch of the legislative assembly, distinct from, and dividing the power with, a first, must be in all cases a salutary check on the government. It doubles the security to the people, by requiring the concurrence of two distinct bodies in schemes of usurpation or perfidy, where the ambition or corruption of one would otherwise be sufficient.

This is a precaution founded on such clear principles, and now so well understood in the United States, that it would be more than superfluous to enlarge on it. I will barely remark, that as the improbability of sinister combinations will be in proportion to the dissimilarity in the genius of the two bodies, it must be politic to distinguish them from each other by every circumstance which will consist with a due harmony in all proper measures, and with the genuine principles of republican government.

The necessity of a senate is not less indicated by the propensity of all single and numerous assemblies to yield to the impulse of sudden and violent passions, and to be seduced by factious leaders into intemperate and pernicious resolutions.
Looking at the historic reasons for a bicameral legislature, it is clear that when the House and Senate disagree, Georgia's General Assembly is functioning as designed.
New legislation sent to Governor Deal would require private health insurance plans to cover hearing aids for children.
Under the bill, which is still awaiting the governor's signature, insurers would have to cover up to $3,000 in hearing aid-related costs every four years for those 18 years and younger.

Proponents argued that the change would only cost a few cents per insured person every month, because that's what it cost the state health benefit plan after Gov. Nathan Deal increased hearing aid coverage in 2015.

"You can't find a Georgian who wouldn't reach into their pocket and give this little bit of money to a child," said Rep. Penny Houston, R-Nashville, who carried the bill in the House. "It just gives them a chance."

Houston urged her colleagues to compare that small cost to the state's expense when children do not receive early intervention, fall behind in their development and wind up in special education throughout school. That can cost the state $420,000, she said.

The bill only applies to those covered by private insurers, which accounts for about 17 percent of policies. Jenkins noted that about 280 babies every year are identified as having hearing loss in Georgia.
Legislation to expand the use of dental hygienists passed this session and may result in more poor and elderly Georgians receiving dental care.
Lawmakers approved House Bill 154, a pet project of Rep. Sharon Cooper, R-Marietta and Sen. Renee Unterman, R-Buford, in the final hours of the 2017 session. It is now on Gov. Nathan Deal's desk for his consideration.

Under the legislation, dental hygienists would be allowed to do basic cleaning and preventive care at so-called "safety-net settings, " qualified health centers, school-based health clinics and dental offices without a dentist present.

The work would have to be authorized by a dentist. Currently, Georgia law requires that a dentist actually be present in the facility for a hygienist to do such work.
The Albany Herald asks whether Governor Deal is likely to sign this year's campus carry legislation.
The House passed a similar bill last year (HB 859), but it was vetoed by Gov. Nathan Deal.

The bill that is on Deal's desk now (HB 280) is essentially the same as 859, but with an added exemption for on-campus child care centers.

The final bill passed the House 96-70 with the four Albany-area members of the House split with one "no" vote from Winfred Dukes, D-Albany, a "yes" vote from Gerald Greene, R-Cuthbert and two "did not votes" from Darrel Ealum, D-Albany, and Ed Rynders, R-Leesburg.

Freddie Powell Sims, D-Dawson, voted "no" in the Senate.

"Governor Deal issued a fervent and detailed explanation with his veto of the campus carry bill last year. In my opinion, this year's revised bill (HB 280) addressed some but not all issues raised from last year's bill," Ealum said. "HB 280 was one of the most contentious bills passed in this 2017 House Session. Even if the governor chooses to sign HB 280 with its added restrictions, many areas on college campuses will still be off limits."

"All areas where high school students may possibly attend will still be restricted; therefore, my prediction is that, with the huge influx of high school students on college campuses attending college and career academies, dual enrollment classes, move-on-when-ready classes, etc., the bill will not be near as far sweeping as originally believed."
Former Ambassador John Bolton sent out a press release trashing Democrat Jon Ossoff.
"In these critical times, America needs serious, national security-minded Members of Congress who have the experience and expertise to enact policies that will protect our country," said Ambassador John Bolton. "Despite his many claims to the contrary, Jon Ossoff is not serious. He has wrongfully inflated his resume, touting five years of national security experience and top-secret national security clearance — before backtracking and saying his clearance only lasted 5 months — deceiving many Georgians in the process."

Ambassador Bolton continued, "experience aside, Georgians in the 6th Congressional District deserve a representative who will be honest and open at all times."

Ambassador Bolton has not endorsed a candidate in Georgia's 6th Congressional Special Election, but he is closely monitoring the race and may give a contribution from the Bolton PAC as the election draws near.
Sandy Springs City Council member Gabriel Sterling announced he will run for Chairman of the Fulton County Commission.
Sandy Springs City Councilman Gabriel Sterling announced today that he will be running for Chairman of the Fulton County Commission. The current Chairman, John Eaves, has announced he will resign the seat to run for Mayor of Atlanta. This will require a special election, likely to be held on November 7th.

"I've spent most of my life working to bring conservative, effective government to all parts of Georgia," said Sterling. "There's a real opportunity to build on the effective reforms that have been led by the three Republican Commissioners, Ellis, Morris, and Hausmann – this chance to make meaningful change for all of the people Fulton is too important to ignore."

"With nearly all of Fulton County incorporated into cities, now is the time to rightsize our Fulton government, reduce spending, cut taxes, and focus on the core responsibilities of the county," continued Sterling who played a role in creating many of Fulton's new cities. "We can enhance the quality of life for everyone who lives, works, prays, and plays here."

"Sandy Springs is run efficiently, providing quality, responsive service, and I want to see that kind of smart government and competition brought to bear in Fulton County," Sterling stated. "We can't afford to go back to the dysfunction and divisiveness that defined Fulton for so long. We need fresh ideas like we've implemented in Sandy Springs and a steady hand in the Chairmanship. I think my record shows that I can help lead this large and diverse county successfully."
Early voting in City of South Fulton and Roswell special runoff elections will be held next week.
Steve Shaw resigned his seat on the Eton, Georgia City Council and it will be filled in November's election.
The remaining three council members and Mayor Billy Cantrell accepted Shaw's resignation at Tuesday's City Council meeting, according to Kim Hall, city clerk. Shaw notified the mayor's office of his resignation last Friday, a week after being arrested by the Murray County Sheriff's Office on two felony counts related to an arranged illegal prescription drug buy. He is charged with conspiracy to violate Georgia's Controlled Substances Act and use of a communication facility in a drug transaction.

The seat he held is up for election on the Nov. 7 general election ballot. Rather than call for a special election to fill out the term, Hall said the council members decided to leave the seat vacant until the next election cycle.

According to the Secretary of State's website, qualifying for the election will be open Aug. 21-25.
Andrew Niquette will run against State Rep. Winfred Dukes (D-Albany) in the 2018 Democratic Primary.
Five Georgia companies are bidding on projects related to building a wall on the southern U.S. border with Mexico.
The City of College Park is holding public sessions to discuss the FY2017-18 budget.
The Newnan-Coweta Chamber of Commerce will host a pancake breakfast with local legislators next week.
Coweta delegation members – Sen. Matt Brass, Rep. Lynn Smith, Rep. Josh Bonner, Rep. David Stover, and Rep. Bob Trammell – will discuss what happened during the legislative session, which began in January and ended late March.

The Coweta delegation will participate in a moderated panel. Chris Clark, president and CEO of the Georgia Chamber of Commerce, will provide legislative insights from the session as well as moderate the panel.

The event will be held from 7:30-9 a.m. Reservations are due by Monday. The cost is $20 for chamber members and their guests and $50 for general admission.
Qualifying for a special election to Clarkesville City Council will be held April 24-26, 2017.
The at-large election will determine the person who will serve the balance of a four-year term, beginning on or about June 21, 2017, and continuing through Dec. 31, 2019.

The Clarkesville Special Election will be held Tuesday, June 20, at the Ruby Fulbright Aquatic Center, 120 Paul Franklin Road, Clarkesville. Deadline to register to vote in the Special Election is May 22, Ellison said.