On February 9, 1825, the United States House of Representatives elected John Quincy Adams as President of the United States, despite his having received fewer popular votes than Andrew Jackson. Congress voted for the President after no candidate received a majority of electoral votes in the 1824 election.
The 12th Amendment states that if no electoral majority is won, only the three candidates who receive the most popular votes will be considered in the House.

Representative Henry Clay, who was disqualified from the House vote as a fourth-place candidate, agreed to use his influence to have John Quincy Adams elected. Clay and Adams were both members of a loose coalition in Congress that by 1828 became known as the National Republicans, while Jackson's supporters were later organized into the Democratic Party.
Alexander Stephens was elected Vice President of the Confederate States of America on February 9, 1861.
On February 9, 1926, the Atlanta Board of Education voted to prohibit teaching evolution in the Atlanta Public Schools.
On February 9, 1964, the Beatles debuted in America on The Ed Sullivan Show.
This Friday and Saturday, February 10-11, 2017, the Georgia Archives in Morrow will display Georgia's recorded copy of the Declaration of Independence and Royal Charter.
On Jan. 18, 1777, the Continental Congress met in Baltimore, Md., and ordered that copies of the Declaration of Independence be printed and sent to each of the 13 states. The states were directed to make the Declaration a part of their official records. Georgia's copy was officially entered into the records on March 2, 1777.

Today, the Declaration is protected with Georgia's other "birth documents," which are the Royal Charter that created the colony in 1733 and Georgia's 1788 ratification of the U.S. Constitution, the document that made Georgia a state. All are kept in a high-security vault where a constant temperature and humidity are maintained to ensure their long-term survival.

The Georgia Archives has limited public viewing of its copy of the Declaration in order to mitigate the fading, deterioration and other damage caused by frequent exhibits.

The Georgia Archives is at 5800 Jonesboro Road in Morrow. For more information, visit www.georgiaarchives.org or call 678-364-3710.
Georgia Politics, Campaigns, and Elections
Caring4Others is collecting funds for South Georgia Tornado Relief.
The State Board of Pardons and Paroles, GBI, Public Safety, partner in fundraising for Georgia tornado victims.

They are joining Atlanta television station Channel 2 WSB-TV, the Georgia Motor Trucking Association, the Georgia Emergency Management and Homeland Security Agency (GEMA) and Caring for Others, Inc., to help raise funds for South Georgia residents who survived the historic tornado outbreak last month.

The Convoy of Care will take a load of supplies to South Georgia on Sunday, February 12th. Mt Zion Baptist Church in Albany will be accepting the donations and distributing supplies on site.

Funds being collected through Caring for Others will be disbursed directly to Long Term Recovery Committees being established in the Berrien, Cook, Crisp, Dougherty, Thomas, Turner, Wilcox, and Worth counties in coordination with G.E.M.A.
Click here to visit the website and donate securely online.
Governor Nathan Deal announced that the Federal Emergency Management Agency has approved loans for some tornado damage.
Gov. Deal Nathan Deal [on Tuesday] received notice from the White House and the Federal Emergency Management Agency (FEMA) that 11 counties impacted by the severe weather on January 21 and 22 have been approved for individual assistance.

The 11 counties include:
Baker
Brooks
Calhoun
Clay
Cook
Crisp
Dougherty
Thomas
Turner
Wilcox
Worth

"I am thankful for the attention and assistance Georgia has received from President Trump, FEMA, the Georgia Emergency Management and Homeland Security Agency, and our state and local partners," said Deal. "I am also encouraged by the continued efforts of everyone involved as we work together to rebuild these communities during this difficult time."

For more information on damage assessments, contact Catherine Howden at [email protected].
Georgia State Patrol Sergeant First Class Tony Henry was mourned yesterday at the State Capitol.
"Our hearts are heavy tonight," the governor tweeted late Tuesday, "but we rejoice knowing he is in a better place."

"Tony was not only respected by his peers but he was well loved," said Ralston. "He was one of the finest individuals that I've been privileged to be associated with, and we are very, very saddened with his loss."

"Sgt. Henry was a Trooper's trooper and a wonderful individual who upheld not only his profession in high esteem but was also a friend and family man," said state Sen. Tyler Harper. "He represented our state to the utmost for 17 years as a Georgia patrolman and he will be missed by all."
Rep. Tom Price could be confirmed as Secretary of Health and Human Services this week after the Senate voted to limit debate on his nomination.
Senate rules allow Democrats to delay the final vote for up to 30 hours, a tactic that they've utilized for two other Cabinet nominations this week.

If Democrats hold the floor for the full 30 hours, the Senate would take a final vote on Price's HHS nomination early Friday morning.
On Saturday, I'll be moderating a debate among the candidate for Chairman of the Georgia Republican Party. Join us starting at 6 PM at the Lumpkin County Park & Recreation Building, 365 Riley Road, Dahlonega, GA 30533. Or you can watch on the internet, courtesy of FetchYourNews.com.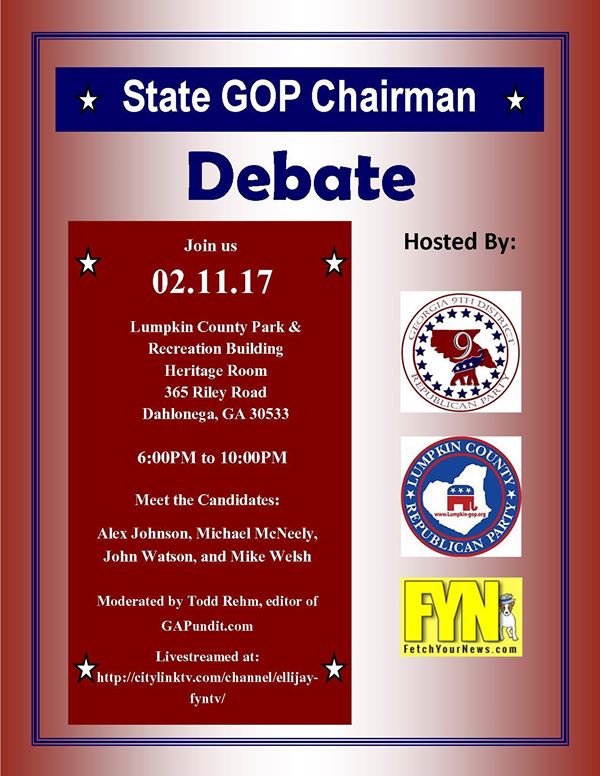 Under the Gold Dome – Committee Meetings
8:00 AM HOUSE Trans Sub State Highways 515 CLOB
8:00 AM HOUSE NAT'L RES & ENV'T 606 CLOB
8:30 AM SENATE ETHICS 307 CLOB
9:00 AM HOUSE Resource Mgmt Sub 606 CLOB
9:00 AM HOUSE RULES 341
10:00 AM FLOOR SESSION (LD 15) HOUSE CHAMBER
12:00 PM SENATE RULES – Upon Adjournment 450 CAP
1:00 PM SENATE REGULATED IND & UTIL 310 CLOB
1:00 PM SENATE PUBLIC SAFETY – CANCELED 307 CLOB
1:00 PM HOUSE APPROP HIGHER ED 341 CAP
1:00 PM HOUSE JUVENILE JUSTICE 406 CLOB
1:30 PM House Env'tal Quality Sub of Nat'l Resources 510 CLOB
2:00 PM SENATE SCIENCE & TECH 310 CLOB
2:00 PM SENATE INTERSTATE COOP – CANCELED 125 CAP
2:00 PM SENATE HEALTH & HS 450 CAP
2:00 PM HOUSE JUD'Y CIVIL 132 CAP
2:00 PM HOUSE EDUCATION 606 CLOB
2:00 PM HOUSE TRANSPORTATION 506 CLOB
2:30 PM HOUSE APPROP PUB SAFETY 341 CAP
3:00 PM SENATE TRANSPORTATION – CANCELED 310 CLOB
3:00 PM HOUSE WAYS AND MEANS 406 CLOB
4:00 PM SENATE JUD'Y 307 CLOB
SENATE RULES CALENDAR
HB 43 – Supplemental appropriations; State Fiscal Year July 1, 2016 – June 30, 2017 (Substitute) (APPROP-4th) Ralston-7th
SB 48 – Hunting, Trapping, and Fishing License; hunting licenses that are renewed before expiration; freeze the cost (NR&E-31st)
SB 52 – Mental Health; authorizing licensed professional counselor; sunset provision; repeal (H&HS-9th)
HOUSE RULES CALENDAR
Modified Open Rule
HB 176 – Agriculture, Department of; enter into agreements with the federal government to enforce provisions of certain federal laws; authorize (A&CA-McCall-33rd)
Modified Structured Rule
HB 64 – Protection and Guarantee of Service for Health Insurance Consumers Act; enact (Substitute)(Ins-Blackmon-146th)
HB 75 – Social services; certain records from disclosure; exclude
(Judy-Willard-51st)
HB 126 – Courts; Judicial Qualifications Commission; change provisions (Substitute)(Judy-Willard-51st)
Georgians for Lawsuit Reform will seek changes to state law in opposition to some trial lawyers.
Georgians for Lawsuit Reform is headed by Kade Cullefer, an attorney from Columbus who once worked for Sonny Perdue's legal team. Chaired by the top attorney for SunTrust Banks, the group aims to bring a "fair, equitable and balanced" legal environment.

It will eventually file friend-of-the-court briefs to weigh in on legal disputes and back political allies with financial support. But it is already making its mark early in the legislative session by advocating for proposals long sought by some business boosters.

First up is House Bill 192, a measure sponsored by state Rep. Beth Beskin that would make it harder for plaintiffs to win lawsuits targeting the board members of financial institutions.

The group also has designs on changes to Georgia's discovery laws and to resurrect parts of the 2005 "tort reform" law that were overturned by the state's top court.
Senator Jeff Mullis (R-Chickamauga) introduced Senate Bill 88 to regulate opioid addiction treatment programs.
The proposal, introduced last week by state Sen. Jeff Mullis, R-Chickamauga, would make it more difficult to open new programs. It would also limit the number of clinics in different regions of the state.

As it stands, Talbott said, the bill would help state health officials weed out any unethical medical directors who care more about selling drugs like methadone than their patients' health. At the same time, the bill does not regulate the industry too strongly, so more clinics can open in Georgia if the owners prove local addicts need the treatment.

Talbott was cautiously optimistic, however. The bill will go before the Regulated Industries and Utilities Committee on Thursday, and Talbott worries other lawmakers will create extra regulations. He fears they could make opening a new clinic too difficult.

Jonathan Connell, president of the Opioid Treatment Providers of Georgia, echoed Talbott's sentiment: The bill works if legislators don't add more restrictions.
The House Appropriations Committee recommended passage of Senate Bill 70 by Sen. Butch Miler (R-Gainesville), which would renew the hospital provider fee through mid-2020.
Senator David Shafer (R-Duluth) introduced Senate Bill 134 to encourage savings by Georgia residents.
Shafer, R-Duluth, is the author of Senate Bill 134, also known as the Save, Earn, Win Act. The bill gives banks and credit unions permission to offer a new savings account format where the owner of the account would be entered in a drawing for a financial prize just for having the account.

"Our country is facing a crisis and we have stopped saving," said Sen. Shafer. "Most Americans are living paycheck to paycheck and do not have enough to pay for a $400 emergency. I am proud to introduce the "Save Earn Win Act" which will serve as an incentive for people to save more and to invest in their future."

A Senate spokesperson said the drawings would give account owners "the thrill of a lottery or raffle" without taking the risk of losing any money in the process. The spokesman added it would also give Georgians an incentive to save money they earn rather than spending it on "immediate thrills."

Shafer was joined by officials from the Georgia Bankers Association, Community Bankers Association, Georgia Credit Union Affiliates, Members First Credit Union, the United Way, Operation Hope and Urban Asset Builders to announce the bill on Tuesday.
The Senate Health and Human Services Committee heard testimony Tuesday on Senate Bill 8.
he Senate Health and Human Services Committee heard testimony on a proposal to halt these medical bills, which can come from ER doctors, anesthesiologists, radiologists, pathologists and others who are not in a patient's insurance network — even though the hospital where they work is.

"It's a very complicated issue,'' said Sen. Renee Unterman (R-Buford), who chairs the panel and is a nurse by profession. She is the sponsor of Senate Bill 8.

Health insurers and medical providers can't agree on a solution, she said.

"It's like putting cats and dogs in a room,'' she said. "The one that suffers the most is the consumer."

Prior to the debate on surprise billing, the committee passed a bill that would allow police and emergency crews to transport a person in a mental health crisis to a physician or a hospital for involuntary treatment without having to arrest that person first.

Casey Snyder, the Gwinnett County fire chief, told the panel that his crews are dispatched about eight times a day for mental health episodes. "These folks don't need to be arrested,'' he said. "They need to be in a medical facility."
The State House Medical Cannabis Working Group, chaired by Rep. Allen Peake (R-Macon) recommended expansion of Georgia's medical cannabis law.
Georgians who have autism, intractable pain or a handful of other diagnoses would be allowed to posses medical cannabis under a bill moving through the state House.

The state House Medical Cannabis Working Group on Wednesday unanimously endorsed the idea of allowing medical cannabis possession by people with those diagnoses as well as AIDS or HIV, Alzheimer's disease, post-traumatic stress disorder, Tourette's syndrome or people in hospice.

State Rep. Allen Peake, R-Macon, chairs the working group and wrote House Bill 65, which will be the vehicle for their recommendations.

A separate Senate bill would add only autism to the list of cannabis-eligible diagnoses in Georgia and it also cuts the amount of THC allowed in Georgia medical cannabis.

At a hearing on Senate Bill 16, some senators said they are uncomfortable with the lack of scientific evidence on marijuana's effect on patients.

Peake said he understands some doctors' hesitation to endorse medical cannabis due to the lack of studies.

"But the anecdotal real world evidence … is overwhelming," Peake said.
The Gwinnett County Democratic Party Chair wants more minorities appointed in county government.
Okoye stood before county commissioners on Tuesday and called on them to appoint more minorities to key positions in the majority-minority county's government, including county administrator, spokesman, clerk and department head jobs.

"The county's government does not reflect the diversity that is out there in the county," Okoye told the Daily Post after the meeting.

While Okoye singled out the appointed positions, he also said adding more seats on the commission might help matters by shrinking commission district sizes and providing more positions for minority candidates to run for. He pointed to the Fulton and DeKalb counties, each of which have seven commission seats.

Commission Chairwoman Charlotte Nash said the county is trying to increase diversity at the appointed level. Although there are not many minorities in appointed department head positions, there are some.

"We are certainly interested in adding more diversity at all levels within the county organization, including the senior management level," Nash said. "I know that this is an objective as hiring decisions are made by staff, even as they focus on hiring the most qualified candidate for each position.