Georgia and American History
The British ship Mayflower landed at what is now Plymouth, Massachusetts on December 18, 1620.
Charles Wesley, brother of John Wesley who founded Methodism, and one of the great hymn-writers, was born on December 18, 1707. Wesley accompanied James Oglethorpe to Georgia in 1736.
On December 16, 1773, the Sons of Liberty, led by Patriot Sam Adams, boarded three British ships in Boston harbor and threw tea worth $700,000 to $1 million in today's money into the water in what came to be known as the Boston Tea Party.
France formally recognized the United States as an independent nation on December 17, 1777.
The first national day of thanksgiving was observed on December 18, 1777 commemorating the American victory over the British at Saratoga the previous month.
Congress wrote, "It is therefore recommended to the Legislative or executive Powers of these UNITED STATES, to set apart THURSDAY, the eighteenth Day of December next, for solemn THANKSGIVING and PRAISE; That at one Time and with one Voice the good People may express the grateful Feelings of their Hearts, and consecrate themselves to the Service of their Divine Benefactor".
On December 18, 1834, Governor William Lumpkin signed legislation chartering the Georgia Methodists Conference Manual Labor School at Oxford, Georgia, which would later become Emory College in 1836 and Emory University in 1915.
Governor George Towns signed legislation on December 16, 1847 to build a State School for the Deaf and Dumb. The institution now known as the Georgia School for the Deaf was begun with a log cabin, $5000 from the legislature and four students and is still in operation in Cave Spring, Georgia.
General Ulysses S. Grant expelled all Jews from his military district, which covered parts of Tennessee, Mississippi, and Kentucky on December 17, 1862. President Lincoln ordered Grant to rescind the order.
On December 16, 1897, Gov. William Atkinson signed legislation recognizing June 3, the birthday of Jefferson Davis, as a state holiday.
On December 18, 1865, U.S. Secretary of State William Seward issued a statement verifying the 13th Amendment to the Constitution, which outlawed slavery in the United States.
The office of Superintendent of Public Education and Georgia Schools was created on December 18, 1866 when Gov. Charles Jenkins signed legislation passed by the General Assembly; on December 18, 1894, Gov. William Atkinson approved a resolution for a Constitutional Amendment to make the State School Commissioner elected statewide.
President William McKinley visited Savannah, Georgia on December 17, 1898. While there, McKinley attended church at Wesley Monumental Methodist Church and visited Georgia Agricultural and Medical College (now Savannah State University) and the Seventh Army.
On December 17, 1902, legislation changed Georgia's state flag changed to include the coat of arms on the blue band.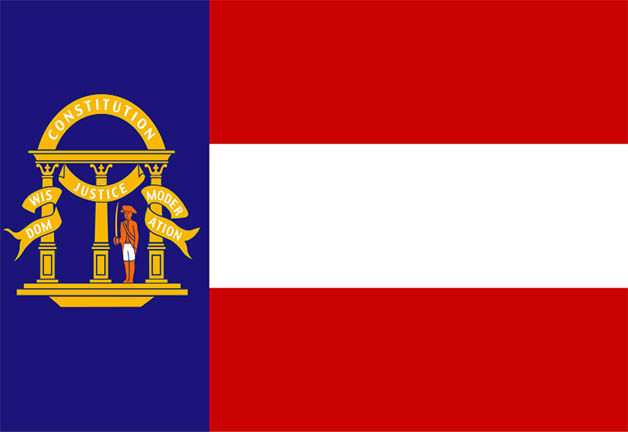 On December 16, 1944, a German counterattack in the Ardennes region of Belgium created a "bulge" in Allied lines with particularly difficult fighting near the town of Bastogne. During the Battle of the Bulge, 89,000 Americans were wounded and 19,000 killed in the bloodiest battle fought by the U.S. in World War II. National Geographic has an interesting article published for the 70th Anniversary of the Battle.
On December 17, 1944, Major General Henry C. Pratt ordered the end of the imprisonment of American citizens of Japanese descent in prison camps.
President Jimmy Carter announced on December 16, 1976, that he would name Andrew Young, then serving as Congressman from Georgia's Fifth District, as the United States Ambassador to the United Nations.
WTBS began broadcasting under new call letters on December 17, 1976 and uplinked its programming to satellite to become "America's Super Station."
Georgia Politics, Campaigns, and Elections
Republican Tim Echols was sworn in yesterday by Gov. Nathan Deal to a second term on the Georgia Public Service Commission.
Fifteen Republican state legislators represent districts won by Hillary Clinton last month.
Senate

SD 6 – Hunter Hill (R) – Cobb

SD 40 – Fran Millar (R) – Dekalb

SD 48 – David Shafer (R) – Gwinnett

House

HD 37 – Sam Teasley (R) – Marietta

HD 40 – Rich Golick (R) – Smyrna

HD 51 – Wendell Willard (R) Sandy Springs

HD 52 – Deborah Silcox (R) – Atlanta

HD 54 – Beth Beskin (R) – Atlanta

HD 79 – Tom Taylor (R) – Dunwoody

HD 80 –  Meagan Hanson (R) – Brookhaven

HD 105 – Joyce Chandler (R) – Lawrenceville

HD 106 – Brett Harrell (R) –  Lawrenceville

HD 107 – David Casas (R) – Lilburn

HD 108 – Clay Cox (R)- Lilburn

HD 111 – Brian Strickland (R) – McDonough
Former State Rep. Sally Harrell (D-DeKalb) will run for the Sixth Congressional District seat being vacated by Rep. Tom Price.
"During these politically uncertain times, we need a Congresswoman in Washington who understands the impact of government on people's everyday lives," said Harrell, who positioned herself as an advocate for mandatory school recess and expanded access to mental health services in office.

"Our families need access to affordable healthcare, quality public education, and clean air and water — all supported by a living wage. It's time that our government works for the people."

With several Republicans eyeing a run for the district, solidly-Republican turf that stretches from east Cobb to Brookhaven, Democrats hope to consolidate behind a single candidate in hopes of landing a spot in the runoff. But two other Democrats are already in the contest: Former state Sen. Ron Slotin, who vows to bring "progressive" ideals to the contest, and Josh McLaurin, an attorney and political newcomer.

She has the support of Democratic state Rep. Scott Holcomb, a DeKalb attorney who passed on the race earlier this month.

"I've known Sally a long time and she's terrific," he said. "She's smart, reasonable and thoughtful. We need more of that in Congress."
State Senator Judson Hill was endorsed by Newt Gingrich, who once held the Sixth Congressional seat Hill is seeking.
The most pressing issue the new Congress will face in January is beginning the process of repealing and replacing Obamacare. With healthcare premiums increasing at alarming rates, families need immediate relief.

America should be encouraged that Congressman Tom Price will be our new Secretary of Health and Human Services, but this also means voters in the 6th District will have an important choice to make about who to send to Washington as a principled conservative reformer.

I am eager to support my long-time friend, Senator Judson Hill. I've seen Judson work every day to pass common sense tax cuts and healthcare legislation that helps every Georgian. That's the kind of proven conservative leadership Georgia needs. Judson will immediately get to work and bring his effective leadership to Washington representing the people of Georgia's 6th District.
In the State House, Democratic Leader Stacey Abrams (Atlanta) says her party will continue to push for Medicaid expansion in Georgia this year.
Liberals plan to protest at the State Capitol on Monday where Georgia's Presidential Electors will meet.
The organizers of the Dec. 19 protests are taking aim at the Electoral College voters who are charged with formally electing presidents during post-election meetings in statehouses. They argue that Hillary Clinton's victory in the popular vote – she leads Trump by more than 2.8 million votes – should make the Democrat president.

"The electors have both the Constitutional right and the moral responsibility to stop Trump," said Daniel Brezenoff, whose petition urging electors to dump Trump attracted more than 5 million signatures. "He lost the popular vote and he should lose on December 19 at the Electoral College."
The Judicial Nominating Commission has released their short lists of nominees for vacancies on the Superior Courts for the Atlanta, Augusta, and Douglas Judicial Circuits.
Atlanta Judicial Circuit
Shukura Millender – Magistrate Judge, Fulton County
Richard S. Moultrie, Jr. – Deputy Chief Assistant U.S. Attorney, United States Attorney's Office for the Northern District of Georgia
Paige Reese Whitaker – Deputy District Attorney, Fulton County District Attorney's Office

Augusta Judicial Circuit
Pamela J. Doumar – Juvenile Court Judge, Augusta Judicial Circuit
Ashley Wright – District Attorney, Augusta Judicial Circuit

Douglas Judicial Circuit
Cynthia C. Adams – Judge Pro Tempore, Douglas County Juvenile Court; solo practitioner
Ryan R. Leonard – Chief Assistant District Attorney, Douglas Judicial Circuit
Peggy H. Walker – Judge, Juvenile Court of Douglas County
We noted yesterday an article about the link between opioid abuse and increasing numbers of neglected and abused children in Georgia. Today, The Wall Street Journal takes a deeper dive into the issue.
Widespread abuse of powerful opioids has pushed U.S. overdose death rates to all-time highs. It has also traumatized tens of thousands of children. The number of youngsters in foster care in many states has soared, overwhelming social workers and courts. Hospitals that once saw few opioid-addicted newborns are now treating dozens a year.

And many of the children who remain in the care of addicted parents are growing up in mayhem. They watch their mothers and fathers overdose and die on the bathroom floor. They live without electricity, food or heat when their parents can't pay the bills. They stop going to school, and learn to steal and forage to meet their basic needs.

Social workers say the scale of the trouble exceeds anything they saw during the crack-cocaine or methamphetamine crises of previous decades. Heroin and other opioids are so addictive they can overwhelm even the strongest parental instinct to care for a child, doctors and social workers say.

In Ohio, opioids are the main cause of a 19% increase in the number of kids removed from parental custody and placed with relatives or foster homes since 2010, according to an association of Ohio's county-level children's services agencies. In Vermont, that number grew by 40% between 2013 and 2016, largely due to opioids, according to the state's Department for Children and Families.
The Bibb County Board of Education has two new members, sworn in this week.
The Bibb County Board of Education welcomed two new faces and said goodbye to two outgoing members on Thursday night. Tom Hudson and Jason Downey attended their last meeting, after serving on the board for 12 years and four years, respectively.

Sundra Woodford and Bob Easter, the newest members, and Ella Carter, Thelma Dillard, Susan Sipe and Lester Miller were sworn in by Bibb County Probate Court Judge Sarah Harris.

"Four years ago, when a group of us came on the board, the school system in a lot of people's eyes had been left for dead," said Downey, who represented District 6. "I think over the past four years we've moved the needle, changed the expectation level. We've brought strong leadership back to Bibb County. We've improved graduation rates."
The Gainesville Times says the 2017 General Assembly could be a continuation of issues from past sessions.
State Rep. Lee Hawkins, R-Gainesville, the dean of the delegation from Hall County now that Carl Rogers has retired from the state House, said repealing the ACA would have a significant impact on Georgia's own budget.

Medicaid is a big item without having expanded it under the ACA, he said, with about 1.1 million children, and 1.8 million individuals overall, covered by it in the state.

Moreover, efforts to support growth in graduate medical training residencies, such as a new program being developed at the Northeast Georgia Medical Center in Gainesville, rely on federal health care reimbursements.

Hawkins said the top health care committee in the General Assembly would begin meeting before the legislative session formally kicks off Jan. 9.

For Lt. Gov. Casey Cagle, R-Gainesville, making higher education more affordable and spurring economic development — not just through retention and recruitment of existing businesses, but through innovation, too) are critical to meet the demands of a growing population that now exceeds 10 million.

"We are not short of challenges," Cagle said, but with those come more opportunities to "create more economic engines to fuel the chance for everyone to experience the American Dream."
Casino gambling is among the issues likely to be recycled under the Gold Dome.
State representatives spoke with the LaGrange City Council on Tuesday regarding a variety of issues that would require collaboration on city and state levels, including an amendment expected to be voted on in 2017 regarding gaming casinos in Georgia.

"If it is like the measure that was introduced during the last session, the state is divided into five zones," said Rep. Josh McKoon, R-Columbus. "Two casino licenses would issue for the metro Atlanta area, and then one apiece for these other regions. The discussion that I heard was the west Georgia license would likely wind up being in Columbus, but that is not required by the statute."

If the measure is approved, casino companies would bid for the license to build a casino in a given region. The bidding would be expected to be competitive, but only one casino would be allowed in any given region. So, if a casino was built in Columbus, a casino would not be allowed to build in LaGrange, and if the city voted against a casino, it would have to find another location.

"If you want to see what casino gaming can do for a local economy, go to Wetumpka, Ala., and find out how many restaurants are no longer there," said Rep. Randy Nix, R-LaGrange, who opposes the amendment. "Find out how many events that have entertainment are no longer there. It's all going right in that one place."

Overall, the LaGrange City Council held reservations regarding casino gaming in the area, and the city council does not have an official stance on casino gaming.
Replacing income taxes with sales taxes is unlikely any time soon due to changes in state collections.
When asked by a constituent about future income tax reductions in lieu of a higher sales tax, [State Rep. Terry] England said he would be reluctant to move too far in that direction at this time.

"When you look at our revenues following the economic recovery, sales tax has remained flat for about the last six years, which is concerning to me and others," said England, who chairs the House appropriations committee.

"I hope that's a result of people putting more money back into savings and paying down debt, but I suspect it's also probably a shift over to more E-commerce.

"My inclination is for us to wait a little bit and see what's going to happen with our sales tax revenues. Then if we do decide to do something, let's be very cautious about it."
DeKalb Medical System is under pressure and looking for a partner to help stabilize the hospitals.
In recent months, DeKalb Medical has suffered financial problems, job cuts and leadership changes.

Its CEO and chief operating officer submitted their resignations within the past month, and the system has laid off 60 employees. Another 80 jobs have been eliminated.

The financial difficulties, Iverson said, stem at least in part from a high number of uninsured patients. She noted that Georgia has not expanded Medicaid under the Affordable Care Act, unlike most other states. Expanding the number of people with coverage increases hospitals' chances for reimbursement.

"We were really hopeful for Medicaid expansion,'' Iverson told GHN this week.

In addition, DeKalb Medical also experienced problems in its revenue cycle, which includes billing and collections, and claims denials, she said.

Economic factors have driven many Georgia hospitals to seek alliances or mergers to help withstand sweeping changes in health care payments.

Government and private insurers are increasingly emphasizing quality of care in reimbursements, instead of just paying for the quantity of services delivered. Medicare is paying bonuses and imposing penalties under the ACA based on quality-of-care measurements.