John Wesley left Savannah on December 2, 1737.
John Wesley's strict discipline as rector of Christ Church in Savannah irritated his parishioners. More trouble followed when he fell in love with Sophia Hopkey, the niece of Georgia's chief magistrate. When she married another man, Wesley banned her from Holy Communion, damaging her reputation in the community.

His successful romantic rival sued him; but Wesley refused to recognize the authority of the court, and the man who would eventually found a major Protestant denomination in America left Georgia in disgrace on December 2, 1737
Touro Synagogue, the oldest existing synagogue in the United States, was dedicated on December 2, 1763 in Newport, Rhode Island.
The Skirmish at Rocky Creek Church took place near Waynesboro, Georgia on December 2, 1864.
Georgia Politics, Campaigns, and Elections
Karen Handel leads to field of potential Republican candidates in the Sixth Congressional District, according to a poll released by WSB-TV.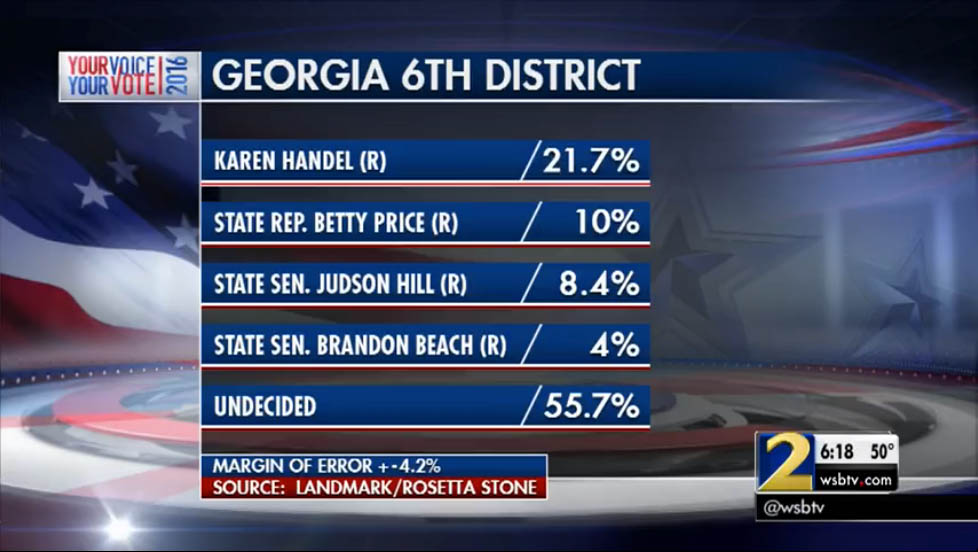 From the AJC Political Insider:
Former Secretary of State Karen Handel has carved out an early lead in the wide-open race to replace Rep. Tom Price, according to a Landmark/Rosetta Stone poll commissioned by WSB-TV.

Handel, who has not yet announced but appears likely to run, is one of about a dozen Republicans considering a bid for the seat after Price was tapped as Donald Trump's health secretary. The only declared Republican so far is state Sen. Judson Hill, who hopes to take the 6th District back to its Cobb County roots.
Congressman Tom Price told The Daily Caller he expects the district to elect a Republican to succeed him.
Price assured that he thinks the chances of Democrats pulling off an upset are unlikely in a special election if his nomination is confirmed.

"I don't think so, we'll be fine," he told The Daily Caller News Foundation. Price said he doesn't have any favorites in terms of successors either as a congressman or chairman of the Budget Committee, but hopes to stay in the role until he assumes his next position.

"We'll let that play out," he said. "There are a lot of good folks looking at each."
Senator David Perdue travels to New York today.
"As a fellow businessman and outsider himself, Sen. Perdue was invited to Trump Tower to discuss working together to advance President-elect Trump's 100-day plan in the Senate and changing the direction of our country," said Perdue spokeswoman Caroline Vanvick said in a statement.

Perdue, who chaired Trump's election campaign in Georgia, was one of the Republican president-elect's earliest, staunchest and most vocal supporters. Because of that, he is widely viewed to be a valuable conduit between the new administration and the Senate.

In announcing the meeting on Thursday, Jason Miller, communications director for the Trump transition team, told reporters that Perdue "was a big supporter of ours on the campaign trail. He's a fantastic ally for the president-elect."
Sonny Perdue spoke to The Macon Telegraph about his meeting in Trump Tower.
Perdue described his meeting with Trump as "a very businesslike-type interview. Really kind of a job interview. It was not political. It was about the essence of the job and trade and agricultural potential and productivity, and I think he was trying to really find some content-expertise people to put in rather than political appointees. So I was encouraged by that."

Asked Thursday if a cabinet position and a job in Washington is something that interests him at this stage in his life, Perdue, a grandfather of 14 who turns 70 later this month, said, "That had to be contemplated and answered before I would agree to be interviewed. I think it would have been very duplicitous to go up for an interview, get the cameras and then to turn down somebody."

He added that he and his wife, Mary, are not "looking forward to having our lives disrupted again, but honestly at this stage of America, I think it is truly one of those serve-your-county kind of deals. And if we get drafted, then we're gonna report for duty."

Perdue said he was told that a decision on the agriculture post could be made "in a week or two."
Nick Ayers, an alumnus of Governor Sonny Perdue's campaigns and administrations, is being spoken of as a candidate for Chairman of the Republican National Committee.
A person close to Mr. Trump said the president-elect's allies are coalescing around Nick Ayers, a member of the transition team, to be the party's chairman. Mercedes Schlapp, another Republican operative, is being considered for a role as co-chairwoman.
Politico also writes about Ayers.
Pence, meanwhile, has been supportive of Nick Ayers, a Georgia-based operative who advised Pence during the presidential campaign. Ayers, a former RGA executive director, is currently helping the transition. During internal conversations, the vice president-elect has told aides that Ayers would be a solid pick.

Once Trump makes his choice, that person must get final approval from the 168 members who comprise the national committee. The vote is expected to take place in January, when the RNC meets for its annual winter meeting.
WMAZ-13 in Macon gives some background on Ayers and Sonny Perdue.
James Nicholas Ayers is a Cobb County native and major operative of the Republican Party. In 2010, Time Magazine listed Ayers as one of its 40 most influential Americans under 40.

But Perdue put Ayers on his high-speed trajectory when he tapped Ayers to manage his 2006 re-election campaign. Ayers was 22.

Since then, Ayers has led the national Republican Party and also worked on several GOP campaigns. That includes the senatorial campaign of U.S. Sen. David Perdue, Sonny Perdue's first cousin. More recently, Ayers was a political advisor to Indiana Gov. Mike Pence's re-election campaign.

Pence ended his re-election efforts when Trump chose Pence as his running mate. Because of Ayers and his Sonny Perdue connections, Pence made a campaign stop in Perry during the presidential race. Perdue introduced Pence to the crowd and afterwards stood with Pence backstage while he greeted supporters and fielded questions from reporters.

Now, Ayers sits on Trump's transition team, a group that'll recommend a person for Secretary of Agriculture. In their first interview meeting, Perdue questioned Ayers. On Tuesday, Ayers and the other transition team members questioned Perdue.

When making their bets, professional gamblers would rate the Ayers/Pence/Perdue connection as a positive in the Secretary of Agriculture sweepstakes.
Muscogee County voters have been streaming to the polls in early voting for a runoff election in the Sheriff's race.
The early vote in Tuesday's runoff for Muscogee County Sheriff may top 3,000.

When the fourth day of early voting ended Thursday, 2,686 had cast ballots in the race between incumbent John Darr and challenger Donna Tompkins, with 712 voting Monday, 627 Tuesday, 577 Wednesday and 770 Thursday.

Friday is the last day to vote early 7:30 a.m. to 4:30 p.m. in the community room on the ground floor of the City Services Center, 3111 Citizens Way, off Macon Road by the Columbus Public Library. Voters must enter through the building's rear because the front entrance is locked for security reasons.
Christopher Sanders will take the reins as Executive Director for the East Metro DeKalb Community Improvement District.
The House Study Committee on Judicial Qualifications Commission Reform issued recommendations for reforming the Board after the adoption of Constitutional Amendment 3 last month.
Study committee chairman Rep. Wendell Willard, R-Sandy Springs, said the commission had done good work for most of its four decades but that in the past few years had "strayed off the tracks a little bit." A report adopted Wednesday by the committee cited concerns about what it called "coercive investigatory practices" and a failure to provide due process to judges who faced complaints.

The study committee report recommends making commissioners subject to discipline for improper conduct; enshrining commissioner term limits in law; making any discussion of the use of commission funds and a commission decision to file a judicial complaint subject to disclosure under the state Open Records Act; not allowing a commissioner to initiate an investigation without presenting it to the other commissioners first, except in emergency cases; and providing for the removal of commissioners for misconduct.

The commission has always acted under a shroud of secrecy, and the report's recommendations largely preserve that. They allow the commission to go into private executive session to talk about the investigation of a judge or to meet with a judge or a judge's attorneys.

Willard said he also expects to expand the commission from its current seven members to either nine or 12 members. Those members would be split into separate panels so that the members responsible for investigating complaints against judges are not also responsible for adjudicating the complaints.
Tupac Shakur and Jesus both received write-in votes in Chatham County.
Jesus, in some form or another, was written in for nearly all of the 27 races on the ballot in Chatham County. Across races, he was written in more than 100 times. God was written in about 30 times and Harambe about 45 times. Choices weren't necessarily animate either: "Rum Ham," a booze-soaked piece of meat that was featured in an episode of comedy series "It's Always Sunny in Philadelphia," made an appearance five times. Someone else, meanwhile, voted for "Breaking Bad," the name of a TV drama.

U.S. House District 1: Recently deceased Savannah celebrity Lady Chablis, Luke Skywalker and 1990s rapper Tupac Shakur.

Chatham County Commission District 2: "Ghost Buster" – no indication which one or whether the voter meant the original films or the 2016 remake.

Chatham County Commission District 4: "a robotic finger" and horror movie monster "Babadook."

House District 163: "IAMBECOMEDEATHDESTROYEROFWORLDS."
Of the two mentioned above, I only expect one of them to return from the grave, and "King of Kings" won't be on the ballot.
Georgia Ports Authority is super-sizing it's dockside capacity, with four new large cranes arriving.
"We're excited to welcome these newest cranes to our fleet," [Georgia Ports Executive Director Griff] Lynch said. "Savannah is already the most efficient gateway port on the U.S. East Coast. This new equipment will ensure the world-class service our customers have come to expect, with unmatched reliability and no congestion."

Designed by Konecranes of Finland, the cranes in this latest shipment bring the Port of Savannah's fleet at Garden City Terminal to 26 – the most at any single terminal in the U.S.Chris Rice, GPA's general manager of ship operations, notified ships' agents and stevedores that the Teal will start her inbound transit at approximately 10 a.m. Sunday.
Rep. Doug Collins (R-Gainesville) contributed language to The 21st Century Cures Act, which is moving in Congress.
The 21st Century Cures Act, passed Wednesday by the House, would help drug and medical device companies win swifter government approval of their products and boost disease research, but it also calls for mental health reform.

The bill includes language from Collins' Comprehensive Justice and Mental Health Act, sponsored in the Senate by Sen. Al Franken, D-Minn.

That aspect of the bill calls for "supporting mental health courts and intervention teams and increasing training for law enforcement officers who are often the first to engage individuals with mental health conditions," Collins said.

"The ongoing mental health crisis affects all of our communities, and we designed this legislation to bring relief to a system in which jails care for more mental health patients than medical facilities do," he said.

"The common-sense approach to mental health treatment complements criminal justice reform efforts and ultimately serves the law enforcement community, overburdened court systems, mental health sufferers and the taxpayers, whose money goes to public health and safety measures."

The bipartisan, 996-page bill moves to the Senate, where approval is expected next week.