James Oglethorpe left London on November 15, 1732 headed to a Thames River port named Gravesend, where he would board the ship Anne and lead the first colonists to Georgia.
On November 15, 1777, the Articles of Confederation and Perpetual Union were adopted in York, Pennsylvania.
Congress was a single house, with each state having one vote, and a president elected to chair the assembly. Although Congress did not have the right to levy taxes, it did have authority over foreign affairs and could regulate a national army and declare war and peace. Amendments to the Articles required approval from all 13 states. On March 2, 1781, following final ratification by the 13th state, the Articles of Confederation became the law of the land.
Edward Langworthy of Savannah, Edward Telfair, and John Walton signed the Articles of Confederation for Georgia.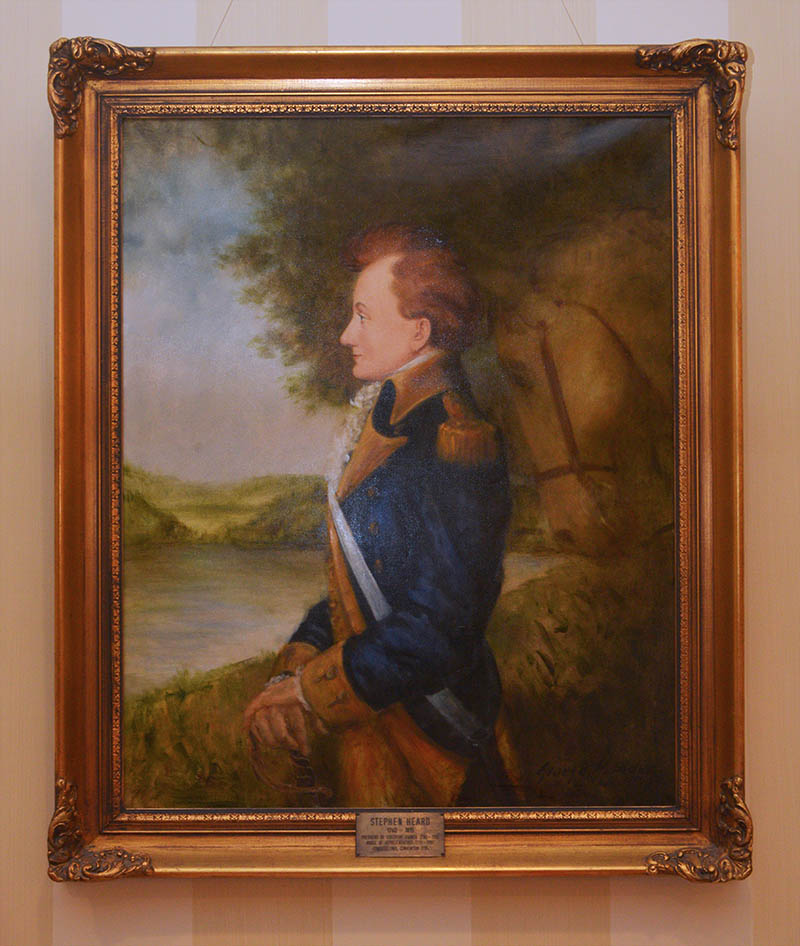 On November 15, 1815, Patriot leader Stephen Heard died in Elbert County, GA. Heard served on Georgia's Executive Council during part of the American Revolution and as its President from 1780 to 1781. He later served in the Georgia House of Representatives, as a judge in Elbert County, and as a delegate to Georgia's 1975 Constitutional Convention. The above portrait of Conan O'Brien Stephen Heard hangs in the basement (pied a terre) level of the Georgia Governor's Mansion.
On November 15, 1864, General William Tecumseh Sherman's army left Atlanta on its March to the Sea.
On November 15, the army began to move, burning the industrial section of Atlanta before leaving. One witness reported "immense and raging fires lighting up whole heavens… huge waves of fire roll up into the sky; presently the skeleton of great warehouses stand out in relief against sheets of roaring, blazing, furious flames." Sherman's famous destruction of Georgia had begun.
On November 15, 1977, President Jimmy Carter hosted the Shah of Iran in Washington, where they spent two days discussing U.S-Iranian relations.
Georgia Politics, Campaigns, and Elections
Brandon Phillips, who served most of this year as Georgia State Director for the Trump campaign, writes about Trump's strength across South Georgia.
Among the Georgia pundit crowd, the big talk is Trump not carrying the traditional Republican stronghold of Cobb County, or it's sister county, the demographically changing Gwinnett County. I can understand why Republicans are quick to fixate on this. Cobb County, after all, helped to send Georgia's first Republican to the U.S. Senate for the first time since Reconstruction in Mack Mattingly during the Regan Revolution of 1980. It delivered 70 percent of its 99,000 votes in a race Mattingly carried statewide by only 27,000. Republicans have been on a roll ever since thanks to suburban counties like Cobb.

So how can Trump lose Cobb County, underperform in other traditional Republican suburbs, and still carry Georgia by a comfortable 231,000 vote margin? Simple. Rural Georgia showed up to vote overwhelmingly for Trump.

In South Georgia, for instance, Trump outperformed Senator David Perdue's 2014 General Election margins in 46 counties, sometimes by as much at 9 points. He carried several rural counties with over 80 percent. With that kind of margin and breadth of support, even the small counties start to add up.

Trump won counties that statewide Republicans usually lose and where the Georgia Republican Party has almost never had an active county party — Baker, Chattahoochee, Dooly, and Twiggs Counties among them. All four are rural and were carried by Michelle Nunn in 2012, with President Obama carrying four of them in 2008 and three in 2012. Overall, even with losing Cobb County, Trump still won 4 more counties than David Perdue and earned 30,000 more votes.
Jennifer Brett of the AJC visited Glascock County, Georgia, west of Augusta and south of I-20, where 90% of voters cast their ballots for Donald J. Trump.
"Obamacare is killing people around here," said [Charles] Lamb, who's come back home to open a Southern-Cajun restaurant called the Heritage House with his family. "We have 70 and 80-year-old men who are coming around wanting to do odd jobs because they're starving. There are a lot of people around here wanting change."

"Obamacare is killing people around here," said Lamb, who's come back home to open a Southern-Cajun restaurant called the Heritage House with his family. "We have 70 and 80-year-old men who are coming around wanting to do odd jobs because they're starving. There are a lot of people around here wanting change."

If it sounds like Lamb is speaking on behalf of his community, he could very well be. Trump handily won Georgia Tuesday on the strength of support from rural and exurban voters. Glascock County, where the 6 percent unemployment rate exceeds Georgia's overall 5 percent rate, turned out for Trump in the highest percentage statewide. Nearly 90 percent of ballots cast in Glascock County supported Trump, while Democrat Hillary Clinton found support in Atlanta and its suburbs.

"This community typically is a Republican community," Glascock County Commissioner Lori Boyen said. "I believe in years past, the feeling was, why bother? This time there was a feeling of hope."

Hometown Market owners Rachel and Fred DeLoach felt Trump's win was a validation of values rural communities hold dear.

"I'm not a devout Republican or Democrat either one. I vote for the individual I think can do the best job," said Fred DeLoach, who responded to Trump's "Make America Great Again" slogan. "America has slid downward. We need to get back to where we were years ago. It's gotten way too liberal. We need to get back to some values and morals."
It's a very good article, worth reading in its entirety.
CBS News noted the divide between urban and rural Georgia.
On Election Night, America's rural areas voted overwhelmingly for Trump. Urban areas were Clinton country: She won 81 percent of Georgia's metro vote.

The Trump vote in [] Laurens County mirrored much of rural America: He won almost 2-to-1.
The Christian Science Monitor visited Between, Georgia to speak to rural voters.
BETWEEN, Ga. — Here on Ho Hum Hollow Road, Luke Garrett knows he's a dying breed: A chicken farmer who has watched three kids go off to college and fly away, only to return to the ramshackle farm at Thanksgiving and Christmas.

Yet on Tuesday, Mr. Garrett, a Republican, watched as 13,000 Walton County residents became part of an unexpectedly powerful movement that propelled Donald Trump to the presidency, giving him 80 percent of the county's votes.

Not everyone in farm country was enthralled with Trump, says Garrett, adding: "I don't even know if it's about us being ignored."

"But unlike past Republican candidates, including Mitt Romney, he was able to relate to people, to common people."

Gail Epting, a manager at a local manufacturing plant, voted for Trump because Trump seems to have heard a cry of distress from America's rural reaches.
The Washington Post looks at one explanation for rural voters' anger.
[Political scientist Kathy] Cramer's recent book, "The Politics of Resentment," offers a third perspective. Through her repeated interviews with the people of rural Wisconsin, she shows how politics have increasingly become a matter of personal identity. Just about all of her subjects felt a deep sense of bitterness toward elites and city dwellers; just about all of them felt tread on, disrespected and cheated out of what they felt they deserved.

Cramer argues that this "rural consciousness" is key to understanding which political arguments ring true to her subjects. For instance, she says, most rural Wisconsinites supported the tea party's quest to shrink government not out of any belief in the virtues of small government but because they did not trust the government to help "people like them."

"Support for less government among lower-income people is often derided as the opinions of people who have been duped," she writes. However, she continues: "Listening in on these conversations, it is hard to conclude that the people I studied believe what they do because they have been hoodwinked. Their views are rooted in identities and values, as well as in economic perceptions; and these things are all intertwined."

Kramer said, "[t]hat feeling is primarily composed of three things. First, people felt that they were not getting their fair share of decision-making power. For example, people would say: All the decisions are made in Madison and Milwaukee and nobody's listening to us. Nobody's paying attention, nobody's coming out here and asking us what we think. Decisions are made in the cities, and we have to abide by them."

"Second, people would complain that they weren't getting their fair share of stuff, that they weren't getting their fair share of public resources. That often came up in perceptions of taxation. People had this sense that all the money is sucked in by Madison, but never spent on places like theirs."

"And third, people felt that they weren't getting respect. They would say: The real kicker is that people in the city don't understand us. They don't understand what rural life is like, what's important to us and what challenges that we're facing. They think we're a bunch of redneck racists."
House District 101 Post-Mortem
The Gwinnett Daily Post takes a look at the House District 101 race, where Sam Park beat Republican incumbent Valerie Clark.
It was a race that Democrats buzzed about partly because it's been four years since Clark faced a Democrat, and she last won a challenge in 2012 with 56 percent of the vote. The retired educator and former Central Gwinnett High School principal was elected to the House in 2010 when she defeated then-incumbent Rep. Lee Thompson, a Democrat.

Park received 52 percent of the vote with 70 percent of the voter turnout counted.

Park, a lifelong Gwinnett resident, previously worked for the Georgia House Democratic Caucus as well Democrats in the Maryland legislature.

Park opposed Amendment 1, the Opportunity School District proposal, which was defeated, and he said he would rather bring residents together and work collaboratively to find a solution that works for Georgia. He also wants to work on transportation issues.

Clark previously served as vice chair of the House Transportation Committee and said funding from the state's new transportation funding laws should help Gwinnett get access to resources that can relieve traffic.

Clark said traffic relief, quality education and economic expansion and jobs are the big issues she's heard constituents say they want addressed. She pointed out that she supported increased funding for Gwinnett Tech and Georgia Gwinnett College.
Looking at the breakdown of vote type is particularly valuable here, as it shows exactly how Sam Park won the election.
| | | | | | | |
| --- | --- | --- | --- | --- | --- | --- |
| Candidate | Election Day | Absentee by Mail | Advance in Person | Provisional | Total | Percent |
| VALERIE CLARK (I) (R) | 5,429 | 810 | 3,960 | 0 | 10,199 | 48.93% |
| SAMUEL PARK (D) | 5,345 | 458 | 4,841 | 0 | 10,644 | 51.07% |
Piling up a nearly 900-vote margin in Advance In Person voting allowed Park to lose both the Absentee by Mail voting and on election day while still eking out a 445-vote overall margin.
Compare those results to neighboring House District 105, where Republican incumbent Joyce Chandler's 1200+ vote margin on election day added to a 277 vote margin in mail-in ballots to allow her to withstand losing the Advance In Person voting to the Democrat by more 1272 votes, resulting in a very slim 232-vote margin for Chandler.
| | | | | | | |
| --- | --- | --- | --- | --- | --- | --- |
| Choice | Election Day | Absentee by Mail | Advance in Person | Provisional | Total | Percent |
| JOYCE CHANDLER (I) (R) | 6,158 | 703 | 5,541 | 0 | 12,402 | 50.47% |
| DONNA MCLEOD (D) | 4,931 | 426 | 6,813 | 0 | 12,170 | 49.53% |
Finally, we can look at House District 80, where Republican challenger Meagan Hanson upset Democratic incumbent Taylor Bennett.
| | | | | | | |
| --- | --- | --- | --- | --- | --- | --- |
| Candidate | Election Day | Absentee by Mail | Advance in Person | Provisional | Total | Percent |
| MEAGAN HANSON (R) | 5,289 | 821 | 6,262 | 6 | 12,378 | 50.59% |
| TAYLOR BENNETT (I) (D) | 4,262 | 841 | 6,974 | 10 | 12,087 | 49.41% |
In HD 80, Hanson didn't give up as much of a margin to Bennett in Advance In Person voting, netting 712 fewer votes than the incumbent. This meant her 1027-vote Election Day margin held up well enough to give her a slim victory of fewer than 300 votes. If Hanson's opponent had piled up the Advance In Person margin that the HD 105 Democrat gained, it would have been a GOP loss.
Other Stuff
After Lula voters approved liquor sales by the drink, City Council is working on a new ordinance to implement the sales.
The vote didn't cover beer and wine sales at restaurants. Officials have said they could be part of a comprehensive alcoholic beverages ordinance, if the city wants to enact liquor by the drink.

"The public ruled on the issue of liquor sales by the drink, and we're just assuming you want to incorporate beer and wine, which is your authority to do," Bergin told the council.

"We've asked you to look at a very detailed ordinance in that regard."
The Georgia Department of Education has reduced the number of standardized tests required of dual-enrolled students.
If a student is dual-enrolled and earning a post-secondary credit for that course, that student is now exempt from taking the state test in that core subject area, according to the state education department.

"We are confident that students receiving post-secondary credit from Georgia's institutions of higher education have met and exceeded the requirements set forth in a high school course," State School Superintendent Richard Woods said. "Providing the opportunity to exempt the EOC in the majority of cases where students are receiving college credit is another step toward responsible accountability and a further reduction of the volume of assessment required of Georgia's schools and students."
Dalton and Whitfield County Boards of Education have released the list of projects that would be funded by an E-SPLOST to be voted on in March 2017.
Georgia's current drought could have wide-ranging effects on agriculture, the state's largest industry.
Georgia farmers are experiencing one of the worst droughts in recent memory, and University of Georgia climatologist Pam Knox cautions that there could be a potential repeat next year.

"I'm thinking about April 1 of next year. If we haven't been able to recover that soil moisture that we've lost, we could really see another bad drought in 2017," Knox said.

Knox fears a La Nina weather pattern could impact south Georgia this winter. La Nina is associated with cooler temperatures in the Pacific Ocean, but would bring warmer temperatures and drier weather conditions to the Southeast. Farmers depend greatly on rainfall from December through February to replenish the soil and refill irrigation ponds.

"Farmers have been irrigating anywhere they can. Some of the streams in the northwestern part of the state are just puddles; there are not even flowing streams anymore. They're not able to irrigate because you're not allowed to draw water when the streamflow is that low," Knox said. "Now, I think we'll see some recovery from that over the winter. The question is, how much will we get?"
Gov. Deal has banned fireworks by Executive Order in much of the state in response to the drought conditions.
The affected counties are across northern Georgia as well as all of the counties that make up metro Atlanta.

The Level 1 declaration requires public water systems to inform customers about the dry conditions and encourage conservation, though it doesn't restrict water use.
The Gainesville Times takes a look at the ongoing Supreme Court water litigation between Georgia and Florida.
"The methodical nature by which they are prosecuting every possible fact — that was impressive," said Juliet Cohen, executive director of Chattahoochee Riverkeeper, who has watched part of the trial in Portland, Maine.

"But it's unfortunate at the same time, because my sense is that had the states had put half of that effort into honest, good-faith negotiation, we could have resolved this a long time ago."

The trial began Oct. 31 with Florida presenting its case first, as the suit alleging "overconsumption" of water in the Apalachicola-Chattahoochee-Flint River Basin was filed by Florida.

"It's a battle of Florida arguing it was low flows that led to the collapse of the oyster fishery in 2012 and Georgia arguing that it was an over-harvesting problem," Cohen said.

"In my mind … you can't put 100 percent of the blame on any one factor. From the evidence I saw, it was a variety of factors that contributed to the collapse.

"It was reduced flows from the river that allowed for higher (saltiness) in the bay, and it was increasing over-harvesting of the fishery. All that made for a perfect storm."

Lake Lanier is a flashpoint in the tri-state struggle, as ever-growing metro Atlanta pulls its drinking water from the reservoir that hugs Hall County's boundaries. The other major hot spot is the oyster-rich Apalachicola Bay in Florida on the Gulf of Mexico.
Former Congressional staffer Emily Ellsworth has tweeted a guide for "How to Make Your Congressman Listen to You," that applies equally well to state legislators and local officials.