On October 14, 1735, John and Charles Wesley sailed with James Oglethorpe from Gravesend, England, for Georgia and John Wesley wrote the first entry in his journal that would eventually cover 55 years. On that date, John Wesley wrote,
Our end in leaving our native country, was not to avoid want, (God having given us plenty of temporal blessings,) nor to gain the dung or dross of riches or honour; but singly this, to save our souls; to live wholly to the glory of God.
The First Continental Congress adopted the Declaration of Colonial Rights in Philadelphia, Pennsylvania on October 14, 1774.
Then-former President Theodore Roosevelt was shot before a campaign speech in Milwaukee, Wisconsin, on October 14, 1912.
Roosevelt, who suffered only a flesh wound from the attack, went on to deliver his scheduled speech with the bullet still in his body. After a few words, the former "Rough Rider" pulled the torn and bloodstained manuscript from his breast pocket and declared, "You see, it takes more than one bullet to kill a Bull Moose." He spoke for nearly an hour and then was rushed to the hospital.
A.A. Milne published Winnie-the-Pooh on October 14, 1926. E. H. Shepard illustrated the Pooh books.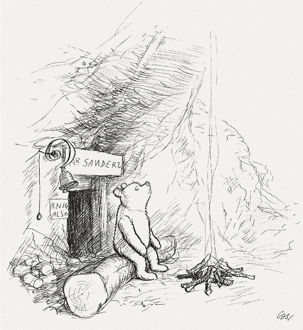 The War Department renamed Wellston Air Depot to Warner Robins Air Force Depot to honor Brigadier General Augustine Warner Robins on October 14, 1942.
On October 14, 1964, Martin Luther King, Jr. was announced as the winner of the Nobel Peace Prize, becoming Georgia's first native-born winner. Today's Atlanta Journal Constitution has a story on how King's Nobel Prize effected Atlanta.
The honor wasn't just a watershed for King and the civil rights movement but also for Atlanta. It set off a series of events that some say fundamentally changed the city's business, religious and racial cultures by bringing blacks and whites together for the first time to share a meal in public.

That simple act, holding a multi-racial banquet in the new Nobel laureate's honor, tested the will and even the nerves of those determined to make Atlanta a more just and inclusive place.

"It was a defining moment in the history of the city, and it should go down in the city's documented memory," said Janice R. Blumberg, the widow of Rabbi Jacob Rothschild, who was instrumental in organizing the event.

King's three surviving children are due in court in December to determine if the 23-karat gold medal — along with a Bible their father once owned — should be sold at auction. Brothers Martin Luther King III and Dexter King, representing the King Estate, plan to sell the items. Sister Bernice King has opposed the sale.

Mayor Allen and J. Paul Austin, chairman of Coca-Cola, gathered the business elite at the Piedmont Driving Club. Allen warned then he would be taking notes on who did not attend the dinner. But Austin delivered the crushing blow.

According to Young's written account, Austin said: "It is embarrassing for Coca-Cola to be located in a city that refuses to honor its Nobel Prize winner. We are an international business. The Coca-Cola Company does not need Atlanta. You all have to decide whether Atlanta needs the Coca-Cola Company."
On October 14, 1980, Republican candidate for President Ronald Reagan announced he would name a woman to the Supreme Court if elected.
To achieve those ends, we need the best people possible at the highest levels of Government regardless of sex, race or religion. I am also acutely aware, however, that within the guidelines of excellence, appointments can carry enormous symbolic significance. This permits us to guide by example, to show how deep our commitment is and to give meaning to what we profess.

One way I intend to live up to that commitment is to appoint a woman to the Supreme Court. I am announcing today that one of the first Supreme Court vacancies in my administration will be filled by the most qualified woman I can find, one who meets the high standards I will demand for all my appointments.

It is time for a woman to sit among our highest jurists. I will also seek out women to appoint to other Federal courts in an effort to bring about a better balance on the Federal bench.
Georgia Politics, Campaigns, and Elections
Secretary of State Brian Kemp, or at least lawyers representing him, will appear in Federal Court at 10 AM this morning in the first hearing on a lawsuit seeking to extend voter registration after Hurricane Matthew.
The suit requests an extension through next Wednesday for residents of Chatham County, where local government offices were closed for what would have been the last six days of the voter registration period that ended Tuesday. It also suggests that the extension could be made available to residents statewide.

Georgia Secretary of State Brian Kemp, the state's top elections official, hadurged residents in the path of the storm last week to take advantage of the state's online and mobile voter registration access points. He traveled Wednesday to coastal Georgia to check on election preparations ahead of the Nov. 8 presidential contest, and his office said he was encouraged by the tour and believes local officials are good to go with early voting set to begin Monday.

"We have been preparing for this election for over a year, and the office's ramped-up outreach efforts on social and traditional media have delivered incredible results," Broce said. "For these reasons, we find it difficult to reconcile these groups' claims against what we have seen and heard in our service to Georgians across the state.

Sabrina German, with the Chatham County Voter Registration Office, said Thursday that the office had remained shuttered for the final two days of Georgia's registration period because Chatham's Board of Commissioners "closed the entire county on Monday and Tuesday."

The county had the option of seeking a local judicial order to extend the registration deadline for its residents, but it did not do so.
Water ligitation with Florida could cost Georgia's economy up to $18 billion if the jean-shorts state prevails.
Georgia's economy could take an $18 billion hit if Florida prevails in the upcoming "water wars" trial, according to court documents filed Thursday.

Florida, which is suing Georgia for hogging too much of the Chattahoochee and Flint rivers, appears to be aiming its legal guns at the farmers in southwest Georgia who use copious amounts of surface and groundwater to grow cotton, peanuts and other crops.

Florida, during drought, wants a 40 percent increase in river water flowing from Georgia into the Sunshine State to save endangered species, boost the economy and restore the near-dead oyster industry in Apalachicola Bay. Georgia counters that capping the state's water consumption would be "so costly to Georgia, and result in so few benefits to Florida, that they are neither 'justified' nor 'equitable' … (and) will not provide Florida meaningful relief from the harms it alleges."

Thursday's filings lay out each state's legal strategy. Pretrial compromise seems unlikely. The governors of Florida and Georgia met a few times the previous year to try to work out a deal. Those efforts appear fruitless: A trial is set to begin Oct. 31 — Halloween — in Portland, Maine.
Georgia Governor Nathan Deal made another round of personnel shuffles after the announcement that Attorney General Sam Olens will leave office to become President of Kennesaw State University and Chris Carr will be appointed his successor.
Following the appointment of Georgia Department of Economic Development (GDEcD) Commissioner Chris Carr as attorney general, Deal recommended GDEcD Chief Operating Officer Pat Wilson as the new GDEcD Commissioner. Pending board approval, this change will take effect November 1.

Deal appointed State of Georgia Chief Operating Officer (COO) David Werner as COO of GDEcD, where he will manage daily operations of the agency and handle budgetary and personnel issues for all department divisions. He will also become the executive director of Georgia Allies. This appointment will take effect November 1.

Deal also nominated Georgia Integrated Eligibility System Director Shawn Ryan to fill the position of President of Georgia Student Finance Commission (GSFC). This vacancy was created by Tricia Chastain's appointment to vice chancellor of administration for the University System of Georgia. Pending board approval, he will transition to GSFC on November 1.

Deal also recommended Department of Administrative Services Deputy Commissioner Sean Casey to become the executive director of the Georgia Vocational Rehabilitation Agency. Pending board approval, this change will take effect at the end of the month.
The Marietta Daily Journal reports that Sam Olens emailed Kennesaw State students and faculty.
In his first official act as president-elect of Kennesaw State University, Sam Olens emailed all KSU students, faculty and staff and said he was honored and excited to be the university's new leader.

"So I am no stranger to Cobb County and the community," Olens wrote. "However, what you may not know is that we share a common passion for Kennesaw State. My passion is very personal. It is rooted in my belief about the importance education plays in society, the life-changing impact education has on students, and the impact it has made in my own life."

Olens also praises the "grit and determination" of KSU students and the "inclusive campus community," saying they are consistent with the values he holds.

"I know that you have many questions about how I plan to lead this university. As president, I strongly believe in mutual respect, open communication and tolerance. The growth that has created many opportunities for our faculty, staff and students, also comes with some challenges. We need to work together to find solutions that will enable Kennesaw State to continue to thrive," Olens wrote.

Hank Huckaby, chancellor of the University System of Georgia, said after the Regents' vote on Wednesday that he believes students and faculty will discover that Olens is in no way discriminatory after meeting and learning more about him.

"His record shows that he's very open, he's very honest and unbiased. So I think given time, he will develop the kinds of relationships (so) that all come to know that this is a very fine appointment. There's no question he's got to do a lot of work. He understands that, and I think he has a good handle on the kinds of things he needs to do," Huckaby said.
Olens may have faced serious opponents in politics and public service, but I fear for him that one foe may prove more difficult than any he's faced so far.  Two words that strike fear in the hearts of college faculty and staff everywhere: Helicopter Parents.
The AJC Political Insider began speculating about potential candidates who might run against Chris Carr when he seeks election to a full term in 2018.
Outgoing state Rep. B.J. Pak, a former federal prosecutor and longtime friend of Carr, said he hasn't ruled out a run for the post. And state Sen. Josh McKoon, the champion of the "religious liberty" legislation loathed by business groups but embraced by grassroots activists, appears likely to run.

A McKoon candidacy would set up a proxy battle between two warring factions in the GOP that we can bet will still be dueling in two years: The establishment forces backing Carr and the anti-establishment crowd that's made McKoon something of a hero.

Should Carr survive a primary, he's likely to face a well-funded Democrat in the general. State Rep. Stacey Evans, a trial lawyer considered a rising Democratic star, is the first politician in her party to ruminate on a run. But she'll have some shoring up to do among her fellow Democrats.
Josh McKoon will have to win re-election to his seat in the State Senate before considering a run for higher office.
"There are a lot of things I want to see through," McKoon said. "When I first went in, I wanted to do a lot in the area of ethics and conflict-of-interest law. We've made progress, but Georgia still lags behind the rest of the country in that area."

Comprehensive tax reform is another topic McKoon plans to bring up. Georgia's 6 percent state income tax is too high, he said, and it hurts the state in economic development when prospects see Florida to the south and Tennessee to the north with no state income taxes, and to the east, they see North Carolina cutting its income tax. He said Volkswagen's decision to locate its plant in Chattanooga was partially made because of Georgia's income tax, but it also affects small businesses.

"Talking to small business owners, people who employ just a handful of folks, that 6 percent that they have to pay is often the difference between hiring another employee or making a capital investment," McKoon said. "In terms of a state policy that would immediately create a better economic environment for more jobs, that's one of the best things that we could do."

McKoon's opponent, Ben Anderson, lists construction as his vocation on the Georgia Secretary of State's website but has no other information. Phone calls to the number listed on his campaign Facebook page were unanswered and voicemail was not available. Anderson, who lives in Grantville, Ga., was unopposed in the Democratic Primary for the District 29 seat.
UVA Political Scientist Larry Sabato's Crystal Ball has moved Georgia from "Likely Republican," to "Leans Republican" in the Presidential race.
It now appears that Georgia, like Arizona, is also moving back into play. There have been several reports of close polls there and the Clinton campaign might try to make a move for this reliably Republican state. We're moving it back to Leans Republican, from Likely Republican, matching Arizona's race rating. Needless to say, a Clinton win in Arizona or Georgia would be evidence of a Clinton rout that matches or exceeds Obama's seven-point 2008 romp.
I think Sabato's predictionator is either malfunctioning or it might be incorrectly calibrated, as it was at this point in 2014, when they predicted a closer race for U.S. Senate in Georgia. On October 16, 2014, Sabato's group moved Georgia from "Leans Republican," to "Toss Up/Leans Runoff."
Money the DSCC might have spent in Kentucky now appears to be going to Georgia, which is good news for Michelle Nunn (D) in her challenging battle against David Perdue (R). Perdue has led most public polls by about three to four points — though Nunn led by three in a new SurveyUSA poll Wednesday — but Perdue needs to get to 50% to avoid a runoff. Right now, he's stuck between 46-47% in the poll averages. Perdue also apparently has been hurt by comments from several years ago about outsourcing jobs.

Democrats and Republicans still seem to be holding out hope that they can get their respective candidate over 50% on Election Day (Perdue still has the better shot). But we're not so sure either will make it. So we're giving this race the same designation we have in Louisiana: Toss-up/Leans Runoff.

By the way, the runoff would be on Jan. 6, 2015, a month after the possible Louisiana overtime and three days after the technical start of the 114th Congress. Pardon us, but Georgia's runoff law is just this side of insane.
Landmark Communications, who correctly predicted a Perdue 2014 victory and Deal re-election, released a new Georgia poll.
Landmark Communications, Inc. [Landmark Opinion) conducted a statewide poll of likely Georgia voters on October 11th and 12th, finding that Republican Donald Trump continues to lead Hillary Clinton by a margin of 48-42%. Libertarian candidate Gary Johnson is earning support from 4% of likely voters.

Landmark's poll finds that Trump is winning 52% of the so-called "senior vote," those aged 65 and over, and is also currently winning 68%of white voters. The race has stabilized since the close of the party conventions in August. There ultimately has been little change in polling numbers in Georgia despite significant negative publicity for both candidates.

Trump has secured 85% of the Republican vote while Clinton carries 89% of Democrats.

Landmark also polled the race for U.S. Senate, finding that Sen. Johnny Isakson now leads Democrat Jim Barksdale by a 50-37% margin. Five percent of voters say they plan to vote for Libertarian candidate Allen Buckley.

These US Senate poll numbers are significant because the Barksdale campaign has repeatedly previously stated that Isakson hasn't reached the polling threshold of 50% of the vote, Landmark finds that Isakson has now crossed that 50% threshold.
Ty Tagami of the AJC writes that the Opportunity School District Amendment #1 will create a new type of charter school if it passes next month.
Currently, there are two kinds of charters in Georgia when it comes to funding: those authorized by local school boards and those authorized by the State Charter Schools Commission. The local charters get state and local tax dollars, and the state charters get no local money.

Amendment 1 on the Nov. 8 ballot would change that, allowing the creation of state charter schools that get a share of local education tax revenue but don't answer to a local district's elected school board. That funding would last as long as a school performs well enough to retain its state charter, even after it exits the Opportunity district.

"If state charter schools were able to receive the same amount of funding that the local school districts receive per (child), then you would see a greater increase when it comes down to achievement for those students," said Rep. Valencia Stovall, D-Ellenwood, one of the handful of Democrats who voted to put the referendum on the ballot.
Cherokee County Sheriff Roger Garrison will retire at the end of the year after 24 years in his county's highest law enforcement position.
Sheriff-elect Frank Reynolds, who was elected in the primary election in May to succeed Garrison, who opted not to run for re-election, also thanked the sheriff for his service and leadership.

[Georgia Bureau of Investigation Director Vernon] Keenan told the crowd that 25 years ago, Garrison was working with the state Department of Natural Resources where he had just been honored as ranger of the year. Garrison called Keenan and told him he had decided Cherokee County needed to modernize the sheriff's department and he planned to run for sheriff.

"He ran for office and he was elected and look what he has done since he has been in office," Keenan said. "The Cherokee County Sheriff's office is one of the most professional agencies in the United States. There are 18,000 sheriff's offices in the nation and only 3 percent of them are accredited. Roger Garrison took the Cherokee sheriff's office and had it nationally accredited in 1996."

"The men and women who work for the Cherokee County Sheriff's office are professional. They are what they are because of the leadership of Sheriff Roger Garrison, a man of integrity, a law enforcement leader without exception," Keenan said. "I tell him privately and I will say it publicly, I work with all 159 sheriffs in Georgia, he is the top sheriff to Vernon Keenan."
DeKalb County Sheriff Jeff Mann is getting pretty creative in registering voters, according to the AJC.
DeKalb Sheriff Jeffrey L. Mann hosted a team of county NAACP volunteers this week to register inmates to vote.

In less than a half day, they found more than 130 eligible inmates at the county jail to register in the NAACP's "Voices Behind Bars" campaign.

DeKalb Sheriff Jeffrey L. Mann hosted a team of county NAACP volunteers this week to register inmates to vote.

In less than a half day, they found more than 130 eligible inmates at the county jail to register in the NAACP's "Voices Behind Bars" campaign.

"Some of the current inmates may be released in time to vote in the November General Election, but they must be registered to do so," Mann explained in a news release. "As well, many inmates have never registered. Every citizen should be able to execute their right to vote, and we are glad to help make that possible."
Washington-based Council for Citizens Against Government Waste Political Action Committee (CCAGW PAC) endorsed eight Georgia Congressmen for reelection.
Reps. Rick Allen (R-Ga.), Buddy Carter (R-Ga.), Doug Collins (R-Ga.), Tom Graves (R-Ga.), Jody Hice (R-Ga.), Barry Loudermilk (R-Ga.), Tom Price (R-Ga.), and Rob Woodall (R-Ga.) for re-election to the U.S. House of Representatives.

All eight representatives have maintained impressive lifetime ratings as "Taxpayer Heroes." Rep. Allen, 94 percent; Rep. Carter, 97 percent; Rep Collins, 94 percent; Rep. Graves, 98 percent; Rep. Hice, 97 percent; Rep. Loudermilk, a "Taxpayer Super Hero" with 100 percent; Rep. Price, 93 percent; and Rep. Woodall, 93 percent.

"During their tenures in the Senate and House, these members of Congress served the citizens of Georgia with great distinction," said CCAGW PAC Chairman Tom Schatz. "On top of their prestigious voting records, they worked with their colleagues to restrain the growth of federal spending and to help make government more accountable and transparent to taxpayers."
The Georgia Power smokestack on Lake Sinclair in Putnam County is scheduled to be demolished Saturday morning shortly after 8 AM.
All nearby boat and vehicle traffic near the plant will be shut down for about 15 minutes around the time of the demolition, Sheriff Sills said. Additionally, an "exclusion zone" is being set up around the plant and access to it will be restricted.

Controlled Demolition Incorporated workers are using explosives to topple the brick and steel structure, Georgia Power spokesman John Kraft said. It is expected to fall in a westerly direction back onto Georgia Power's Plant Branch property.

"The detonation of the explosives will last less than one second, and will sound like a medium to loud thunder clap," Kraft said in an email to The Messenger. "The sound that nearby residents experience will depend on distance, wind speed and direction during the event."

After it topples, special sprayers have been set up to shower the debris with water to keep debris dust from blowing from the site. "The company is taking all necessary steps to ensure safety while minimizing inconvenience for neighbors, including employing rigorous dust-suppression measures to limit the spread of dirt and concrete dust," read a Georgia Power news release. "The company will assess neighbors' outside docks, walkways and furniture on request, to determine if surface dust removal is warranted. Residents may contact Regina Linch at 706-484-7206 with any questions regarding dust."
The Savannah Morning News Editorial Board thanks Georgia Power for what they call, "a remarkable recovery" from damage inflicted by Hurricane Matthew.
[A]s Matthew was edging up the Florida coast last Friday, some 5,000 crew members from Georgia Power, Southern Company siblings and allied power companies across the South were headed toward the Georgia coast, too, amassing in staging areas nearby.

"When Matthew popped up on the radar as a tropical storm, we started planning," says Georgia Power spokesperson Craig Bell in Atlanta. The company put 1,200 contracted crew members in Statesboro, 2,200 more at two sites in Macon, while Georgia Power workers from across the state were heading for the coast. By last Thursday, before the storm hit Georgia early Saturday morning, the storm center at company headquarters in Atlanta was operating around the clock.

The winds from Matthew had barely died down by 7:30 a.m. last Saturday when crews began restoring power up and down the 100-mile coast. The storm had knocked out electrical service to 342,000 homes and businesses, creating a whopping mess. About 1,000 power poles were damaged or toppled. Some 120 miles of wire had to be replaced. About 3,500 fallen trees were damaging electrical equipment.
Without making promises, the company hopes all its customers who Matthew blew off the electrical grid will be back on Friday. That won't include homes so damaged by the storm that they need repair before they can safely get service (for example, some homes had their power stanchions completely ripped off the structure, which required the attention of independent electricians). And for the first few days of restored power, it could go off and on as bugs in newly repaired lines and transformers show up and get fixed.
With news like the following two clips, Charlotte Nash should win re-election as Chair of the Gwinnett County Commission. These achievements speaks of the outstanding level of competence she brings to the job without creating controversy over political issues. I grew up in Gwinnett County and would vote to re-elect Charlotte Nash if I still lived there.
Gwinnett County's Department of Water Resources was recognized as a leader in its field.
The department was recently recognized through the Utility of the Future Today program, which is run by the Water Environment Federation, the National Association of Clean Water Agencies, the Water Environment and Reuse Foundation and the WateReuse Association.

Gwinnett was recognized in three categories: "Organizational Culture," "Energy Generation and Recovery," and "Nutrient and Materials Recovery."

"In everything that we do, every day, Gwinnett County Department of Water Resources employees work to provide superior water quality at an excellent value to our customers," department Deputy Director Tyler Richards said in a statement.

"The Utility of the Future recognition is an acknowledgement that the activities we are pursuing are moving us toward our vision of being recognized as a leader in the water industry."
Fitch Ratings Inc. reviewed Gwinnett County's creditworthiness and Gwinnett retained the highest rating possible.
"This is great news for our county," Board of Commissioners Chairwoman Charlotte Nash said in a statement. "Fitch's findings underscore our financial stability and sound financial management policies."

Fitch's review of Gwinnett's finances meant cracking open the county's books and looking at its debts, including general obligation, water and sewer, and development authority bonds. Gwinnett has $12 million in general obligation bond debt, $475.1 million in water and sewer bond debt and $81.4 million in development authority bond debt.

The report that came back from the credit rating agency praised the county's handling of its finances.

A growing local economy, a recovery in the housing market and an unemployment rate that is below state and national averages were marked in Fitch's report as positives in Gwinnett's credit profile, according to a statement from the county. Officials added that Fitch also forecasts a decline in the county's long-term liabilities because of quick repayment of debts, expectations that no new debt will be taken on and the county's pension and retiree benefits plan funding ratios.
Cochran Mayor Michael Stoy wrote in his resignation letter that he was leaving office because City Council members held an illegal meeting.
"In my opinion the integrity of the Council with regards to conducting open meetings has been jeopardized by the actions of several council members who have decided to operate outside of the parameters of the Charter, our Ethics Ordinance and State Law to promote their own personal agenda," Michael Stoy wrote in the letter dated Oct. 11.

Stoy said Thursday he read the letter aloud at the meeting so it would be a part of the official minutes of the meeting. He then presented copies of the letter to the city manager to distribute to council members.

In 2012, Stoy was elected to fill an unexpired term of the previous mayor, and he was re-elected unopposed the following year. His current term will expire in December 2017.

He wrote in the letter that a video of the City Hall security cameras showed the "alleged illegal meeting that conducted city business on July 26, 2016 from 6:40 to 7 p.m. in the lobby of City Hall. This meeting was attended by Councilman Gary Ates, Fleming Gilman, Andrew Lemmon, and Jon Thrower. Witnesses to this gathering included Councilman Charles Cranford and the City Clerk Ms. Lisa Chastain."

After he submitted the letter at Tuesday's meeting, council members voted to go into closed session to discuss personnel issues, Stoy said.

Chastain said Thursday that she went into the executive session to take minutes, but she was immediately asked to step outside. She sat on the backdoor steps, she said.