Former Confederate President Alexander Stephens was released from federal prison on October 12, 1865 and returned to Georgia.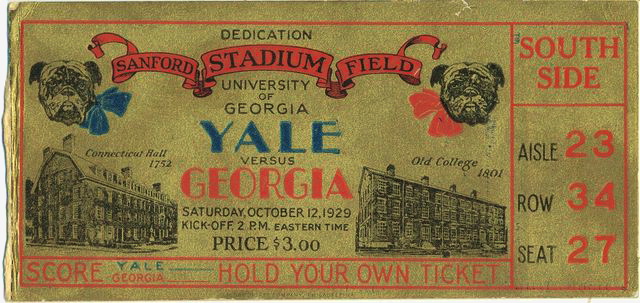 The first game in Sanford Stadium was played on October 12, 1929, with the University of Georgia Bulldogs beating the Yale Bulldogs. Here is ten minutes of the game.
On October 12, 1958, The Temple was bombed after a phone call to WSB warned that Black churches and Jewish temples would be blown up.
Georgia Politics, Campaigns, and Elections
Advocates for the Opportunity School District Amendment #1 unveiled a new ad featuring Governor Nathan Deal.
Some Democrats think that an imploding Trump campaign may open the door for their nominee to compete in Georgia, according to the New York Times.
Mrs. Clinton's campaign has concluded that at least two traditionally Republican states, Georgia and Arizona, are realistic targets for her campaign to win over. And Republican polling has found that Mr. Trump is at dire risk of losing Georgia, according to people briefed on the polls, who spoke on the condition of anonymity.
Today, the Georgia Board of Regents is set to vote today on whether to hire Attorney General Sam Olens as President of Kennesaw State University.
Chancellor Hank Huckaby has said he thought about doing a national search. But he believes Olens is too good of a candidate to pass up.

"I've always been very excited about the attorney general's potential interest in this job. And I leave this meeting even more excited about it," said Huckaby, after interviewing Olens last week.
The AJC looks at some issues Olens will face if hired at Kennesaw.
"It's a different breed of politics. It's not as mean and nasty and you don't have people paid to trash you," said former Georgia Secretary of State Cathy Cox, now president of Young Harris College. "Politics is how you work with people to get things done … A president has to work with faculty and students or it's going to be a lopsided and ineffective organization."

Like Olens, she had no expertise managing a college or university.

[Olens] noted in a three-page letter to University System of Georgia Chancellor Hank Huckaby the size of Cobb County's workforce when he was chairman, and the budget, which was larger than KSU's.

"In my view," he wrote, "the next president should focus on ensuring KSU's affordability, comprehensively evaluating the budget to allocate resources more effectively and improving graduation rates so that more KSU can use their skills and education to better our communities."
The AJC also looks at how a potential opportunity to appoint a new Attorney General may extend Gov. Deal's lasting influence on Georgia state government.
The crown jewel in Deal's array of appointments is set to open Wednesday, when Sam Olens is poised to vacate the attorney general's seat to become president of Kennesaw State University. That would allow Deal to select one of the most powerful posts in Georgia, with the authority to enforce state laws and investigate public corruption.

Not since 1997, when Gov. Zell Miller appointed Thurbert Baker to the post, has a governor had an opportunity to tap an attorney general. And not since 2010, when Gov. Sonny Perdue picked Brian Kemp for an open secretary of state's seat, has a governor had the chance to appoint a constitutional officer.

Deal appears likely to tap Chris Carr, the commissioner of the state Department of Economic Development and a Deal protege, to the post.

"Unless you were creating government for the first time, you could not have as much impact as he has had on the judiciary," said Randy Evans, Deal's attorney and co-chairman of the Judicial Nominating Commission. "Just the Georgia Supreme Court appointments alone would cement his legacy for 20 years."

Deal has tapped more than 100 attorneys to open judgeships across the state.

The governor unveiled a plan last year to expand the Georgia Court of Appeals by three judges, giving him a trio of vaunted posts. He followed that up this year with an expansion of the Georgia Supreme Court from seven justices to nine. Both passed with little opposition, even from stalwart Democratic critics.
One part of the AG job Olens is unlikely to miss is the continuing litigation over water against the State of Florida.
Settlement talks appear to be crumbling between Georgia and Florida before an Oct. 31 "water wars" trial between the states.

"It currently appears unlikely that the parties will be able to amicably resolve this decades long dispute prior to the commencement of trial," Florida states in a Friday court filing with the U.S. Supreme Court.

In a suit filed with the court, Florida is basically accusing Georgia of overconsumption of water in the Apalachicola-Chattahoochee-Flint River Basin, which includes Lake Lanier, leading to economic troubles for Florida's oyster industry in the Gulf of Mexico.

Georgia has denied the allegations.
On November 3d, Georgia DOT will hold a groundbreaking for an $800 million dollar improvement program for the intersection of GA-400 and I-285.
Columbia County elections officials are preparing for heavy voter turnout on November 8th for the General Election.
Advanced, in-person voting will now be held in building G3 of the old Rhodes-Murphy building next to Zaxby's on Ronald Reagan Drive in Evans. The address is 610 Ronald Reagan Drive, where the Georgia Department of Revenue is also housed.

Early and advanced voting was held at the elections office in previous years. The new location will serve for Saturday voting Oct. 29.

Advance voting begins Monday from 8 a.m. to 5 p.m.
Gwinnett County Commission Chair Charlotte Nash faces Democrat Jim Shealey in November.
Nash, who argues that a re-election would provide stability for the county, pointed to preparation of the county's water and sewage for future growth and addressing transportation as key issues that need to be addressed.

"In 2011, when I came into office, it was all about dealing with the fires that were burning at that moment in time," Nash said. "I see the next term transitioning into really being able to take a long-term look at the county and set the stage for some of those decisions that affect the long-term."

Shealey, meanwhile, is known in the county for his leadership in the local Democratic Party. He is also a retired teacher from the Akron (Ohio) Public School System who coached several sports in Ohio. He served on the Akron City Council for about a decade before he moved to Gwinnett in 2010.

A key priority for him is addressing transportation and transit options. He added that he thinks more needs to be done to get road infrastructure caught up to development to address gridlock in the county.

Nash said the proposed 2017 SPLOST is expected to help the county address issues in the road network system, but she added that she wants to bring residents together next year to hear what exactly they want in a multimodal transportation system. While outside groups have done transportation studies in recent years, she wants to hear directly from residents.

"We're talking about things that will affect the county 25 to 30 years into the future and that deserves some real robust conversation," Nash said.
Cobb County and City of Marietta school board members are moving forward with a Special Purpose Local Option Sales Tax for Education (E-SPLOST) to go into effect after the current penny sales expires.
The special purpose local option sales tax for education — which, as the fifth iteration of the tax, is dubbed E-SPLOST V — would levy a 1 percent sales tax countywide. If approved by voters, E-SPLOST V funds would begin to be collected on Jan. 1, 2019, after collections for its predecessor end on Dec. 31, 2018.

A ballot question asking voters to approve continuing the tax is scheduled to be put before voters in a special election scheduled for March 21, 2017. The only other issue confirmed to be on the ballot that day is a special election for a seat on the Marietta school board, a seat left vacant due to board member Tom Cheater's resignation, according to Janine Eveler, director of the Cobb elections.

The Cobb school board is expected to discuss a resolution putting the question on the ballot today, but no formal action will be taken until the board's Oct. 27 meeting.
Muscogee County voters will vote in a rare three-way race with a Democrat, a Republican, and an Independent incumbent on the ballot for Sheriff.
In Georgia, candidates in the same party as the governor get first place on the ballot in each race, so Republican Mark LaJoye will be listed first in the sheriff's race, then Democrat Donna Tompkins, then incumbent Sheriff John Darr, an independent. Also qualified is Pam Brown, who's running as a write-in candidate.
Whitfield County Commissioners voted 3-1 for a new ordinance that will likely curtail street solicitors.
The Board of Commissioners on Monday voted 3-1 to approve a new street solicitation law that, among other things, will require those seeking solicitation permits to have at least $2 million in insurance. The current law only requires those seeking a permit to have insurance and did not specify the amount. The law will take effect Jan. 1.

Chairman Mike Babb typically votes only in the event of a tie, and Commissioner Harold Brooker voted against the measure.

"I wanted it to begin immediately," Brooker said. "The rest wanted to wait until Jan. 1. I can live with that."

Under the new law, those who wish to solicit money must buy a $1,000 license annually. Currently, they must pay a $20 fee for a 30-day permit, and the other commissioners said they did not wish for anyone to have to pay $1,000 just to raise money in the final two months of 2016.
Richmond County school board member Frank Dolan wants students to demonstrate their patriotism or else!
"If members of the band are wearing uniforms we provide, they need to stand during the national anthem," Dolan said. "If they don't, I'm making a motion that they be suspended from the team."

The punishment soon expanded to include all athletes and cheerleaders.

"If they're wearing a uniform we provide," Dolan said, "I believe those students should be held to a certain standard. I guarantee you that every football team has a behavior policy, and if they don't live up to that expectation, they face punishment. … That behavior policy should include showing respect for the national anthem."

Before a vote could be made on Dolan's motion, Superintendent Angela Pringle requested time to research howother school systems are handling the controversial topic.
Congressman Tom Graves (R-Ranger) received from the National Association of Manufacturers an Award for Manufacturing Legislative Excellence.
Gwinnett Technical College and Mercedes-Benz will partner in a program for automotive technology education.
A man from Cochran, Georgia was indicted in an appalling case of human trafficking.