Georgia and American History
King George, III issued the Proclamation of 1763 on October 7, 1763.
With respect to Georgia's official boundaries, the proclamation expanded Georgia's southern boundary by giving the colony all lands between the Altamaha and St. Marys rivers. Previously, the Altamaha had served as Georgia's southern boundary.

So, the impact of the Proclamation of 1763 was to set Georgia's official southern boundary as the St. Marys River from its mouth to the headwaters, then north to the Altamaha River, then north to the headwaters of that river, and then westward to the Mississippi River. Georgia's northern boundary was the Savannah River from its mouth to its headwaters.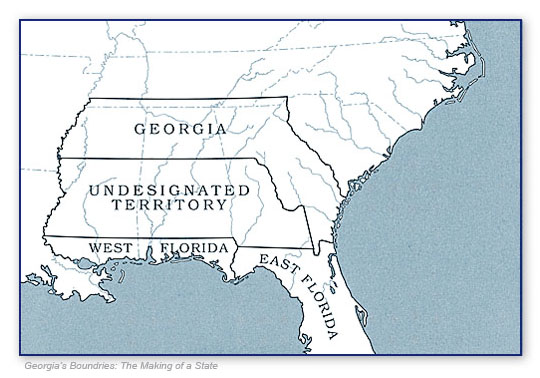 Patriot militia defeated Loyalists at the Battle of King's Mountain in North Carolina, near the South Carolina border on October 7, 1780.
On October 8, 1895, the Liberty Bell arrived in Atlanta for the Cotton States Exposition.
The famously–cracked 2,000 pound pealer left Philadelphia on seven trips between 1885 and 1915. Each time it came home with more cracks. It turned out the men hired to guard the Bell were taking liberties, literally: chipping off pieces and selling them as souvenirs.

Cheering crowds greeted the Bell in Atlanta. A two–mile parade took it to Piedmont Park, where 50,000 people lined up to see it.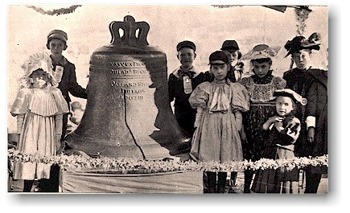 On October 7, 1916, Georgia Tech beat Cumberland College in the most-one-sided college football game in history, by a score of 222-0.
The Engineers led 63–0 after the first quarter and 126–0 at halftime. Tech added 54 more points in the third quarter and 42 in the final period.
Recently, a Georgia Tech alumnus paid $44,388 for the game ball with the intention of donating it to the trade school.
The Democratic Republic of Germany (East Germany) was created by the Soviets on October 7, 1949.
On October 12, 1958, The Temple was bombed after a phone call to WSB warned that Black churches and Jewish temples would be blown up.
Democrat John F. Kennedy and Republican Vice President Richard Nixon met in the second televised Presidential debate on October 7, 1960.
President Richard Nixon proposed a structure for peace and eventual withdrawal of American forces from Vietnam on October 7, 1970.
Polling released on October 8, 1976 indicated that Democrat Jimmy Carter won the second debate against President Gerald Ford by a 50-27 margin.
The first C-5A airplane arrived at Robins Air Force Base on October 8, 1997.
On October 8, 1998, the United States House of Representatives voted 258-176 to authorize an impeachment inquiry against President Bill Clinton.
President George W. Bush (43) announced military action in Afghanistan on October 7, 2001.
In a televised address that evening, Bush informed the American public that "carefully targeted actions" were being carried out to crush the military capability of al-Qaida and the Taliban, with help from British, Canadian, Australian, German and French troops. An additional 40 nations around the world provided intelligence, as well as bases from which the operations were conducted.

Bush touted the multinational effort as proof that America, in the aftermath of the September 11 attacks, was "supported by the collective will of the world." He also warned that the war in Afghanistan would likely be only the first front in a long struggle against terrorism. He vowed to continue to take what he called the "war on terror" to those countries that sponsored, harbored or trained terrorists.
President George W. Bush issued an Executive Order establishing the Department of Homeland Security on October 8, 2001.
Arnold Schwarzenegger was elected Governor of California on October 7, 2003.
Georgia Politics, Campaigns, and Elections
President Obama declared a state of emergency in Georgia ahead of Hurricane Matthew's landfall.
The President's action authorizes the Department of Homeland Security, Federal Emergency Management Agency (FEMA), to coordinate all disaster relief efforts which have the purpose of alleviating the hardship and suffering caused by the emergency on the local population, and to provide appropriate assistance for required emergency measures, authorized under Title V of the Stafford Act, to save lives and to protect property and public health and safety, and to lessen or avert the threat of a catastrophe in the counties of Appling, Atkinson, Bacon, Brantley, Bryan, Bulloch, Burke, Camden, Candler, Charlton, Chatham, Clinch, Coffee, Echols, Effingham, Emanuel, Evans, Glynn, Jeff Davis, Jenkins, Liberty, Long, McIntosh, Pierce, Screven, Tattnall, Toombs, Treutlen, Ware, and Wayne.
Governor Deal has brought a more low-key style to announcements regarding the inbound storm.
"We are being cautious but we don't want anyone to panic," said Deal. "We are prepared as we can be for this crisis."

South Carolina Gov. Nikki Haley has pleaded on camera several times this week for coastal residents to evacuate. And Florida Gov. Rick Scott bluntly warned Floridians on Thursday: "This storm will kill you."

But public pleading and colorful sound bites are not Deal's style. Although he has ordered one of the largest evacuations in state history, the governor has stayed largely behind the scenes as state officials ramp up their preparations for the storms. He was on camera only once before hosting two press conferences on Thursday.

"We aren't going to go dragging anyone out of their houses against their will," Deal said. "But the mandatory evacuation is significant. It's the highest warning we can give to people on the urgency of evacuating."
Augusta officials are urging residents to show Southern hospitality to folks displaced from the coast.
The 630 aboard the buses are the first of 5,000 Augusta has agreed to shelter under an evacuation contract with Chatham County, Fire Chief Chris James said at a Thursday news conference.

They'll join the thousands of self-evacuees already in the city, where almost all of approximately 7,000 hotel and motel rooms are occupied, and 55 patients so far have been evacuated to AU Medical Center from coastal area hospitals.

City Administrator Janice Allen Jackson encouraged residents to be patient and kind to the visitors.

"As far as we can tell, they're all trying to make the best of it," she said. "We want to demonstrate good southern hospitality for those who come in – we realize they're here under adverse circumstances."
Lawyers for the states of Georgia and Florida will meet in an October 31 court hearing on the lawsuit over waterflows through the Appalachicola-Chattahoochee-Flint basin.
In the suit, filed in 2013, Florida claims that Georgia is using an unfair share of the water in the Apalachicola-Chattahoochee-Flint basin, including water from Lake Lanier. The suit also alleges overuse of the Chattahoochee in metro Atlanta, and water from the Flint that is used by South Georgia farmers.

Though the "tri-state water wars" between Georgia, Florida and Alabama have been going on for decades, the suit was the first time one state directly sued another, according to The Wall Street Journal.

For Florida, the issue is the amount of fresh water from the Apalachicola – which is formed when the Chattahoochee and Flint come together in Lake Seminole – that goes into Apalachicola Bay. Adequate freshwater is needed for the health of the oysters in the bay.

The Endangered Species Act is also involved because water flows can affect the health of the endangered Gulf Sturgeon, as well as three endangered mussels: the fat threeridge, purple bankclimber, and Chipola slabshell.
A new Fazoli's restaurant in Warner Robins set an opening week record for the chain, according to the Macon Telegraph.
[I]n August 2015, C&P Restaurant Co., a franchise group owned by Allen Peake and Mike Chumbley, had signed a six-unit development agreement for Fazoli's in Georgia.
Billy Sparks of Rome was sworn-in as a Floyd County Superior Court Judge to fill the remainder of the term of Judge Walter Matthews.
Jan Horne is running for Senate District 28 as a write-in candidate, according to The Times-Herald.
Horne is challenging Matt Brass, who handily won the Republican nomination for the seat in May, beating Hayden Marlowe with over 80 percent of the vote.

Under Georgia law, write-in votes are only counted if a candidate has officially qualified with the state as a write-in candidate.

Horne said she is "not a member of the establishment. I am just a concerned citizen who wants to continue the hard work Sen. Mike Crane has done during his time as our senator."

"As your Republican representative in the Senate, I will fight every day to serve your needs and protect your freedom and constitutional rights," Horne said in a press release. "For years I have been involved in the community, particularly as a volunteer with various Republican events and clubs throughout the state.  I have never worked in a political office nor held a political position."

You can learn more about Horne at www.janhorne.com or www.facebook.com/JanHorne4Senate.

"God has laid it on my heart to run. Maybe He will lay it on your heart to help and spread the word," Horne said.

Options to vote for a write-in candidate are included on both the electronic voting machines and paper absentee ballots.
The Whitfield County Republican Party will host a debate watching party Sunday night.
Georgia Department of Human Services will begin an energy assistance program November 1 with senior and homebound applications being accepted.
Moody Air Force Base is relocating aircraft outside of the expected storm zone.
Georgia State University reports that rural areas in Georgia are lagging in economic growth and job creation.
"Rural parts of the country are facing many hardships," said Peter Bluestone, author and senior research associate at the Center for State and Local Finance. "The recovery isn't as fast as some would like in the urban areas, but we can see it coming. It's not as clear for rural communities."

Georgia added 193,582 jobs from 2012 to 2014, an increase of about 5 percent over 2012, providing some evidence of sustained economic recovery. However, most of that growth — 64 percent — occurred in the Atlanta area. Rural Georgia saw just 11.5 percent of the growth. It also had the lowest job growth relative to population growth. From 2007-14, jobs declined by 6.9 percent, while population grew by nearly twice as much.

Rural Georgia lagged behind in job quality, as well. The region's low-wage jobs outnumbered premium-wage jobs during the study period. It represented 24 percent of the state's premium-wage job loss. Rural Georgia also lost many mid-wage jobs associated with manufacturing during the recession, and it has not benefited from an increase in mid-wage jobs associated with health care services that has occurred more recently.
Anthem, Inc. will create 1000 jobs in Midtown Atlanta.
Georgia National Fair attendees can vote in the latest "Peanut Poll," sponsored by Secretary of State Brian Kemp.
Kemp is asking fair-goers to stop by his booth in the Georgia Grown Building and vote for President and Georgia's U.S. Senator.

"Georgians' high level of participation in the Peanut Poll last year shows that they are invested in the future of our nation," said Kemp in a press statement. "I expect the excitement to continue this year."

In its inaugural year, the "Peanut Poll" became the largest straw poll in America after surpassing the 2015 Iowa Straw Poll by nearly 20,000 votes. This year, voting is open to all Georgia National Fair visitors until the booth closes at 10 each night. Voters will receive one peanut to place in the jar of the candidate of their choice.
Water billing issues are at a boiling point in DeKalb County.
A crowd of DeKalb County residents who say they're being ripped off for water service packed a town hall meeting Thursday, demanding explanations for bills reaching into the thousands of dollars.

They made sure county government officials heard their frustration, shouting out amounts of their bills: $600, $1,000, $1,800 and more. The standing-room-only crowd exceeded 200 people who filled DeKalb's government auditorium.

They confronted government officials to try to get the bottom of the problem — and to try to avoid having to pay bills they believe are ridiculous.

"For years, representatives have given us every excuse for why it's our fault that water bills are so high," said Star McKenzie, who started a Facebook group called Unbelievable DeKalb Water Bills. "No other company could stay in business with this 'customer is always wrong' attitude. Unfortunately for residents, you're selling something that we can't live without."
Amendment Two
Georgia Health News takes an in-depth look at Amendment 2 on the November ballot, and especially at the types of services that funds will be used for.
Bailey Johnson* was sold into sex trafficking as a prostitute in eight states before she found help in Georgia.

At age 17, she was rescued by a police officer who noticed signs of sexual exploitation during a routine traffic stop. She was directed by a juvenile court to enroll in a sex trafficking recovery program to help the emotional, physical, mental and social trauma she experienced.

"But something was different" about this environment, she recalls today, and it turned her life around. She entered the program with a ninth-grade education level and completed her diploma within a year.

As a Wellspring Living resident, Johnson not only earned her high school diploma, but now plans to enroll in college. She wants to study counseling and build a career around helping girls who have been involved in sex trafficking as she was.

Programs such as those offered at Wellspring Living have appeared in the last decade to help sex trafficking victims in the state, but advocates say many are underfunded or offer only a handful of slots when many more people would like to participate.

Voters will be asked to approve a proposed constitutional amendment that would fund the newly created Safe Harbor for Sexually Exploited Children Fund. It would be funded through taxes on adult entertainment businesses and new fines imposed on people involved in prostitution, trafficking and exploitation of children.

The funds would pay for rehabilitative and social services at Georgia programs that help victims of sexual exploitation.