Georgia and American History
The Continental Congress renamed their new nation the United States of America, from the previously used "United Colonies" on September 9, 1776.
An American fleet of nine ships under the command of Captain Oliver Hazard Perry routed a British fleet in the Battle of Lake Erie on September 10, 1813.
After the battle, Perry sent a famous dispatch to U.S. General William Henry Harrison that read, "We have met the enemy, and they are ours." The Battle of Lake Erie forced the British to abandon Detroit, ensuring U.S. control over Lake Erie and the territorial northwest.
Years later, Pogo, Georgia's Official State Possum, would paraphrase Perry's dispatch.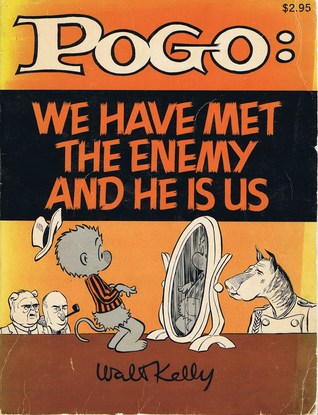 And eventually, Pogo's statement that, "We have met the enemy and he is us" would become the official slogan of the Georgia Republican Party.
On September 9, 1933, WSB Radio in Atlanta was upgraded to broadcasting via 50,000 watt transmitter. The first broadcast included Will Rogers and a letter from President Roosevelt.
On September 9, 1939, an audience at the Fox Theater in Riverside, California watched a preview of Gone With the Wind.
The first actual computer bug was identified on September 9, 1947, when Grace Hopper removed a moth from an electrical relay in the Harvard Mark II computer. Hopper received her Ph.D. in Mathematics from Yale in 1934 and attained the rank of Rear Admiral, Lower Half in the United Stated Navy. USS Hopper (DDG-70) was named after her.
The Union Army began evacuating civilians from Atlanta via Lovejoy's Station on September 11, 1864.
Georgia-born Ty Cobb took his last at-bat on September 11, 1928.
On September 9, 1954, Marvin Griffin won the Democratic Primary election over Melvin Thompson.
Elvis Presley first appeared on The Ed Sullivan Show on September 9, 1956.
On September 10, 1991, Senate confirmation hearings began for Georgia-born Clarence Thomas, who was appointed by President George H.W. Bush (41) to the United States Supreme Court.
Nirvana's Smells Like Teen Spirit was released as a single on September 10, 1991.
On September 10, 2002, the Atlanta Braves clinched an eleventh straight division title without playing, as a loss by the Philadelphia Phillies assured the Braves the title.
Today, Queen Elizabeth II extends her reign as the longest-serving monarch in British history, surpassing the record set by her great-grandmother Queen Victoria.
Happy 74th birthday to former Congressman John Linder. Linder served in the State House from 1974-1980 and 1982-90. In 1990 he ran unsuccessfully for Congress against incumbent Democrat Ben Jones; in 1992, after redistricting, Linder was elected to Congress from the 7th District and served until his retirement after the 2010 election.
Georgia Politics, Campaigns, and Elections
Newt Gingrich will hold a Town Hall for the Trump-Pence campaign on Monday, September 12, 2016 at Kennesaw State University's Carmichael Student Center in the University Rooms, located at 1000 Chastain Road, Kennesaw, GA 30144. The event begins at Noon. Click here for free tickets.
Carly Fiorina will appear at a fundraiser for Meagan Hanson's campaign for House District 80.
South Carolina Governor Nikki Haley will give keynote address at the Georgia Republican Party's Victory Dinner on Thursday, October 13, 2016.
The Gwinnett Daily Post takes a look at local opinions on the Opportunity School District Amendment #1.
"This is not a blue and red issue," said [Sid] Chapman, president of the Georgia Association of Educators, in a meeting with the Daily Post. "This is a public education issue."

"The Georgia PTA fully supports using increased flexibility, accountability, and community involvement to improve student achievement," the group said in an August press release. "However, the Georgia PTA believes the school takeover amendment will neither increase flexibility, accountability, or community involvement, nor will it improve student achievement. Local communities, and the school board they elect, are the most effective place for educational innovation, intervention, and improvement."

Gwinnett School Board Chairman Dr. Robert McClure said while the board hasn't made an official policy about the issue, the group is not in favor of the proposal. He said it doesn't make any more sense than the federal government running local schools, and that it would be only slightly better because the best government is the smallest that's closest to the problem.

"If people understood the risk that you run by moving (the) governing of anything in your community to the state level, whether it's your roads, parks or public libraries," McClure said. "Once you give up autonomy of those institutions, you'll never give it back. You have to be careful with giving up that authority."
Deal responded to some critics of the Opportunity School District. From the Atlanta Business Chronicle,
"The General Assembly and I have lost our patience in trusting local superintendents and school boards to do what we give them the flexibility to do," Deal said. "Any further money allocated for teacher pay raises will be built into the [state] formula so no one can take it away."

Promising to make education the top priority of his final two legislative sessions as governor, Deal said an advisory committee of educators is currently reviewing his education reform agenda. A comprehensive package of proposals should be ready for the General Assembly to consider this winter, he said.

Deal said the priority should be students forced to attend the 127 schools in Georgia that have failed them by under-performing on state education standards for three consecutive years.

"We have 68,000 students required by law to attend chronically failing schools … people who are the victims of improper education," he said. "Somebody needs to help them."
Yesterday, Governor Nathan Deal announced 20 percent raises for state law enforcement officers, according to the Macon Telegraph.
The plan also includes more training for officers across the state.

Officers face uncertainty and danger in jobs that have become more dangerous and difficult over the years, the governor said at a formal announcement of his plan Thursday.

"The thanks they receive has not kept pace," Deal said.

GBI Special Agent Blair Sasnett came up from the Perry field office for the announcement and to hear the thanks that Deal and other elected officials offered.

"We've always got people leaving to go to federal law enforcement. I think this'll retain agents and create a better hiring pool for our agency," the agent said.

[Deal] said it is incumbent on the state to recruit and retain the best and brightest and give them the tools they need for a job that requires them to be many things — minister and diplomat, social worker and tough guy.

The proposed raise will apply to more than 3,300 law enforcement officers who get their paychecks from the state. It would be effective Jan. 1, 2017, even before the state Legislature has the chance to approve the measure. The cost will be nearly $79 million in the first 18 months, Deal estimated.
"Ag for Isakson" launched under the leadership of Georgia Agriculture Commissioner Gary Black.
"Ag for Isakson" is led by Georgia Agriculture Commissioner Gary Black, along with leaders and members of the agriculture community from across the state.  The organization is part of Isakson's overall strategy to reach Georgia voters from every region and network in the state. A full list of the "Ag for Isakson" grassroots network can be found here.

"Johnny Isakson is the farmer's friend, a champion for all of agriculture and an American patriot," said Commissioner Black. "I'm very honored to support him. If there was ever a time in our nation when we needed Johnny Isakson, it is now!"

"Agriculture is Georgia's number one industry, and I am proud that so many farmers, ranchers and growers have put their confidence in me," said Isakson."I have been honored to fight for the jobs provided on the farm, in the factory, in transportation and at restaurants. This administration is hurting producers with horrendous regulations such as 'Waters of the United States,' and is destroying family farms with the death tax. I have fought against both, and I look forward to continuing to work to help rural Georgians."
Senator Isakson touted Moody Air Force Base in Valdosta, GA as a potential location for drone operators.
The U.S. Air Force is considering Moody Air Force Base as a potential new location to bring its mission control and launch and recovery units in support of the new MQ-9 Reaper Remotely Piloted Aircraft Wing, Isakson announced. Out of an original 19 bases across the country that were candidates for the mission, five remain, including Moody, he said.

Winning the new mission could help safeguard Georgia's military huge economy. The state's bases are at risk of U.S. military base downsizings expected from the Pentagon between 2019 and 2021.

"I'm always excited by the potential to bring new missions to Georgia's military bases, and I am confident that Moody Air Force Base is fully prepared to take on this important mission," Isakson said in a statement.

Earlier this year, Isakson led the Georgia congressional delegation in sending a letter to Secretary of the Air Force Deborah Lee James and to then-Air Force chief of staff General Mark Welsh advocating for Georgia to receive the MQ-9 mission.
The Hall County Republican Party will train volunteers to phone-bank for the Trump-Pence ticket.
Training for volunteers will take place Friday "anytime" between 3:00-5:00, according to an email from the party. Training will be held at party headquarters at 715 Queen City Parkway.  Participants are asked to bring their phone, tablet or laptop.
Athens-Clarke County GOP opens its headquarters on Monday, September 12 at 6 PM at 135A Athens West Parkway, right around the corner from Cofer's. Look for GOP signs on Mitchell Bridge Road.
The Georgia Department of Community Affairs awarded $33 million in federal community development block grants to 68 communities.
Public Service Commissioner Tim Echols was a stranger in a strange land, visiting Dragon Con and writing for the Atlanta Business Chronicle.
To explore strange new worlds, to seek out new civilizations, to boldly go where no commissioner has gone before. And all it took was walking a mile from my office at the Georgia Capitol to the Hyatt Regency and Atlanta Marriott Marquis hotels and I (the dummy) was there. Dragon Con 2016!

First, I must say, that I have never, ever seen that many people, let alone creatures, crammed into hotel lobbies, convention space, sidewalks, and the Apparel Mart as I did on Dragon Con weekend. Estimates were 75,000, and every fourth person had a costume and some kind of faux weapon.

[T]hink just a second about economic impact on a Labor Day weekend. There were 75,000 people coming in from all over the United States for five days: flights, food, transportation, parking, coffee. That same number of people packed the Georgia Dome on Saturday to watch UGA beat UNC. But it wasn't just downtown businesses that benefited. The sales tax from four floors of vendors at the Mart was a boost to the Georgia treasury. Dragon Con fans are serious about their science fiction and fantasy.
Chief Judge Tammy Stokes was relieved of her administrative responsibilities in Chatham County Recorder's Court by the county's Superior Court judges.
The order allows Stokes to retain her duties as judge but places administrative court duties in the hands of Chatham County Superior Court Clerk Dan Massey.

Massey immediately suspended Recorder's Court Clerk Angela Barnes and, a short time later, took the same action against Chief Deputy Clerk Shadavia Scott-Brown.

The court order comes in wake of a 133-page investigation of human resources complaints involving two court employees; a report which Stokes had barred from release pending her own investigation.
Senator Butch Miller's co-owned Milton Martin Honda bought a building from the Georgia Department of Labor in a competitive bid.
Milton Martin Honda paid the state $37,250 over four years for the right to park cars on an empty Department of Labor parking lot before buying the building through sealed bids earlier this year, state Sen. Butch Miller, R-Gainesville, said Thursday.

Miller is vice president, general manager and co-owner of the auto dealership. He has been in the state Senate since 2010 and is floor leader for Gov. Nathan Deal.

Miller said the dealership rented the parking lot in 2010. That ended when the dealership bought the European Imports building and property, which "relieved us of the need to park cars" on the government-owned lot, Miller said.

Miller bought the building, which is about 1.6 acres and 10,000 square feet, in February. He said Milton Martin paid $725,100 plus $5,465 in fees, a total of $730,565.

Miller said two bids were submitted to the Georgia State Properties Commission, one each from Milton Martin and Carriage Nissan.