On July 11, 1782, British colonists including British Royal Governor Sir James Wright, fled Georgia.
Wright had been the only colonial governor and Georgia the only colony to successfully implement the Stamp Act in 1765. As revolutionary fervor grew elsewhere in the colonies, Georgia remained the most loyal colony, declining to send delegates to the Continental Congress in 1774.
Congress ordered the creation of the United States Marine Corps on July 11, 1798, after the Corps was inactive for a period following the Revolutionary War. From 1799 to 1921, Marine Corps Day was observed on July 11, but is now celebrated on November 10, the date of it's Revolutionary War establishment.
On July 11, 1804, Aaron Burr shot Alexander Hamilton in a duel in Weehawken, New Jersey. Burr was the sitting Vice President of the United States and Hamilton a former Secretary of the Treasury.
After he shot Hamilton, Aaron Burr quickly fled the nation's capitol, making his way to St. Simons Island, Georgia, spending a month as a guest of Pierce Butler at Hampton Plantation.
Burr was a fugitive, but his killing Hamilton in a duel held a certain justifiable reasoning since dueling was not illegal, though morally questionable, to be sure. According to H. S. Parmet and M. B. Hecht in their Aaron Burr: Portrait of an Ambitious Man, after the duel, he immediately completed, by mid-August, plans which he had already initiated, to go to St. Simons, "an island off the coast of Georgia, one mile below the town of Darien."

Jonathan Daniels' "Ordeal of Ambition" handles the situation this way: "With Samuel Swartwout and a slave named Peter ('the most intelligent and best disposed black I have ever known'), Burr secretly embarked for Georgia. There on St. Simons Island at the Hampton Plantation of his friend, rich former Senator Pierce Butler, he found refuge…" As Georgia Historian Bernice McCullar, author of "Georgia" puts it, Burr was "fleeing the ghost of Alexander Hamilton" when he arrived on the Georgia island.

"Major Pierce Butler," she relates, "had fought in the British army and remained in America after the war." He had married a South Carolina heiress, Miss Polly Middleton, and acquired two Georgia Coastal plantations, which he ran like a general storming after the troops. In fact, he was so strict that none of his slaves could associate with any of the others. He also required anyone who visited his plantations to give his or her name at the gate. With this tight security, Burr should have felt safe..

Actually, Butler's invitation to visit the island fitted the escapee's plans nicely. Not only was the Hamilton affair a bother, but also Burr needed to get away from a lady by the name of Celeste; however, the real reason, aside from being near his daughter, who was also in the South, was the nearness of the Floridas. No real purpose is given why the Vice-President wanted to spend "five or six weeks on this hazardous and arduous undertaking."

Daniels underscores that from this St. Simons point Burr could "make any forays into Florida he wished to make. He traveled under the name 'Roswell King." After his Florida odyssey, he planned to meet his South Carolina son-in-law "at any healthy point."
Parts of the Hampton Plantation survive in the form of tabby ruins on St Simons.
A house in St. Marys, Georgia bears a plaque stating that Aaron Burr visited there in 1804.
Clark lived in the home from 1804 until his death in 1848. He was appointed in 1807 by then-President Thomas Jefferson as customs collector for the Port of St. Marys, a position he held until his death. The year Clark bought the house, he is said to have provided a temporary hideout to Aaron Burr, who was traveling in the South to evade federal authorities holding a warrant for his arrest after he killed Alexander Hamilton in their infamous duel in July 1804.

Verification of Burr's stay in St. Marys is hard to come by. But it is confirmed that he stayed on St. Simons Island and Cumberland Island late in the summer after he killed Hamilton. That Burr knew Clark is not disputed. The two attended law school together in Litchfield, Conn., but there is no mention in either man's records that Burr stayed in the home.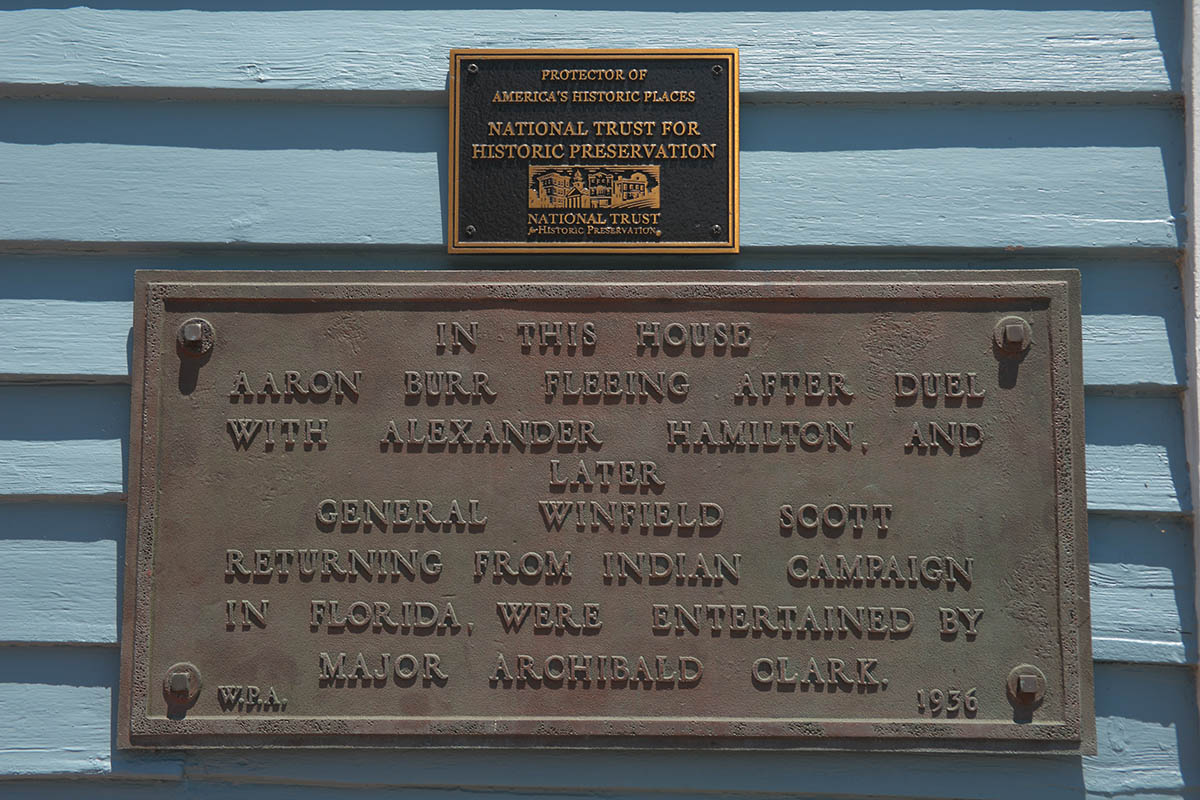 On July 11, 1877, a Constitutional Convention convened in the Kimball Opera House in Atlanta to replace the 1868 Reconstruction Constitution.
On July 11, 1916, President Woodrow Wilson signed the Federal Aid Road Act, establishing a federal program of paying for highway development.
President Franklin D. Roosevelt accepted the Democratic nomination for a fourth term on July 11, 1944.
General Dwight D. Eisenhower was nominated for President by the Republican National Convention on July 11, 1952.
July 11, 1969 was an epic day in rock and roll history, with David Bowie releasing "Space Oddity" and the Rolling Stones releasing "Honky Tonk Women."
On July 11, 1985, Astros pitcher Nolan Ryan became the first major league player to strike out 4000 batters.
Georgia Politics, Campaigns, and Elections
In the runoff election for the Third Congressional District, state senator Mike Crane and former West Point Mayor Drew Ferguson are up with competing ads.
If you're headed to Cleveland for the Republican National Convention, there's an app for that.
CNN writes that Newt Gingrich is "actively lobbying" for Trump's VP slot.
"If Trump offers the position and is serious about it, which I think he would be after our conversations, listen, I would feel compelled to serve the country," Gingrich told Greta Van Susteren.
The Trump election team boosted the Pence speculation Sunday by suddenly adding a campaign rally in Indianapolis to a fundraiser planned for Tuesday featuring Mr. Trump and Mr. Pence.

Several Republicans close to the campaign and to the governor have told The Times over the last 24 hours that they are now convinced it'll be Mr. Pence.

Indiana Republican Party Chairman Jeff Cardwell said that Sunday's sudden addition of a Trump rally after the fundraising event was a complete change from Mr. Trump's original schedule, which had called for a quick appearance at the fundraiser and equally quick exit from Indiana.

According to campaign insiders, Mr. Trump genuinely likes Mr. Gingrich but some in the Trump family, especially his adult children, aren't great Gingrich fans.
Being the sitting Governor of a state that's hosting your party's national convention but not being invited to speak. Awkward. From The Washington Post,
Gov. John Kasich finds himself in a peculiar situation these days. He's responsible for helping to safeguard a Republican convention he will not speak at, a nominee he will not support and an arena he probably will not step foot in.

"It is odd, isn't it?" Kasich says. "It's going to be strange."

Even stranger: When Kasich arrives Sunday in Cleveland for the Republican National Convention, he will be the one leading Hillary Clinton in a half-dozen battleground states — not presumptive nominee Donald Trump — according to a recent Ballotpedia poll. "I told somebody I should've quit earlier — I might have won!" he says, laughing, during a relaxed interview at the governor's mansion in Columbus.

Things aren't going so bad for a guy who dropped out of the presidential race in May, having won just one state — his own — and who some Republicans see as a bit too self-righteous and self-
focused. Kasich left the race with a high favorable rating among voters and has come to symbolize the anti-Trump faction of the party. With the convention approaching, the media is clamoring at his door, and his team can see the 2020 presidential election clearly on the horizon.
The Newnan Times-Herald takes us back to remember the early career of Newt Gingrich, when he was a Congressman from South of Atlanta.
He was a major figure as Georgia slowly began to elect more and more Republicans. He was elected to Congress on his third try – after incumbent Jack Flynt retired.

Before he became a congressman, Gingrich was a history professor. And he looked like one.

"He used to wear sweaters with holes in the elbows and white socks: typical college professor that didn't have any money," said Cowetan Neal Shepard, who became the first Cowetan to ever run for state office as a Republican.

The rumpled professor turned out to be a spellbinding speaker, a skill that fueled his political career.

After Gingrich was elected to Congress in 1978, he convinced Shepard to run for the Georgia House of Representatives.

"I had been working on his campaign as his local coordinator, and he said 'why don't you run next year on my ticket?'"

Shepard was elected in 1980 and became the first Republican to represent Coweta in the state legislature.
Randy Evans, longtime Gingrich confidante, spoke to the West Georgia Neighbor about the upcoming convention.
He said he expected Trump, the party's presumptive nominee, to do things differently in his role as the de facto leader of the convention compared to other nominees in recent decades.

"I think it will be different from every other convention I've attended," Evans said.

He said an example is Trump's "approach" to TV news coverage of the event. Trump has more experience with how the media operates than past nominees who were typically current or past elected officials.

"It's the essence of a free and open process," Evans said.

However, Evans predicted the convention's speakers will generally remain "on message" — not veering from the central message party leaders want to send to voters in the Nov. 8 general election.
Eighteen-year old Will Carter will be Georgia's youngest delegate to the Republican National Convention, according to the Savannah Morning News.
His candidate, Cruz, lost the Georgia presidential primary in March, but had not dropped out of the race. During the county GOP convention, party allegiance was divided between Cruz and primary winner Donald Trump. Because most of the party was made up of Cruz supporters they finessed their way into the majority of Georgia's 41 RNC delegate seats.

Cruz supporters nominated their own delegates to challenge each of the Trump supporters nominated by the county delegate committee. Jeanne Seaver, a Savannah conservative activist and Trump grassroots coordinator, was among the committee's nominees. Carter was offered up as her alternative.

"I told them I'm 18, I'm going to inherit the party and I want to go to Cleveland and show them our dedication to fix the mess we're in," Carter said.

Much to everyone's surprise, he won. In fact, it was so unbelievable that the unknown 18-year-old had been elected as a 1st Congressional District delegate, they voted twice.

"I lost by eight votes," Seaver said. "I was very surprised. It is a perk. It is something you earn. He ousted me."

Seaver proved just as determined to be a delegate as her young political foe. She lobbied on the state level and was selected as one of Georgia's at-large RNC delegates in June. There are now three Savannah-area delegates — Seaver, Carter and Cruz supporter Linda Olson. Josh Campbell, a Trump supporter, is an alternate.
United States Senators David Perdue and Johnny Isakson are both calling for the revocation of Hillary Clinton's security clearance. From the Gwinnett Daily Post,
Perdue, R-Ga., said in a statement that, as secretary of state, Clinton failed to make sure sensitive national information was protected. The senator, who is chairman of the Senate Foreign Relations Committee's State Department and USAID Management Subcommittee, also admonished the presumptive Democratic nominee for president for using a private email server while working in the Department of State.

"Of all of the people involved in this scandal, Secretary Clinton should have known she was putting national security at risk and immediately stopped all non-secure communication involving classified information," Perdue said.

"Secretary Clinton's actions were a direct violation of the Sensitive Compartmented Information Nondisclosure Agreement she signed, but since the FBI has decided that Secretary Clinton is not subject to the law, at a minimum, her security clearance should be revoked."

Sen. Johnny Isakson, R-Ga., echoed his sentiments, and co-signed with Perdue and other senators on a letter to current Secretary of State John Kerry a letter requesting the revocation. The senators are also calling on Kerry to take action against Clinton aides who the FBI deemed to be equally to blame.

"When a person is elevated to such a high level of trust, such as Secretary of State, the public assumes the responsibilities of that position will not be taken lightly," Isakson said in a statement. "Should her clearance be revoked, as we have asked it to be, it will be up to the American people to decide whether this severe lack of judgment in protecting our sensitive national security information from foreign enemies is a quality that they want in our next commander in chief."
Cherokee County Board of Elections reports slow voter turnout for advance voting in the Commission District Three runoff between Republicans Bob Kovacs and Jack Staver.
Word on Facebook is that a robocall from former Governor Roy Barnes has been dropped for embattled DeKalb County Commissioner Sharon Barnes Sutton.
DeKalb County's Board of Education will consider waiving its rule that schools only be named for people who have been deceased at least five years to name a new school in Brookhaven John Lewis Elementary School.
Marshall Orson and the naming committee agreed to ask the Board of Education to name the ISC building John Lewis Elementary School in honor of Georgia's 5th Congressional District's Congressman. The naming committee also agreed that the name "John Lewis" Elementary School would transfer to the new Skyland building in Brookhaven once construction has been completed. The naming committee is also requesting the board waive the regulation that "a school may not be named for a living individual or an individual who has been deceased less than five years."
The Savannah-Chatham County Board of Education is finalizing the project list for E-SPLOST III to be on the November ballot.
In the runoff election for Superior Court Judge in the South Georgia Circuit, Ryan Cleveland says his experience in the circuit makes him a stronger candidate than his opponent.
Ryan Cleveland narrowly won the primary with 4089 votes to Lanier's 4046. His biggest margin of victory was in Decatur County, also the circuit seat.

"I think that's the advantage I have over my opponent, who works in a completely different circuit," Cleveland said. "She lives here, and I know that's how she contributes, but I think it's important that someone that's familiar with the circuit, familiar with the attorneys that work in the circuit, (is judge)."

He has spent time working as a prosecutor and defense attorney in the circuit and he feels that his diverse experience will make a fair judge.

But what differentiates Cleveland from his opponent, Lanier?

"My perspective," he said. "I sometimes think I'll be a better judge than I was an attorney, because I can see through the injustices and apply (what) I think would be best."

One of his goals, if elected, is to continue to implement the drug court, which offers non-violent offenders the chance to avoid jail time.

"I'm excited for the implementation of the drug courts, the accountability court that hasn't been around this circuit for long," Cleveland said. "My first goal is to enforce the laws against the people that steal our stuff or damage our stuff or harm us. I think there's some redemption that can come through some of these new courts that I'm looking for."
David Bradley, a UGA Professor of Public Policy and his daughter, Ashley Bradford, analyzed Medicare records and say that states with medicinal marijuana spend less on prescription drugs than states without.
The Georgia Ports Authority will receive a $44 million federal grant to increase rail connectivity at the Garden City Terminal.
"As the nation's fourth busiest container port, Savannah's continued rail expansion is a key component to freight mobility in this country," Lynch said. "This transformative project will not only increase rail capacity and velocity at the Garden City Container Terminal, but will also provide substantial benefits to surrounding communities by improving public safety, reducing environmental impacts and avoiding commuter traffic."

The $44 million award, made possible through the Nationally Significant Freight and Highway Projects (NSFHP) Program, provides a hefty portion of $128 million needed for a GPA project known as the Port of Savannah International Multi-modal Connector. The project is expected to take five years to complete.
Five of six municipalities in Cobb County will see higher revenues in 2016, according to the Marietta Daily Journal.